What Should You Expect From a Wedding Planner?
Curious about what a wedding planner actually does? You're not alone. And, what about the difference between a wedding planner, designer and coordinator? Let us spell it out.
A wedding planner helps you in the lead up to your event. They're there for you to lean on, provide advice, and make sure nothing is forgotten.

A wedding coordinator is often another name for a wedding planner and they can do the same thing. To be specific, a wedding coordinator is usually the person you also have with you on the day to make sure everything is seamless but the two terms are used interchangeably.

A wedding designer steps up to create a style for your wedding from the program to the florals to the signage – they'll add an artistic eye.
Do You Need A Wedding Planner?
Yes.
You might be the most organized person in the world, but you have a full-time life already and you're probably not a professional event planner. In that case, let someone else do the heavy lifting.
At Wedgewood Weddings, we've conducted tens of thousands of unique weddings and we learned one thing very early on – it's hard. In our experience, every couple is happier (and less stressed) with a wedding planner, so we decided to add the service into our all-inclusive packages.
Now, every couple has a wedding planner who can keep all your plates spinning as your wedding takes shape. We then decided a single wedding planner wasn't enough, so we provide each couple with a wedding planning team. Available seven days a week and always responsive – they work together to provide advice and make sure everything gets done right.
What Wedding Planners Say
We asked Roxanne, our superstar wedding planner and General Manager at San Ramon by Wedgewood Weddings to provide her insight:
"As a wedding planner, the best part of the gig is getting to know you. How did you two meet? When did you realize you'd found your person? What's your favorite color? How can we make your life easier? Do you have a busy schedule? Being your ally, your BFF, your cheerleader, and your wedding planner is a dream come true, TBH – and I've been doing this for years. It's really important to me to help make your wedding special. Trust me, you could ask me about any wedding and I'll still remember the details even years later!"
Alex, our Senior Wedding Planning Expert at Galway Downs by Wedgewood Weddings adds: "
Our wedding planning team is always actively listening, taking notes, and finding ways to make your experience a BLAST! As your wedding planner, it's important that we're focused and understand your needs. Then finding ways to make your life easier and make your wedding the most Amazing experience ever becomes simple. We know what you want and we know how to make it happen."
What Wedding Planners Do
They help you plan your event.
Our wedding planning teams take you from booking to introducing our vetted, preferred suppliers to creating the room and ceremony site look.
More about the Planning Schedule
Our teams have narrowed wedding planning down to a science and can bring a wedding together lickety-split but it's your wedding and adding both your personalities is what makes your event special and unique.
If it relates to your wedding, whatever it is, your wedding planner will do it. At Wedgewood Weddings, we have some real legends in our planning teams:
Diana who gave her rain boots to a bride so she could walk to her car in the rain without ruining her wedding shoes

Tori who ran to the drugstore to pick up medicine for a bride who was feeling under the weather on her big day

Mara who picked up a forgotten gluten-free cupcake tower so a bride could eat her special wedding cake at the same time as her guests
Everyone on the Wedgewood Weddings team acts like family for the wedding party and will do whatever it takes to make your event run smoothly.
They'll also do all they can to make sure everything is considered in the lead up to your event, so ask them for advice on your seating plans, how to make the most of your venue space, and how to keep guests entertained during the family picture-taking.
The Wedgewood Weddings Difference
If you book with Wedgewood Weddings, you're part of our family from the day you first step into your wedding venue! Here's the deal: You give your wedding planner the logistic
One of the cool things about Wedgewood Weddings is that we work as a team of wedding planners. That means you always have backup! We talk about everything and review specifics as a team! Say someone is out of town, and you send an email asking for advice on color combos - you'll still get a super-fast and relevant response. No matter what, we'll help you and we'll also let the team know of any changes!
Your wedding planning team is with you every step of the way, seven days a week! From the tiniest of details to the big decisions, we're answering emails, returning phone calls, negotiating with your suppliers, finding fun new vendors (like espresso carts and furniture rentals!) and planning for your big day! We're scheduling your appointments and making sure that everyone on the team knows that the rose gold table runners have been changed to navy because, to us, these details are everything! We're prompt in our planning and always prepared too.
Your Personal Wedding Planning Guide
In addition to a team of planners, all Wedgewood Weddings couples receive a wedding planning binder that walks them through every step of the process. If you book with Wedgewood Weddings, we'll give you your planner that day and then we run through the whole planner with you at least four months before your wedding. We can even help you complete the planning guide ahead of time. Trust us, we know that being ahead of the curve will make your life easier.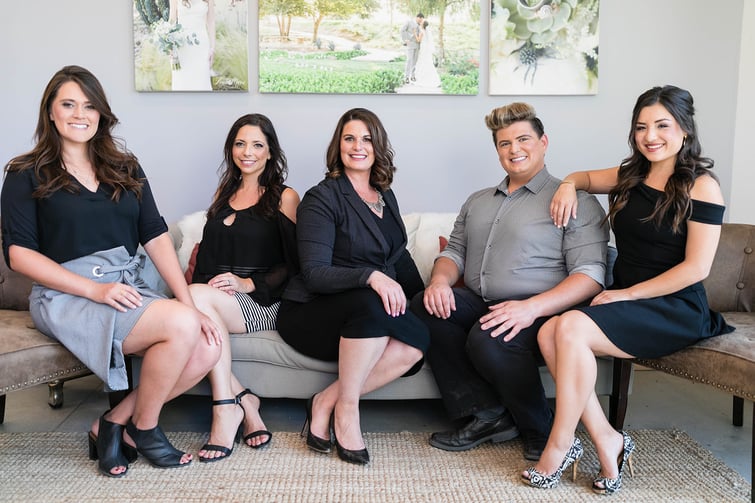 During a Wedgewood Weddings planning meeting, you and your planning team work together to discuss all the upgrade options, add or remove items from your package, and get answers to your questions. A wedding planning meeting is your opportunity to ask anything and everything and get expert advice. Not sure about color schemes or choice of linens? You and your wedding planning team can pull out linen samples to check what looks good in real life.
Not sure about how to design your day? That's ok! You give us the basics of what you want, share your vision with us, and we'll do our best to make your vision a reality! We'll be there to make recommendations and have your back on all your decisions. The Wedgewood Weddings teams aren't wedding designers and the decisions are all still yours, but we'll let you know what's worked before and what could work for you. We know the event space in detail and understand what looks great, what's on trend, and how it can fit with your personal style.
At the end of your first planning meeting, there'll still be a few things that haven't been decided. That's totally okay! Your team will schedule a call six weeks before your wedding to check-in with you and go over all the details. If there's anything we're missing, you can give us the lowdown and help us fill in the blanks.
Finally, we'll review your details a third time, 10 days before your wedding. Check, check, triple check!
What Makes a Wedding Planning Team Exceptional?
There's so much that goes into planning a wedding and it takes a special type of person to do this for a living. We've been planning special events for over 30 years, and we've seen it all. We genuinely care about our couples, and we'll understand how important it is to have your late grandmother's picture sitting in the first chair at your ceremony.
Every person at Wedgewood Weddings conducts hundreds of weddings per year and that works in your favor. It means you get the benefit of all our experience, while still creating a unique event that your guests will remember for a lifetime.
We understand how challenging it can be when you're trying to plan your wedding while extinguishing family fires. We get it, and we're with you every single step of the way.


Thoughts From Our Experts:
"We make weddings seamless, special and fun. We thoroughly review everything during your wedding planning meeting, details calls, and final meetings. We're there to execute your vision and create a unique event."
Marisa, Wedding Director,
Carmel Fields by Wedgewood Weddings

---

"Planning a wedding should be the most fun experience ever! We've made this so easy, exciting, and stress-free that we constantly hear our couples want to do it all over again!"
Olivia, Wedding Director,
Sierra La Verne by Wedgewood Weddings

---

"Creating a team of wedding planners to carry you through the process is like no other company. Every day, I'm excited to come to work and enjoy creating a wedding with the happiest, most friendly, and ready-to-take-on-anything group of people."
Heidi, Expert Wedding Director,
Tapestry House by Wedgewood Weddings
---