You've found the love of your life and you're obviously SO stoked about getting married to them. So why put it off for a year? Let's do this thing and commence the wedded bliss!
Like the sound of that? We're offering a Why-Wait Booking Special for couples who want to celebrate their love by getting married asap! That means you can have your wedding cake AND eat it too with our special discounts!
***
And while most people would gasp at the idea of planning a wedding on such a short timeline, at Wedgewood Weddings we make it totally doable! Because, with our all-inclusive packages, you'll have WAY less work to do. Follow our timeline to get everything done on time, achieve stress-free wedding planning, AND enjoy the most incredible honeymoon!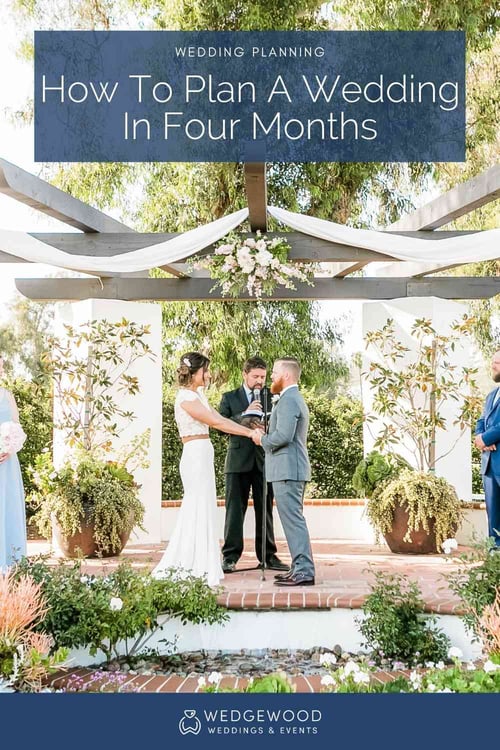 4-months out
Create a wedding registry
Book a wedding venue
Order a wedding dress & suit
Order and send invitations
Choose formal wear for the wedding party
Book a beauty vendor & schedule trials (if necessary)
Buy wedding rings
Booking your venue solidifies your wedding date, and having an official date to run with means the rest of your wedding planning can take off! Book an all-inclusive package with your venue that covers most of the vendors and services you'll need! Otherwise, you'll have to spend a ton of time researching dozens of options, calling or meeting with several of your favorites, then deciding on one that's best for you and placing a deposit to book them. And that's for each vendor...
But booking an all-inclusive package saves you this hassle...and all that precious time! Do this to make your short-term wedding planning stress-free and totally doable!


Order a Wedding Dress & Suit
Most bridal boutiques require that you order your dress at least 6 months out… So you'll have to shop around at places where you can buy off the rack. You'll still have time to have the dress altered to make sure it's perfect, and it's usually a much more affordable option! Or, consider our favorite online options from our Wedding Dress Guide for quick and easy shopping!
If you want a suit, you can get fitted and place an order for a suit-rental around this same time. If you already know your groom's measurements, jump on the Jim's Formal Wear website and place an order in just minutes! They'll even give you a special discount through our Bliss Benefits program! Score!


Create a Wedding Website and Registry
Consider Zola or Amazon for a quick and easy way to register for everything you need without even leaving your house! Then create a wedding website and add a link to your registry on your site so your guests have easy access to it - making it more likely that you'll actually get what you want!
Normally, you'd send out save-the-dates prior to sending out formal invitations. But on a timeline as short as this, it seems a little redundant to send out multiple paper notifications about your imminent wedding.
If any of your guests are coming in from out of town, it's best to send the invitations out as soon as possible to allow them to make travel arrangements. However, if all of your guests are local, you can hold off on sending the invitations until 2 months prior. Be sure to include the link to your website on your invitations so everyone can refer to it for more info!

Choose the Formal Wear for the Wedding Party
It'll be easiest to select the groomsmen's suits when selecting your own for the groom. We like Jim's Formal Wear so you can easily select everything on the groomsmen's behalf, then send them a link to the suit you've chosen, and have them each order their own. Trust us, they'll LOVE getting to rent their suit while sitting on the couch in their boxers!
For the bridesmaids, check out our Bridesmaid Dress Guide for quick and easy online options! Consider going with a mismatched look and allowing your bridesmaids to each select their own dress to save yourself some time. You can simply provide some guidelines to your bridal party (length, color scheme, etc.) and let them do the work of selecting a dress themselves.

Schedule Beauty Trials and Book a Beauty Vendor
You obviously want to find a beauty vendor who will make you look and FEEL stunning for your wedding. Having a trial or two with a couple of vendors will allow you to find the perfect one to do just that! Refer to your Bliss Benefits account to find one we like in your area and even get a discount for being a Wedgewood Weddings bride!

Buy Wedding Rings
The rings are a small detail, yet they obviously play a major role in your ceremony! Don't wait till the last minute to get them!
***
3-Months Out
Finalize your ceremony script
Purchase additional decor
Buy wedding day accessories

Finalize a Ceremony Script with Your Officiant
Whether you or your officiant write the script for your ceremony, it's smart to meet together to go over everything and make sure both of you are familiar with it. On your own time, you should time yourself reciting it to make sure the timing is right for your ceremony.

Purchase Any additional Décor
If you book with us at Wedgewood Weddings, most of your essential wedding decor is included in your all-inclusive package. With that said, most couples like to add some extra bits of flair and personality. Etsy is an awesome resource for finding TONS of wedding décor, signs, etc. Chances are, your signs will be custom-made so you'll want to order them ahead of time to allow plenty of time for the artist to make them and ship them to you!

Buy Wedding Day Accessories (Shoes, Jewelry, etc.)
Purchase your shoes before attending a dress fitting to be sure that your dress is altered to your correct height in your wedding shoes! You may also want to break in your shoes by wearing them around the house a few times.
***
2-Months Out
Begin working on your wedding vows
Buy wedding favors, guest book, and small details
Go to your dress fitting
Create a wedding timeline
Purchase gifts for the wedding party

Start Working on Your Vows
If you're writing your own vows, it can take a while to pinpoint exactly what you want to say. So it helps to have time to write out all your thoughts, go over them several times, and add in anything else that comes to mind in these next couple of months!

Buy Your Wedding Favors and Guest Book
There are so many unique and creative ideas for wedding favors that it can take some time to decide what exactly you want to give out to your guests. So it's good to get a head start on this and order them with plenty of time to arrange them all together.
If you plan to have a guest book (or something for all your guests to sign), you'll want to order it around this same time too. The fewer things you have to do at the last minute, the better!

Go to aN Attire Fitting
Whether you ordered a designer wedding dress/suit or even an online alternative, you'll want to have a dress fitting with a seamstress/tailor to make sure everything about it is fitting you in all the right places!

Create a Timeline for the Wedding
This is a major lifesaver for a seamless wedding! It helps to keep everyone on the same page about the events of the day and who's supposed to be where and at what time. Type up a timeline and email it out to everyone involved including your wedding party, venue team, and photographer.
This will keep everything running smoothly for the days surrounding your wedding and will save you from having to answer the same question a dozen times from a dozen different people…You've been doing that a lot already!

Purchase Gifts for Parents and Wedding Party
By this point, your parents and everyone in your wedding party have probably pitched in money, helped out with the planning, or even just let you vent to them about it all. Regardless, it's a nice gesture to give them a little something to thank them for being a part of this journey with you and FOR you!
***
1-Month Out
Create a shot list for your photographer
Follow-up on missing RSVPs


Create a shot list for your photographer
This is extremely helpful for both yourself AND your photographer. You'll be sure to get those special pictures you've envisioned in your head and your photographer can rest easy, knowing that they're extra-prepared for a happy client!

Follow Up on Missing RSVP's
Not everyone will respond to their invitation by the time you asked them to… It's annoying, but call anyone you haven't heard from yet to politely ask if they plan on making it to your nuptials.
***
2 Weeks Out
Create a seating plan
Order escort cards or create a seating chart
Attend your final booking meeting with the Wedgewood Weddings team


Once you know everyone that is attending, create a seating assignment for yourself to assign each guest to a table. This ensures that everyone will be seated next to people they know and will be placed right where you want them!

Order Escort Cards or a Seating Chart
After your seating assignment is finalized, go to a local printer to print out individual escort cards or a large seating chart to be set on an easel. This tells your guests where they're supposed to be seated as they make their way into your reception.

Attend Your 'Final Booking Meeting'
Your Wedgewood Weddings team will reach out and schedule this with you so you can come in to confirm any last-minute details and make your final payment. The amount for the final payment is determined by your final headcount so that you only pay for the exact number of people that are attending. No money wasted here!
***
3-4 Days Before
Apply for a marriage license

Complete any beauty appointments


Apply for a Local Marriage License
Head over to City Hall with your fiance to apply for and pick up a marriage license. Be sure you're going to the City Hall in whichever county the wedding will be taking place in—not where you live.

Complete Any Beauty Appointments

This is your time to pamper yourself and invest in both beauty and self-care appointments prior to your wedding day. For the brides, this may include manicure, pedicure, wax, hair, and tanning. For the grooms, this may include manicure, hair, massage, and possibly tanning. For waxing and tanning appointments, make sure to do them a few days before your wedding so that your skin has a chance to heal before the big day.
***
Planning a short-term wedding doesn't have to be stressful, and your Wedgewood Weddings team will help you along the way! And just like that, you're married and off on your honeymoon! So, Why Wait?