Let's talk about why choosing a one-stop shop for all your wedding needs is a great idea!
Most of us would give the idea of making our wedding dress or suit a hard pass. If you aren't a professional or aspiring dressmaker, hand stitching an outfit you'll be photographed in from every angle seems like a recipe for unnecessary stress. You would need to source the material, learn the techniques, and find time to put it all together... Suddenly what could have felt like a fun project to show off your creativity, now feels like an extra commitment you just don't need.
Ever since you said 'Yes!' and let the engagement blossom, you've probably been thinking about venues, color schemes, cakes, and so much more! It's fun to plan a special celebration, but it's vital to also make time to enjoy the beauty of being engaged. There is something so magical about spending this time with your fiancé anticipating the moment you both say 'I do.'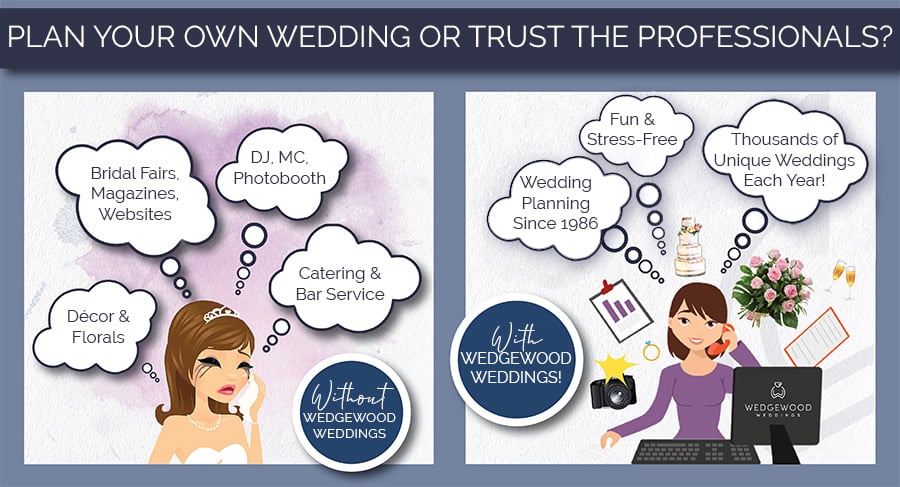 Your One-Stop Wedding Shop
Happily, we offer you a one-stop wedding shop to help you with all your wedding needs. Our team will bring your vision to life while staying within your ideal budget. You'll be paired with wedding experts who will listen, introduce you to vendors, and ensure the big day is a romantic success.
At Wedgewood Weddings, we have nearly 50 venues that range from rustic to luxe, a team of industry experts with more than 30 years of experience planning over 25,000 weddings. Not to mention, an endless network of reputable vendors that are dedicated and professional! When you book at one of our venues, you save yourself in the long run.
Save yourself on what? - Time! On average, it takes a couple 528 hours to plan their wedding; this comes out to 22 days spent planning details that may ultimately overwhelm you. With Wedgewood Weddings, the average wedding takes less than 99 hours to prepare! Some couples have even designed their entire event in 12 hours. With the time you save on planning at Wedgewood Weddings, there are more opportunities to take advantage of the engaged life.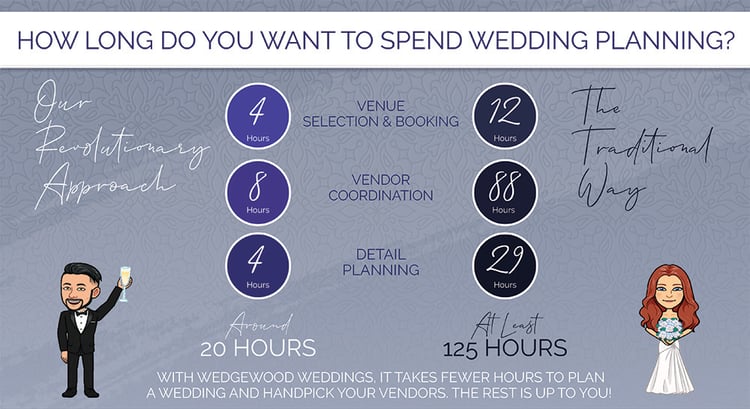 Finding The Right Vendors
In addition to saving time, Wedgewood Weddings can help spare you the hassle of booking vendors! You might think that won't be that hard, but think of the complete list of vendors you might need, here are just a few:
Catering

Bar Services

Flowers & Decor

Furniture Rental

Photography and Video Services

Entertainment - Music, MC and Games

Photobooth

Invitations

Planning

Cakemaker

and so much more
At all of our venues, we'll work with you to pair you with handpicked vendors who can meet your needs with ease. We'll also give you exclusive discounts on essentials like tuxedos, limos, and more! In addition, our onsite, wedding coordination team will work at your pace to ensure that your dream vision becomes a reality with no muss, no fuss!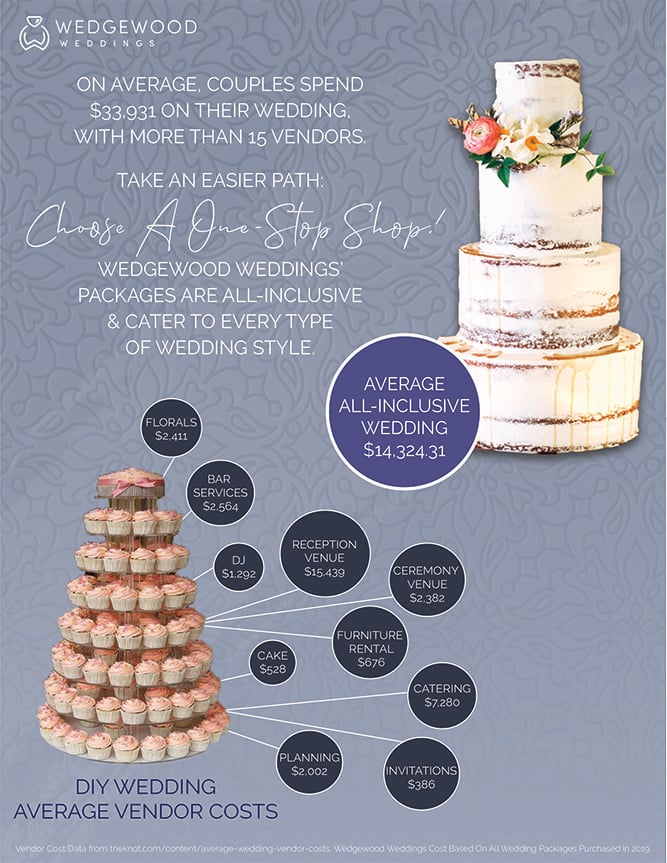 Find The Fun in Wedding Planning
When you ask for help from the experts, we'll swoop in and give you all the assistance you need, all with the aim of making planning fun and straightforward. There are still plenty of opportunities for you to be creative and add your own touches, but you can focus on where you'll excel rather than becoming a pro event planner! There's no need for you to stress as our team will provide clear advice, space to make decisions, and then we'll build your unique celebration for you. When you book with our venues, you pay one, an all-inclusive fee that will cover all of these wedding details!
Your wedding will be tailored to you and your needs. We wholeheartedly believe every couple is different and every wedding should be different too. No two celebrations will ever look exactly alike. Our team is adept at hearing what you know you need and translating. This means you do not need to learn a new vocabulary of event industry jargon to make your requests.
Embrace The Savings!
Finally, we will save you and your loved one financially. The average wedding across the nation in 2019 cost $33,139, compared to our' average cost of $13,000. This doesn't mean you get less, just that you're spending your wedding budget more wisely. When you plan your wedding on your own, the expenses individually add up...
***
Bottom line, when you're ready to start planning your wedding, look no further. We offer customizable, all-inclusive, and affordable weddings that tell your love story loud and proud! Call or text (866) 966-3009 to book a tour today!