Affordable Wedding Dress Alternatives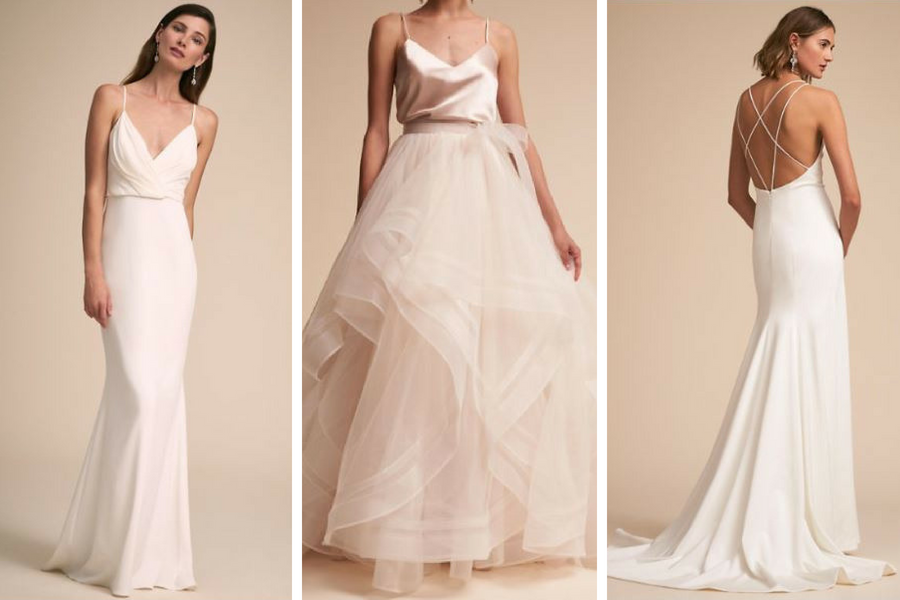 Photos courtesy of BHLDN
The hunt for the wedding dress is probably one of the first things you started after you got the ring. Because, unless you get to go to the Oscars every year, your wedding gown will be the most elegant dress you'll ever get to wear! So it's exciting to find the perfect one! Whether or not you've tried any on at a bridal boutique yet, you've probably found that these elegant dresses come at an elegant cost too…
Then it starts to set in that you're only going to wear this dress once in your whole life…and you also have to pay for alterations…so how much is it really worth it to drop a few thousand dollars on one?
That's okay. You're definitely not the only one who's considered purchasing some sort of alternative that won't cost a fortune. That's why we've discovered a selection of dresses and resources for you that just might be a life saver:
BHLDN –
If you like Anthropologie, you'll be obsessed with their bridal line BHLDN. Ranging from $240 to $4,000, you're sure to find a dress from their wide selection no matter what your style and budget may be – from traditional, to vintage, to boho, and beyond. While you're at it, you can also browse their adorable bridal accessories, wedding décor, bridesmaid gifts, and more!
Pre-Owned Wedding Dresses –
Rather than letting their wedding dresses sit in the attic for decades, thousands of women around the world are choosing to sell their wedding dresses online to make a little post-wedding cash! If you don't mind wearing a dress that's been worn before, you can browse through sites like Still White, Once Wed, or Nearly Newlywed to find designer wedding dresses at a fraction of their retail value!
The only tricky thing here is that these dresses have most likely gone through alterations to fit the former bride's body, so you might have a tougher time getting them altered (again) to your fit.
Rent a Dress –
Remember how we mentioned that you're only going to wear your wedding dress once in your life? That's why it's crazy convenient that Borrowing Magnolia will let you rent out a designer dress at a much lower price than purchasing…although, you even have the option to purchase if you want to! Fill out a short questionnaire about your size and fit and the site will match you with a collection of dresses that should be a good fit for your body type. Then, select a dress, try it on at home, and say "yes" to the most relaxed way to wedding dress shop ever.
Lulu's –
First of all, Lulu's is a great site for getting an affordable price on any trendy clothing! So we're in love with the fact that they have a selection of long, white dresses too. What's better is that most of these dresses are even under $100!
Etsy –
If only you had a friend who was an awesome seamstress and could just whip up a wedding dress for you… You do. In the world of Etsy, anything is possible! There are a number of vendors on Etsy selling wedding dresses – almost all of which are under $1,000. Just remember that they MIGHT not be the best quality, considering they aren't coming from actual designers. Use the 'Ask a question' feature to communicate with a seller if you have any doubts!
Azazie –
We love Azazie for being one of the best online sellers for bridesmaid dresses. That's why we're thrilled that they've launched a couple of wedding dress collections too – all under $800. And if you're worrying about getting your dress from an online retailer, don't. This site makes it super simple by allowing you to order swatches and even allowing you to select two dresses to try on at home (that they'll ship for free both ways) for just $25.
Separates –
Pairing a wedding skirt with a bridal crop-top or leotard is a fashion-forward way to save money on your wedding day attire. Even designer separates usually only cost a couple hundred dollars for each piece! Plus, you get the added bonus of getting to mix and match a special pairing that's unique to YOU!
There are so many factors that make wedding planning stressful, but the level of 'awesome' you're going to look on your wedding day shouldn't be one of them! Don't let overpriced designer dresses get you down. You can totally rock some unconventional attire and still be the most radiant one in the room!