Are you newly engaged and ready to start thinking about your wedding registry? It's one of the most delightful aspects of wedding planning—dreaming of desired gifts and future plans to share with your spouse-to-be. Fortunately for you, the options are truly endless and recent developments in online registries make the process easier than ever. To help you along, we've put together a simple guide to explain exactly how to set up your wedding registry.
***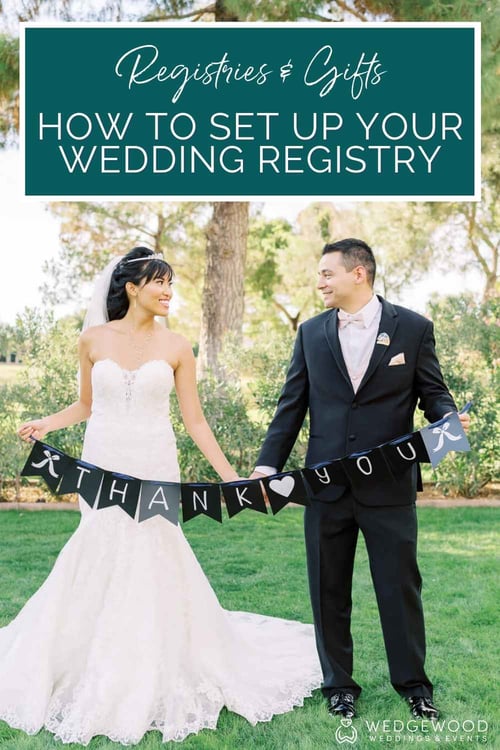 Strategic Timing
The first step in setting up your wedding registry is to time it right! Our event experts recommend that you set up your registry as soon as possible, especially if you plan to have an engagement party or bridal shower. Once you've had some time to celebrate your engagement and let the news sink in, it's time to begin the registry process.

Talk to Your Partner
Take an hour or so to sit down with your partner, perhaps over a cup of coffee and consider your needs. As wonderful as this process can be, it may also feel daunting, so coming up with a game plan is key to breezing through your registry creation. Consider your wants, needs, and goals as a couple ... Do you have a new home in need of furnishing? Are you planning a bucket-list honeymoon trip? Do you have everything you need and wish to donate all gifts to charity? Take out a pad of paper and take notes!
Here are some categories to consider:
Kitchen and Dining

Bedding

Bath

Home Decor

Home Appliances

Storage and Organization

Home Improvement

Patio and Gardening

Sports and Outdoor Equipment

Luggage and Travel

Smart Home and Electronics

Charitable Organizations

Honeymoon
Use your notes from the previous step and begin to choose your wedding registries. For most couples, we recommend creating 2-4 registries and making sure that at least one of them is a large retailer such as Target, Crate&Barrel, or Amazon. Searching for something more unique? Check out this guide to unique wedding registry options.
Here are some wedding registry ideas to try out:

Before you head on to the next step, be sure to check out some of the top aggregate wedding registries that streamline the entire process. Some of our favorites are ...
Blueprint - "A catalog of over 5000 products, cash funds & experiences"
Zola - "Gifts, experiences,

and

honeymoon funds in one place"
The Knot - "A wedding gift registry like no other"
start by creating an account
While you can certainly call & speak to the retailer directly, most registries have a beautifully easy online set-up process. Start by creating your accounts online and exploring the gift options. While it's not absolutely essential to think about your selections first, we always recommend browsing the options before you begin the selection process. If needed, visit the appropriate stores in person to get a feel for what you like best—this is especially true for china and linens.

add items to your registry
Now for the really, really fun part! It's time to begin adding items to your registry. If you're doing this step in person, you'll use a scanner. If you're doing it online, it's as easy as clicking a button.
Remember these tips when shopping:
Select items that cover a wide spectrum of price points and styles; your grandparents are more likely to splurge for that fancy stand mixer, while your work pals may contribute to your Honeymoon fund.

More, more, more! Don't worry about asking for too much, as long as you'd happily receive the gift. Your registry will be used for not just your wedding, but also the bridal shower and engagement party.

Don't rush. While you want to create your registry ASAP, you don't need to finish it right away. You have plenty of time to make changes throughout your engagement.

Look for items that are unlikely to be discontinued such as perishable or seasonal items. This is not completely avoidable, so just keep it in mind.

Add some fun items or experiences such as a zip-lining experience or gift card to your favorite spa. It's always good to mix it up a bit!
set up shipping
Ask the registry to ship to your preferred address. Are you traveling for a portion of your engagement? Consider shipping gifts to your parents' house or having someone help you with deliveries. This will make it much easier on your guests and minimize shipping issues.
tell your guests
It's time to make sure your guests know where to find your new registry. It's not appropriate to put your registry on your wedding invitation, but you may include a registry card in the envelope. Of course, the most common method is to add your registries to your wedding website, which makes it extra easy to find your essential wedding info at all times. Knowing where to go and what to buy makes this a simple process for gifters and eliminates any chance for duplicate or unwanted gifts!
***
Remember: planning your wedding registry should be a fun and enjoyable experience. Start early, talk to your partner, don't rush, choose strategically, and tell your guests. By completing these easy-to-follow steps, you'll be sure to end up with a wonderful wedding registry that is reflective of your needs and personality. Let's get shopping!