4 min read
Dessert Advice For A Sweet & Flavorful Wedding
Wedgewood Weddings & Events Nov 7, 2022 1:54:32 PM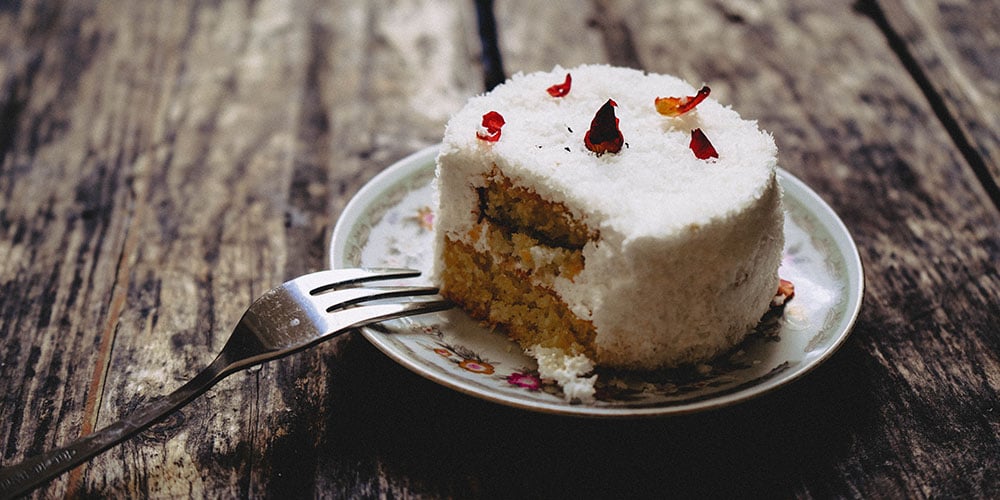 Your wedding cake and wedding dessert tables are a big deal. To help you decide what to choose for your wedding day, we've asked our experts for their tips based on what they've seen at real weddings recently. Whether you're looking to match your wedding theme, have a sweet tooth, or feel nonplussed about candy, confections and sweets, we'll help you decide on an option that feels good.

Today, we're chatting to two of our experts Jordyn Voegele and Amanda Mizell who have conducted epic weddings, almost daily, for years.
Hi Amanda and Jordyn!
What makes a dessert stand out + memorable?
AM: I love the idea of incorporating your culture into your desserts. I'm Mexican and Italian and honestly desserts are big for us. At my wedding, I'd have a mixture of it all… mini churros, flans, tres leches cakes, Mexican buñuelos and maybe even dessert tamales. Of course, for my Italian side: tiramisu, sfinci, cannoli's, pizzella, biscotti and who could forget the gelato?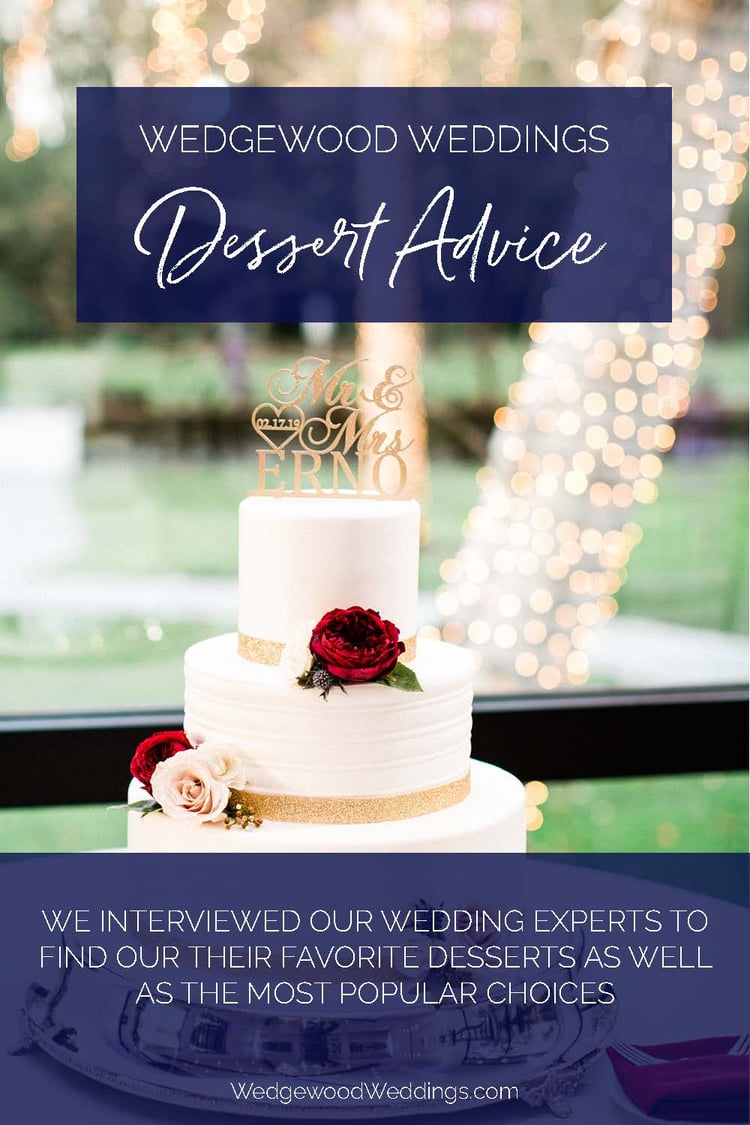 So many delicious dessert choices
What's your favorite dessert at a wedding, Jordyn?
JV: Cake will forever be the best dessert at a classic wedding. It's traditional and there are hundreds of different flavor combinations. One of the most fun parts of cutting the cake is opening it up to see what's inside! It is also so easy to make the cake a statement piece even if it's a simple design. We love how each wedding has a unique personality, and cakes can easily match that and become part of the overall theme.
What especially memorable wedding dessert ideas have you seen?
JV: My first summer with the Boulder Creek team in Colorado, there was a couple from Pittsburgh that did a cookie table. Their parents had made a bunch of cookies and several of their guests brought a small plate of cookies to add. It was almost like a traditional cookie exchange: there ended up being SO many different kinds of cookies for their guests. The table looked a little crazy but delicious!
Any ideas for someone who's interested in a low-fi dessert option?
JV: Yes! The Sweet Cow ice cream truck is always a huge hit. You can ask them to swing by during cocktail hour or as a late night eat, and you're guests will love the option to complete your wedding with a cold treat before heading home.


The Sweet Cow Ice Cream Truck Team in Denver
What does your local bakery make best?
AM: I always brag about these when a couple is undecided: my favorite items from our local cake makers, Bo Cakes, is their red velvet Oreo balls. I'm not a fan of cake or Oreos but together they are my absolute favorite food on planet earth. They are so moist on the inside and you get that perfect crunch on the outside and then the two tastes just melt together.
JV: Every bakery has their own thing. When Kelly is providing a cake, we always hope she'll drop off a few of our favorite fresh-baked macaroons. Aimes makes amazing cinnamon rolls; I've never tasted better!

I think the most important thing is finding out what they make best, and what they enjoy making - you can see they're always excited when a couple opt for their signature item.
Sounds delicious! How do you feel about a donut wall?
JV: I love donut walls because the display is so eye catching. I've seen a range from the standard chocolate and glazed all the way up to the ones covered in cereal.
AM: Just like s'mores stations, a donut wall takes people back to a time when sugar highs were maximum fun. They're a good choice so guests (and kids) can help themselves as much or as little as they want.


So many amazing dessert selections to choose from

What other highly visual wedding dessert ideas have you seen that work great?
JV: Once upon a time, a couple added a question on their invitation RSVP asking every guest to name their favorite flavor of Bundt cake. When the wedding day arrived, they had sourced Bundtinis from Nothing Bundt Cakes and used each custom cake as a place card holder. It was so thoughtful and unique.
Any extra wedding dessert advice?
JV: If you plan to have something made on site during your reception, make sure they can cater to your guest count. Whether it's churros or mini-donuts - no guest wants to wait in line when they could be dancing.
AM: Definitely! Our wonderful vendor, Gourmet Mini Donuts, make them on site and they're super-fast, even offering your guests their choice of toppings.
My advice is to respect gravity - if you love a donut wall, go for simpler toppings. Anything heavy will slide down!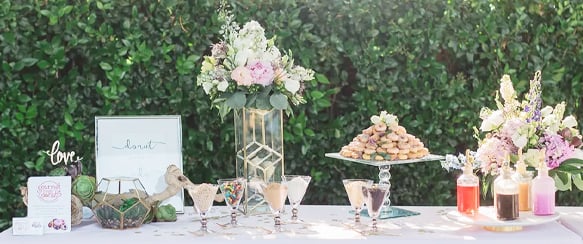 Fresh Donut Bar at The Orchard, From Gourmet Mini Donuts in California



What of someone wants a non-sweet option to finish their wedding meal?
We can provide cheese displays and charcuterie options that are always a huge hit with guests. They look spectacular and, dollars to donuts, they're cleared by hungry attendees real fast.
Are there any dessert ideas that don't really work out?
AM: I lead the team at The Orchard, an all-outdoor lakeside venue, so I do always steer people clear if they're considering an ice-cream cake. It's a brilliant idea but if guests are busy dancing, it will melt before they get a chance to indulge. Individual servings that guests can pick up on demand are a much more suitable idea.
JV: I second that! Heat can be a big factor. We once had a couple who decided on a jello cake and insisted, we place it in front of a sunlit window. It did look great ... to start with ... but a slowly melting puddle of jello is a darn shame.
AM: Absolutely, we know where to put a cake or dessert table so that it's in the shade and stays cool. If you have fixed ideas about where to put a statement cake, then let us know in advance so we can make sure it will still look spectacular when the time comes for you to make your first slice.
That's great advice!
Thank you Amanda and Jordyn - now I'm off to find a cookie.
More Advice
With decades in the business and an amazing team of incredible wedding planners, get tried and tested help to create an event experience that suits you!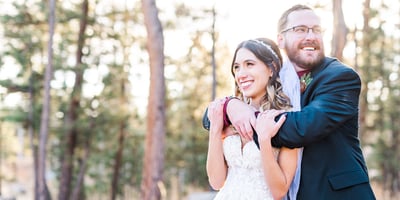 Our Secret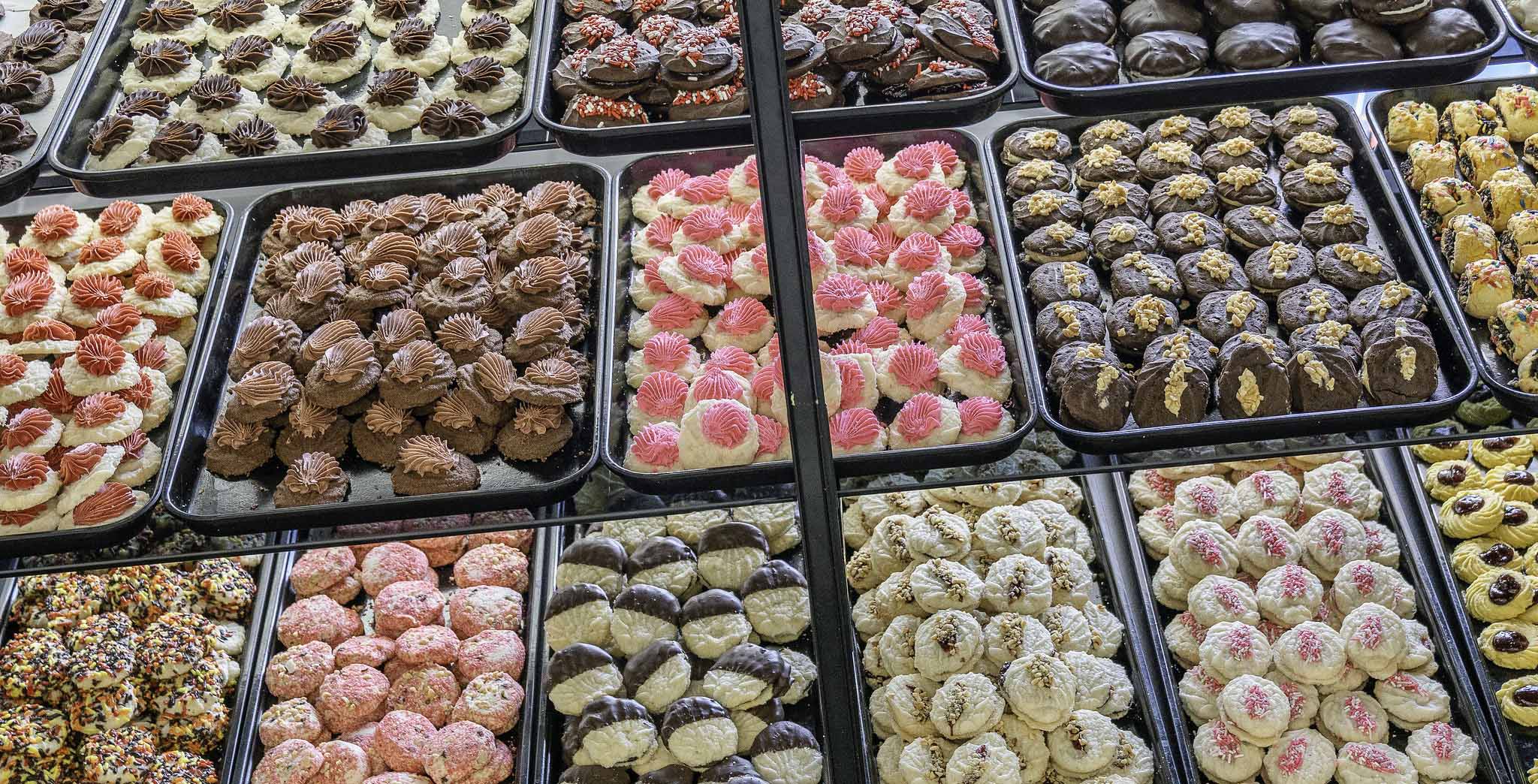 11 min read
Gruttadauria's 1914 Bakery has been serving delicious, Italian desserts since 1914! This wonderful fourth-generation family-owned Italian bakery...
Read More