Selecting a wedding cake is fun! You have A LOT of options when it comes to choosing a wedding cake. So many flavors, so many frosting types, colors, shapes, and heights - to name a few. You can even customize your dream cake down to the type of ingredients you want: vegan, organic ingredients, dark chocolate, fresh strawberry filling, etc. We'll show you some of our favorite designs to help you decide what would best suit you on your special day!
Get creative! Standard vanilla and chocolate flavors are great, but these days bakers are infusing their cakes with show stopping flavors (maple bacon buttercream, anyone?). Can't decide which flavors you like best? A multi-tiered cake can usually feature a different flavor for each tier (but will likely add an additional cost). The same goes for fondant, which is considered the classic wedding cake icing. But if you want a standout cake, chat with your baker about alternative icing options. From "naked" cakes to ombre exteriors, the decorations also include endless options.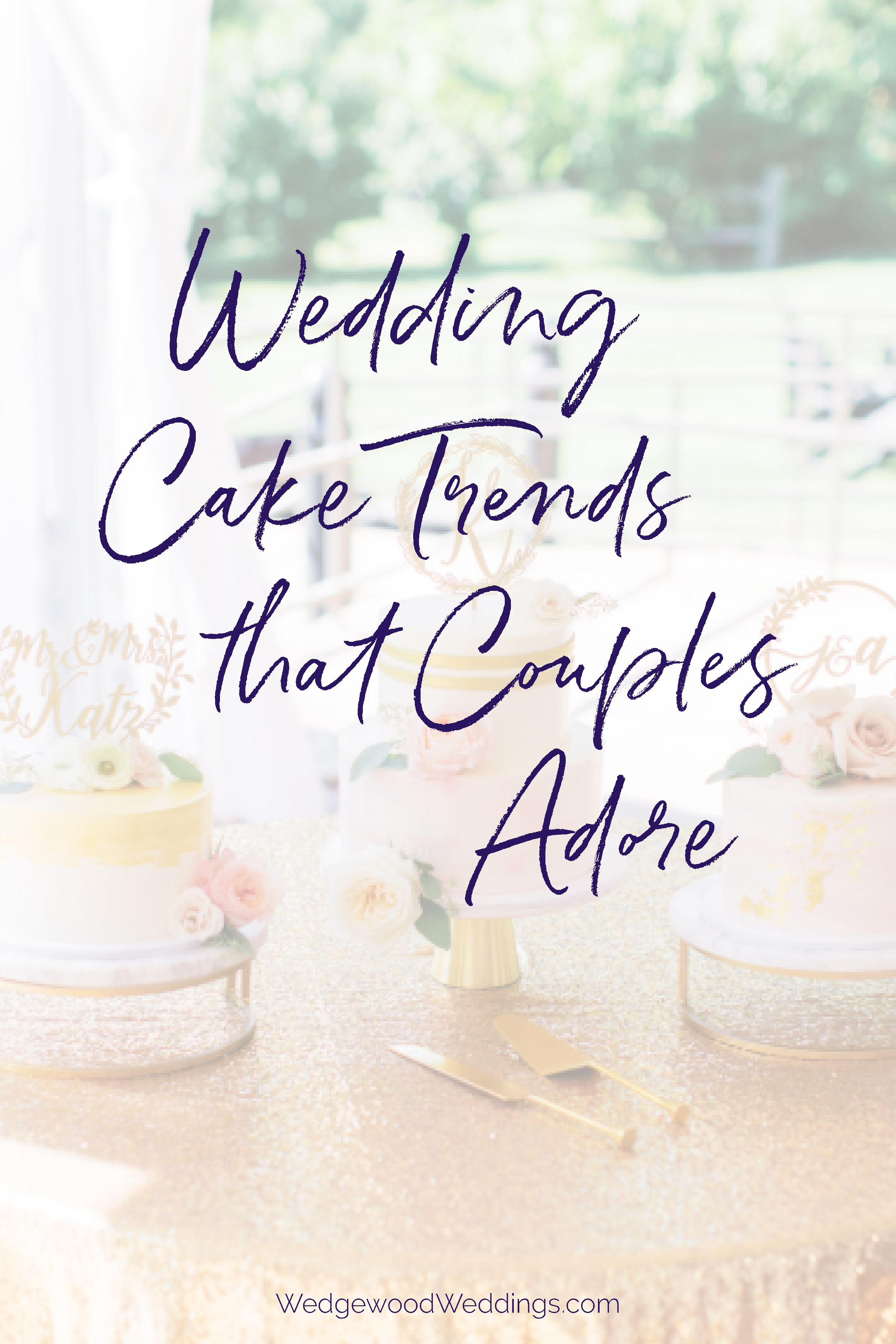 Some couples choose to serve a traditional wedding cake at their reception, but a tiered wedding cake isn't the only way to go. A creative dessert display with many sweet offerings (including a wedding cake) is a popular option. This allows brides and grooms to show off their personalities with meaningful desserts like a favorite cookie recipe from childhood or ice cream from their first date.

Cute cupcakes still find their way onto wedding dessert tables and even cake pops and candy buffets have become a popular option. The groom's cake—typically a smaller, creative cake displayed near the wedding cake—gives the groom the opportunity to spotlight an aspect of his personality, like a guitar-shaped cake or the logo from his university. The cake topper is also another way for a couple to get creative and show off their personality.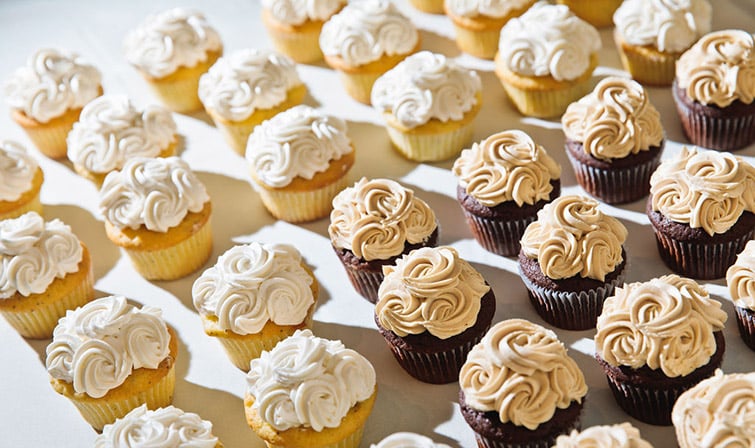 Cupcakes are a popular dessert choice because there are plenty to go around
Looking for more inspiration? Ask your on-site planning team for fun and trending ideas! They've coordinated hundreds of weddings and can tell you about some of the most beautiful cakes they've seen and which ones drew a crowd. We've also partnered with the best baker in town on your behalf. So, utilize them in every way you can! Ask about alternative options, unique ideas they've executed before, and popular choices.


The sweet spot for ordering a custom wedding cake is 6 months before your big day. Keep in mind that depending on the city you'll be getting hitched, certain months will be much busier than others so reaching out to your baker.
At minimum, have your wedding date and venue set before you place your cake order. Additional info like guest count, design and theme ideas, and the time the cake will be served are all very helpful. The more information you can share with your bakery, the better!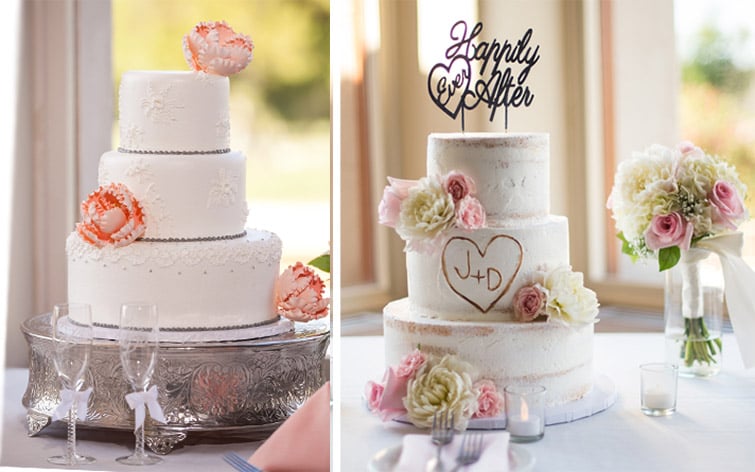 Three-Tiered cakes are popular at weddings
Dessert trends come and go, but nothing takes the place of a delicious cake that satisfies sight and taste. Our favorite type of wedding cake is the kind that makes a statement by adding to your wedding décor.
Consider these tried and tested flavor combinations:
Blackberry Walnut

Lavender & Lemon

Red Velvet

Carrot Lemon

Poppy Spice

Chocolate Nutterbutter

Strawberries & Cream

Chocolate Salted Caramel

Passion Fruit Strawberry

Coconut Mango

Praline Cream

Tiramisu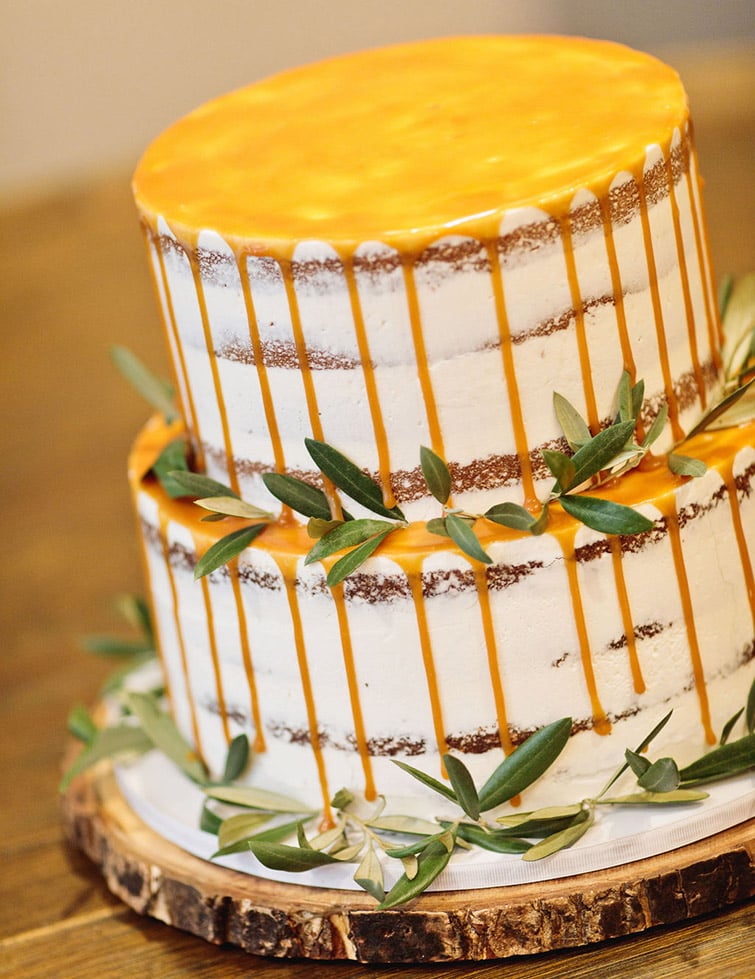 Stunning Naked Cakes dripping with Carmel
Alternative Dessert Ideas
From decadent doughnuts and dainty macarons to retro pies and gourmet cheese cakes, there's a little something to please all tastes, and surprise your guests! A gourmet coffee cart and a cheese selection are lovely alternative too.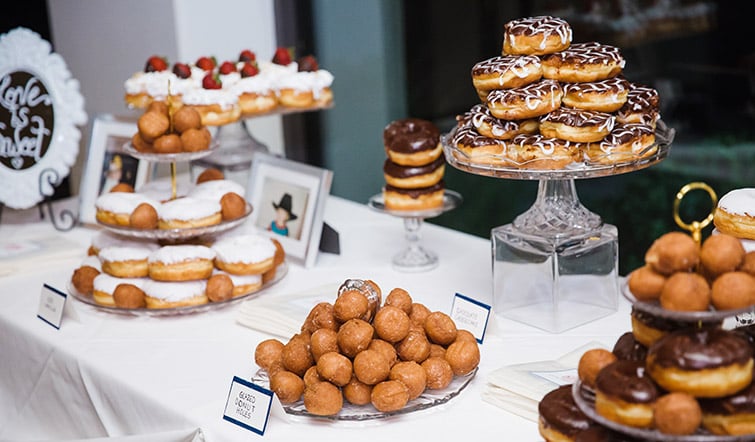 Couples Love to serve donut holes or donut walls