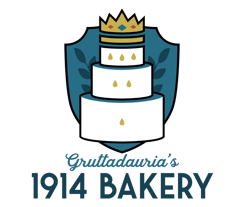 Gruttadauria's 1914 Bakery has been serving delicious, Italian desserts since 1914! This wonderful fourth-generation family-owned Italian bakery opened its doors to a new storefront in Temecula, CA in 2018. The Gruttadauria's take pride in their family's tradition, using original family recipes and making all of their delicious baked goods and pastries from scratch, ensuring that you taste the highest quality ingredients in every bite.
We're proud to call them a premier partner of our beautiful Menifee Lakes wedding venue where they consistently serve elegant, delectable treats to our guests. Grab a cup of tea and join us while we learn more about how the Gruttadauria family built a legacy of sweet treats on old Sicilian recipes.
***

Pastel Colored Italian Cookies by 1914 Bakery



Hi Linda! We're so excited to learn more about your family's bakery.
A little fun fact: Gruttadauria's Bakery actually originated in my hometown!
How fun. 😀 Thank you for having me!


Will you tell us the history of your wonderful bakery?
Gruttadauria's 1914 Bakery is a 4th generation, family-owned and operated bakery that originated in Rochester, NY. It was founded in 1914 when our founder, Salvatore Gruttadauria, came over from Sicily with dreams of opening an Italian bakery. The original bakery was located in downtown Rochester, NY, and is still famous for its amazing cannolis!
The second generation was led by Salvatore Jr. (known to all as Sam) and remained a full family affair, and business continued to boom. Their signature dessert was an Italian Rum Cake, a sponge cake layered with a citrus cream soaking in a sweet rum syrup! Sam ran the bakery for over 50 years in that location with his wife Ann.
All of Sam's sons worked in the bakery, taking on different specialties within the business, forming the third generation. During this time, the Gruttadauria family hosted the La Fiera Italian Festival, one of the largest cultural festivals in New York State. In 2004, Mark and Stephen moved the bakery to its second location in Greece, a suburb of Rochester, NY.
The legacy continued into the fourth generation as Mark's children, Dominic and Michael, learned the trade from a young age. Michael studied baking and pastry in Florence, Italy, so that he could expand his skills and bring a modern flair to the business. In 2018, Michael saw an opportunity to open a second location in Temecula, CA. About a year later, the rest of the family closed the shop in Rochester, NY to join Michael in growing the new California location. We named it Gruttadauria's 1914 Bakery in honor of the year we were established and our history-making baked goods.



a freshly stocked case of Italian Cookies at 1914 Bakery


What an amazing story! It really seems like each generation has a flavor and style of its own. How would you describe the new California bakery?
Our new location is located in the heart of Temecula, CA. We are proud to carry on our family tradition of baking from scratch using the finest ingredients and have many old Sicilian recipes that have been handed down from generation to generation.
I'd say, we are most well-known for our variety of desserts perfected over the years, especially the classic Italian varieties. We offer all occasion cakes, including wedding cakes, in a variety of flavors and fillings. Our dessert bars are popular too, and create a great buzz with guests! Some of our most popular miniature pastries are our bite-size mini cheesecakes, mini cannoli, and lemon chiffon tarts. We also make over 30 different kinds of cookies and can place them in a beautiful arrangement.
In Temecula, our focus is on growing our reputation for excellence in the local Southern California markets. Within the next five years, we hope to become known as the bakery of choice! We also hope more people will come to know some of our more unique products that are not found in other local bakeries. Our favorites include our Italian cream cake, cannoli cake, rum cake, tiramisu, cannoli, Italian lemon ice, arancini, almond paste cookies, and last but not least, Neapolitan cookies.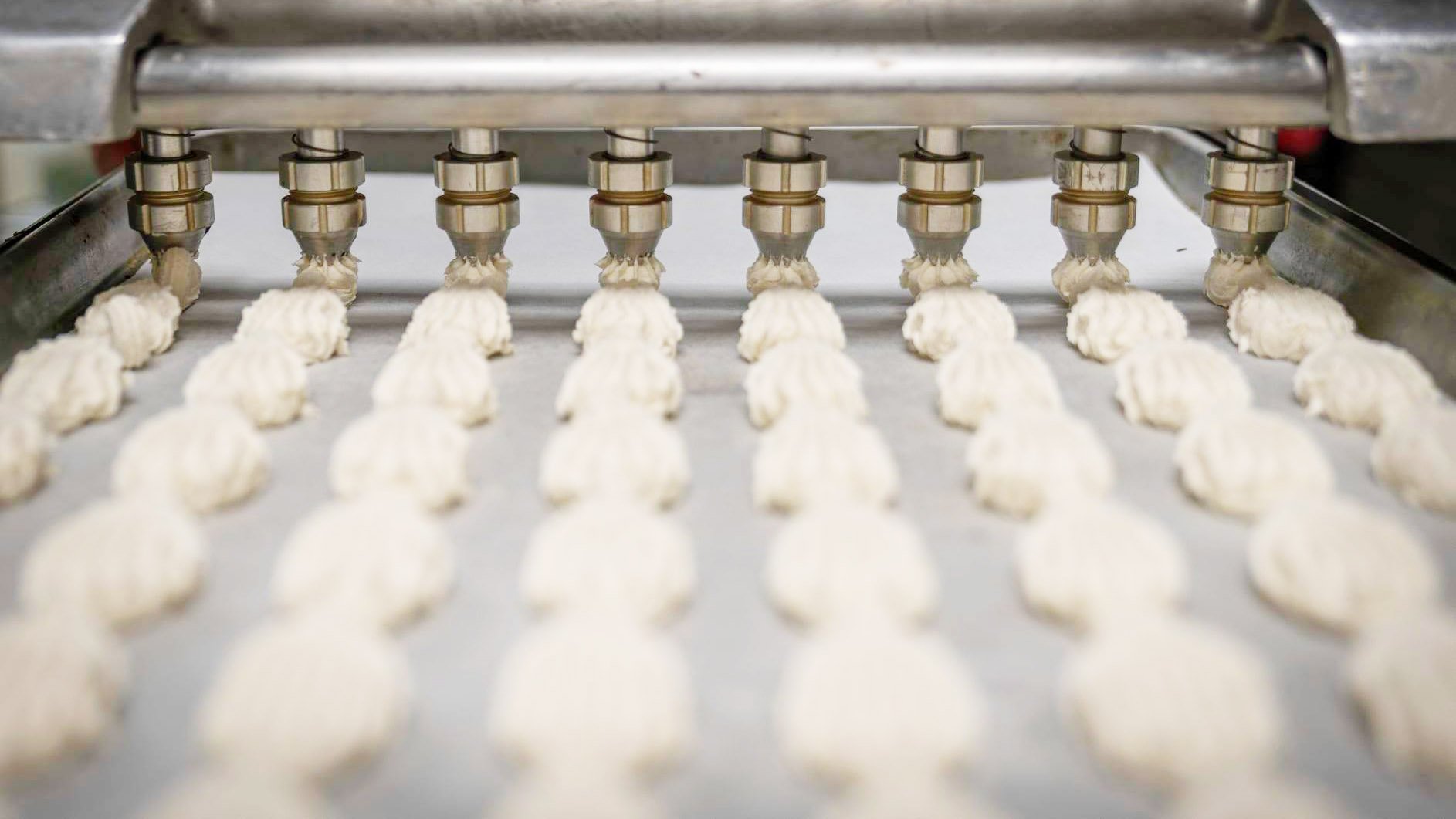 Italian wafers baked from scratch at Gruttadauria's 1914 BAKERY
Sounds delicious! I need to swing by to try your tiramisu.
Let's talk about weddings! What's your favorite element of working with happily engaged couples?
We truly love helping couples with their wedding desserts! Each couple has a dream for their special day and we feel so privileged to be able to help make those dreams a reality. It's an honor to know that our creation and family tradition is forever part of that couple's love story.
Working with trusted partners, like Wedgewood Weddings, who are experts at running beautiful events has been a game-changer too! The professionalism and care that Wedgewood Weddings gives to each and every couple make for an excellent partnership with Gruttadauria's 1914 Bakery. The friendly staff communicates and works with us at every step, making sure that all details are taken care of. It makes such a difference to the couple's overall experience on their special day, and that's really what this is all about.
The absolute highest compliment is when couples choose to use our services again for another event - whether it be their first anniversary, a birthday, or their daughter's wedding!

What should couples expect when working with you?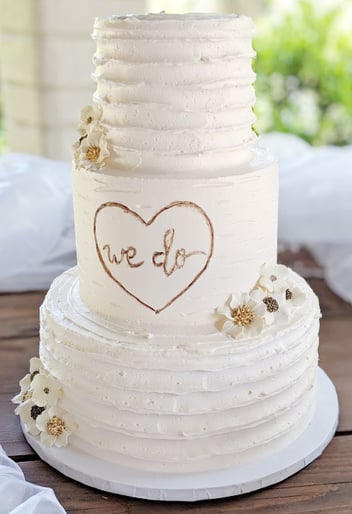 At our bakery, we provide a warm, friendly, family atmosphere, with careful attention to detail. Trust and good rapport are essential to a new client relationship, especially when you're planning to bake and design their wedding cake! We want clients to know that we will respond in a timely manner, answer all of their questions, and go above and beyond their expectations.
We provide each couple with the information and guidance that they need to craft a dessert menu that fits their vision, budget, and unique needs. We start each client off with a brochure of our wedding packages and cake designs. From there, we can narrow down what they want, and answer any initial questions that come up. This allows the couple to focus more on the cake tasting during the appointment, rather than all of the intricate planning and budgeting details. It's more enjoyable this way!
Of course, if they don't know what they want, that's okay too! We'll help the couple figure out what works best for them and their guests too. Our goal is to have their guests raving about the delicious cakes long after their wedding day.
Do you have any special wedding cake stories to share?
Of course! We recently had a couple visit us from San Diego. The bride's family was originally from Rochester, NY, and were long-time patrons of our bakery when we were there. On the bride's latest trip to Rochester, she went to get her favorite cookies at our bakery, only to find that we were no longer there. She was in tears! A little while later, her sister discovered that we had moved to Temecula, and happily informed the bride-to-be. Overcome with emotion, she contacted her fiancé immediately to tell him that they would be able to get their wedding cake and desserts from her family's favorite bakery!
She relayed this story to us when she booked their consultation appointment, and our hearts swelled with joy, knowing we would be able to make her dreams come true. On the day of the appointment, her father came along to reminisce about all the years they enjoyed special cakes, cookies, and cannoli from our bakery in Greece, NY. By the time they hired us for their wedding, we felt like part of their family. It was truly memorable!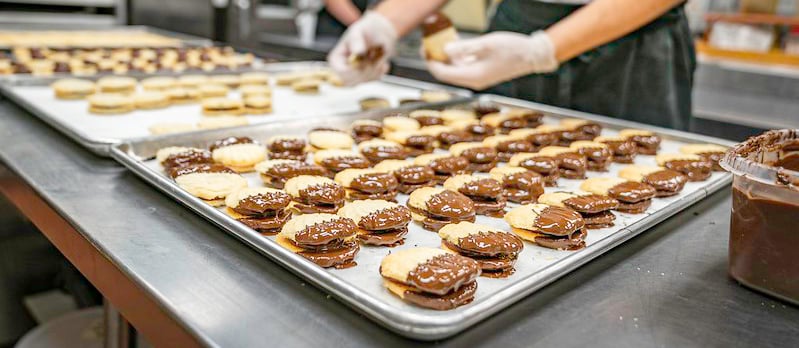 Italian chocolate-dipped Cookies in the making at 1914 Bakery



That's such a sweet story—and what a small world!
Let's talk cake. Do you have a favorite flavor?
My favorite cake flavor changes all the time! For the summer, our lemon cake with blueberry and cream cheese is refreshing and delicious. In the fall, our carrot cake with cream cheese is perfect. For the holiday season, chocolate with peanut butter buttercream is divine. In the spring, you can't go wrong with cannoli cake and rum cake. It's all so, so good!
Are there any types of cakes or decoration that should be avoided?
This may come as a surprise to some, but we do not recommend covering cakes in fondant as most people do not enjoy the flavor. We are able to achieve a smooth, elegant look with our signature 1914 buttercream as a tasty alternative.
For cake toppers, we recommend avoiding anything heavy, but we have tricks up our sleeve if you have a heavier piece that you absolutely love! We also suggest avoiding dark-colored frosting, as it tends to stain lips, faces, and clothing. If you have a dark color palette, we can work with you on other design elements such as ribbon or flowers, that won't stain your beautiful clothes.
Are you seeing any wedding cake trends for 2021?
Most couples with 2021 wedding dates have started to plan their wedding cakes and dessert bars. We're seeing that naked and rustic cake designs are the most popular!
Are you Team Cupcake or Team Classic Cake?
We love a classic cake! However, for couples who want to offer a wide variety of flavors, cupcakes are a great means to achieve that. We also offer a wide variety of miniature pastries and cookies that can be a wonderful means of creatively offering a variety of flavors and dessert types. If you are considering something other than a traditional cake, I highly recommend adding a small cake for the traditional "cake cutting" photo moment!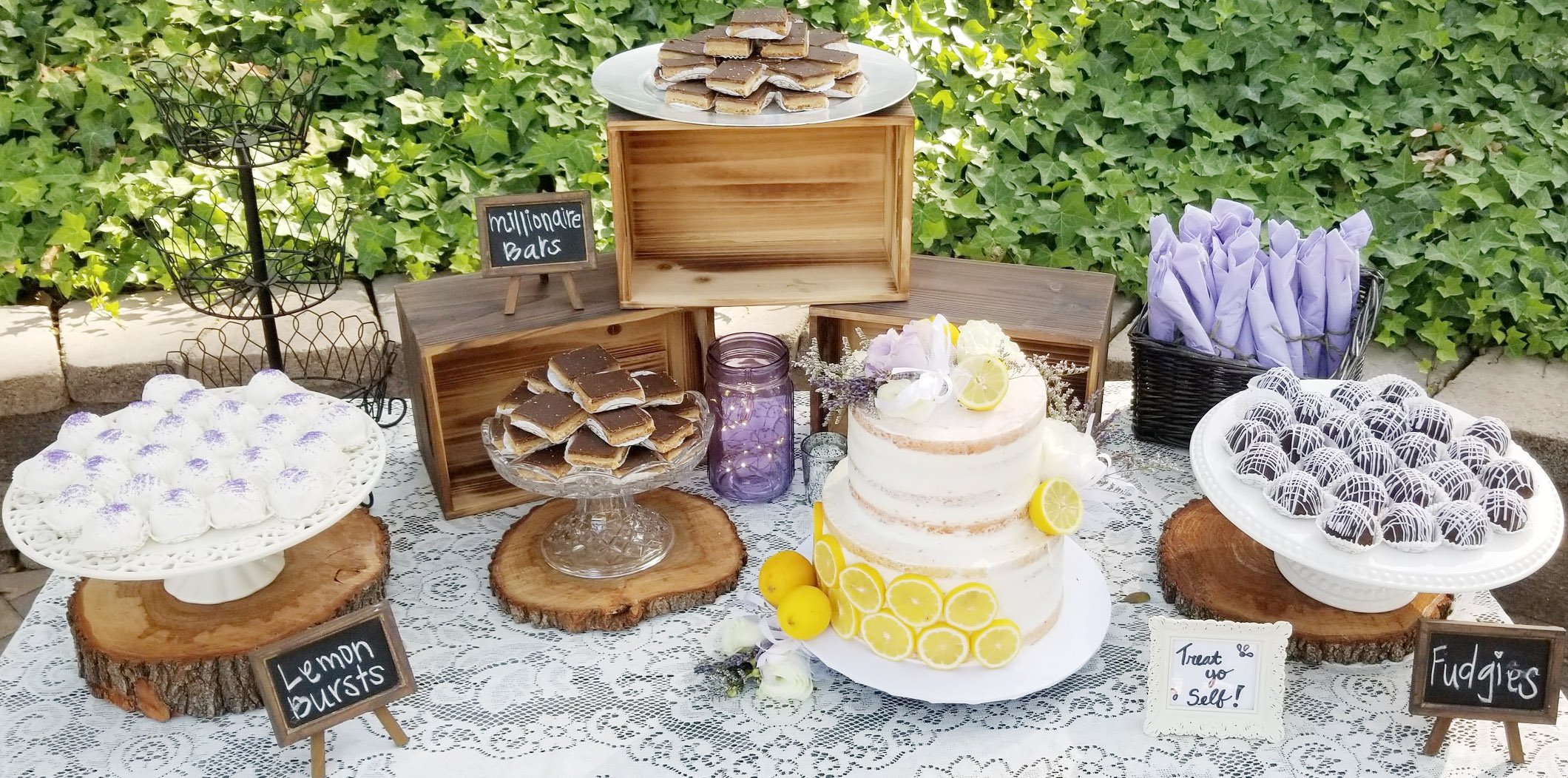 a beautiful wedding display featuring a lemon naked cake and sweet treats by 1914 Bakery

Are there any new wedding cake trends that you adore?
In the past, couples would commonly save the top tier of their cake for their first wedding anniversary. As this tradition fades away, we're seeing a new trend emerge – to order a fresh cake from your wedding bakery on your first anniversary. We love this trend because it's easier for the couple and guarantees a better experience! Plus, you can switch up the flavor for your anniversary, which can be a fun opportunity to enjoy another favorite dessert. When you book one of our wedding packages with Wedgewood Weddings, it usually includes a free first-anniversary cake and the feedback has been excellent!



What advice do you have for couples as they plan their wedding cake?
Remember that 50 guests means 50 different sets of taste buds!
Offering variety is key to accommodating all of their various likes and dislikes.


It's your special day! Go with what will make you happy. If you bring guests to your cake tasting appointment, make sure to set boundaries beforehand of how much input you would like from them.


Review and discuss design details, cake flavors, budget, and other key details before coming in for your appointment. The best experience happens when clients arrive both prepared and open-minded!
Thank you so much for your time! It's been such a pleasure to learn about the history of Gruttadauria's 1914 Bakery, and reminisce over my favorite cannolis from Rochester, NY.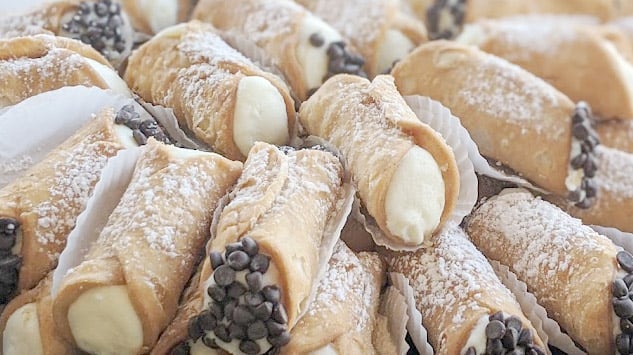 the best Sicilian cannolis you've ever had // 1914 Bakery

***
Gruttadauria's 1914 Bakery is quickly becoming one of Southern California's favorite Italian bakeries! Their designs are modern yet classic, the ingredients are fresh, and the love runs deep with four generations of cake-induced smiles. If you visit their adorable family-owned bakery in Temecula, CA, make sure to try their signature 1914 cannoli or homemade gelato. Of course, if you're soon to be married, Gruttadauria's 1914 Bakery is an excellent choice! They make the most beautiful made-to-order wedding cakes that are absolutely mouthwatering - our favorite being the rum cake with a display of Italian cookies!
You can learn all about Gruttadauria's flavors and services on their website. For tasty inspiration and glowing reviews, visit them on Instagram or Facebook.