There are so many places you can register for your wedding gifts. Not only are there dozens of retailers you can visit, but online options are growing more and more popular too. I mean, c'mon, crossing your wedding registry off your list without even leaving your couch? Score. But what options are right for you?
We've put together a list of all the best wedding registry sites and stores - from places you already know and love to places you might never have heard of before. Take a look and happy shopping!
***
We're loving how simple and easy Amazon makes the shopping experience. Search, filter, read reviews, and add to cart in a matter of minutes. With a PRIME membership, you'll get your fabulous items in just a couple days! Amazon features incredible savings coupons and discounts even after you've completed your registry.
Chic and stylish home decor, essential cookware, and even excursions for an awesome date night - register for it all without leaving your couch! The ease of Zola makes for one phenomenal wedding registry. They even get you started with a pre-made checklist of all the materials you'll need for your newlywed home!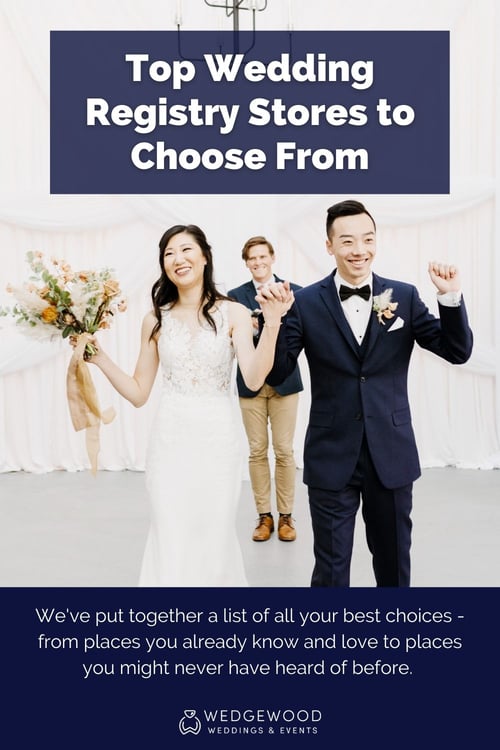 Who doesn't love Target? We walk into this store, knowing our budget, and always somehow managing to put things in our cart that totally don't belong there. Well now you can have that experience when building your registry. And of course, we always love the Target return policy for those things that just didn't work out. No hassle of fuss! Thumbs up from us!
Have you heard of this ready-made wedding registry from Wayfair? If not, you seriously have to check this out. Grab your cell, cruise through the Wayfair registry, browse your favorite styles and make changes to suite your needs! Could this get any easier?
Techie buys and super savings, from a Google home assistant, to home security, to a 4K flat screen, get all of your electronics from Best Buy. They'll help you find what works for you and your budget!
Find everything you need all in one place - that's the beauty of Bed Bath & Beyond. Super easy shopping experience, friendly experts to help you pick the perfect items, and a no-hassle return policy if something doesn't work out. Oh, and you get other things too when your guests make purchases for your wedding registry. Yass!
Like Target...only better. Weird, right? Crate & Barrel knows exactly what you're looking for before you even know it. On-trend designs, high quality products, and a large variety of all the home products you could ask for - finding items to register for here is easy.
Gift Cards
Don't forget about gift cards! Get creative with a gift card to one of your favorite home stores like Home Goods or Marshalls.
***
Creating your wedding registry is one of the most fun aspects you'll get to enjoy during your engagement. Browse these stores online, find what fits your taste and what's likely within your guests' budgets, and start adding!