Creating a registry for your wedding is often the most fun item on the to-do list! While shopping is exciting (especially for wedding gifts), the abundant options available to modern couples can get overwhelming. Fear not—we're here to help. We've put together all the steps you need to conquer your wedding registry like a pro.
***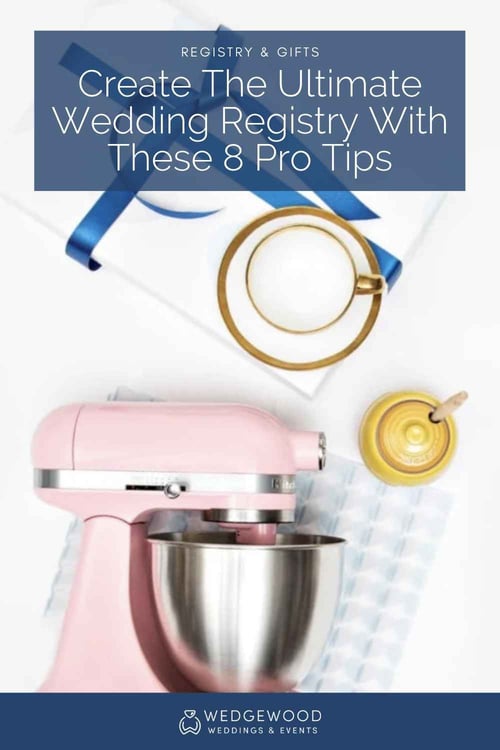 1. Start Early
Contrary to popular opinion, our expert wedding planners always recommend setting up your registry as soon as possible. Once you've celebrated your engagement and shared the news with your loved ones, your logical next step is to begin planning and setting up your registries.

2. think beyond the wedding
Remember: your wedding registry will be used for your engagement party, bridal shower, wedding, and more. Keep that in mind when creating registries, as you may have different needs throughout the process. Setting up at least one registry early ensures a delightful experience for all involved!
3. choose multiple registries
Consider creating at least 2-3 registries to cover different needs and interests. We recommend choosing at least one large retailer such as BedBath&Beyond or an online registry such as Zola or Blueprint. This is a great way to start early in the process and really learn what options are best for you.
4. opt for timeless styles
Your wedding registry has to stand the test of time—your engagement and your marriage—so think carefully about style! That bold floral print may be in style today, but it's likely to fade within 2-3 years; choosing a solid color or a more timeless print is a better way to go. Plus, keep in mind that your wedding registry has to last your entire engagement. Try to choose items you know won't get discontinued during the duration of your registry.
5. Match Your Personality
If dinnerware and household items aren't for you, then don't include them in your wedding registry! There are so many types of wedding registries to choose from, so choose a registry that is a true representation of your personality and needs. We've even prepared a list of our favorite unique wedding registries just for you!
6. think about your guests
Think about who your guests are and what preferences they'll have when it comes to gifting. Your friends from work are more likely to choose a medium-priced gift option, while your grandparents and likely to contribute to a larger investment item. When adding items to your registry, choose an array of gifts all the way from small household items to larger household appliances and bucket list experiences. It also helps to break up expensive items (china, crystal, flatware) into individual pieces so that people can build up to a price-point they are comfortable with.
7. Don't forget to share
After putting all that work into building the perfect wedding registry, you must remember to share it with your guests. It's common to share through word of mouth, your wedding website, and even including a registry card in the envelope with your wedding invitations.
8. Keep it fresh
There's no rule that says you only get one chance to update your wedding registry! We actually recommend checking in on your registry from time to time and adding (or removing) items based on your evolving needs.
***
When all is said and done, the most important tip of all is to have fun in the process. Plan a date night with your fiance-to-be or host a registry brunch and have your friends chip in ideas. Of course, our team is always here to provide expert advice when you need it.