One of the most fun steps of wedding planning is creating your wedding registry! Historically, this has meant registering with one or two big-brand stores to select the items you'd appreciate receiving as wedding gifts. As weddings have evolved over the past few years, so have the options for registries. As much as we love the classic options such as Macy's, Bed, Bath & Beyond and Target, these just aren't a match for every couple.
Whether you've already furnished your first home, prefer experiences over material things, or simply have unique interests, there's a wedding registry perfectly suited for you! Check out some of these popular alternatives to wedding gift registry stores!
***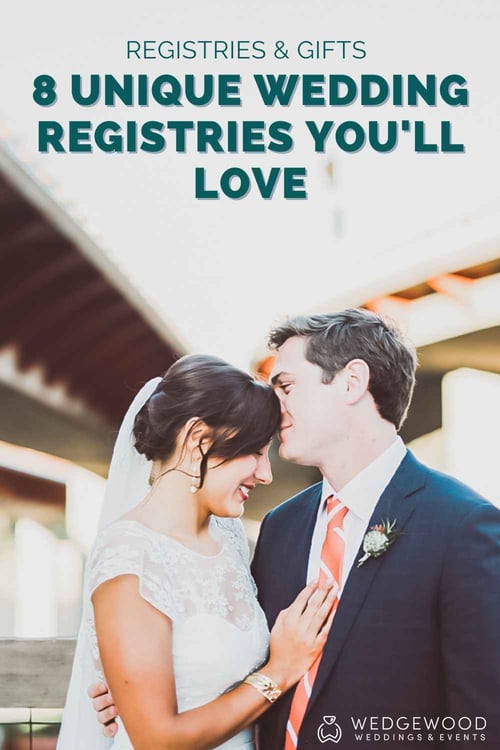 While Amazon is one of the biggest online retailers in the world, its use as a wedding registry is still relatively new. If you're a fan of Amazon and have diverse needs, it's an excellent option for everything from books to electronics. Plus, Amazon makes setting up your registry simple and easy. Search, filter, read product reviews, and buy in a matter of minutes. Amazon features include incredible savings coupons and discounts even after you've completed the registry.


For outdoor enthusiasts, you can't find a much more perfect wedding registry than REI's registry powered by myregistry.com. Register for all of your adventure necessities or guided adventure trips and receive all the perks you love about REI: hassle-free shipping, personal fittings, and satisfaction guaranteed.


Skip the traditional registry altogether and funnel all of your wedding gifts towards the most epic honeymoon. Honeyfund was created specifically for this purpose in mind and it's skyrocketed in popularity in recent years.


Are you a wine & spirits connoisseur? Then perhaps you'd like to begin building that wine cellar from day one of your marriage. ThirstyNest is a unique niche registry dedicated solely to wine enthusiasts. Their simple 1-click registry feature is easy and fun to use.


A wedding registry dedicated to giving back to charity. This registry option is perfect for established couples who really don't need or want wedding gifts, or simply anyone who wants to start their marriage by doing good together. There are many charity-based wedding registries, but we especially love The Good Beginning for its ease of use and beautiful experience.


Did you know that Costco has launched a wedding registry!? If you make monthly visits to Costco to stock up on pantry essentials, then this registry may be right up your alley. Choose from high-end appliances and furniture to basic household items like towels and sheets.


Get ready to lace up your boots and put on your adventure pack! Spur Experiences offers over 2,000 exciting experiences to register for across the United States and Latin America. The vouchers never expire and you can even apply your credits towards concerts and special events.


Invest in your future together with a timeless piece of art! Mishkalo is a wedding registry specifically for pieces of art. You can choose from hundreds of curated and affordable art pieces easily through their online art wedding registry.

***
Even if you already have your wedding registries picked out, you may want to spice things up by adding in a unique wedding registry. For more expert tricks and tips, be sure to check out our essential guide to how to set up your wedding registry.