Creating your wedding registry is an exciting task! But with so many options to choose from you may need some guidance on where to start. Luckily our friends, and wedding experts, at Zola are here to guide you. Zola's registry team dove deep to find the most popular gifts across the country. From California and Washington to New York and Maine they discovered the most desirable gifts in every area.
***
Two gifts stand out as the most popular nationwide. The KitchenAid stand mixer and a $100 Airbnb gift card top the list every year in all 50 states. What makes them so great? The KitchenAid stand mixer is the most classic wedding present of all time, and new attachments like a pasta roller, ice cream maker, and juicer make it worth the counter space! And, for adventurous couples who are always on the go (and are out of counter space) an Airbnb gift card is perfect. It can be used anywhere in the world at any time - ideal for a honeymoon or a pre-wedding getaway.
Check out the map below detailing each state's most popular wedding gift. Do you hail from the Wild Waffle West? Cuisinart's waffle maker is hot in Alaska, New Mexico, Oklahoma and into Tennessee. Ever visited Cast Iron Ridge? Lodge's cast iron skillet dominates in Pennsylvania, Ohio, and Indiana. Then there's the Bluetooth Belt, a.k.a. Georgia and South Carolina, where the iLuv Audio Shower Bluetooth Speaker was gifted the most. Lastly, there's Towel Terry-Tory, where top towel brands Parachute and Welspun compete for the coasts' favorites.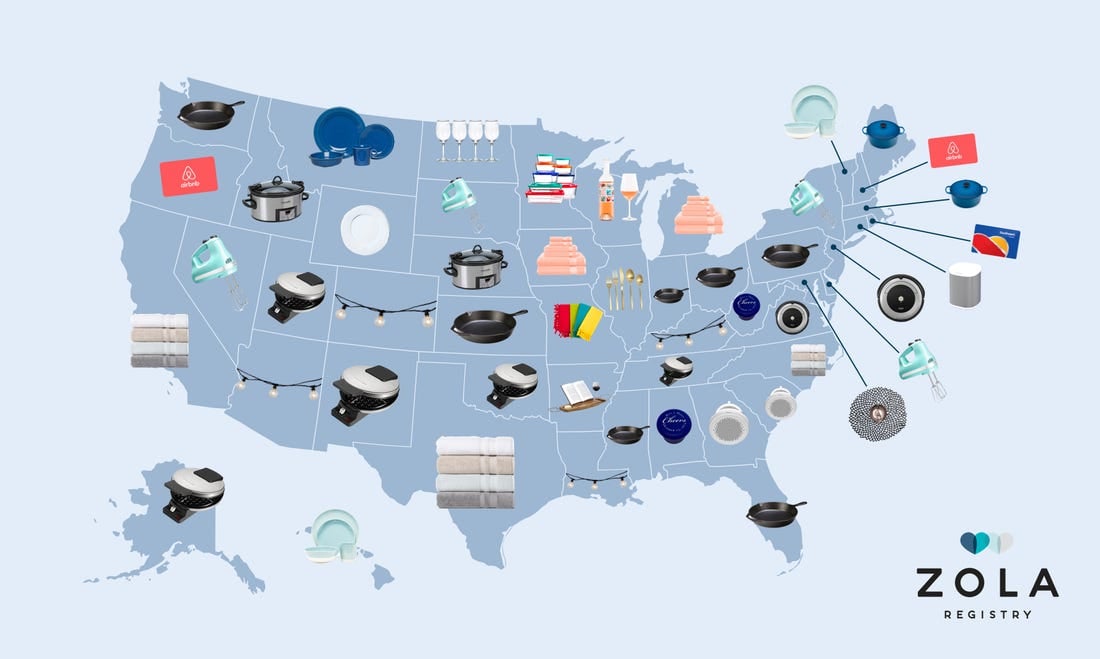 As for Wedgewood Weddings venues, Parachute's Classic bath towel is the most popular gift in California. If Wedgewood Weddings Las Vegas is your choice be sure to add the Kitchenaid 5-speed hand mixer. In Arizona and Colorado Bulbrite' indoor/outdoor string lights are the most popular, you may even be able to use them as part of your decor! In Illinois the Fortezza arezzo 5 piece place setting is the top choice while Le Creuset's signature round dutch oven takes the cake in Boston.