CHELSEA TAYLOR, REGIONAL MANAGER
May 2020

First introduced by our friends at The Knot in 2019, Sequel Weddings have recently gained more traction as a creative way to keep wedding plans intact due to COVID-19 related interruptions. A new perspective on your big day could lead to two unforgettable celebrations. If you were planning a mid-2020 celebration, this out-of-the-box idea means that your wedding day becomes a matter of how rather than if!
Hosting a sequel wedding allows you to keep your original wedding date but first have a small ceremony with your closest friends and family. Then, follow it up by hosting a larger reception once restrictions start to ease. This way you can still legally tie the knot on the date of your choice and include everyone in the big party later.
"Hosting a sequel wedding is a great way to get the formalities done ahead of time so you can unwind at the party. You can still take romantic photos after your ceremony and share them with everyone at your future reception. Also, how about wearing that wedding dress you love so much – twice!"

– Rosemary Phillips,
General Manager at Ocotillo Oasis by Wedgewood Weddings
We hear from many couples (AKA Soon-Be-Weds) who are ready to be married, that a small ceremony now means that they can complete the legal procedure of tying the knot without waiting. The Knot's Esther Lee explains in more detail:
"Simply defined, a sequel wedding is when a couple has multiple ceremonies. Typically, the first wedding is more intimate in nature (think: a microwedding or an elopement), followed by a larger-scale second wedding, which oftentimes involves a grand reception party. What makes this option so appealing is that there's no need to "cram" traditions, attire and other expectations into one event. Instead, couples can thoughtfully lay out exactly how they marry and at the cadence they so please."
Mini ceremony ideas we love
As our counties begin to reopen it may not be possible to gather all your guests so a small ceremony at your local courthouse is an easy route. If you haven't applied for your marriage license online, then the chances are that you visited your county or city courthouse when you picked up your license. Courthouses are often centrally located historic buildings that look wonderful in photos.
ABC15 in Phoenix, AZ shared Katrina and Eric's story last month. The two decided on a courthouse mini ceremony with their four parents, photographer, and the judge. Ninety-eight percent of their anticipated 200 guests were out of town but they know they'll be able to meet up and fully celebrate soon.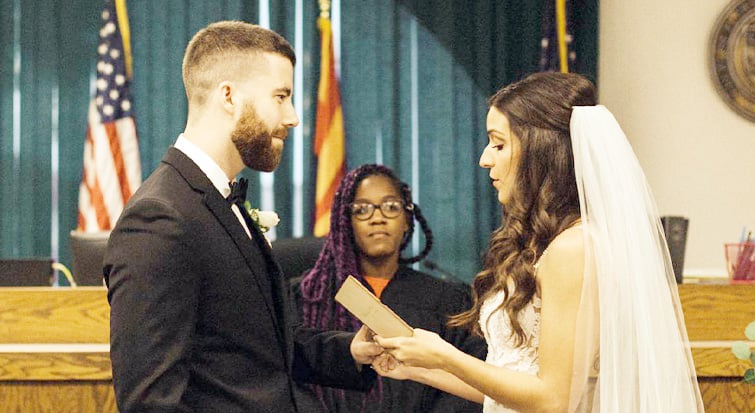 Eric and Katrina Celebrate With a Courthouse Wedding.
Photo Credit: Erika Greene Photography
Gather with a few neighbors and important family members to create a low-key wedding experience where everyone can witness your heartfelt vows in the comfort of a local oasis. This is a wonderful brunch or evening idea so that you can continue the occasion with a picnic or barbecue.
Lena and Mark from Charlottesville shared their story with Vogue Daily. They wanted to cut the size of their guest list for a mini pre-wedding. With many friends and family out of state, they decided to invite guests via a video link. Lena tells their minimony story:
"In the end, it was just us and both of our parents there in person. Our officiant, wedding party, and family were all in attendance via Zoom. We were able to feel very relaxed during the ceremony because of how low-key it was. Not having 200+ people there watching in person made it less nerve-wracking."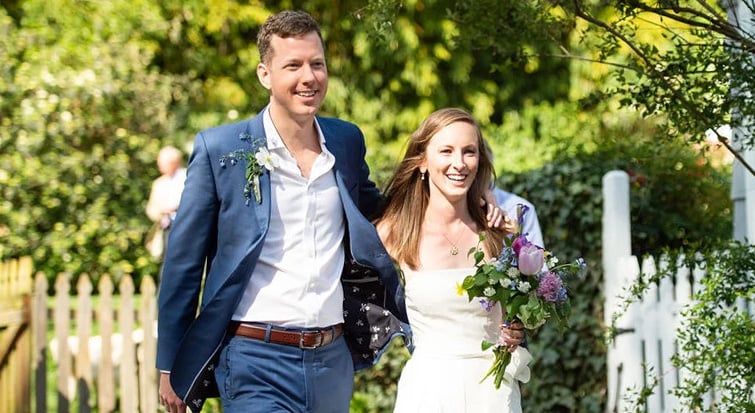 Backyard Wedding in CHARLOTTESVILLE.
Photo Credit: Sarah Cramer Shields
Did you hear about Asha and Nazmul in New Jersey who celebrated their commitment with a virtual ceremony in Animal Crossing? The Washington Post reports that the couple was due to be married on April 12, 2020, surrounded by 150 guests. Instead, Nazul surprised his fiancée with a detailed Animal Crossing: New Horizons surprise. Asha explains:
"Nazmul invited me over to his island. As soon as I got there, he was at the airport and there were arrows on the ground. He told me there was a special in-game event, so we followed them."
The arrows led Asha through the town, where she picked up flowers Nazmul had left along the path, and up to the beach where their friends were waiting with their own Animal Crossing characters. Nazmul had planned a surprise beach wedding within the game. He got everything ready on the same day and had their friends waiting in a muted video chat until the big reveal.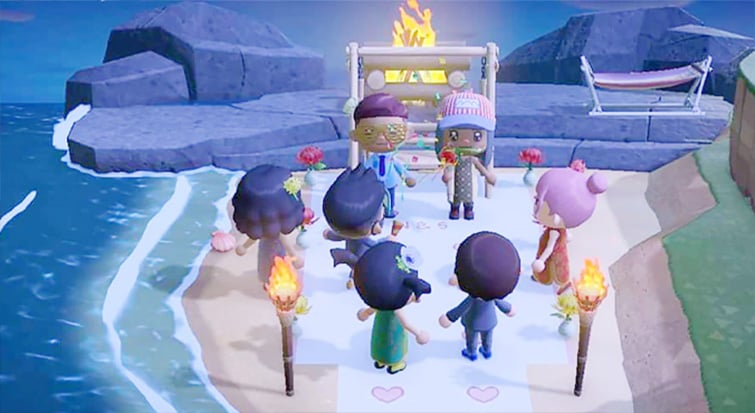 a surprise beach wedding in Animal Crossing: New Horizons.
Photo Credit: Sharmin Asha
Making a larger Celebration Later Work for you
While a mini wedding is adorable, there's a reason that we traditionally get married with our extended friends and family network. We want to celebrate with all the people we love, who have been part of each stage of our lives. Wedding receptions have a historical significance – they are usually the first time that your loved ones see you as a formally married couple. With a sequel wedding, this can still be the case.
"I love the idea of a sequel wedding as it's the best of both worlds! You can celebrate twice while still helping to keep your community safe. And, anyone who attends both parts, can feel especially honored 😊"

- Robyn Miranda,
Wedding Team Champion
Ideas for the SEQUEL
After your 'minimony' (AKA Mini First Celebration), continue prepping for your sequel wedding. Having a minimony allows you to solidify your union and bring your original wedding vision to life.
We love these eight ideas for your wedding part II:
Decorate your venue with large-scale prints from your minimony
Show your minimony (Zoom?) video
Create a video montage of all the congratulatory messages you received following part I
Wear the same outfits (or take the opportunity to show-off a new wedding dress/suit!)
Repeat your vows in front of a larger group of guests (but with fewer nerves this time)
Ask your friends who couldn't attend part I to stand up and give a blessing to your union
Incorporate a few of your wedding gifts. If you received fancy stemware as a wedding gift, fill them with champagne and add them to your part II sweetheart table
Give a speech listing the best things about being married. Now that you've had a chance to live the married life ahead of your big celebration, you probably have wisdom to share
Finally let's look at the popularity of a micro commitment ceremony followed by a party. According to Business Wire: Twenty-seven percent of couples who had planned to wed in spring and summer 2020 are taking this route:
"While in quarantine, many couples have gotten creative with ways to honor their original wedding dates, with some planning to get married before their rescheduled celebration. Couples are celebrating their marriage ceremony intimately with a small group of loved ones in person or virtually. While minimonies don't take the place of a couple's postponed wedding celebration, the small commitment ceremonies are often a cathartic way for couples to bond in honoring their original wedding date during this unprecedented time."
***