The Ultimate Guide TO Hosting A same-sex Wedding
Thanks to the landmark (and long overdue) Supreme Court ruling on same-sex marriage in 2015, LGBTQ+ weddings are now legal in all 50 states. Planning an inclusive wedding is exactly the same as a traditional wedding–unless you want it to be different! Wedding planning is full of exciting, meaningful moments like trying on your wedding outfit for the first time or our personal favorite: cake tasting! Our ultimate guide to planning an LGBTQ wedding has everything you need to take the next steps to 'I do.'
***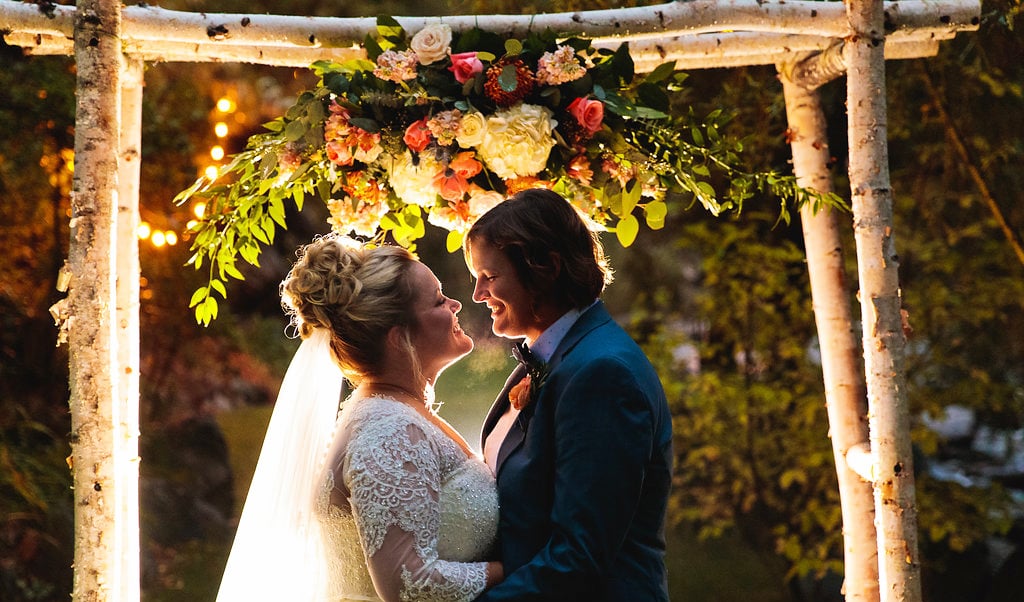 Say 'I do' to a lifetime of happiness at one of our many gay-friendly wedding venues

LGBTQ+ Marriage Requirements
You may be wondering if there are any special requirements or forms to make your marriage legal. Same-sex and LGBTQ couples are eligible to get a marriage license in all 50 states to make their union legally recognized. Requirements tend to vary by county, so visit your local county clerk's website to see a list of forms and fees you will need for filing. Generally, a marriage license requires a nominal filing fee and proof of identification (a driver's license, state ID card, or passport). A marriage license is usually valid for 60-90 days, so you should file for this a few weeks ahead of your wedding date.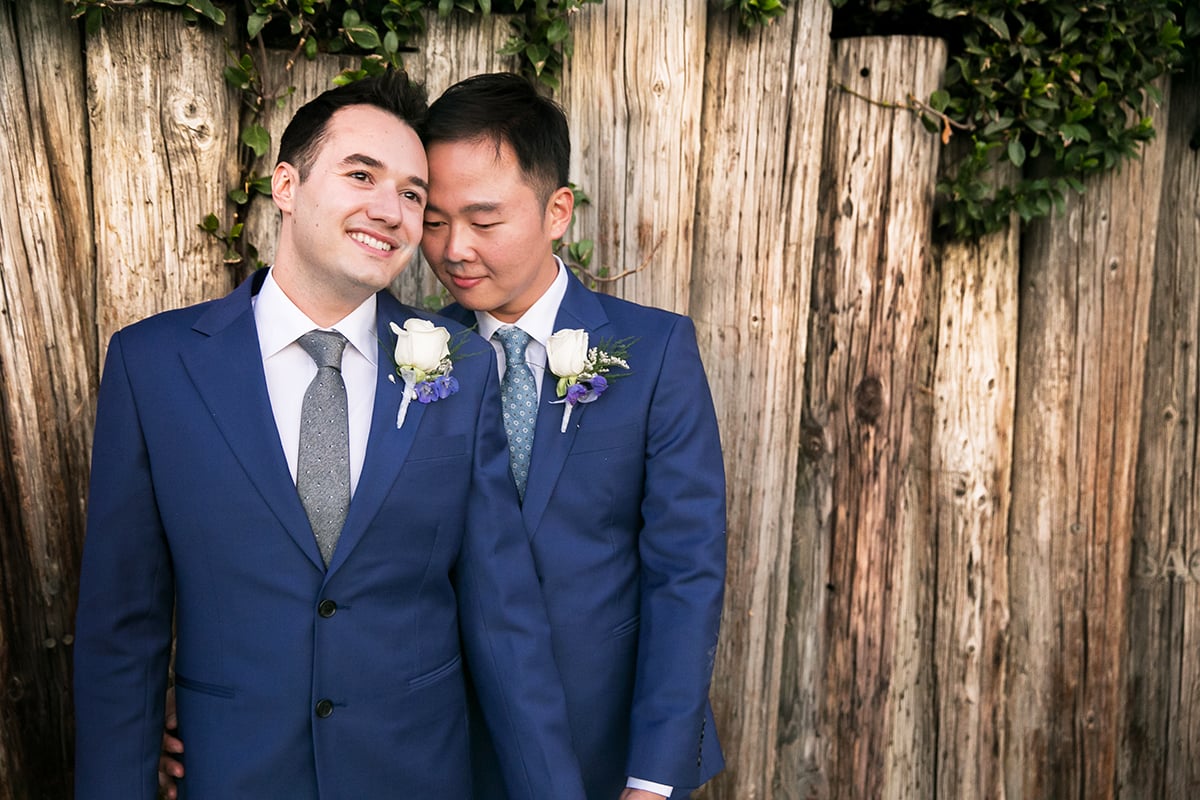 Two handsome grooms sport matching navy suits and boutonnieres at Sierra La Verne


Same-Sex Friendly Wedding Venues
Selecting your venue and vendors is pivotal to planning your LGBTQ wedding. From the backdrop of where you will exchange your vows to the person who will be capturing every magic moment, your wedding vendors will be with you every step of the planning process. Rainbow Wedding Network hosts national LGBTQ wedding expos where newly engaged couples can meet with potential vendors. Online resources like Equally Wed and LGBT Weddings both offer a searchable database of fully-vetted vendors who will help make your special event spectacular.
Of course, all of our marvelous wedding venues welcome same-sex couples from all walks of life, and our preferred vendors are carefully selected to ensure you'll have a joyful and easy planning experience.


---
We're happy to share that our venues are inclusive and welcoming to all couples.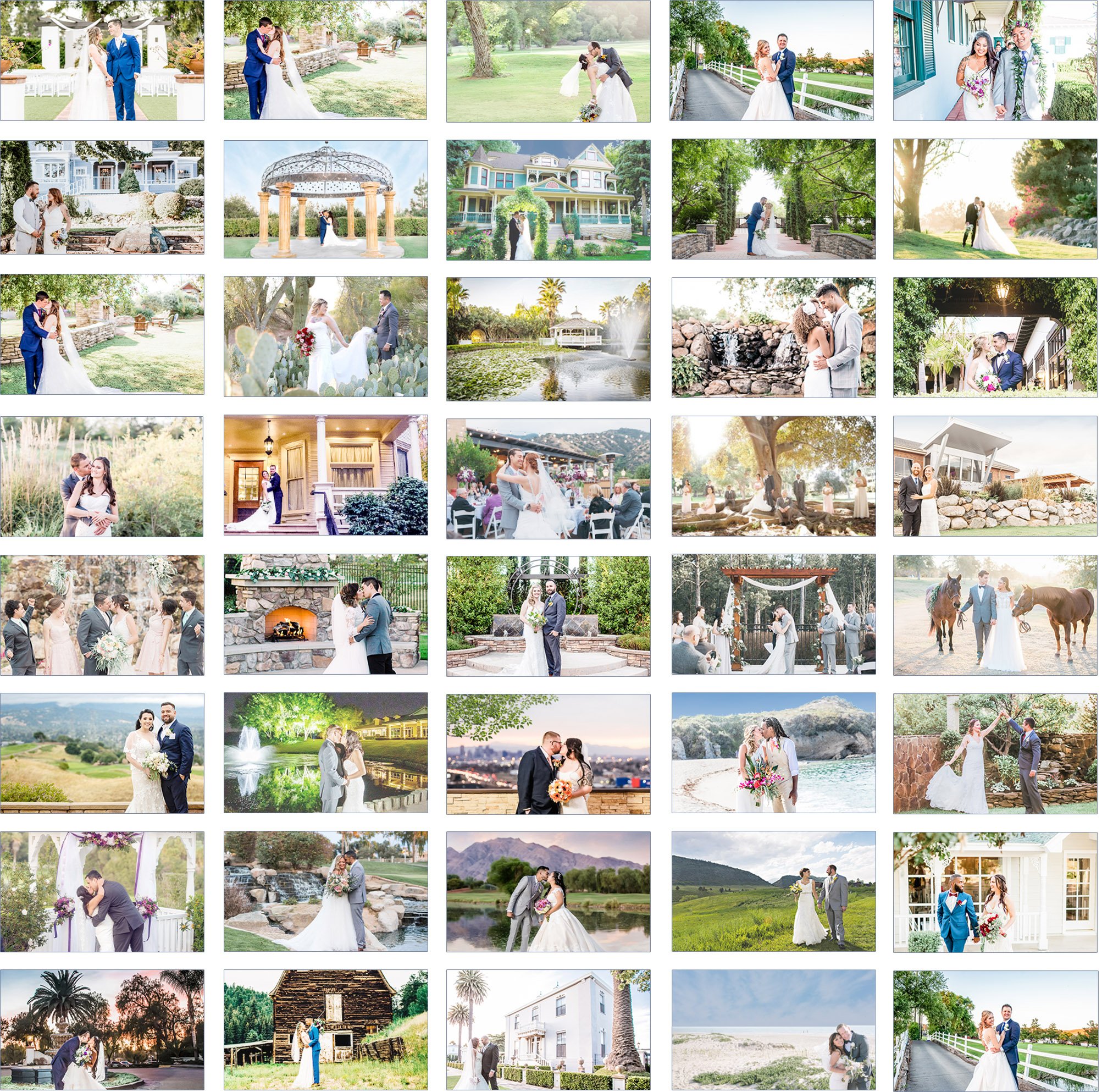 ---
***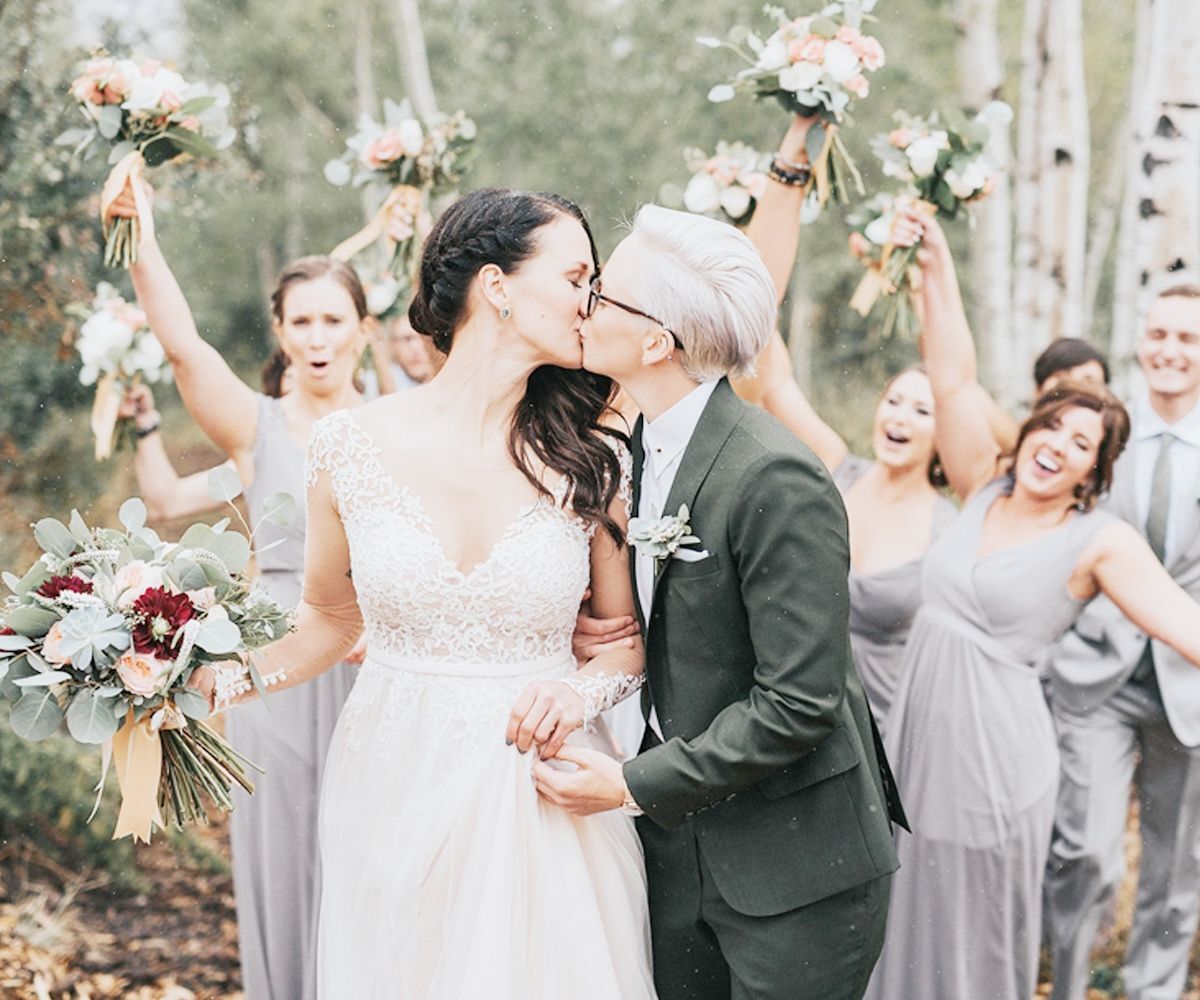 Two brides at BLACK FOREST opted for muted colors & traditional attire


Considerations for planning an LGBTQ Wedding:
Before you say 'I do,' there are a few details worth reviewing with your partner ahead of your wedding. From post-party planning to wedding traditions, here are seven considerations that we advise every couple to discuss as they begin wedding planning.
Choosing Your Attire: Some couples opt to match their partner on their wedding day, while other couples opt for wedding attire that is unique to their own personal style. Before selecting your outfit for the big day, talk to your significant other about styles, themes, and how you want your wedding photos to turn out.

Selecting the Wedding Party: Do you plan on having separate wedding parties, or one large group? Many couples opt for a maid of honor or best man to accompany each partner during the wedding ceremony.

One Aisle or Two: Heterosexual weddings usually feature a bride being escorted down the aisle by her father or another influential person in her life. For an LGBTQ wedding, you can choose to keep the single-aisle tradition or opt for two aisles–where both partners walk down the aisle at the same time to commence the wedding ceremony.

What Traditions to Keep: You may choose to ditch the bouquet/garter belt toss, but keep the first dance and cake cutting traditions. For every couple, there are always traditions they love and ones that make them feel blah. Talk about which moments feel meaningful and skip anything that won't give you joy!

Planning the Bachelor(ette) Party: If you are planning a bachelor or bachelorette party, you and your partner can choose to either have a combined party or two separate celebrations. Both celebration styles have their perks, so it's really a matter of what works best for you.

Choosing a Last Name: To swap, keep, hyphen or not to hyphen–that is the question! Some couples opt for a hyphenated last name, while others choose to keep their own last names or adopt their partner's last name. The choice is completely yours, so talk to your partner and weigh your options!

To After Party or Not: A recent survey from

The Knot

found that same-sex weddings are three times more likely to have an after-party than their heterosexual counterparts. An after-party is a fun way to keep the festivities going after your reception or to celebrate with friends and family after an elopement.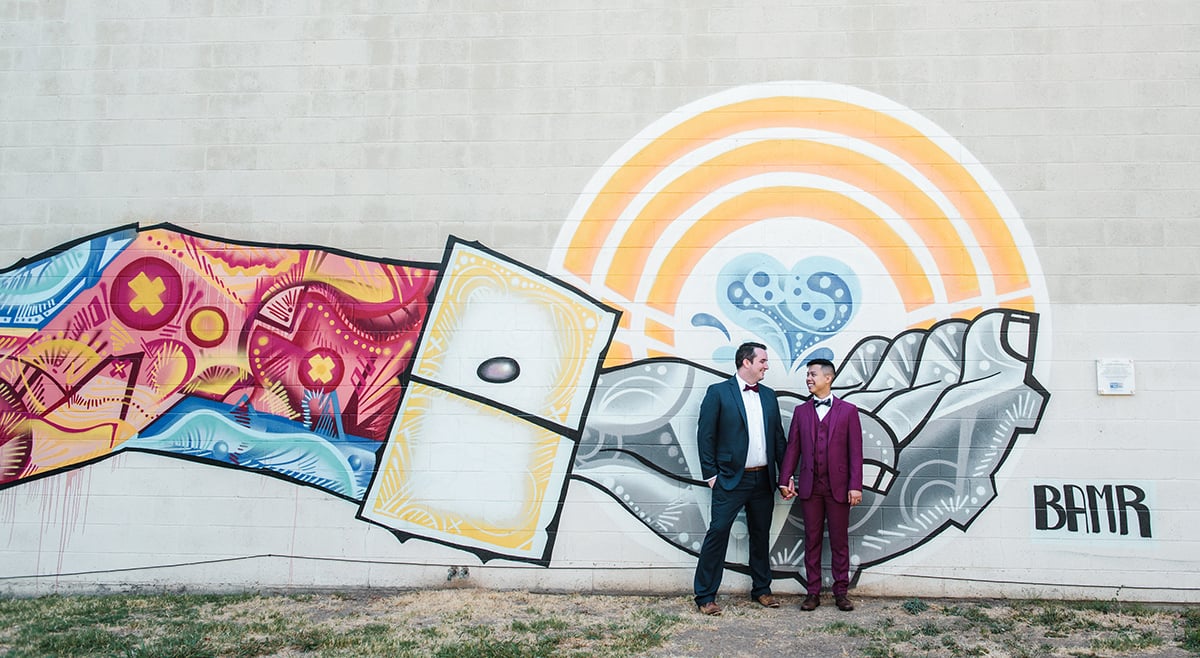 Two grooms at Sterling Hotel had fun posing with street art in Downtown Sacramento


some of our favorite Inclusive Wedding Venues
You're welcome at all our venues—but we'd be remiss to not share a few of our favorites. Check out these beautiful gay-friendly wedding venues:

Wedgewood Weddings is home to 43 all-inclusive wedding venues across the United States. By all-inclusive, we don't just mean costs: we recruit the best local vendors to ensure that every couple we work with is treated with the kindness and equality they deserve. Weddings are about celebrating the love between you and your significant other – so leave the planning and the stress to us.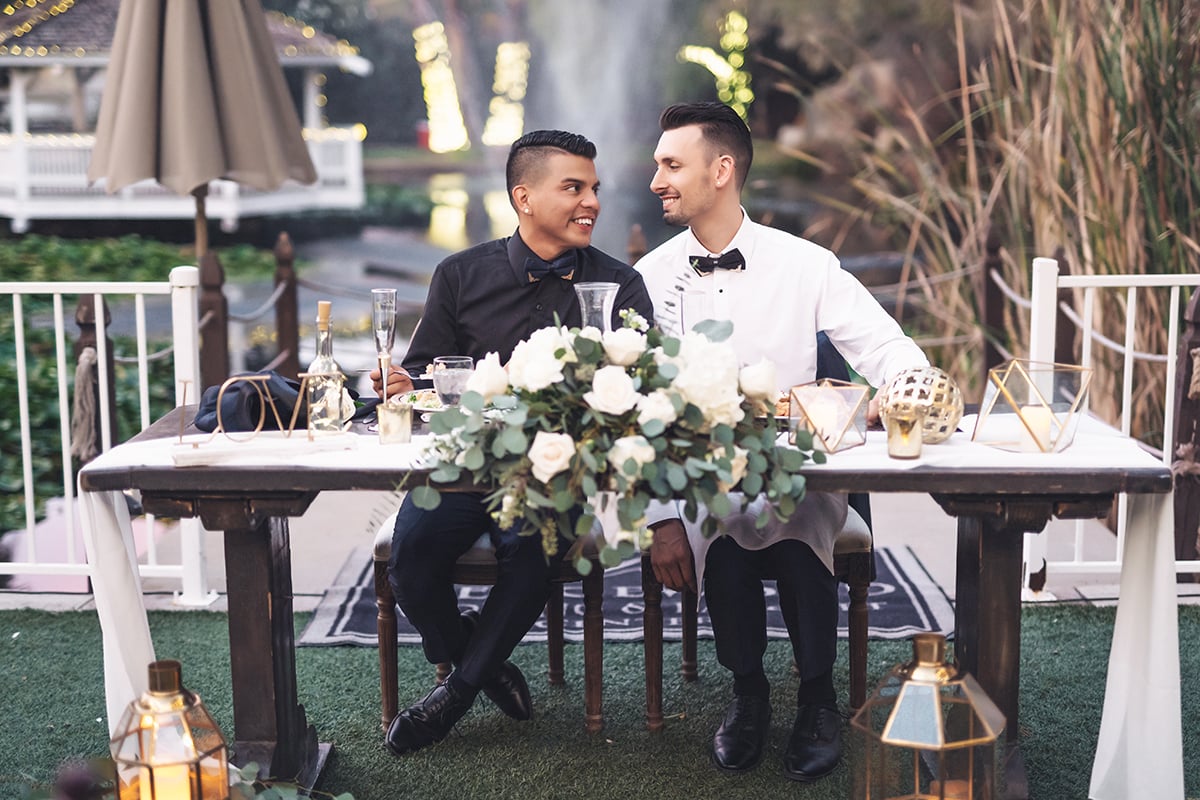 ***
One of the best parts about planning a gay wedding is that you have the freedom and flexibility to create new traditions that are all your own! The most important thing to remember is that getting married is all about having fun and celebrating the love that you and your partner share. From selecting an inclusive wedding venue you love to nailing the walk-out dance, your special day will be a joy. It's time to get excited about planning your nuptials and taking a trip down the aisle.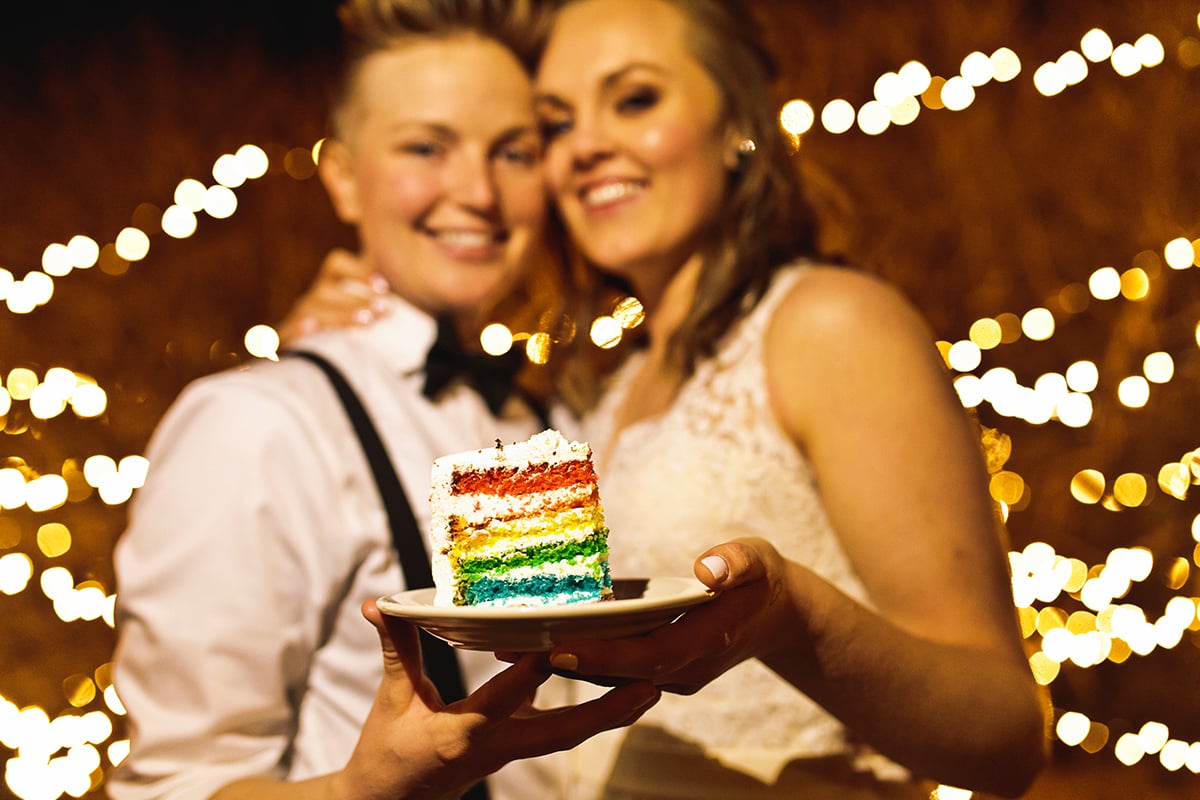 custom rainbow wedding cake at Tapestry House in Fort Collins, CO