Wedding Decisions You Should NOT be Worrying About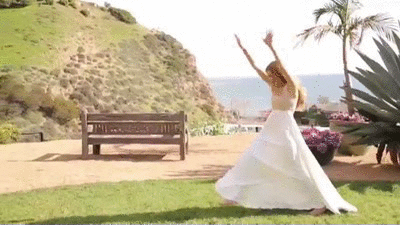 We're sure you don't need us to tell you that there are a million decisions to make and details to arrange for your wedding day…because you're probably well aware of that by now! But, believe or not, there are actually several details about your wedding that you definitely DON'T have to have a say on! That is, if you don't want to…
1. Your Bridesmaids' Accessories
If your girls are all asking you what kind of jewelry or shoes you want them to wear for the wedding, don't bother. Rather, let them decide. Give them some generic guidelines to follow (like the color, type of shoe, type of necklace, etc.) and let them do the hunt on their own. This is such a tiny detail so you shouldn't have to spend hours (or days or weeks) trying to find the perfect items. Plus, this allows your girls to find their own accessories at a price they feel comfortable with!
2. The Rehearsal Dinner
You know what sounds great on top of all the wedding planning you're doing? Planning another big dinner for the night before! NOT! Tradition is, the groom's parents are responsible for the rehearsal dinner. That means covering the cost and planning the event. If you trust your groom's side of the family to plan the rehearsal dinner, by all means, let them. However, if you don't want to relinquish all control on it, make suggestions for restaurants to host it at, but let your groom's parents do the work of comparing prices, booking a place, arranging the menu, and sending out invitations.
3. Welcome Bags
Welcome bags are a really nice gesture for your out-of-town guests. It's a fun way to show a little extra appreciation to the people who spent the time and money to travel into town just for your wedding. But taking the time to plan all the various goodies to go inside the bag and arranging everything together can be a lot of work – especially if you're trying to personalize any details or be extra creative. If you really want to offer welcome bags, delegate this task to someone you trust to order all the goodies to go inside and put all the bags together for you. It's a fun job for someone else to do but a pretty low-priority one for you and your fiancé to do yourselves. Win-win!
4. Your Bridesmaids' Dresses (if Mismatched)
If you're going with the mismatched look for your bridal party, let your girls choose their dresses on their own. It can get extremely time-consuming and overwhelming trying to find, not one perfect bridesmaid dress, but five (or however many bridesmaids you have). Make it easier on yourself by coordinating the color scheme you're going for and then letting your bridesmaids each choose their own color and have them each find their own dress. Just like with their accessories, you can give them guidelines around whatever details are important to you (floor length, material, etc.) but save yourself the hassle of having to choose each individual one.
5. Songs for Cake Cutting, Bouquet Toss, Etc.
If you already have ideas for songs you'd like to be played during these traditions, great! However, if you don't already have songs in mind, don't worry about spending lots of time trying to find the most perfect or meaningful songs. Only a small portion of each song will be played anyways and none of your guests will look back and remember details as tiny as this. Your DJ should be very familiar with what songs are popular for these rituals and, therefore, should easily be able to make suggestions for you. If these songs aren't all that important to you, just let your DJ select the tunes for you and call it good.
6. Getting Everything Home
You've probably already started a pile of all the décor you'll be bringing to the venue for your wedding, such as personalized signs or DIY centerpieces. But you might not have thought about how you'll be getting those back home after everything's done. That's okay! Don't. After your wedding, you and you fiancé should be setting off to your honeymoon or settling in back home – not cleaning up. At Wedgewood Weddings, we do all of the tear-down after the wedding for you! That means not even your friends and family will have to worry about it! You should, however, delegate someone in your wedding party or your family to bring all the decor home with them after the wedding. You can always pick it up from that person after the honeymoon!