Your wedding party has seen you through the twists and turns of wedding planning. From hosting showers and offering advice to standing by your side on your big day, they continue to put in a lot of work to support you on this monumental event. What better way to say thank you than a heartfelt gift?
With diverse personalities to appeal to and up to 14 (or more) people to consider, picking out the best wedding party gift can seem like a challenge. To assist you in this task, we've rounded up some of our favorite gift ideas that'll work for everyone on your list.
***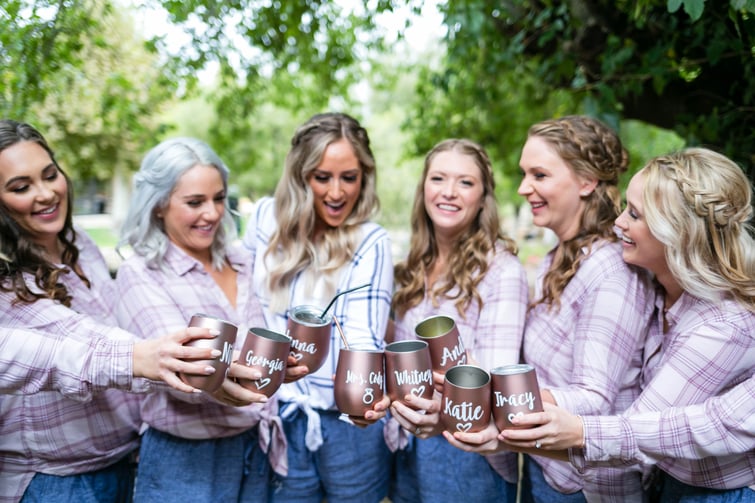 The Best Wedding Party Gift Ideas
Now, before we dive into our list of amazing wedding party presents, we have a few quick tips to make the gifting process easy-breezy.
Start with a list! It's traditional and expected to give a gift to everyone in your wedding party, and sometimes even honorary members such as the mother of the groom and father of the bride.

Switch it up! You don't have to give the same gift to everyone. Choosing bespoke gifts for each member of the squad may be time-consuming, but the end result is always well worth it!

Set a budget! Wedding party gifts can range anywhere from $10 to $100 per person, with additional budget often dedicated to the maid of honor and best man.
The Best Wedding Party Gift Ideas
Get ready to spoil your besties like crazy! Gifting has never been so fun.


spa basket
For the ladies that love to pamper, you can't go wrong with a beautiful spa basket. Fill it with bath bombs, facial masks, luxurious lotions, aloe-infused moisturizing socks, and a floral silk robe.

personalized glasses
Functional and practical for the win! Personalized wine or cocktail glasses are the perfect low-budget gift that will appeal to literally everyone on your list.

man-crates
Every man in your wedding party will be stoked to get a custom man-crate. Choose from a variety of categories, then price range, and add to cart! These are so much fun and the fellas will definitely be feeling the gratitude when they pry open their very own man-crates.

pashmina
A beautiful pashmina for the women in your wedding party serves not only as a gift that will last for years to come, but it'll help your bridesmaids coordinate on your wedding day.



personalized flask
Perhaps the most traditional gift there is, flasks are no longer just gifts for the men in your life. Flasks are one of those timeless, moderately priced, unisex items that make an excellent wedding party gift. Choose from modern and black or a darling round hip flask.
jewelry
Who doesn't love a brand new set of jewels? Jewelry makes a great gifting theme, which you can personalize for each of your guests. These Azura Stud Earrings are perfect for your bridesmaids, while the Sezane Drops would make a stunning gift for your MOH. For the gentlemen, tie clips and cufflinks make excellent gifts.

picture frame
Gift a beautiful, high-quality frame, with an added photo of choice from the wedding itself. The standalone frames from Framebridge are modern and versatile, perfect for gifting!


Jewelry roll
Whether you gift jewelry or not, you can't go wrong with a silk jewelry roll for your bridal party. A jewelry roll is the perfect way to safely travel with fine jewelry - especially on a wedding day!
***
Choosing wedding party gifts for your friends, family and loved ones should be fun! Feel free to get creative with your ideas and use your personalities as inspiration. Remember to plan for gifts in your budget early on, and begin shopping at least 3-6 months before your wedding day. Whatever you choose, your wedding party will be sure to love what they receive and proud to stand by your side on the big day!