Your wedding planning needs a lot of attention, but remember, you get to plan the honeymoon too! It's totally fine to step away from seating charts and centerpieces to fantasize about your glorious tropical vacation! Roll up your sleeves and get ready for our 5 essential tips for planning an incredible honeymoon getaway.
***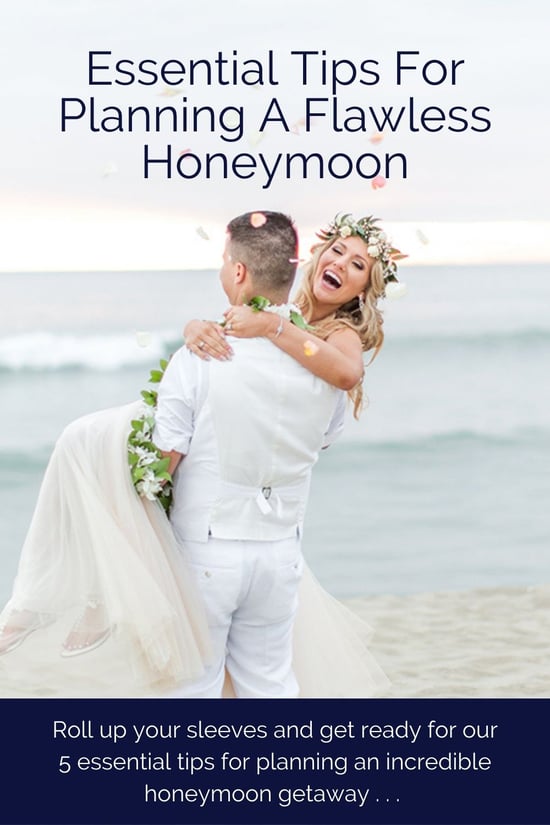 Decide on the Basics
Basics, essentials, fundamentals: without these details, there is no honeymoon. It's the logical place to start. Begin thinking about what kind of trip do you both want . . . Here are some questions to get you started:
Do you want to travel far or stay close to home? International or stateside?

Do you prefer a completely relaxing honeymoon retreat? Or an activity-rich trip full of adventure and intrigue?

Do you want to go on your honeymoon right after your wedding? Or wait a while?

Will you travel solo or invite friends and family?
Consider All-Inclusive Options
You know we love an all-inclusive package! Take advantage of honeymoon packages that include your air, accommodations, and rental car. Not only do they offer great savings and convenience, but you'll also find that most honeymoon packages have exclusive benefits like champagne or spa treatments to elevate your experience.

Book Activities in Advance
Pre-book tours, activities, and shows to reserve the seats you want ahead of time. Check out travel sites like Expedia or Travelocity for some fantastic all-inclusive packages.


Use Your Maiden Name!
Be sure to use your maiden name when making honeymoon travel arrangements. While you are anxious to use your married name, leaving on your honeymoon immediately after the reception means you won't have time to change your legal documents, which can make traveling difficult. Of course, if you won't be going on your honeymoon right away, you're safe to use your new married name.
***
You've spent a lot of time planning every detail–from flowers to cocktail napkins–so prepare to relax and focus on your relationship during an amazing honeymoon escape. If something does go wrong on your trip, remember this: patience and a great sense of humor will carry you through anything, even your marriage!