Wedding DJs are known for their charm, charisma and high-energy and that's exactly what we love best about the team at Main Event Entertainment. With more than 20 DJs on staff, all trained under the one-and-only DJ Joey Dion, Main Event's success in the New England area speaks louder than words. We're proud to partner with Main Event at our beautiful, newly renovated wedding venue, Granite Rose in Hampstead, New Hampshire. As our premier partner for Emcee and DJ services, we have complete trust in the Main Event team to deliver the wedding dance party you've always dreamed of.
If you're looking for an Emcee and DJ for your wedding, look no further! Join us today while we chat with Joey Dion, founder of Main Event Entertainment, and learn what makes them the best in the North East!
***

Hi, Joey! We're super excited to chat with you today.
Tell us more about your business. How did you get started?
I am truly honored to be here! Lets's rewind to the very beginning – I DJ'd my first wedding in 1993 after several months of training under my first mentor. In just a few short months, I completely fell in love with the craft, and my phone was off the hook with event requests. It was the best feeling ever!
Over time I gained enough experience and reputation that my lovely wife and I decided to branch off and start our own entertainment company. A Main Event was born! Our mission is to create parties that people dream of, the kind that you and your guests will remember forever.
I like to think that we've grown slowly and confidently, all while creating a great reputation and happy customers. Within two years, we grew from one DJ (Joey) to five DJs, all trained by me. We continue to grow each year, and now have more than 20 DJs and 20 years under our belt. Our services include Emcee, DJ, Uplighting, Musicians, PhotoBooth, Justice of the Peace, and Cloud9 effects. Quite literally, Main Event is all your wedding needs to keep the party alive!
Wow, what a story! It's amazing to see how far you've come.
What made you decide to offer Justice of the Peace services as well?
Honestly, it just seemed like a smart business move. As you've seen with the all-inclusive packages at Wedgewood Weddings, wedding planning customers want ease-of-planning more than anything. There's a natural synchronicity between serving as the DJ and Emcee of your wedding and the officiant – it just made sense!
I actually have a funny story to share . . . A few years ago, I was working a wedding at Granite Rose, and the Justice of the Peace called to say that he wasn't going to make it in time – he was stuck in Boston traffic with no end in sight. The father of the bride quietly asked me if I knew anyone who could perform the ceremony ASAP, and I assured him that I was qualified. A half hour later, I married the happy couple, and all was smiles for the rest of the evening!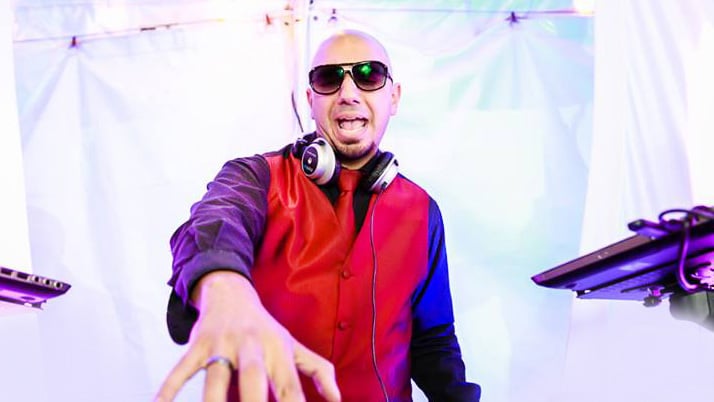 one of the 'main event
' djs getting the party started at
granite rose

Can you share any memorable wedding bloopers?
In 2019, I DJ'd a wedding for a sweet Iranian couple. In addition to organizing a beautiful culture-filled ceremony and wedding decor, they only wanted me to play specific Arabic songs. They planned to provide the music, and delegated that job to the Best Man. The wedding day came along, and the Best Man had forgotten the music! Emotions were high, but I knew we could turn it around. I quickly suggested that I had other Arabic music to play, and the couple agreed to give it a try. Ultimately, the dance floor was packed all night long, the traditions were celebrated as planned, and the bride hugged me with happy tears in gratitude. It was a truly beautiful wedding and I'm so glad it all worked out for the best!
Speaking of music choices

–

how much input is ideal for a DJ?
It really depends! If a client wants to pick all of the music, like in the story I just shared, that's absolutely fine by us. I always recommend that clients involve the DJ in your music choices, as we're truly experts at spinning tunes for special events. We really do care about your event, and we take great pride on our role in creating an evening you'll never forget.
One thing that's always necessary is the 'Do Not Play' list! While we spend a good amount of time getting to know our clients personalities, there's always more to learn. I would never want to play a song that the bride and groom is unhappy with; the 'Do Not Play' list guarantees this won't ever be a problem.
Do you have any advice for folks giving a wedding speech?
Make sure to say something about each member of the happy couple, not just the person who you have the deepest connection with. Even if you've never met their new spouse, you can include a comment about how he/she makes your friend happier than you've ever seen. You get the idea . . .
Also, make sure not to hold the mic in front of your face! Position the top of the mic right below your chin. This is the best position for audio clarity and photographs!
What is your favorite type of music to play?
Definitely 90's hip hop! And unless the couple specifically says otherwise, I always find a way to squeeze in 'I Wanna Dance With Somebody' by Whitney Houston; it's a crowd-pleaser every time.
Last question! How do you pump up the atmosphere during an event?
It's all about timing and attention. I start to ease in the upbeat music after dinner, keep an eye on the crowd, and make sure to play the right music at the right time. Being approachable and interacting with the crowd is such a key element of keeping the vibe high all night long!
Once, as I called the Father of the Bride to the dance floor, a flashmob erupted on the dance floor! All of the men and boys in the room formed a circle, dancing around the bride. It was truly amazing, surprised everyone, and left me with goosebumps. That's one way to pump up the atmosphere too!
What a great story! Thank you for sharing your experience with us.
***
Main Event Entertainment is truly a best-in-class, full-service entertainment business specializing in romantic weddings and amazing parties. They are true professionals full of high energy and dozens of tricks up their sleeve for a fun-filled event! We especially love their 'Find Your Perfect DJ' three-tier pricing model which matches you with the DJ of your dreams and budget.

Visit their website for everything you need to know from wedding music advice to a detailed breakdown of pricing and packages. You can also catch them on Instagram and Facebook for real-time updates and advice.