Direct Sounds, a full-service wedding and event DJ company, has been keeping Arizona on the dance floor since 2005! Jeff Jones, the founder of Direct Sounds, leads a team of more than 12 expertly trained wedding DJs in the Phoenix area. He personally performs 90 weddings per year, holds nightclub residencies around the valley, and teaches the DJ program at Mesa CC. He's a trusted premier partner for many of our Arizona wedding venues such as Colby Falls, Stonebridge Manor, Lindsay Grove, and Ocotillo Oasis. We're honored to spend some time today learning more about Jeff and the Direct Sounds team!
***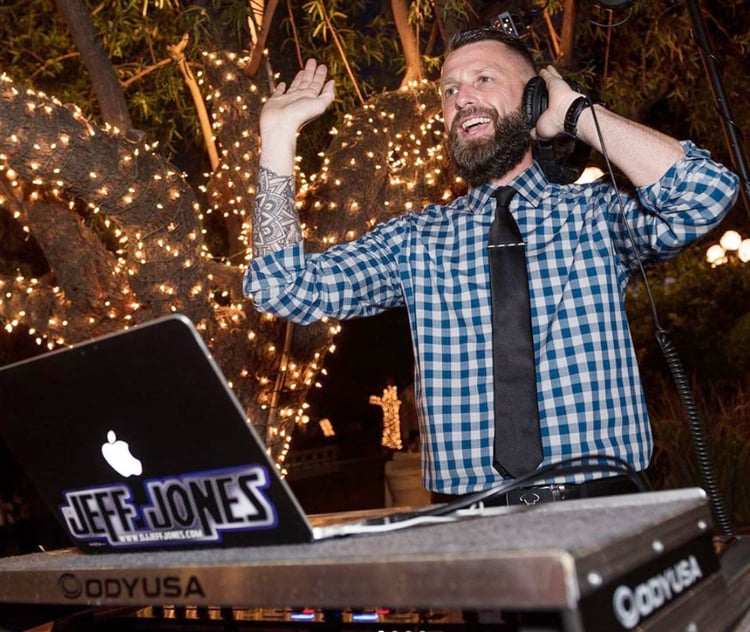 Thanks for joining us, Jeff! Can you tell us more about Direct Sounds?
Our company is a diverse group of amazing people dedicated to helping all of our couples have the wedding of their dreams. We specialize in weddings, but we also provide music and entertainment for corporate events, private parties, bars, and clubs. All of our DJ/MC's go through our training program which includes a DJ class at Mesa Community College taught by myself, DJ Jeff Jones.


What's your biggest accomplishment to date?
Receiving the trust and confidence from wedding venues and wedding coordinators alike. When a wedding venue team trusts you to provide the exclusive DJ service for all of their events, that's a huge achievement. When wedding coordinators call us to DJ their very own weddings, that says a lot. These venue teams and wedding professionals get to see DJs all of the time. Knowing that we deliver a consistently professional and creative DJ service, it's an honor and achievement when they call us to DJ for them.
We have big goals for the future too! We would like to be the leading DJ company in Arizona and maybe even nationwide. We love helping couples experience amazing weddings, but we also have a unique passion for people's development. We want to have people on our team that are successful at entertainment and life itself.
That certainly says a lot!
What do you enjoy about working with the Wedgewood Weddings team?
We are really grateful and honored to be the preferred DJ service at four of your Arizona venues. The staff and vendors that work with Wedgewood Weddings are top-notch and represent what I call "caring professionalism" in every way. I always describe working with Wedgewood Weddings as playing on a basketball team where everyone makes their shot. We like to be a part of successful events and Wedgewood Weddings has certainly set that up for all of us.
What do you like most about weddings?
We love the love!
When you bring together a group of people that all have a tremendous amount of love for a couple, it's a powerful feeling. That combines with a beautiful venue, good food, tasty drinks, and great music. We get goosebumps as DJs, watching it all come together and knowing that we helped facilitate it.





What are a few challenges DJ's face during a wedding?
It all comes down to managing the unexpected moments and maintaining great timing through it all. You can plan an event down to every little detail, but you also have to plan for flexibility. As DJs, when something unexpected happens, it's usually up to us to manage the situation. We always hope to take these moments and turn them into an opportunity for greatness.
For example, kids. On many occasions, a child has run into the dance floor during a first dance or special parent dance. Most panic–thinking it might be a distraction or ruin the tradition, but often it turns out to be a real special moment watching the dancers embrace the child for the remainder of the song.

Other times, we are coordinating pre-planned surprises! Usually, these are from family or friends, who want to surprise the happy couple. As the DJ/MC, we have to really know our couples in order to help with the surprise, or redirect it, if we think it won't be received well.

What should couples expect when hiring Direct Sounds?
Couples should expect an easy music planning process. They will receive an initial welcome/music planning email from me personally to get them started in picking out music. At the 60 day mark, their DJ will reach out to them to arrange a time to connect and go through event details. We are available for calls, texts, and emails at any time the couple may have questions. We guarantee open communication and focused attention throughout the whole process.
As a company, we do several hundred weddings each year and we see a variety of ways couples plan their wedding. From full detailed excel spreadsheets to scribbled notes sent via text. We are comfortable with whatever is most convenient for the couple, and have crafted our process to work for all styles!
What's your top choice song for the First Dance?
Tennessee Whiskey or Millionaire by Chris Stapleton, but the classics are great too. You can't go wrong with At Last by Etta James or The Way You Look Tonight by Frank Sinatra.
In fact, I love every type of music, personally, my era is 90's but we'll play anything and can give you great advice if you have a hard time deciding. Truly, we enjoy playing and listening to all types of music.
How do you keep up the energy throughout an event?
Certain songs can be played in sequence to drive energy up or down. Prompting the crowd to do moves like "throw your hands in the air" or "let's make some noise for our newlyweds!" always help as well. Leading by example and going out to the dance floor to get the party going is always great too.


So fun! Thanks for talking music with us and for being a continued partner in producing exceptional weddings. We appreciate you!

***

If you're looking to celebrate for any reason, the Direct Sounds team is your key to an epic party that will last late into the night. Their ability to choose the absolute best dance music, shake up the crowd, and keep the event flowing seamlessly is simply unmatched. Naturally, we highly recommend Jeff and his team at Direct Sounds for your next wedding or event. They're consummate professionals who know how to light up a dance floor. You can learn more by visiting their website, Facebook or Instagram.