Before you can start any official wedding planning, one of the first decisions you have to consider is where you want to get married! While most couples stay local to where they live, many choose to set off to a destination that's far from home. But, destination weddings don't have to be limited to exotic spots overseas. Consider a destination right here in the U.S!
Southern California is a great place to consider: from warm weather, beaches, snow-capped mountains, multiple big cities, and an abundance of entertainment options, SoCal has it all! And, with over a dozen Wedgewood Weddings venues to choose from, there's a venue to match anyone's style. Our all-inclusive wedding packages make it incredibly easy to plan a wedding long-distance. You even get the help of the on-site team perfect every detail! Scroll to discover your ideal Southern California venue!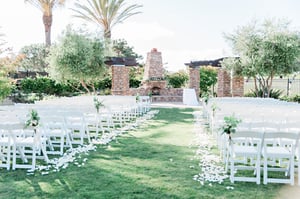 Enjoy an Orange County oasis that surrounds you in ultimate seclusion and luxury for a remarkable wedding experience.
Here, you get the choice of three ceremony sites to say your vows, followed by a dazzling cocktail hour on the patio featuring warm fire pits and stunning views of Saddleback Valley. You can even host your reception on the patio, so your guests can admire these amenities all night long! Our Aliso Viejo venue is great for couples wanting an upscale-yet-grounded feel in a space that beautifully embodies the Spanish look that Southern California is known for.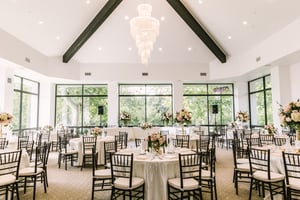 Couples love this fascinating Irvine venue for its glamorous style set in quiet, peaceful surroundings. Dazzle your guests with the crystal chandelier that sparkles in the sunlight gleaming through the ballroom's expansive windows.
Then as the sun sets, the magnificent trees outside light up with twinkle lights to add a fun fairytale flair to the evening. This venue's perfect for couples who love lush greenery and want an upscale setting with modern-chic style.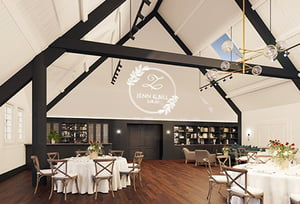 A true masterpiece: The Carlsbad Windmill has been meticulously designed from top to bottom! As a genuine Danish-style windmill, this eye-catching building has been an iconic landmark in Carlsbad for years.
Now, we're modernizing the space with sophisticated, boho, and whimsical glamour. You'll be especially excited about the hospitality for your out-of-town guests in this beach city: an on-site hotel, famous flower fields, Legoland, abundant dining options, and a beautiful beach make this location a hit with travelers!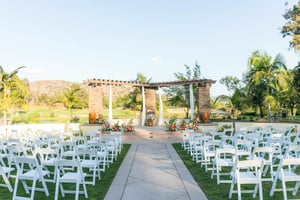 Nestled between the beach and Wine Country, you and your guests can delight yourselves in the best of both worlds at this gorgeous location.
Versatility is an understatement here: choose from two ceremony sites, two cocktail patios, and even an indoor vs. outdoor reception (if you have under 100 guests)! With a hacienda-style exterior, gorgeous greenery, glistening waters, and magnificent palm trees, this Fallbrook venue beautifully embodies everything 'Southern California'.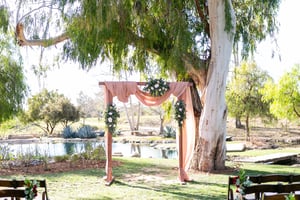 On a 242-acre pro-equestrian escape, our Temecula venue is truly one of a kind. A beautiful blend of natural beauty and contemporary design surrounds you at this rustic retreat located just outside of SoCal Wine Country.
Couples love the 'Carriage House' designed to look like a modernized barn featuring vaulted ceilings, an private yet expansive bar area, an oversized double-sided fireplace, and elegant draping for their reception. Not to mention, the dressing suites are so luxurious, you'll want to stay there for more than just your wedding day.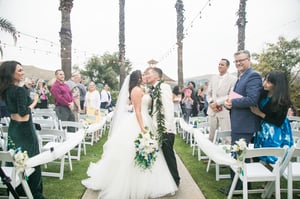 Perched on a hilltop overlooking Jurupa Valley, this Riverside venue will stun you with its expansive views in all directions. Enjoy lots of versatility here with your choice of three reception spaces: in the garden area outdoors or inside one of two reception rooms with marvelous scenery and expansive built-in bars.
As our most affordable venue in SoCal, Indian Hills is an excellent choice for couples wanting to save money without sacrificing a classic wedding experience.
Perfect for the couple that loves a classic look with rustic touches, this golf course venue offers abundant greenery that's sure to leave you amazed.
Located about 20 minutes north of Temecula, we love that this venue is both endearing and graceful yet robust and handsome. You'll love the double-sided fireplace, dramatic wrought-iron chandelier, and expansive windows that make it easy to admire the grand palm trees and lush foliage.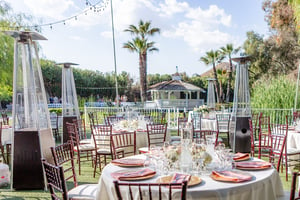 If you're into the garden fairytale vibe, The Orchard will blow you away.
Like walking into a ballpark, this venue offers that same 'grand reveal' feeling as you walk into this shocking oasis in the desert.
Dreamy willow trees with twinkle lights, a lily pond, a sparkling fountain, and a grand gazebo make this all-outdoor space in the Temecula area feel like a fairytale come to life.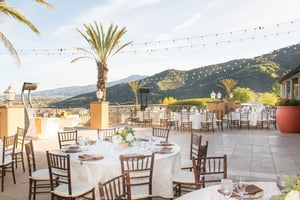 Escape to a secluded retreat (literally), that's still conveniently located in one of Southern California's most popular and central cities.
Through the gates and up a hill, you'll pull up to a luxurious Tuscan estate that offers seriously spectacular views of the rolling hills and valley below. Couples always love the outdoor patio balcony overlooking the tremendous scenery for a remarkable reception spot. Or you can choose the indoor reception inside the ballroom. Either way, there are no wrong choices at this exceptional venue.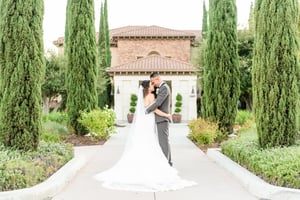 Wow your guests with stunning curb appeal as they arrive at your very own lavish mansion for a day.
But really, enjoy the luxury of having this entire private estate all to yourself. You can take advantage of outstanding photo opportunities and an upscale setting, guaranteed to make for a remarkable experience.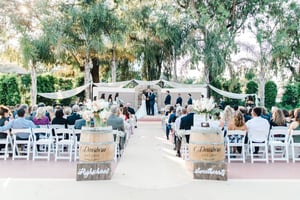 A total surprise and delight, this Ventura County venue will dazzle your guests from start to finish.
Walking into this venue, you'd never guess that you're heading into a wedding - in the best way!
Take a private elevator to the top floor of this skyscraper and discover the prestigious club that surrounds you in 360-degree views of the ocean, Channel Islands, and glimmering city lights.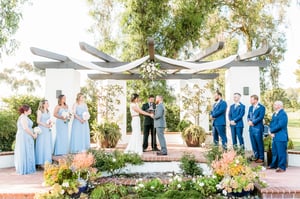 Classic or boho, this beachy venue complements it all. Feel the ocean breeze in your hair and admire the ocean views before you at this Orange County delight. Couples especially love the extraordinary ceremony pergola with a tranquil waterfall feature and added greenery for a private, intimate feel.
This venue's an incredible destination locale for its hotel within walking distance and easy beach access only a mile away!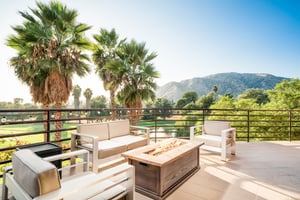 Located in the Claremont area, this quiet and secluded gem feels like a true escape from reality.
Just wait till you see the scenery here - it'll knock your socks off. Soak in these amazing surroundings while relaxing on the wrap-around balcony or sipping a cocktail from the built-in bar of either ballroom.
This is a back-to-nature location with friendly visits from California's favorite fauna.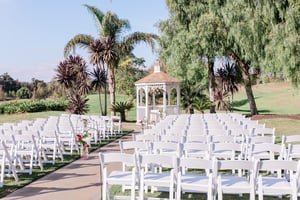 A haven for laidback couples, this Spanish-style clubhouse gorgeously balances an elegant setting along with a serene, breezy, relaxing vibe.
Celebrate in this cozy retreat surrounded by rolling hills and sweeping tropical foliage complimented by a sparkling stone fountain and a warm fireplace.
Here, your destination wedding will truly feel like a vacation just south of Santa Barbara.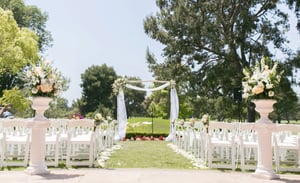 Recently named one of the most affordable venues in Los Angeles, our Rio Hondo venue lets you enjoy an exciting escape to the entertainment capital of the world without forking over major bucks to do so.
This golf course venue is perfect for couples wanting a classic-style venue with modern detailing and a tranquil setting.
***
Which one's your favorite? Call (855) 463-3251 today to get more details and schedule a separate phone consultation so an on-site wedding expert can build you custom pricing over the phone!