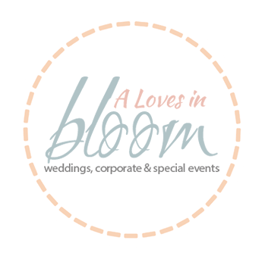 We're excited to introduce you to Valarie, owner of A Love's In Bloom, an award-winning floral studio in Martinez, CA. A Love's In Bloom creates stunning floral masterpieces for weddings and special events in the Bay Area. Whatever style suits your fancy, Valarie can do it all from classic and glamorous to modern, rustic, and bohemian. As the premier floral partner of one of our most unique wedding venues, Jefferson Street Mansion, we've come to know A Love's In Bloom to be reliable, professional, and true creative geniuses. Get ready for a fun Q&A all about wedding flowers and be inspired by the beautiful photos of Valarie's work.
***
Hi, Valarie! Tell us a little bit about your story. How long have you been working with flowers?
It's hard to believe, but I've been working with flowers since 1983! I actually started out working in the wholesale flower industry, and slowly began to explore weddings and retail in 1985. For many years I ran a retail flower shop here in the Bay Area and that was a really wonderful experience. In 2006, the owner of the flower shop decided to sell the business, and I took that as a sign it was time to start my own business. A Love's In Bloom was officially in business from that day forward - specializing in weddings and special events.
Why did you decide to specialize in weddings?
Weddings are especially unique in that they are all individual to the couple saying 'I do.' I love the creativity that comes with designing for an event that celebrates love. I love working on special events also, but weddings definitely take the cake! 😀
How would you describe your experience working with Wedgewood Weddings?
I truly enjoy the team effort at Wedgewood Weddings. To work with many of the same vendors consistently means that we've built rapport and trust with one another. We have a truly wonderful team at Jefferson Street Mansion!

Have you learned any unique lessons over the years?
Always plan for extra time, and then a little more, and then a little more!
This lesson made itself loud and clear a few years ago, when I was on my way to deliver flowers to a winery in Livermore, California. About 20 minutes out from the venue, the breaks in my van started locking up. Ultimately, I had to put the van into reverse to unlock the brakes and then drove the rest of the way without using the brakes. Amazingly, we arrived on time and the couple was none the wiser! Everything turned out beautiful as planned, and I was never so grateful for that extra time.
It's wonderful to hear you really love what you do.
What keeps that passion alive?
Seeing the excitement in the bride's face when she sees her wedding flowers for the first time, that's the absolute best feeling in the world. Flowers are magical, and they truly are the final touch to bringing a vision to life. Experiencing that excitement is what keeps us passionate.

What should couples expect when working with you?
Couples should expect that I will listen to their vision and offer advice accordingly based on my decades of experience. My responsibility as your floral expert is to bring that vision to life, while also being very transparent if an element of your vision will not align with your budget or specific event details. If something doesn't quite fit, we'll work together to find an alternative that will work just as well, if not better!
Before we begin our work together, I ask that couples have an idea of their color palette, budget, and the number of guests. From there, we can fill in the rest! Of course, if you have a specific look in mind, inspirational photos are incredibly helpful.


What colors do you predict will be big in 2021 and beyond?
We're seeing the "purple and green" color palette with colors like blush, burgundy and natural greens maintain popularity through 2021 and 2022. I predict that these soft, natural palettes will continue to be popular through 2025. As far as emerging trends go, I think we're going to see a lot more deep blues! Time will tell.
Tell us about some unique designs that you really enjoyed?
I really love making unique boutonnieres! Once we arranged florals for a couple where the groom was a police officer. We designed the boutonnieres to be bullet shell casings with a jewelry pin to attach rather than a traditional pin. I also love incorporating something special in the bride's bouquet – perhaps a family heirloom, fabric from her mother's wedding dress, or a token from the couple's first date.


What are your favorite bit of advice for couples planning their wedding flowers?
Nowadays, when couples first get engaged, many start a Pinterest board to collect inspiration. This is a great tool, but it can become cluttered and overwhelming! So, I would recommend periodically going through your Pinterest boards and clean out the items that no longer represent your vision for your wedding.
Wonderful – That's such a great point! Thank you so much for sharing.
***
A Love's In Bloom has been creating beautiful floral creations for weddings, corporate events, and special events in the Bay Area since 2006. We're obsessed with their timeless floral style that embraces clean lines, unique blooms, and beautiful colors. One thing that makes A Love's In Bloom especially unique is that they are eco-friendly and grow many of their own flowers and foliage on their own property. Our happy couples have been absolutely thrilled with the floral services provided by Valarie's team, and we're infinitely proud to partner with such a wonderful business.
For contact information, beautiful wedding portfolios, and 5-star client reviews, visit the A Love's In Bloom website. If you're planning a wedding in the San Francisco Bay Area, you absolutely must give Valarie a call!