Joining us today is Janice of Blooming Bouquets in Glendale, AZ. Blooming Bouquets has been serving Glendale, Phoenix, and surrounding areas since 1992. They are a family-owned, full-service wedding florist that is committed to offering only the finest, freshest, and highest quality flowers for your wedding. Voted with the Knot's "Best Of Weddings" award six years in a row, you can trust the Blooming Bouquets team to make your wedding dreams a reality, with lifetime loving memories.
***
Thanks for joining us, Janice! We're excited to learn more about your business. How did Blooming Bouquets come to be?
Blooming Bouquets is a florist serving the greater Phoenix, AZ area since 1992. We are family-owned and operated and we are committed to offering only the finest floral arrangements, backed by service that is friendly and prompt.
Over the years, our business has evolved to specialize in wedding flowers, with 80% of our business coming from weddings. It's been truly incredible; I love weddings! For me, it's sitting down with a bride that knows nothing about flowers or where to begin and having her leave with excitement that her wedding flowers will be beautiful and create lasting memories! I love being able to see the impact our work has on the lives of others,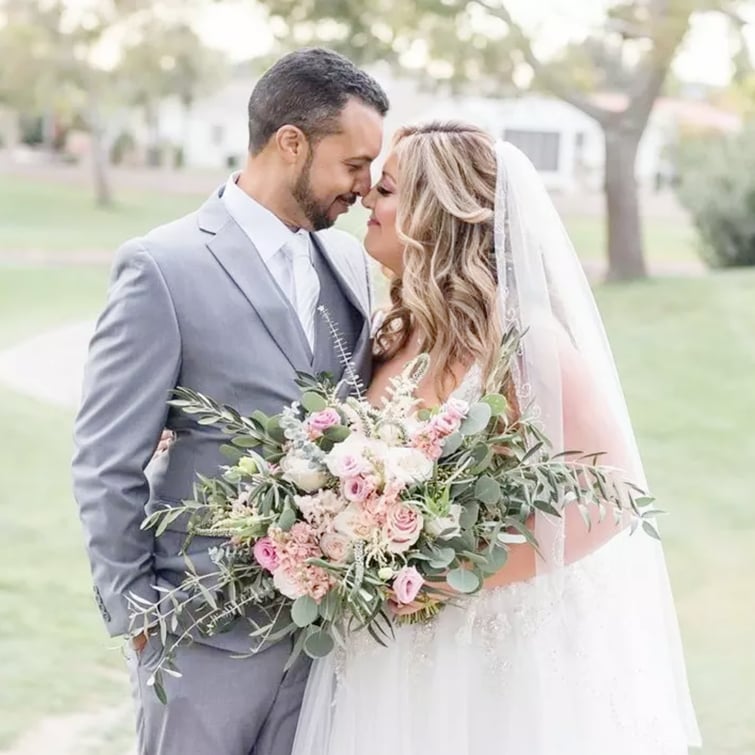 a beautiful, wild wedding bouquet with dramatic greenery // ocotillo oasis
What's the biggest accomplishment for your business to date?
In the floral industry, most professionals learn on-the-job, perfecting the art as we go along. So, after being in business for 28 years, I took a big step and earned my Master's Degree in Floral Design. The program taught me the creative and artistic principles behind floral design, which I've found incredibly valuable and stimulating. Now I can truly say that I'm a master of my craft, and I am so fortunate to love what I do! Next up? I have my eyes on the AIFD certification, an international certification in professional floral design. It'll be a long, hard road ahead, but I'm ready for it!
What makes a great floral design client?
The best clients come in with respect, realistic expectations, and are having fun through the planning process. While having an idea of what you want is important, the best results happen when you trust your florist to work their magic with your floral design inspiration and specific needs. Some key details to keep in mind are color, material (natural or synthetic, fresh or dried), budget, and size. I welcome clients to bring their ideas and needs to the table, and build trust through clear communication and personalized advice.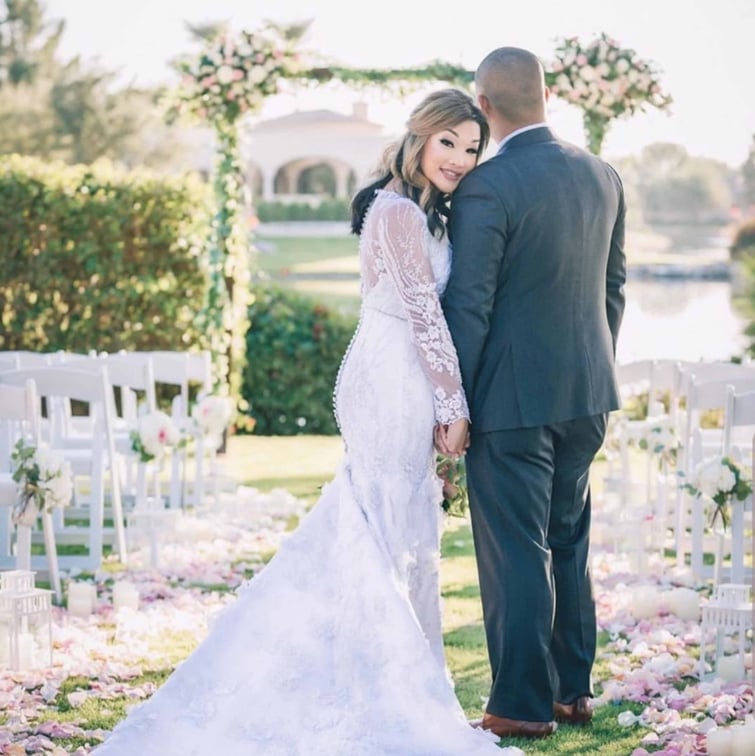 sweet bride & groom with romantic floral ceremony decor // ocotillo oasis
Do you have any great stories of memorable weddings?
A few years ago, the couple changed the ceremony venue last minute and she didn't notify me or her photographer ahead of time. We waited in the empty church parking lot for over 20 minutes, unable to get in touch with anyone on the bride's contact list. Finally, we made contact and the new venue was 20 minutes away! It just so happened that there were two cops parked nearby, so I jokingly asked them if they would escort us to the new location with lights and sirens. They laughed, and to my surprise, obliged! We got there in no time at all, with 30 minutes to spare, and the couple never even knew! Moral of the story: if you change your venue, make sure to triple-check that all of your vendors have the updated information.
What was the most extravagant wedding that you've provided flowers for?
I worked with a couple here in Arizona who went all out, seriously. The ceremony alone consisted of 4 large floral spheres with 350 roses each! The bridal party had 10 bridesmaids, 10 groomsmen, plus the flower girls, and so on. We decorated with flowers on all of the ceremony aisle chairs, on the Chuppah, the restrooms–there were flowers everywhere! During the design consultation, the bride came in with her mom and dad, and within minutes the dad was asleep in his chair. When we were finished with the plans, we woke up the dad, and he immediately pulled out his wallet. I offered to show him the proposal, and he denied saying: "No, thank you. I was told in the beginning to shut up and write the checks, so that's what I'm here to do." $10,000 in flowers and a few months later, the bride celebrated her wedding of a lifetime with true fairytale memories! Extravagant it surely was, and pure magic.
What do you wish you had known five years ago?
"Stop trying to do it all alone."

I had a terrible time delegating, and I stressed over every little detail. Now, I have a wonderful staff and team, including the amazing Wedgewood Weddings team, that handles every little detail to perfection! We're a big, happy family and it makes the work we do together that much more enjoyable!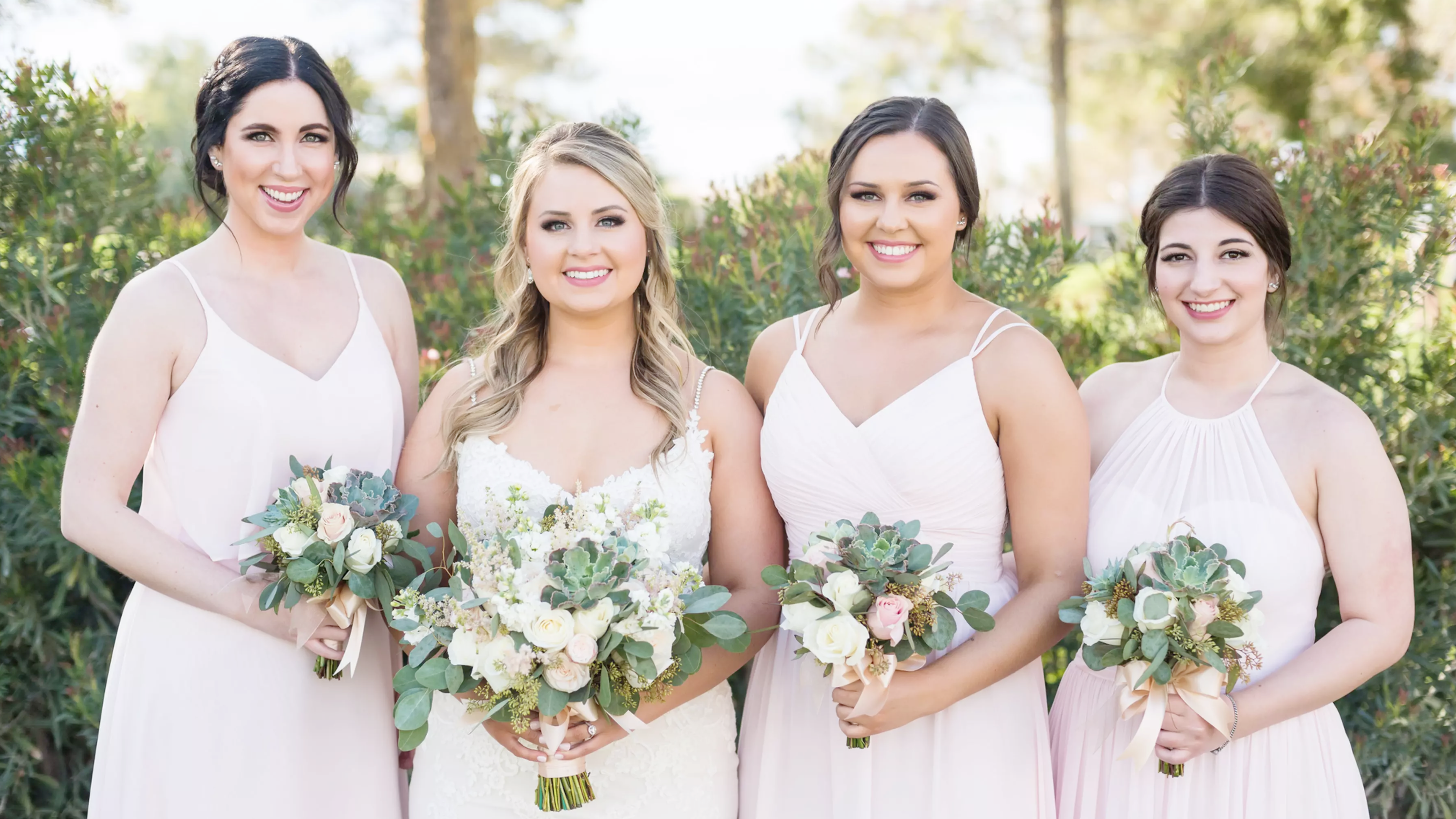 beautiful bridesmaids in pink with classic white rose bouquets // ocotillo oasis

Do you have a favorite elements to incorporate into bouquets?
As far as flowers go, I absolutely love huge oriental lilies and hydrangeas! I incorporate them in pretty much any design, whenever it suits the style and season. For bouquets, centerpieces, and other floral arrangements, I love great clean, classic lines. While whimsical, dramatic designs with tons of texture are all the rage right now, I will always love the classic look most.
What does the floral preparation process look like for you?
Oh, it's hours and hours! We start with planning; that process can vary greatly depending on the couple. Then it's onto ordering, processing the incoming product, designing and creating, and then finally delivery and setup. It's truly a labor of love–about eight to ten hours on average, depending on how extravagant the plans are.
***
Blooming Bouquets is a thriving, award-winning floral design business in Phoenix, AZ. As a premier Wedgewood Weddings partner, Blooming Bouquets has earned our complete trust in the team's ability to deliver amazing floral creations for our couples. We love that Janice, founder of Blooming Bouquets, is so passionate about her craft that she recently completed her Master's in Floral Design. Talk about mastery! This family-owned business knows what it means to put the customer first, and how to spin your floral dreams into a beautiful design.
For comprehensive, awe-worthy galleries of floral designs by Blooming Bouquets, check out their website and Instagram @weddingsbybloomingbouquets. Choose Janice and the team to design your wedding flowers and you'll be so happy that you did!