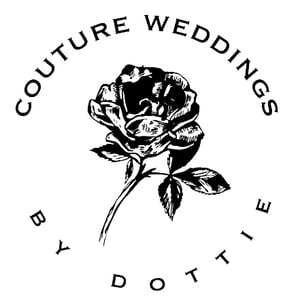 Meet Dottie Mackenzie, a floral design expert who has set the standard in the wedding business since 1988. Owner of the Camino Flower Shop in Placerville, CA Dottie's a frequent partner of ours at Sequoia Mansion by Wedgewood Weddings. We trust her implicitly as she's shown her floral skills again and again at our beautiful vintage wedding venue near Sacramento. Speaking of her team, Camino Flower Shop is a family affair. When you hire them to help design your wedding, you're inviting the whole family to join you and make your wedding experience even better!
Today we're sitting down with Dottie to chat about all things weddings! So grab a cup of tea, a comfy seat, and get ready to be amazed by her expertise — let's get started!

***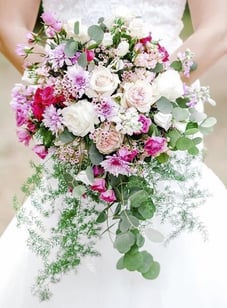 How long have you been in business, Dottie?
I was 22 when I first started the business. I began by arranging and selling flowers and vintage decor. Then, years later, Pinterest came along and I became a real hit! Nowadays, working with Wedgewood Weddings is a dream come true! I always said, if someone would come into this town who truly knew how to be a wedding venue, we would soar ... and we have! 😍

Aw, Thanks Dottie!
Is there a wedding that especially stands out in your memory?
Back in 2017, a terrible storm blew in and it was up to the entire wedding team to save the day! The bride was in tears—she had planned a beautiful outdoor sun-filled event for so long, but I was confident. As always, I packed extras and then more extras on top of extras when I saw the weather forecast.
In record time, we moved her entire event indoors and it was gorgeous! It was challenging, like a puzzle, as we had to get creative about where to put tables. The original outdoor event was for 200, but the standard indoor setup was for 100. But we did it! We had tables in every nook, even on the staircase landing—and it looked great. It was cozy in the best way and the décor united the overall flow. My team hung greenery down the stairs, draped extra fabric, created an altar, and redesigned the entire wedding styling on the fly.
It goes to show how well we all work together. The vendors and the venue team made this happen while the bride was fixing her mascara. As she came into her stunning indoor venue, she cried tears of happiness—and so did we!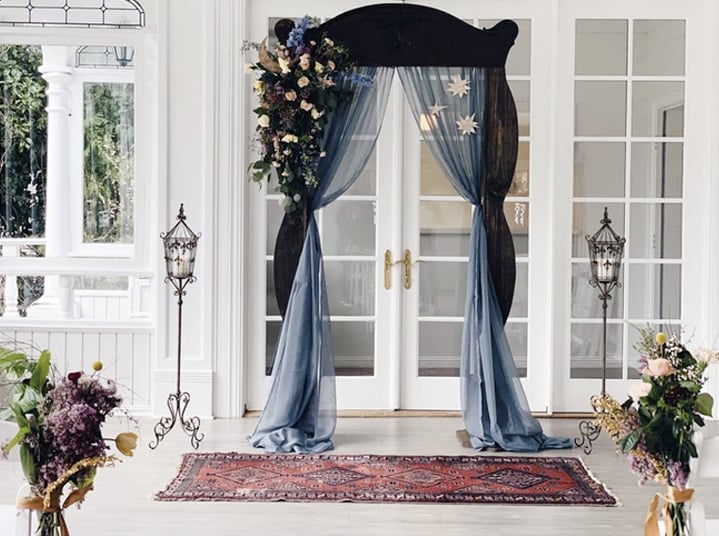 What should couples expect from Camino Flower Shop?
That we will care, very much! We're here for all kinds of questions—and you really can ask us anything. Likely we've heard it before and can speak from experience but we also love a new challenge! 😀 It's a testament to our dedication that we often end up making new friends. I tell all of the Mothers of the Brides that we will be friends for life: I'm a mother too and I get it.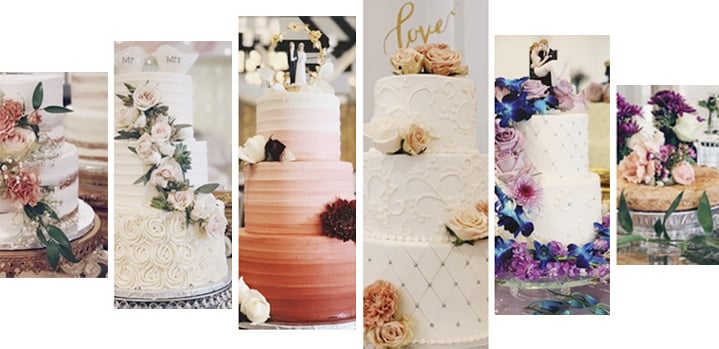 How long does it take to prepare for a wedding?
A whole week!

We start with the prep work, on the Saturday before your event. After we deliver and set up that week's events, we gather our files with photo inspirations. We make lists, we fill flower buckets for fresh flowers, and we drive to the San Francisco flower market. It's a 300-mile round-trip. We spend at least four hours at the flower market, gathering flowers, supplies, for each bride's specific order. Not all the flowers are in the same spot, so it is a workout. We load the flowers, drive back, unload the flowers, process them.
The design process starts the next day; we begin with wedding bouquets, then bridesmaids, then centerpieces. The day before the wedding, we pull the arch flowers, soak the paddles, make corsages and boutonnières, flower crowns, pull and organize cake flowers. Label what goes where, get the staging, seating charts, and candles all organized for each event.
On the morning of each wedding we 'detail'. That means all the ribbons get wrapped around each bouquet, everything is checked and double-checked for freshness or breakage. We load up and we're off! It's always an adventure and we love making every wedding look come together.



Floral Styling by Camino Flower Shop at Sequoia Mansion, CA
drapery & design by sister business, cocomont



Do you have a favorite arrangement type?
I love garden-style, messy bouquets. However, I can make a wedding bouquet as neat as can be. My whole team and I pride ourselves on working with a couple to create just the right look so they'll love it. One of my gifts is getting into their minds. We always ask couples to bring in a photo for inspiration. I can see a lot in that one photo.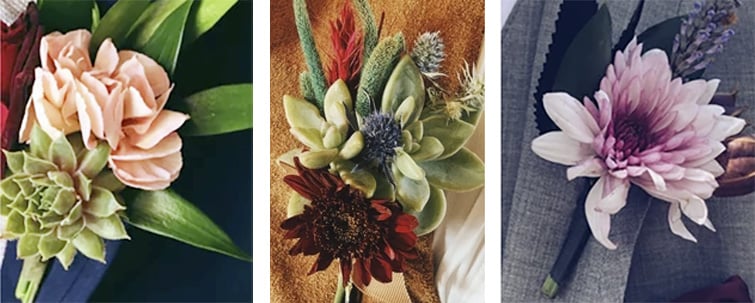 Finally, do you have three tips for newly-engaged couples to make sure their wedding décor is a perfect match for their personalities?
Yes! Of course.
Go with your first choice
Stay off Pinterest once you've made a decision
Print out a detailed list of expectations to share with your florist and team


Thanks Dottie! It's always a pleasure to see your hard work and vibrant aesthetic. Let's catch up again soon!
***
You can learn more about Dottie, Camino Flower Shop & Cocomont Styling through their website and on Instagram. We hope you look them up if you're planning a wedding at Sequoia Mansion or any of the beautiful wedding venues in the greater Sacramento area.