Nitya and Chris's non-denominational nuptials at Eagle Ridge by Wedgewood Weddings combined traditions from both American and Indian cultures. The red, gold, and white color scheme combined with Nitya's intricate henna tattoo really showcased her Indian heritage. This romantic wedding showcased the couple's love with dramatic color, statement floral arrangements, and time-tested traditions. Take a tour of the happy couple's dreamy wedding in Santa Clara Valley.
***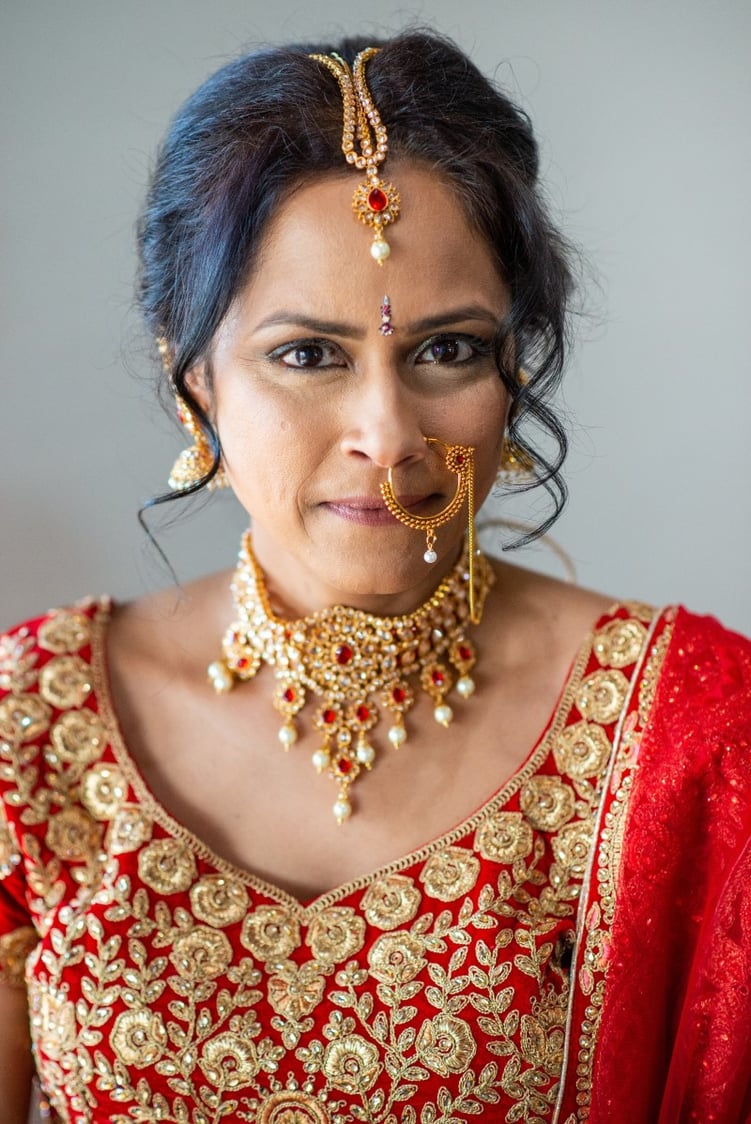 Nitya looked stunning donned in traditional red and gold Indian bridal elements
Nitya paid homage to her husband, Chris, in the design of her bridal henna tattoo
Here's what the couple had to say:
"The entire Eagle Ridge staff was beyond amazing. Christina was awesome since day 1! She was thorough, understanding of our deviations from traditional routine, such as accommodating to our requests to include a fire-pit during the ceremony, flexible to make last minute guest changes, set the table arrangements exactly to our preference, and made sure we were prepared about what to expect on the day of."
- Nitya & Chris
The exterior of the Eagle Ridge by Wedgewood Weddings banquet hall
This wonderful couple is different in so many ways, but their love is stronger than any geographic or cultural divide. We love the way that their wedding day told their love story from start to finish; it was truly beautiful:
"Our wedding was not your typical U.S. wedding. We wanted to incorporate a lot of adjustments because of our own preferences, plus the fact that we both come from different ethnicities. I am from India originally but residing in CA for last 20 years and Chris is from United states - 100%. So, you could say our wedding was destined to be different from the start :). Our evening was designed by us to the greatest detail to portray the love we have for each other, was non-religious, was filled by closest family and friends only and had a fusion of Indian and Western details with red, gold and white color scheme with the bride being in a red Indian dress."
- Nitya & Chris
Nitya is escorted down the aisle by family members in traditional sarees
Chris and Nitya exchange vows during an outdoor ceremony at Eagle Ridge
This wonderful couple is different in so many ways, but their love is stronger than any geographic or cultural divide. We love the way that their wedding day told their love story from start to finish; it was truly beautiful:
"Chris and Nitya were delightful to work with, they had a clear vision of what they wanted and their love for each other was clear. They were available to answer any questions I had about their vision for the floral. They wanted romantic, dramatic tall centerpiece so their guests could be wow'd when they walked into the room, which I especially loved, I loved being able to work with color and height. They were very nice couple to work with and I wish them a lifetime of love and happiness! "
- Amy, Linny's Floral
Nitya and Chris celebrate their first moments as bride and groom
Nitya and Chris pose for a portrait as newlyweds
Nitya and Chris are all smiles at their Gilroy, CA, wedding!
The wedding cake was a work of art, thanks to the expert work of Debbie and her team. Here's what Debbie had to say about the creative cake-design process:
"Christopher and Nitya were a pleasure to work with. They were excited to come in and taste cakes and create their custom cake. They chose red velvet with chocolate mousse filling. The design was a simple, elegant swirl with fresh flowers. Christopher was interested in adding LED lighting in between the tiers, so I gave him the plates for the cake stand and he had fun attaching the LED lights to the stand. He was very creative! We brought in gold accents with ribbon and a gold cake stand that tied into the rest of the decorations in the wedding. They were very easy to work with and we had a great time creating the cake of their dreams!"
- Debbie, I Do Wedding Cakes
dramatic glass columns topped with vibrant red roses made perfect centerpieces
"Nitya and Chris's wedding was absolutely gorgeous and it really stood out significantly. Their choices of tall centerpieces with twinkle lights and pillar candles on the dinner tables lit up the room like you wouldn't believe. Their wedding had a perfect blend of traditional Indian and American touches. They were extremely friendly and a huge pleasure to work with."
- Mailani, Eagle Ridge
Gold chairs complemented the red centerpieces during the wedding reception
Nitya and Chris's wedding cake featured red and gold accents to showcase their theme colors
"Nitya and Chris were great to work with. They had a great vision of their day and were proactive in helping me, as their emcee, see it through.Theirs was an Indian-American wedding, so it was mixed cultures, with mixed music. I used their extensive Top 40 and dance playlist and mixed it with tradition Indian songs that were both their suggestion, and that I already had stored. It went over great and I think all parties loved the music. I personally enjoy mixing genres and keeping a multi-cultural dance floor full and happy. They had originally planned to give me every song I was to play in the order they wanted them played. When I explained that leaving me with a bit of control and leeway in this situation will allow me to use my experience to give them the best night possible, they understood right away and left the mix up to me, and I think they were very happy with how I put it together. During the course of the evening, I thought the communication between myself and the Couple was great, and I was able to adhere easily to their wished when we shifted gears a couple times."
- Brian, DJ
Nitya and Chris share their first dance as bride and groom
Nitya and Chris exchange bites as they cut their wedding cake together
***
This romantic, diverse wedding would not have been possible without our phenomenal vendor partners. Thank YOU for all your hard work and heart in bringing this beautiful event to life. It was our honor.
Are you looking to plan your own Bay Area wedding? We have 8 beautiful wedding venues in and around the San Francisco Bay Area with something for everyone. Explore our venues!