Joining us today from Watsonville, CA is Amy Hotaling, owner and founder of 'Linny's Floral'. Amy is a passionate florist, a caring mother, a loving daughter, and an entrepreneur at heart. Linny's Floral creates exquisite floral designs for weddings, events, and special occasions. We love her signature use of bright colors and wispy greens! As a Bay Area native and expert on all things flowers, we just knew she'd be the perfect floral partner for our esteemed wedding venue, Eagle Ridge, just south of San Jose in Santa Clara Valley, CA.
***

Hi Amy! It's such a pleasure to speak with you today.
We have to ask - what's the story behind the name of your business?
You know, it never really occurred to me that the name might be confusing to some! The name of my business, Linny's Floral, is inspired by my mother, Linda "Linny" Sternberg. She always encouraged me to follow my dreams, and that's exactly what I did when I started this business!


Tell us more! Is this the business you've always dreamed of?
It really is! I started the business in 2010, pursuing a dream to build floral arrangements for everyday needs, large events, weddings, and everything in between. My passion for flowers and plants has truly guided me down this path, and continues to do so today. With each passing year, I gain a deeper love of what I do, all while adding new experiences and techniques to my repertoire.
Fast forward to 2020, weddings have become the majority of my business, and I wouldn't have it any other way. I love being part of the most important day of a couple's life. I put my heart and soul into each floral arrangement and l get so much from knowing I will forever be part of their wedding story.
In the future, hopefully in the next five years, I'd love to expand into farming some of my own flowers and greenery. To be able to grow even a portion of the florals I use in my business would be an incredible accomplishment, and so rewarding!


Organic wedding bouquet in soft neutrals at eagle ridge, CA // florals by linny's floral

What is your proudest achievement in the business, so far?
It would definitely be partnering with Wedgewood Weddings – it's been absolutely wonderful, for me and my business! The staff are very knowledgeable, and they truly care about each other and the couples they work with. Their all-inclusive packages and expertise make the whole process of planning a wedding easy, resulting in a seamlessly executed event that's both special and memorable.
How do you support clients as you plan their wedding florals?
The first step is scheduling a consultation so that I can get to know the couple, understand their budget, and begin to collect ideas of what they envision for their wedding.
It's such a help when the couple comes to that consultation prepared with a color palette and style. There's a tremendous difference between a bohemian-style wildflower wedding bouquet and a classic round rose bouquet, for example. Coming into the consultation, couples should know that I love what I do for a reason. I love working with flowers, but even more I love turning floral dreams into reality.
Do you have a favorite style of floral decorations?
I love all floral arrangements, but loose and wild with lots of texture and shapes is my personal favorite. On the other hand, I love that traditional florals never go out of style and will be a classic accent to their wedding and photos forever.
At the end of the day, the best bouquets are made with the freshest of flowers, no matter what the style. Being based in such an abundant agricultural area, we have many options of flowers and greenery readily available. It makes the job that much sweeter to work with local blooms!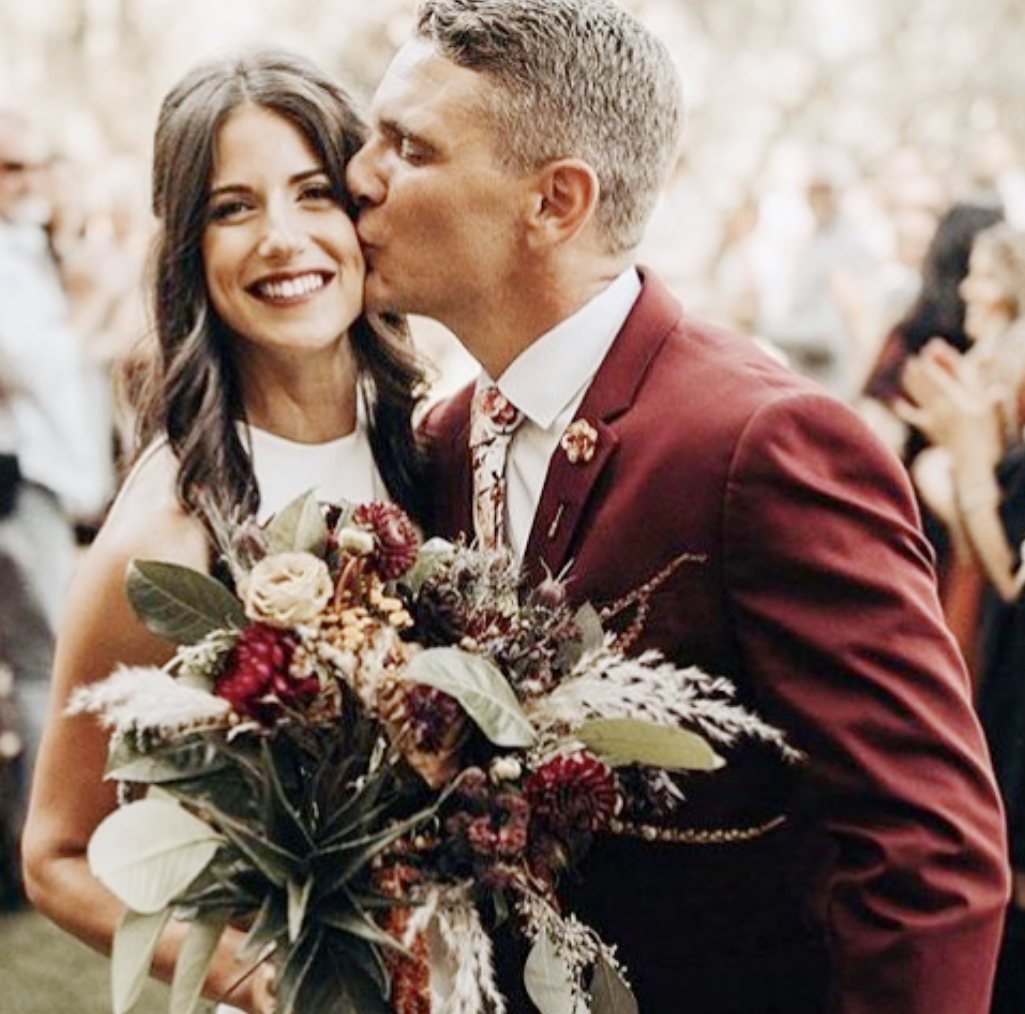 wild fall wedding florals by Linny's floral // Photo by Greg Petersen
You've provided florals for so many of our weddings in the San Jose area. What's a favorite project that stands out to you?
Debbie and Edgar, I remember like it was yesterday! They were a very sweet couple with big ideas for their wedding: Flowers were a huge part of the overall design. It was especially fun because they gave me so much creative freedom to work my magic, within their color palette, style, and budget. I decided to cover the 13-foot arbor with florals all the way across - it was a stunner! We were all so happy with the outcome, and I had an absolute blast!
Do you have any predictions for 2021 trends?
2021 will be the year of nature! We're talking neutrals, champagnes, creams, ivories and hints of mauve all the way to chocolate, with accents of sage toned greenery. I'm a big fan of this trend and I can't wait to see the final products!
***
Linny's Floral has been creating floral wedding masterpieces in the Bay Area since 2010. Her wedding bouquets, floral centerpieces, and ceremony decor embody a modern, whimsical style that we absolutely adore. Her passion for creating floral art is abundantly clear through her diverse portfolio and glowing customer reviews. We're proud to call her a premier Wedgewood Weddings partner and highly recommend her professional, affordable packages.
The best way to connect with Amy is through Instagram where she shares a behind-the-scenes look at her floral creations, before and after. If that's not your thing, check out her lovely website! You can easily browse her portfolio, send her a message, or give her a call.



***