Whether you're planning an intimate wedding celebration, getting hitched in a tropical location, or have guests that can't make the trip due to a global pandemic, there are many reasons why you might opt to live stream your wedding for all your friends and family to see! Thanks to technology, live-streaming your wedding has never been easier. Whether you are interested in a virtual vow exchange among a few close friends or live-streaming your entire reception for your guests at home to enjoy, we've pulled together the ultimate guide to hosting a live-streamed wedding.

***
The ultimate guide to live-streaming your wedding
livestream wedding formats
ceremony & Vow Exchange
Some couples are opting to have a virtual element of their wedding ceremony – either saying 'I do' between just the two of you and a few loved ones to witness your love, or hosting an intimate gathering with 50 of your closest friends – and broadcasting for the rest of your inner circle. For couples who have rescheduled their in-person wedding due to COVID-19, a virtual ceremony is a great way to exchange vows now while planning for a larger reception down the road.
100% virtual Ceremony and Reception
Love always wins, and that's never been clearer than it is today. In the midst of a global crisis, many couples are choosing to go all-in with their wedding plans virtually. For those who don't have the ability to postpone, a virtual wedding celebration is a fun, creative option. While hosting a virtual wedding involves less travel, it's not necessarily easy to plan the flow of your big day in a virtual, modern-day format. For a fully virtual affair, here are some helpful tips to have an epic, memorable wedding of your dreams:
Master the music: Invite a musician to perform virtually and invite guests to join in for your first dance
Make it fun: Consider adding games to your online reception - complete with prizes for the winners. Trivia, for example, is a great way for guests to test their knowledge of the newlyweds.
Dress to impress: Many guests have probably been stuck inside for a few months, so a live-streamed wedding is a fun excuse to get dressed up!
Say cheers: Create a signature cocktail recipe ahead of your nuptials and email it to guests ahead of time.
Toast to the happy couple: Ask your maid of honor and/or best man to have a speech prepared to share with guests virtually.
Cut the cake: Order a custom cake or make one yourself! You can keep the tradition of cutting the cake for your virtual wedding reception.
combo in-person & virtual wedding
Perhaps the most common and long-lived form of wedding live-streaming, a combo in-person and virtual wedding is a great way to have the best of all worlds. This type of modern-day wedding format allows you to experience the wedding you've always envisioned, while still making accommodations for those who are sick, unable to travel, or otherwise committed. You can decide on whether to have a stationary setup for recording the big day (think: a tripod in the corner of your reception hall) or pass around a tablet to add a bit of fun to the broadcast, letting virtual guests join in on trips to the bar or busting a move during the Electric Slide. For a truly immersive experience, you can arrange to have all of our virtual guests displayed on a projector screen for the entire party to see!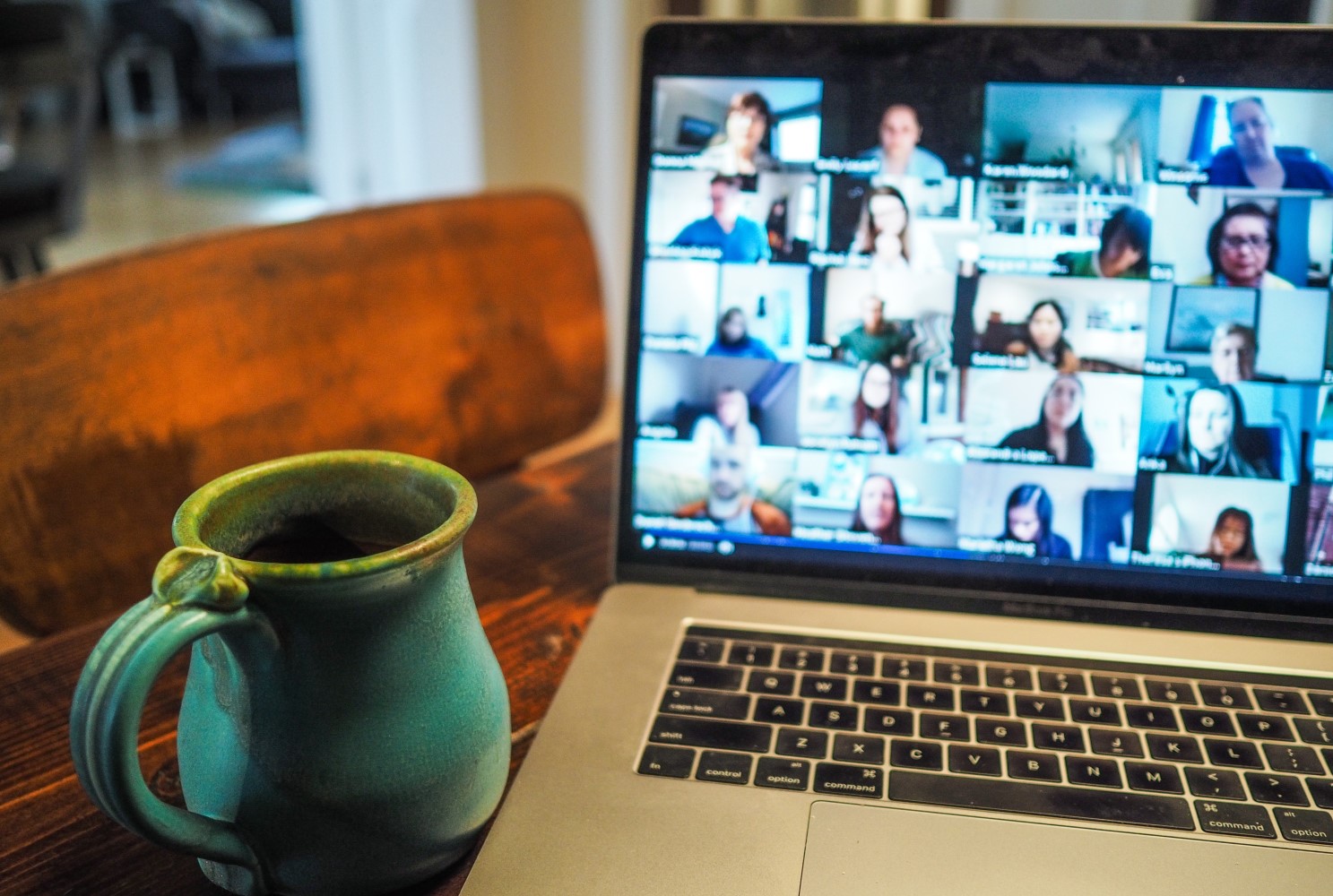 Zoom is a popular software for live-streaming weddings and events
how to live stream your wedding


When it comes to live-streaming your wedding, there are a few considerations to keep in mind to help make the process as smooth as possible:
DIY or hiring a professional: If you are hosting an intimate ceremony from the comfort of your home, you can get away with using a laptop or your cell phone to stream the service. If you are interested in having a professionally recorded video of the streamed reception and wedding, consider reaching out to a wedding videographer to manage the process. You might also consider some great new companies (EventLive, LoveStream) that specialize exclusively in virtual events.
Technology and equipment: Besides streaming software, having the right gear is integral to your streaming success. If you are adding streaming to your in-person celebration, consider purchasing a tripod and having a backup device and charger/charging case handy to ensure you capture every moment. Also, confirm with your venue ahead of time if high-speed WiFi is available to host the streaming.
A designated streaming person: For larger streaming events, having a designated streaming person is ideal to ensure that all technology is running smoothly. Be it your wedding coordinator, tech-savvy best man, or videographer—select this person prior to the big day so you don't get caught up with outlet hunting during your reception.
Coordinate with your venue team: If you plan to live stream your wedding, make sure to communicate with all members of your venue and vendor team. Communication is key to a smooth experience, especially when you're working with multiple vendors!
Have a plan: Think through all aspects of the live stream from the setup, to the planning, the timing, and engagement during the event. Think about point-of-view and angles. Ask yourself if you want your virtual guests to simply watch, or if you want them to be engaged in the event. You can customize your live stream as much or as little as you want, just make sure to have a plan so that you can focus on your spouse on your special day.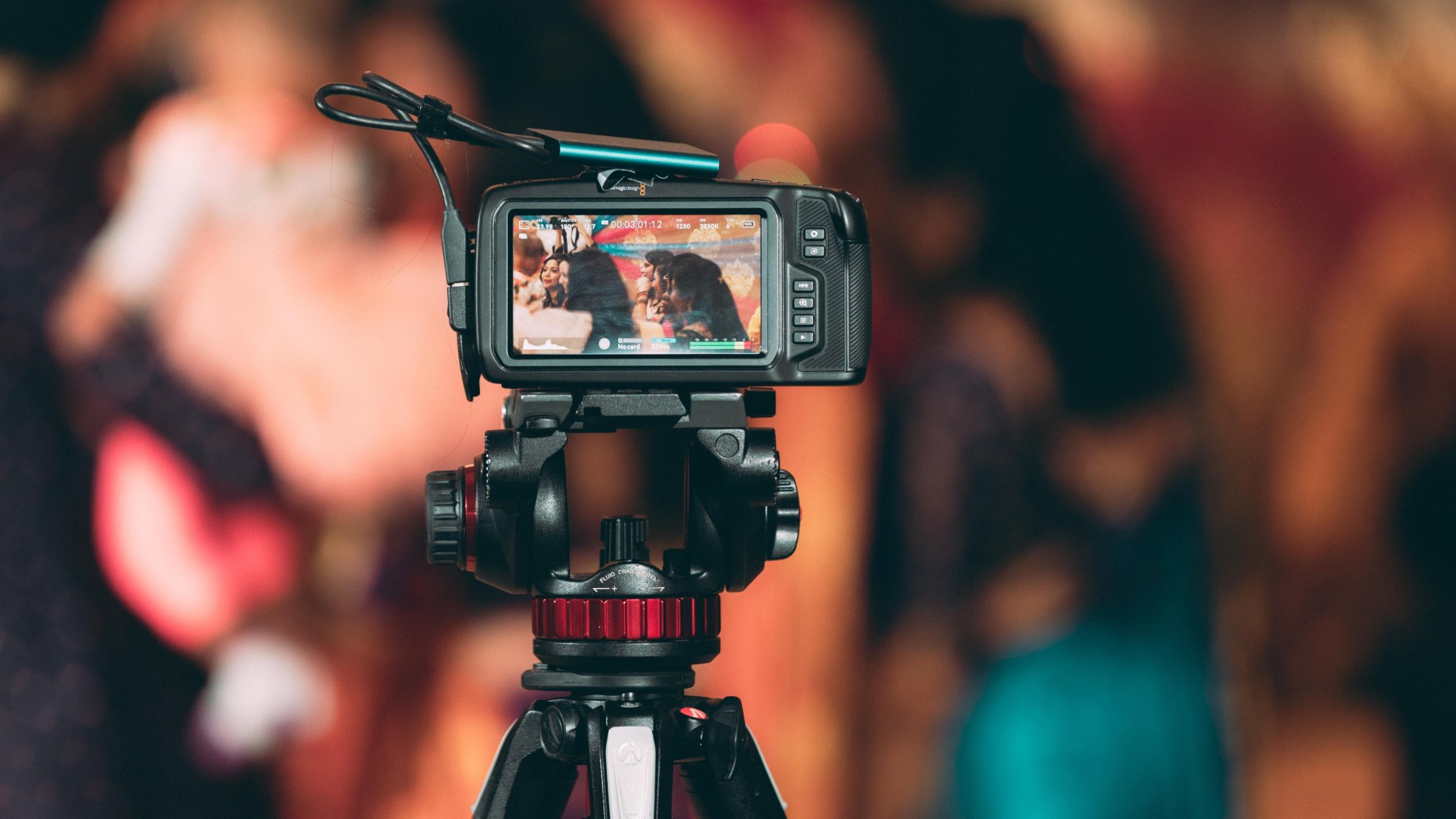 having the right equipment is essential to a successful live stream
livestream wedding technology
With virtual weddings trending nowadays, there is no shortage of tools available to make your live-streamed wedding a success. We've pulled together some of the top live-streaming platforms available right now for you to choose from, and summarized the pros and cons of each.
Facebook Groups and Facebook Rooms
YouTube Live
Zoom Pro
Google Meet
Facebook Groups and Facebook Rooms
Facebook recently launched the Rooms feature – a live-streaming tool that allows you to host public or private feeds for your Facebook friends. Creating a private Facebook group in advance allows you to share messages about the upcoming nuptials with a select group of guests in advance. You can create an event within the group to remind guests of the big day, then go live in Room mode for the wedding itself.
Account required to view: no
Account required for setup: yes
Maximum guests: 50
Cost: $0
Additional security features: yes
Time limit: unlimited
Get the full Facebook Rooms tutorial from The Verge.
YouTube Live
If your virtual guests aren't extremely tech-savvy, YouTube Live lets you create a custom link in advance (youtube.com/user/[yourchannelname]/live) so the stream can be enjoyed without any fancy software. YouTube Live is a great option if you want to simply broadcast your wedding as opposed to having guests on video.
Account required to view: no
Account required for setup: yes
Maximum guests: unlimited viewers
Cost: $0
Additional security features: no
Time limit: 8 hours
Get the full YouTube Live tutorial here.
Zoom Pro Version
For couples interested in live-streaming their wedding on a larger scale, Zoom is a great option that allows 2-way engagement with participants. Zoom is one of the more robust tools available for live-streaming, with added security features, virtual backgrounds, guest muting, and more.
Account required to view: no; software/app required
Account required for setup: yes
Maximum guests: 100; 500 with Large Meeting Add-On
Cost: $14.99/month for pro, $50 fee the Large Meeting Ad-On
Additional security features: yes
Time limit: 40 minutes on the free version, unlimited on the Pro version
Learn more about Zoom's pricing and features here.
Google Meet
Google Meet is another free streaming option that allows up to 25 guests to join a call at once. The upgraded Enterprise Essentials plan allows up to 250 guests, which is perfect if you plan on having a large showing for your virtual nuptials. Another added bonus: the Enterprise Essentials plan allows you to automatically upload the recording to Google Drive - making it easy to share with guests at any point in time.
Account required to view: yes
Account required for setup: yes
Maximum guests: 100 with the free plan, 250 with an upgraded plan
Cost: free plan, $20/month for enterprise essentials plan
Additional security features: yes
Time limit: 1 hour on the free version, unlimited on the paid version
Compare the Google Meet plans and features here.



livestream your wedding like a pro with these easy-to-follow tips
pro tips for your live-stream
Now that we've covered all of the key information that you need to know to live-stream your wedding like a pro, let's sum it up with some easy-to-remember tips.
Don't share your

live-stream

link publicly, to protect your and your guests' privacy
If you choose to DIY, make sure to pick a

live-stream

champion to oversee the process to perfection
Double and triple check the internet connection at your venue
Include the the

live-stream

in your rehearsal to make sure you have all details covered
***
As the live-stream wedding trend continues to grow, we look forward to seeing couples find new ways to celebrate and memorialize their wedding day. Cue the camera!