Signature cocktails are a unique touch that will elevate the guest experience for your wedding . If you are looking to highlight a signature cocktail for your cocktail hour or reception, we've pulled together a few of our favorite recipes. And if you're still in self-isolation, having an in-home mixology night is a fun way to plan for your big day. So grab a few mixers and liquors and get ready for a night full of boozy concoctions!




Signature Cocktail Drinks are A Great Addition to any Bar for a WEdding
Considerations for Choosing a Signature Cocktail
While signature cocktails are a guest favorite, there are a few things to keep in mind before choosing a love elixir for your wedding day:
Simplicity: keeping your signature cocktail simple is a surefire way to expedite the amount of time guests will spend waiting at your venue's bar. The fewer the ingredients, the better - and cocktails that can be made in big batches are ideal.
Color: dark cocktails (think: red wine sangria) can be a bride or bridesmaid's worst nightmare. If you are concerned about potential stains, avoid dark cocktails and stick to drinks that involve clear or light ingredients like vodka, champagne, or white rum.
Non-Alcoholic Options: if you plan on having underage guests or guests that do not drink alcohol, consider featuring a signature cocktail that can also be made without alcohol. This will ensure that every guest will be able to enjoy your signature concoction.
Choosing a Name: you can select a cocktail that already has a love-themed name, or put a personal twist on your concoction. Some couples choose to feature their favorite mixed drink (think: mojito) or make up a new cocktail using their initials (example: M + P = mango and prosecco bellini).





Blended Cocktails are ideal for Summer Weddings



1. Citrus Prosecco Punch
Combining a bubbly Italian Prosecco with a fresh citrus sorbet makes for a light, refreshing signature cocktail. This two-ingredient cocktail is both simple to make and pleasing to the palate - perfect for an outdoor summer wedding.
Recipe:
1 part citrus sorbet (orange, lemon, lime)

1 part champagne, prosecco, or club soda

Citrus slice for garnish
Why we love it: it's light, refreshing, and simple to make for large groups.
Signature cocktail name ideas: Paramour Punch, Love Punch


2. Rosé Lemonade
This refreshing cocktail is also simple to make and a perfect blend of citrus and sweet. Rosé lemonade is light and bubbly - which is ideal for warm weather weddings or cooling off between sessions on the dance floor.
Recipe:
1 bottle of rosé wine

3 cups lemonade

1 can club soda

Lemon slices for garnish
Why we love it: this light (and light-colored) cocktail isn't overwhelmingly sweet, so it's a great option for pleasing a crowd.
Signature cocktail name ideas: Blushing Bride, Kiss from a Rosé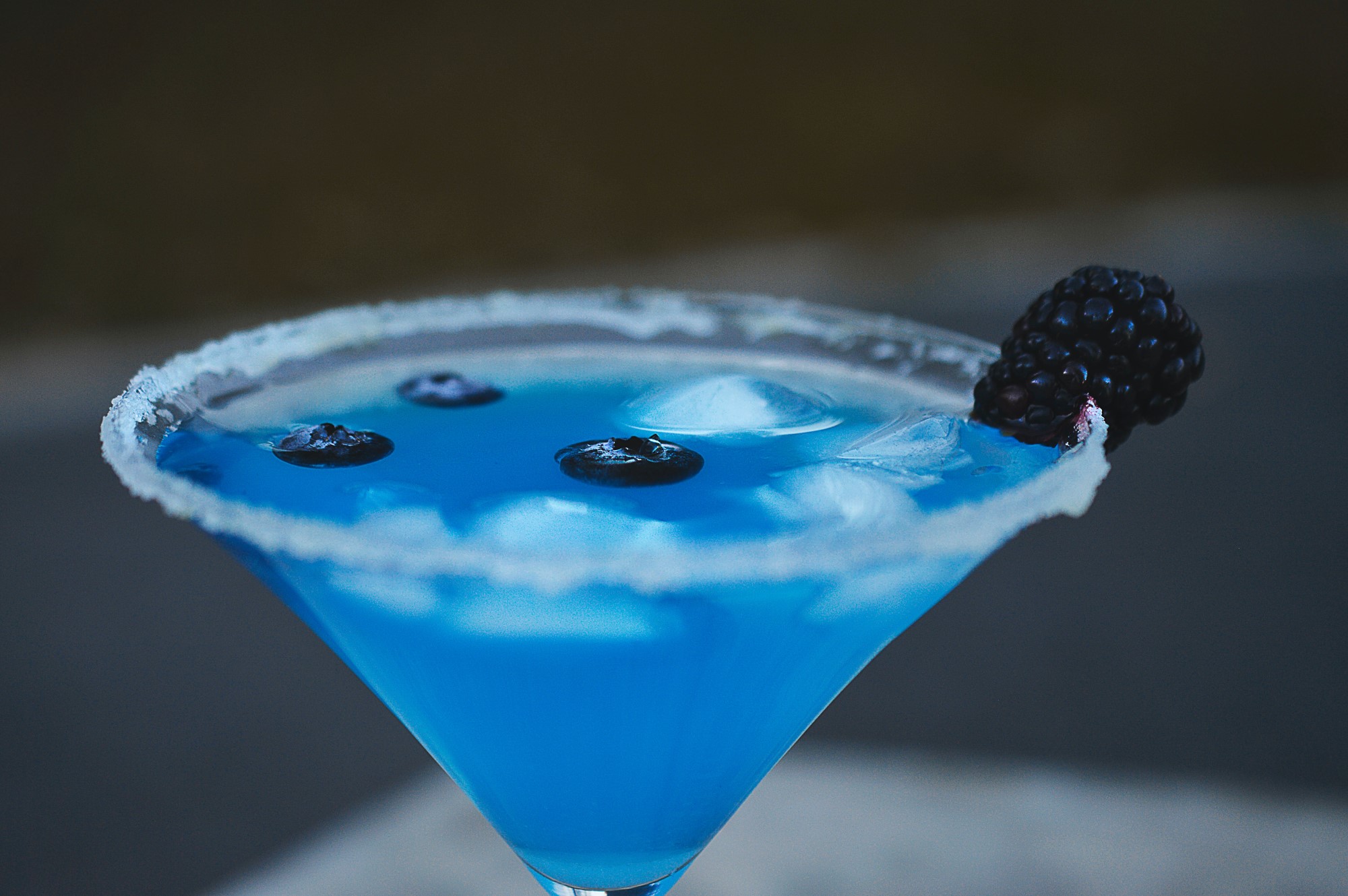 Looking to add a drink that is sweet and smooth - check out the caribbean mist


3. Caribbean Mist
Still missing something blue for your wedding day? Consider adding a Caribbean Mist as your signature wedding cocktail! This concoction is a gorgeous turquoise with a tropical twist that your guests will surely enjoy.
Recipe:
One part mango rum

One part pineapple juice

One part club soda

Splash of Blue Curacao

Sugar rim or blueberries for garnish
Why we love it: including a blue signature cocktail is a nontraditional play on the something blue tradition.
Signature cocktail name ideas: Something Blue, Cloud Nine


4. Elderflower Martini
If you fancy a martini on your wedding day, this elderflower martini from The Knot is the perfect combination of sweet and sophistication. As a bonus, it's made with all clear liquids - guaranteeing a stain-free cocktail hour!
Recipe:
2 parts vodka

1 part St. Germain elderflower liqueur

3/4 part white cranberry juice

1/2 part lime juice
Why we love it:
This tasty concoction is light in color and refreshing. Plus, the addition of white cranberry juice makes it an ideal cocktail for winter weddings.
Signature cocktail name ideas:
White Wedding, Marry Me Martini, The Cranberry Kiss




A Summer Shandy is a great choice for all taste pallets


5. Summer Shandy
The classic summer shandy is a simple combination of lager and lemonade - a perfect cocktail for beer lovers. If you are a beer aficionado, customize this shandy by adding your favorite craft beer.
Recipe:
1 part lager-style beer

1 part lemonade

Lemon slice for garnish
Why we love it: the addition of lemonade makes a shandy a lighter cocktail to sip on than a traditional beer. Plus, it cuts the alcohol content in half - helping to ensure guests don't over-indulge during cocktail hour or your reception.
Signature cocktail name ideas: Serendipity Shandy, Sunshine Shandy, I Do Brew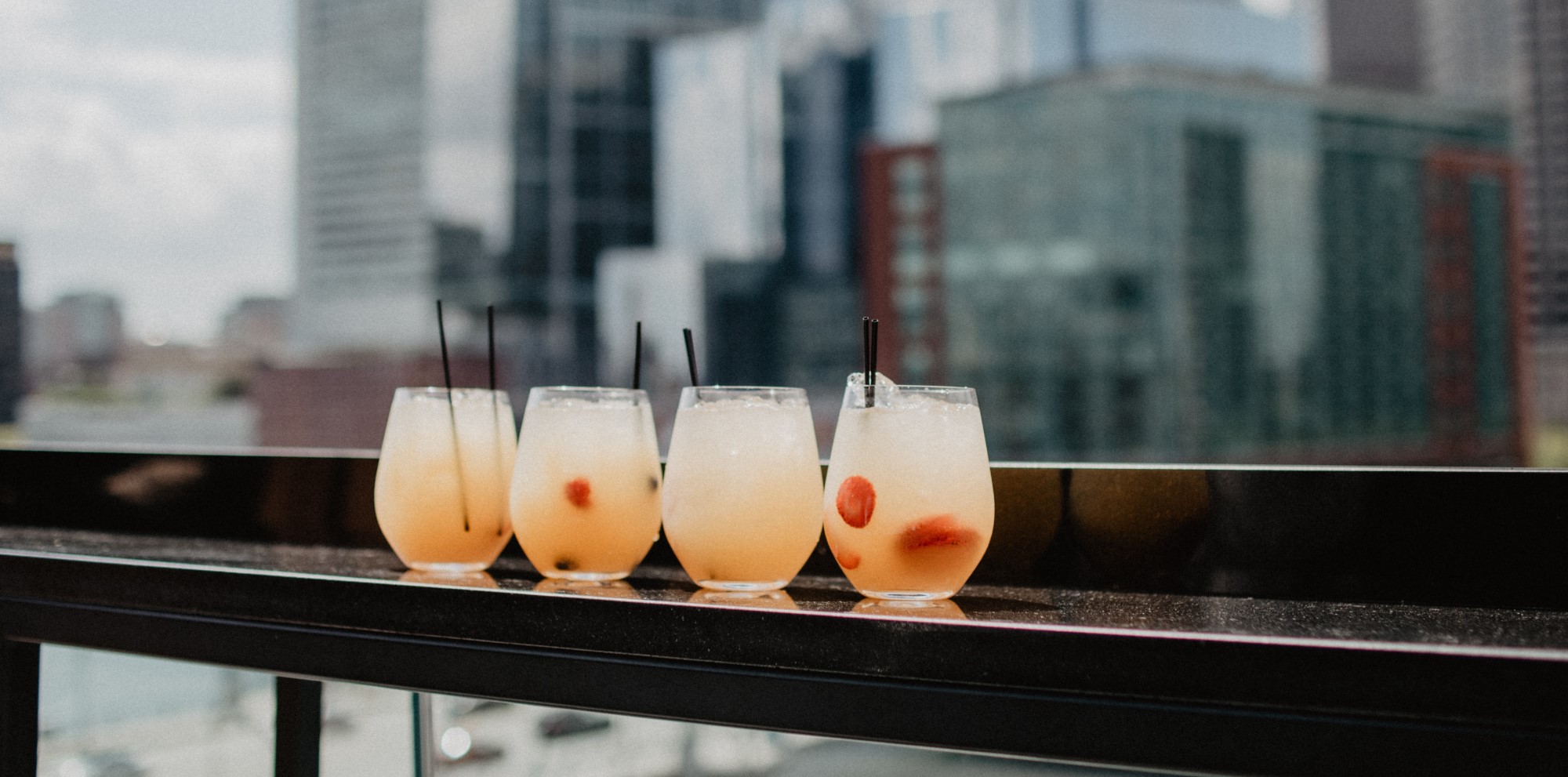 White Wine Sangria is always a sweet Choice


6. White Wine Sangria
Sangrias are a great option for a signature cocktail as they can be made in large batches to cut down on bar wait times. Switching out red wine for white is a great way to avoid any accidental red spills on your big day.
Recipe:
1 bottle white wine

2 cups ginger ale or club soda

2 ounces brandy (optional)

2/3 cup white sugar

For garnish/floating: 3 oranges, 1 lemon, 1 lime (cut into wedges)
Why we love it: sangria is always a crowd-pleaser and this refreshing white wine option is the perfect cocktail for a spring or summer wedding.
Signature cocktail name ideas: Devotion Potion, Main Squeeze



7. Spiked Apple Cider Cocktail
What better way to celebrate an autumn wedding than with a spiked apple cider? This seasonal cocktail adds a bit of spice without being overbearing. And with the addition of lime juice, there is just enough citrus to give it a refreshing kick.
2 parts gin

2 parts apple cider

1 part simple syrup

1 splash lime juice

Dash of cinnamon

Cinnamon stick for garnish
Why we love it: apple cider sets the mood for an autumn wedding and this iced cocktail is an invigorating take on a classic warm cider.
Signature cocktail name ideas: Falling For You, Apple of My Eye
***
Are you planning a signature cocktail for your wedding day? Contact our team so we can craft the perfect signature concoction for your big day.