Today we're chatting with Jonno Roman, a seasoned wedding professional who is leading the team at our newest San Jose venue: The Ranch at Silver Creek.

Jonno Roman's committed to success at the Ranch at Silver Creek
First things first! How do you like to start your day?
Contrary to popular belief, I do not jump right out of bed, but when I am up I actually spend time walking my cuter-than-life husky, Zelda (she's also an early riser!) then I look at everything wedding on Instagram! I know…I'm just so obsessed with weddings!


Everyone on our team loves working with you, so tell us: what's your approach to work-life?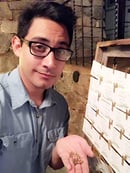 Being patient! I have always and will likely always be patient with people (and pets!) – we all need time to listen and be listened to and it's extremely rewarding and satisfying to be an active listener. Being patient has helped me realize I'm in the place I need to be. If we're constantly in a rush, we miss out on the details, and you know wedding planners are ALL ABOUT THE DETAILS. There will always be a time when rushing is necessary, but the true magic is in the waiting.

Nice. Did you always want to help people plan their weddings?
I actually ended my career path to medicine after graduating college (I know…my parents had a field day) and decided to wait tables. I did this for about 3-years then watched a David Tutera special on Netflix and the wedding planner in me was born! I immediately took to Craigslist (at the risk of aging me) in search of a wedding planning internship since I knew this couldn't possibly be an entry-level industry. Much to my surprise, I was hired as an unpaid intern for First Comes Love Weddings & Events in San Diego, and I have since grown into the position I am in now by referral!

Wow, that's a journey! How long have you been with us?
I have been with Wedgewood Weddings & Events since 2016, easy to remember as Zelda came into my life at around the same time. It truly does not feel so long but you know what they say…time flies when you're having fun and that's exactly what this is – fun! I cannot imagine investing this much time on something that was not fun.

Jonno and Zelda enjoying their day
What's one thing that surprised you about working at Wedgewood Weddings?
We always start with talent and aptitude which means we do not solely hire on a solid resume or an A-list LinkedIn. This has always been such a positive takeaway from our team, and I am committed to giving someone a chance, much like the chance that was taken on me. I will never forget the opportunities I have been presented and I am so happy to continue the commitment.


You're so right. What are a few other ways you support your team?
I always greet my team with so much energy and ask how they are – we game plan the day and I'm always making sure they're on their 'A' game so we can plan amazing weddings for our couples. I sometimes even bring snacks 😋
What challenges of your role do you really love?
I live for the behind-the-scenes, orchestrated "chaos" that ensues from a wedding day! There are many movies out there about wedding day mishaps and, although a lot of it is made-up drama for the big screen, there are definitely opportunities where we need to get creative to make your wedding day absolutely perfect!

Are there any particular client traits you love because it makes working together so easy?
I always enjoy it when clients laugh with/at each other! It brings a sense of vulnerability into the dynamic and we're all able to enjoy each other's company while planning an amazing wedding! The more we get to know you, the more we can personalize your wedding and there's nothing more special than a very personalized wedding.
How often should a client expect to hear from you?
The venue manager is typically involved in most, if not all, aspects of the client experience – we are there to support the team during the initial appointment (we even meet one-on-one with some clients for the initial venue tour) as well as the planning appointments. We are very approachable and accessible. I absolutely love being involved in the client experience – that's why I do this 😊


What advice do you have for newly engaged couples?
Take the time to enjoy being engaged – a lot of couples fall prey to the idea of planning a wedding the day after you get engaged. If that's something you want to do, do it! But don't forget to be in the moment of being engaged – it's a wonderful feeling and when else will you be referred to as a fiancé/fiancée?

What's the biggest misconception people have about wedding planners?
A wedding planner can be anyone from any background – there is not one picture-perfect example of a wedding planner (no, not even J-Lo) We have different strengths, likes, and dislikes. We are business majors, science majors, ex-scientists and some of us may have even waited tables. Being a wedding planner is a highly sociable occupation, so we enjoy networking and looking for the best in the industry and it's so much more fun with diversity!

Where do you think the wedding industry is headed next?
Inclusivity! This is one of the true silver linings of recent years: everybody is taking action to address the true lack of inclusivity that has proliferated for years. We continue to see a shift from vendors and social media platforms to include everyone. From racial inequality to gender-specific conventions, we are ready to break down these walls and welcome the open field that houses all backgrounds – this is where we belong, and this is where we are headed.

Thanks so much, Jonno! Let's end with this: What would we most likely find you doing outside of work?
I am definitely always trying to find myself at a 49ers game or at home with my husky, Zelda, and partner, Alex. And when we're at home, we're currently committed to watching the top 100 horror movies (we're not even halfway done yet…)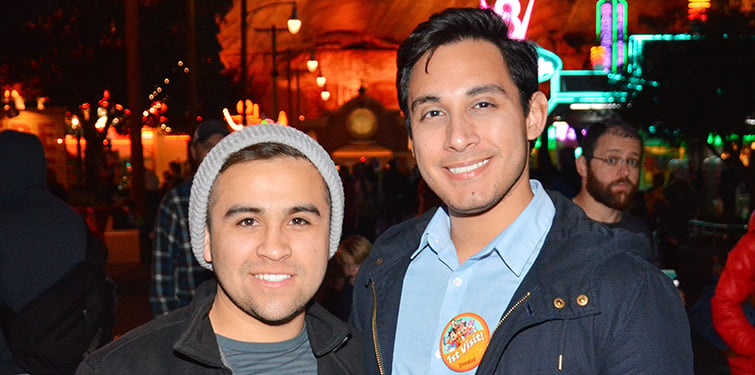 Jonno's first trip to Disneyland with his partner, Alex