By Deidre Drewes
What to wear to a fall wedding?
We've got you covered!
There's so much to love about attending an autumn wedding: the colors of changing leaves, beautiful seasonal decor, and an excuse to indulge in pumpkin and apple-flavored treats. Now that you've mailed in your RSVP, you may find yourself asking – what am I going to wear? The key is mastering the color palette and being prepared for unpredictable weather! Wind? Rain? Snow? 90 degrees and sunny? All of these scenarios are possible at a fall wedding, so be sure to be prepared! We've pulled together some of our favorite fall wedding outfit ideas for guests that are both chic and practical.
***
Say Yes to a Jumpsuit
Long-legged jumpsuits are always a great option for a fall wedding. For a more formal wedding, dress up a black jumpsuit with accessories like a statement belt, chandelier earrings, or an over-sized costume necklace. For a more casual wedding, a brightly-colored jumpsuit to match the season is a great alternative. Some hues to consider are brick red, mustard yellow, or burnt orange. Be sure to pair with a lightweight sweater according to the forecast, and throw an umbrella in your handbag, just in case!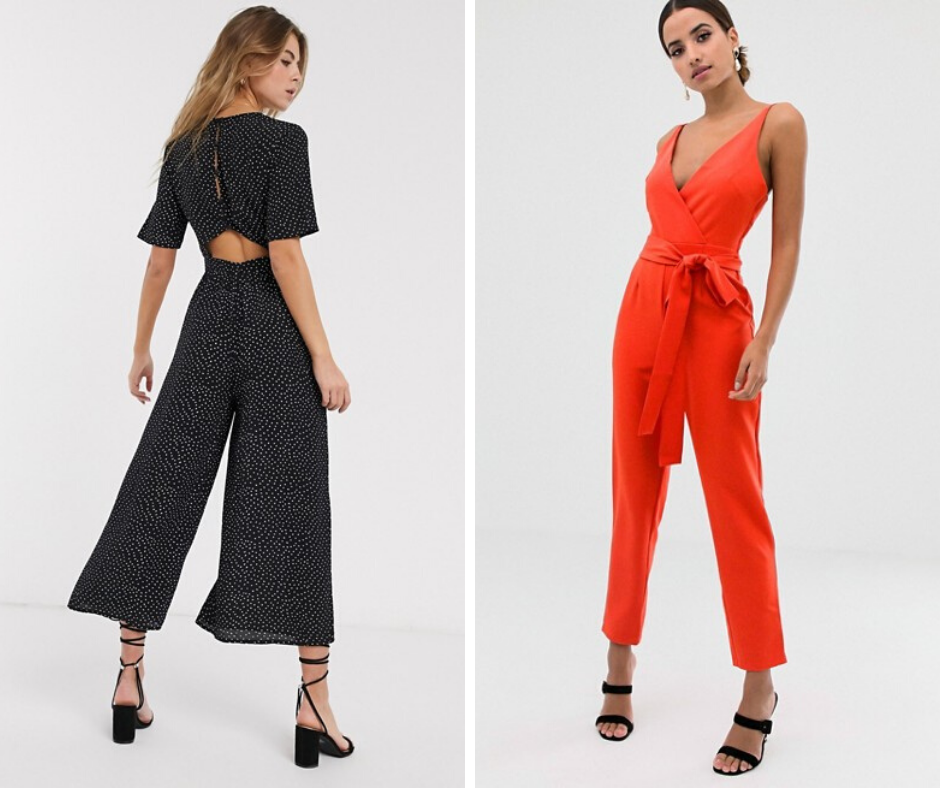 Polka Dot Jumpsuit: Asos | Red Jumpsuit: Asos
Consider a Maxi Dress
For a casual wedding, a simple flowing maxi is the perfect dress to transition from a warmer daytime ceremony to an evening autumn reception. For a more formal affair, go with a floor-length gown that will keep your legs warm during a brisk sunset cocktail hour. We love a minimalist velvet dress or beaded gown. Similar to jumpsuits, maxi dresses can be dressed up or down with the right shoes and accessories.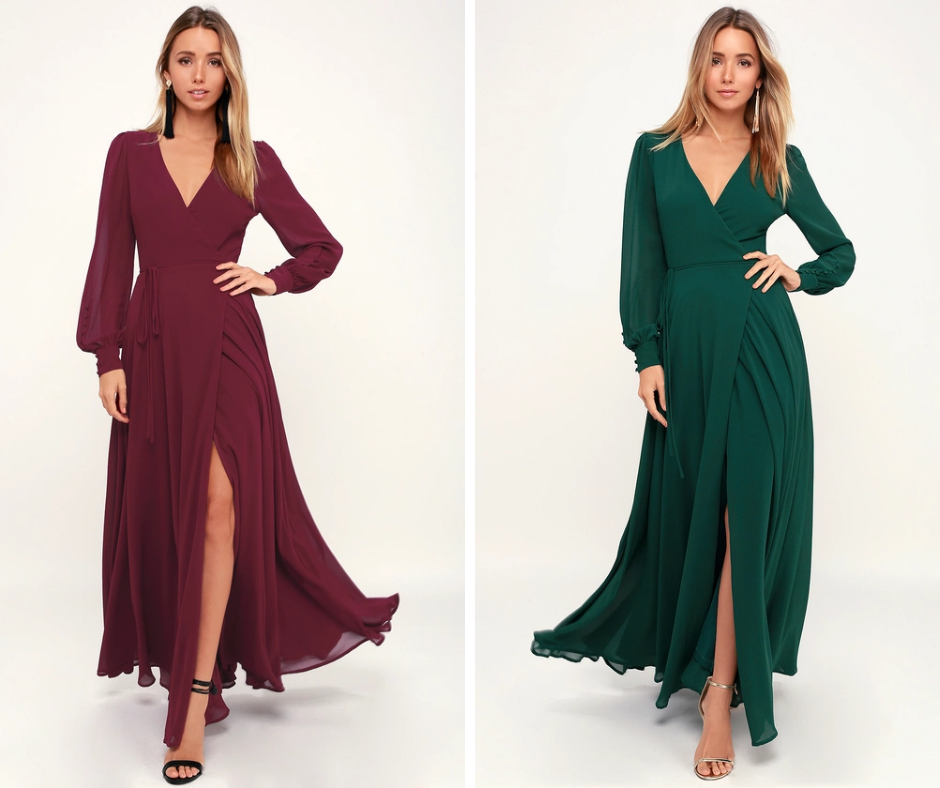 Maxi Dress in Burgundy and Emerald: Lulus
Dress in Layers
The best part of attending an autumn wedding is enjoying the beautiful natural backdrop that the season brings. Depending on the location of the wedding you are attending, the temperatures can vary drastically for an outdoor ceremony and/or cocktail hour. Dressing in layers is always a good idea for an autumn wedding. Consider pairing your outfit with a bolero, cropped jacket, pashmina, or knit shawl. If the temperatures drop, you will have an extra layer handy to keep you warm.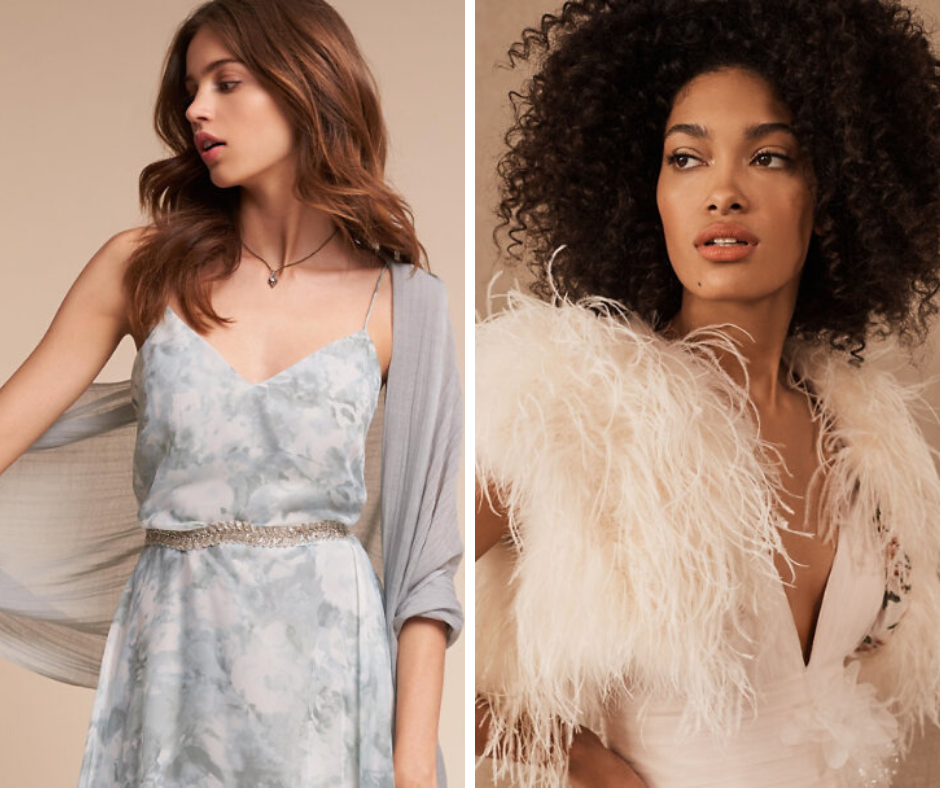 Blue Pashmina: BHLDN | Rosemary Shrug: BHLDN
Stay Warm with Colored Stockings
Colored stockings are a fun way to incorporate color into your fall wedding outfit while keeping legs warm in cooler weather. Colored stockings are also perfect for rocking a cocktail-length dress even in cooler temperatures. If you have a bright-colored dress, consider pairing it with a neutral or black stocking. Another option is to pair a black dress with stockings in a seasonal hue for a pop of color.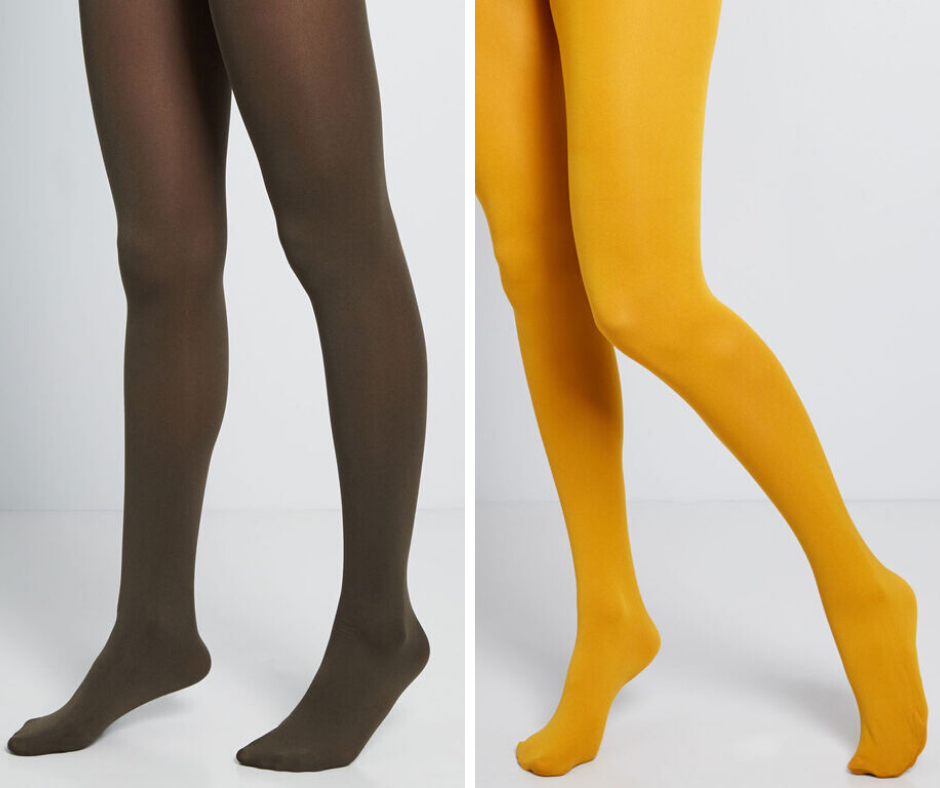 Color Stockings in Mustard and Khaki: ModCloth
A Layered Sweater for the Men
If the suggested dress code allows for it, a layered sweater look is a cozy alternative to the traditional tie and jacket for male guests. For a more subdued look, consider pairing a cardigan sweater in a neutral tone (think grey or tan) with a brightly colored tie and slacks. For a bolder look, pair a vibrant v-neck sweater (think emerald or orange) with a dress shirt and neutral slacks.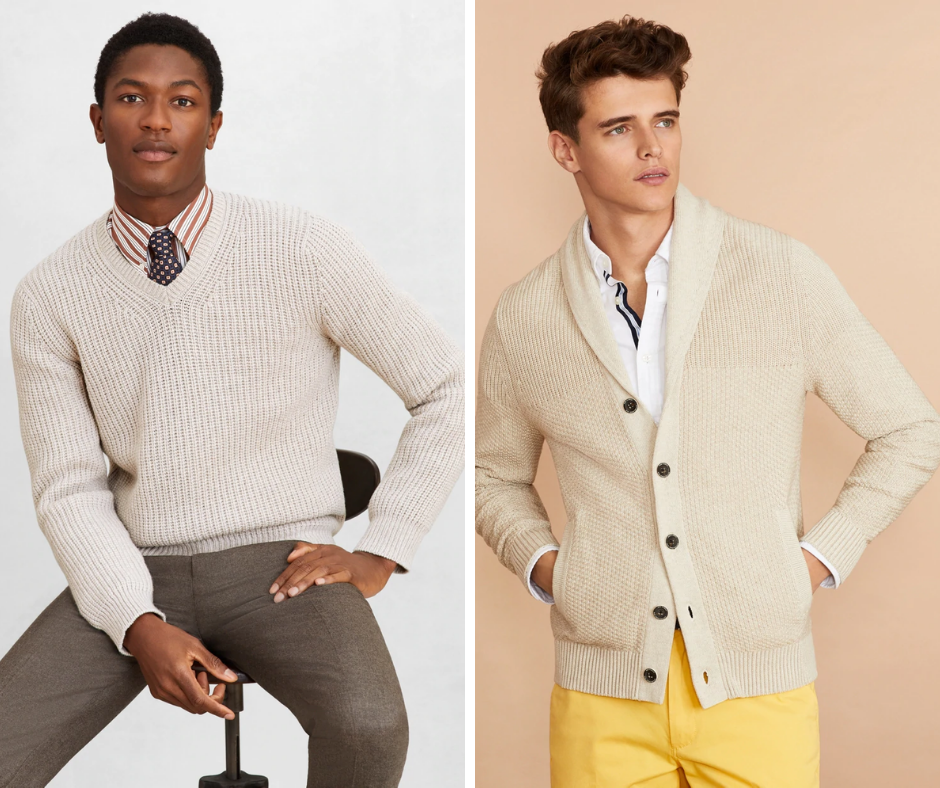 Oatmeal Sweater: Brooks Brothers | Cream Cardigan: Brooks Brothers
***
At Wedgewood Weddings, autumn is one of our favorite seasons for hosting a wedding. From the golden hues of the changing leaves to sweater-weather and flannel shirts – you really can't go wrong with a fall wedding! Make sure to dress the part with these tips for what to wear. We can't wait to celebrate with all of our autumn newlyweds and their well-dressed guests!