If you and your fiancé love moody thunderstorms, scary movies, dark color palettes and unconventional adventures, a spooky Halloween-themed wedding might just be perfect for you! Skulls and pumpkins make wonderful gothic decor, but gone are the days of taking this theme so literally! Think: dark and moody color palettes, deep red and purple accents, unique flowers, dramatic lighting, romantic candles, pomegranates, and nature-inspired decor. Celebrate your hauntingly beautiful relationship with a wedding as original as you! We've pulled together our favorite gothic & glam wedding ideas to inspire the alternative wedding of your dreams.
***
In This Article we'll explore . . .


bright and romantic gothic-esque farm wedding // THE WEDDING SCOOP
color palette
The most recognizable element of a gothic wedding theme is the color palette! While the classic orange and black is always an option, the color options for a stunning moody wedding are truly endless. Here are some of our favorite colors schemes to inspire your wedding decor:
Midnight Black On Black: This is a deep, true black; a gothic-wedding essential color to set the macabre vibe. Go dramatic with monochromatic layers of black for a truly regal gothic vibe. Be sure to add depth and interest with textures like sequins, lace, velvet and satin.
Marbled Black, Gray & Gold: This bold color palette is all about texture. Layer multiple marbled patterns in your linens, floral and accent pieces. Go all-in for a beautiful, cohesive design. We especially love this real-wedding at Rosehill Cemetery.
Muted Fall Golden Tones: For a more classic yet romantic Halloween-themed wedding, lean into the natural hues of fall: amber, gold, burnt orange, moss green.
Deep Bordeaux & Black: Imagine your favorite shades of red wine with the darkest of chocolates - that's your color palette. Sultry, romantic, and stunning. This beautiful gothic real-wedding uses vintage trinkets, books and furniture to elevate the look.
Black, White & Berry Red: You can embrace white in your gothic wedding decor, as long as you balance it with bold black decor and bright accents. We love combining black, white and berry shades for a playful take on the traditional gothic style.
Dark Jewel Tones: A curated mix of dark jewel tones is the perfect setting for a gothic-themed wedding that's both majestic and romantic. Choose tones like blood red, bordeaux, deep plum, forest green, and regal purple.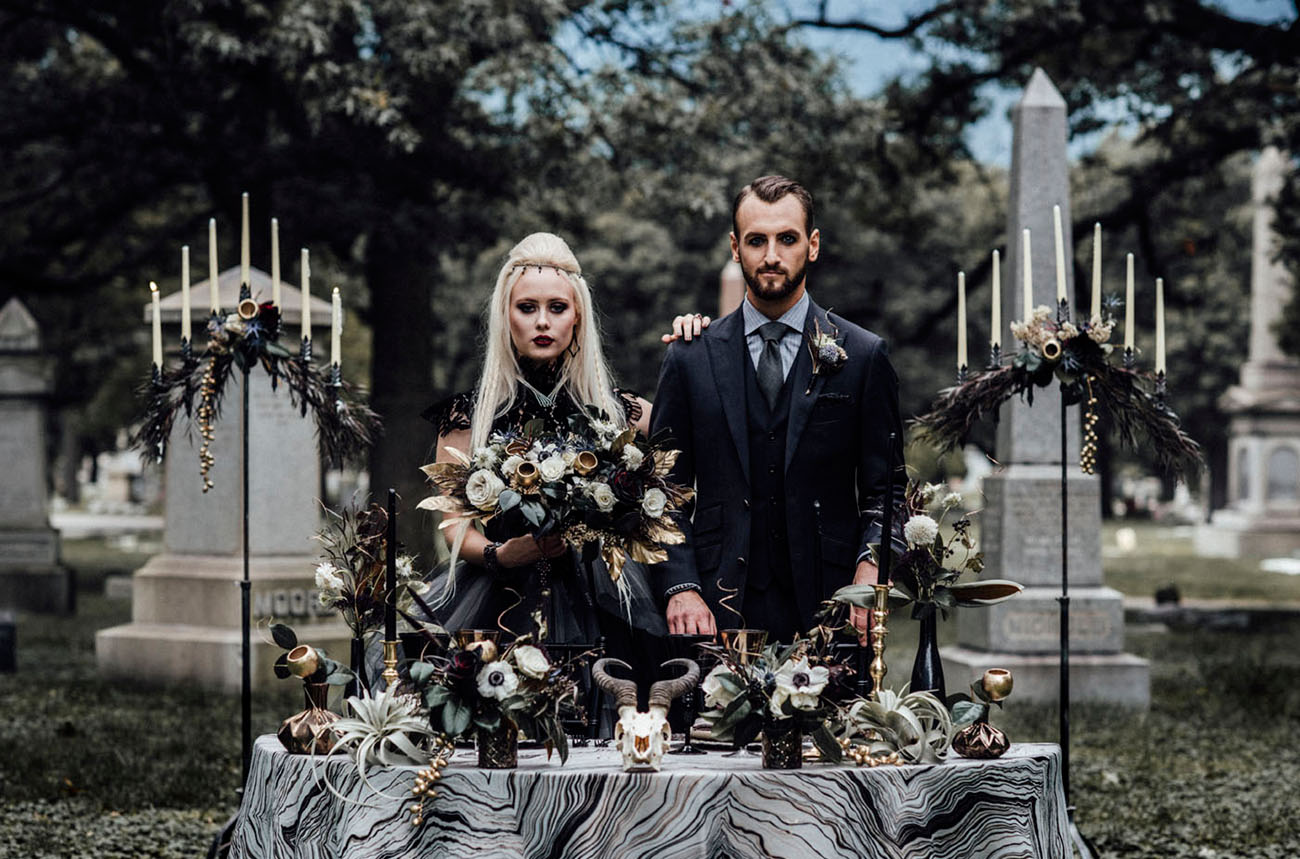 Halloween-inspired cemetery Wedding with marble decor // green wedding shoes
choose the right Photographer
Before selecting a wedding photographer for your Halloween inspired wedding, make sure to pay attention to the photographer's unique style. It's important to find a photographer that can best capture your dark & moody nuptials. If you've already locked in your wedding photographer, be open about the vision for your big day and how you would like to see it captured. We always recommend creating a photography mood board on Pinterest that can act as a visual reference for your photographer ahead of your wedding.
These are the wedding photography styles best suited for a macabre wedding:
Dark & Moody: This style is all about drama and is perfect for a gothic-theme wedding. The photographer will emphasize shadows, unique lines, and a darker style of editing.
Fine Art: While a fine-art style of photography is best known for light, bright and airy, it's also wonderful for capturing bold colors. Depending on your color palette, a fine art style of photography might be a perfect match to commemorate your special day.
Editorial: Just like it sounds, editorial photography often looks more posed and like it's magazine-ready. For a spooktacular wedding with dramatic decor, editorial photography is a really fun style to explore!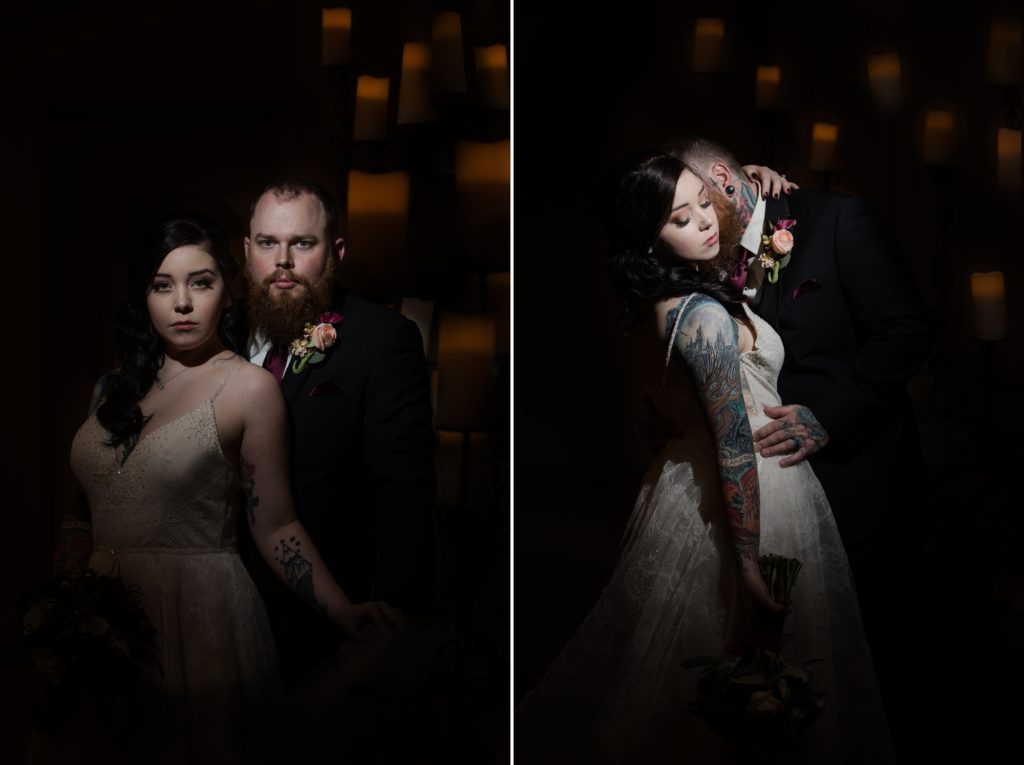 A macabre wedding portrait at Black Forest // Katie Corinne Photography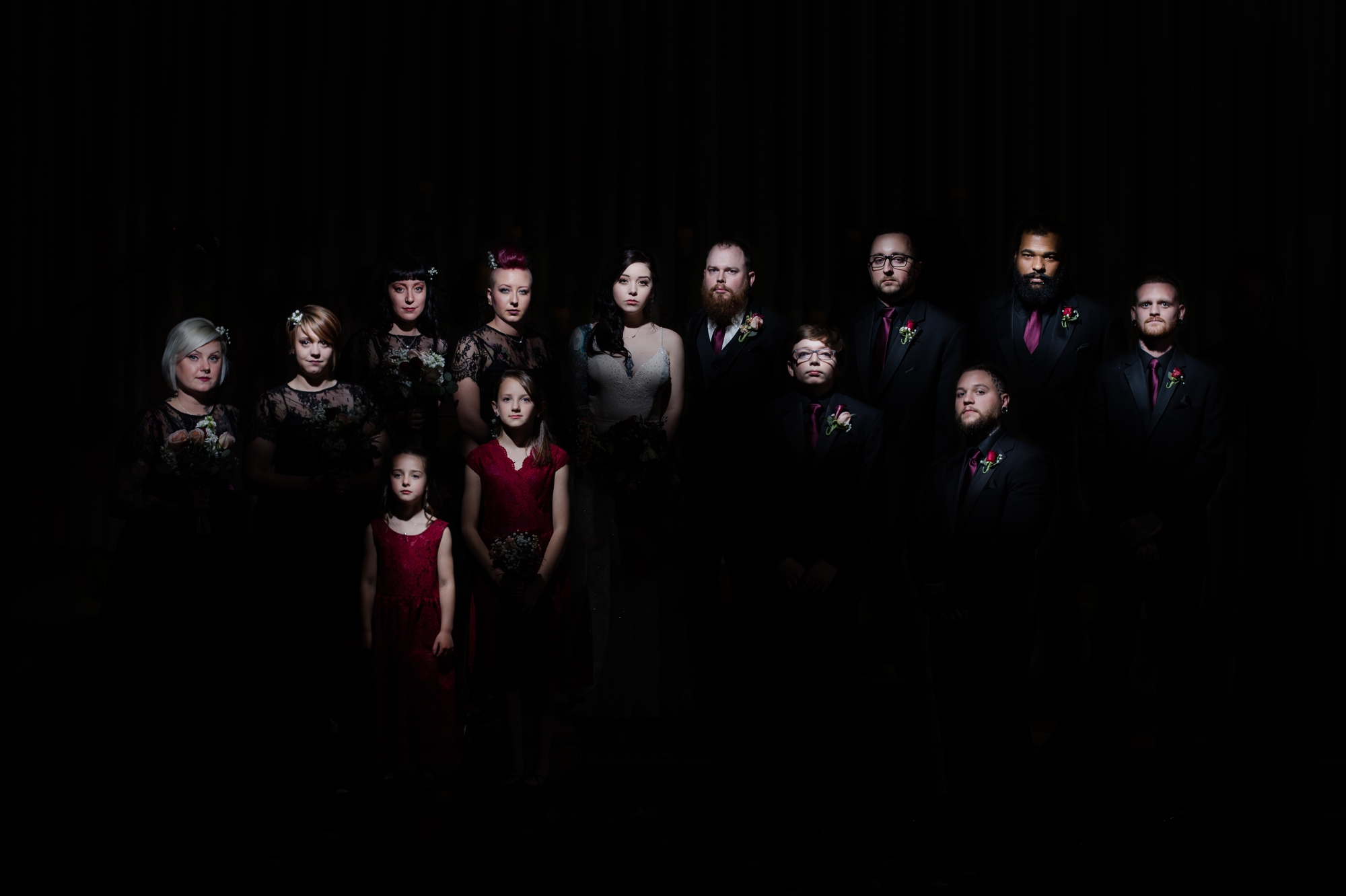 gothic-themed wedding party at Black Forest // Katie Corinne Photography
The perfect venue
Location, location, location! A beautiful, romantic gothic wedding needs the perfect backdrop to really set the stage for the entire event. Certain venue styles are a natural fit for the dramatic color palette, ghoulish decor and edgy style that comes with a macabre wedding. Here are some of our favorite choices:
Historic Mansion: Legends say that most historic mansions are haunted, creating the perfect backdrop for a spooky celebration. Add the unique vintage decor, manicured gardens and charming architecture, you can't go wrong with a historic manor with decades of history. Throw in some dramatic lighting and a fog machine for a truly dark and ethereal wedding day.
Enchanted Forest: Nature sets the ambiance at forest-studded wedding venues complete with dramatic shadows, built-in soundtrack and wandering wildlife. Some of our favorite forest venues are Boulder Creek, Black Forest and Granite Rose.
Elegant Ballroom: Go full-on glamour at an elegant ballroom-style wedding venue lavishly decorated with decadent linens, dramatic flowers and vintage accents. It's the perfect setting to celebrate your favorite movies - we love this Tim Burton inspired wedding - or a dark & moody glamorous masquerade ball.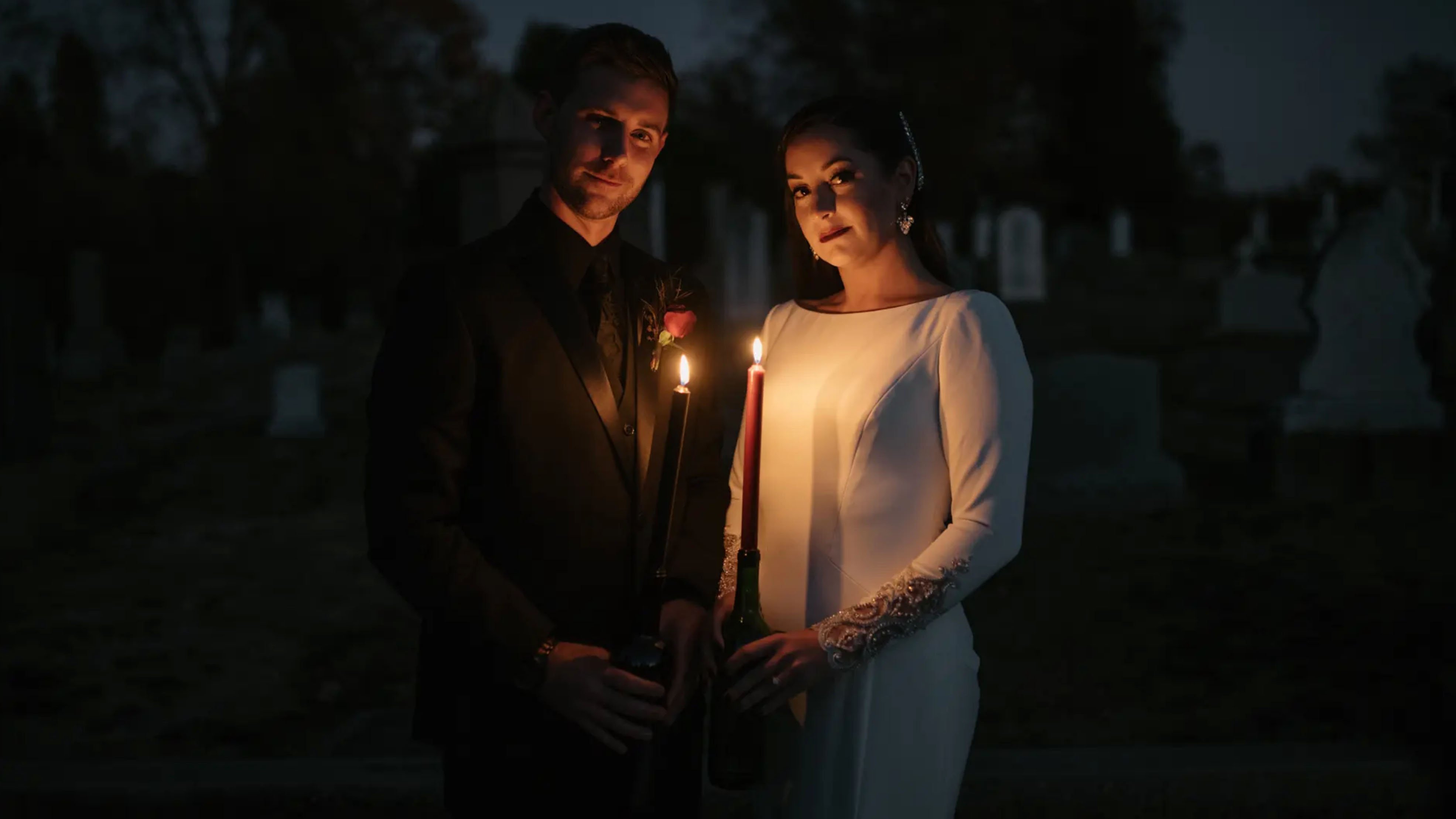 chilling cemetery wedding portraits at sequoia mansion // KATY WEAVER PHOTOGRAPHY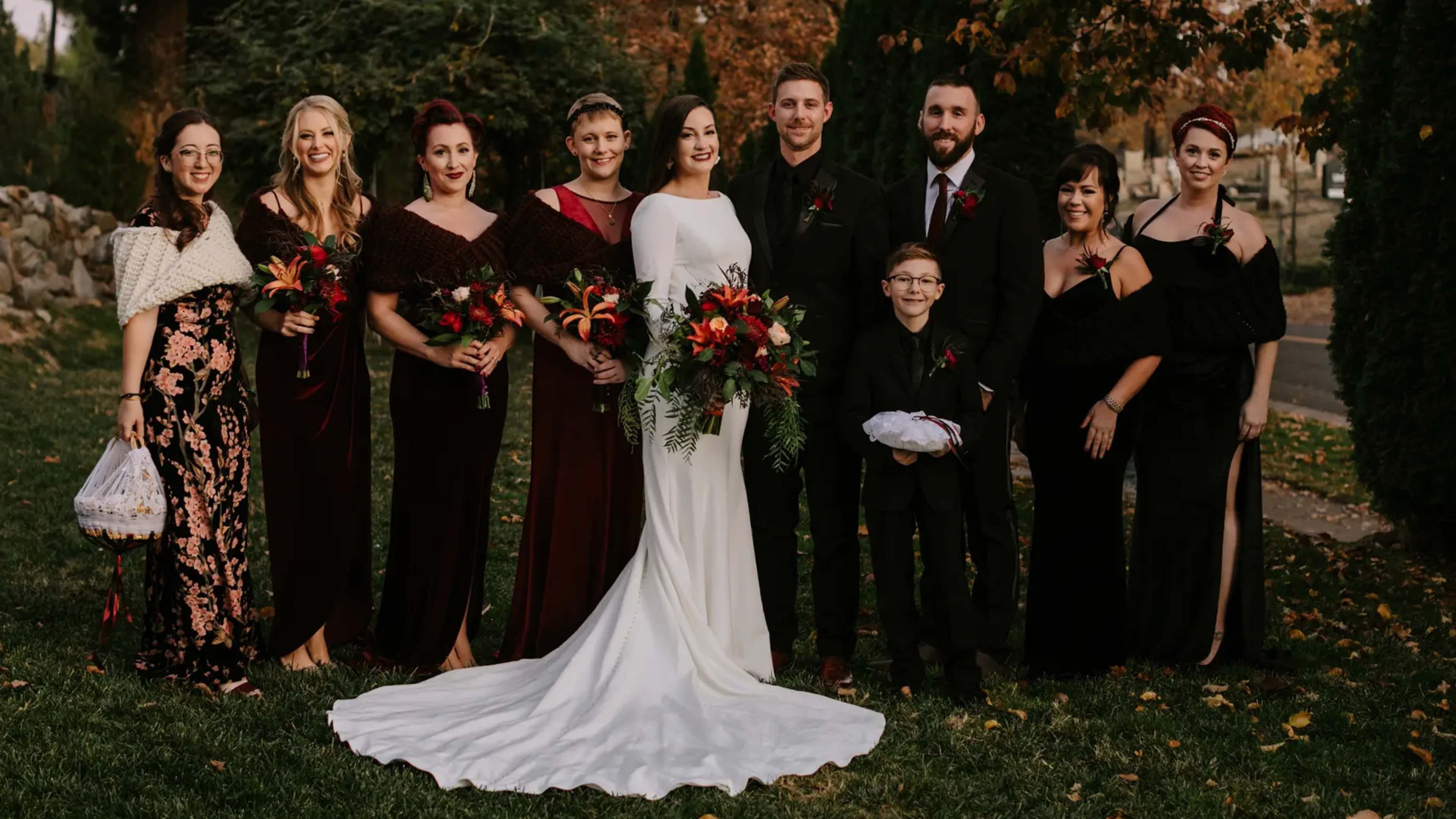 beautiful gothic & glam wedding at sequoia mansion // KATY WEAVER PHOTOGRAPHY
Set the Mood with Flowers
Nothing quite says otherworldly than bold, dramatic floral arrangements incorporating unique color palettes, uncommon flowers and organic shapes. If you're planning to wear a traditional white dress, pair it with a dark and macabre style bouquet for a beautiful juxtaposition. Believe it or not, there are quite a few types of flowers that are available in black. We especially love black orchids, tulips and hyacinth. Adding in skulls, feathers, dark leaves, and even baby's breath can make a Gothic floral arrangement really pop.


beautiful bride with gothic red & black bouquet of red moon orchids and altar lilies
Venue: Stallion Mountain | Photo: Alycia Moore

The Devil is in The Details
Get creative with your gothic wedding theme and show off your dark side with carefully curated ghoulish decor. From your invitations to table settings, gothic details are all about setting the mood. Even the tiniest of details can elevate your macabre wedding. Selecting signage, stationery, and place cards with a vintage font are additional ways to show off your edgy theme. This romantic forest wedding in Maine elegantly weaves the gothic-theme into every, creating an absolutely stunning event.
Some of our favorite gothic decor details include:
Thrifted candlesticks filled with drip candles
Rustic wood furnishings
Natural animal skulls
Painted mini pumpkins
Dried fruits such as blood-oranges and pomegranate
Pinecones
Intricate black coffins
Smoke bombs or fog machine
Play spooky, chills-down-your spine music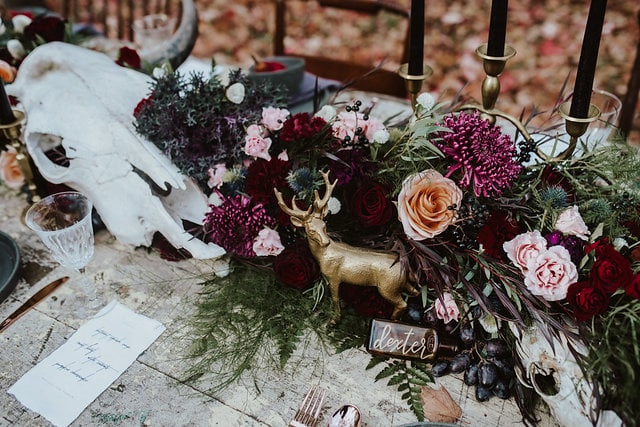 gothic-style table setting with skull and floral decor

food & beverage
Your wedding food and beverage is an easy place to incorporate subtle details that will continue to bring your Halloween-inspired theme to life. From seasonal ingredients to gothic adornments on your wedding cake, the customization options are truly endless. Whether you want a simple black wedding cake adored with skulls and roses, or an elaborate spread of spooky pies, donuts, and candies, our trusted bakery partners can bring your vision to life!
A few of our favorite ideas include:
Use seasonal produce such as squash, apples and pumpkins
Choose fragrant seasonal cocktails like Sleepy Hollow & Pumpkin Float
Use dry ice in your cocktails for a dramatic smoking effect
Opt for family-style or plated dinner service
Serve a beautifully gothic wedding cake or unique bite-sized treats
Host a themed potion bar for after-dinner coffee and cacao elixirs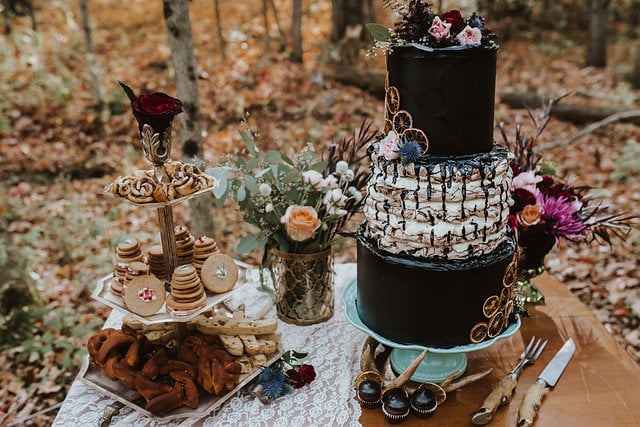 elaborate sweet feast of cookies, biscotti & blood-orange chocolate cake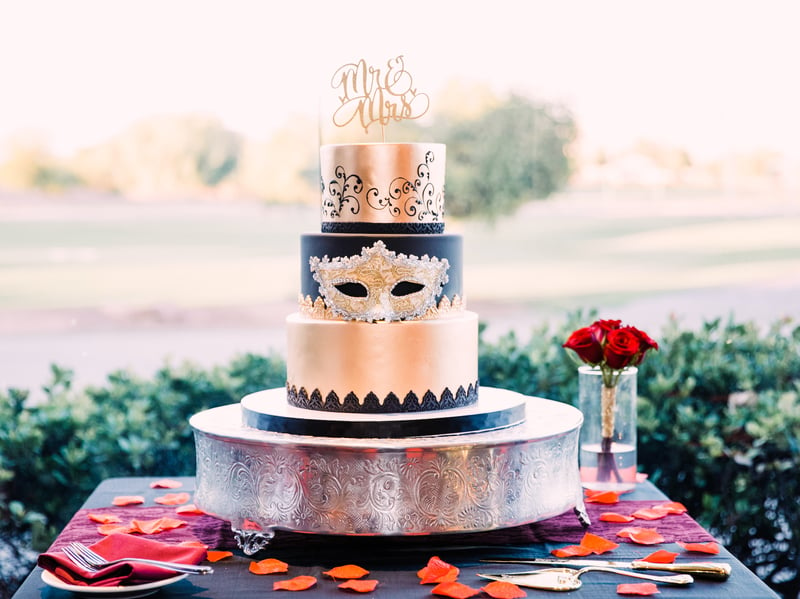 A macabre masquerade wedding cake at Stallion Mountain
Til death do you part? We think so! There's truly no better way to say 'I do' during your favorite chilly-weather season than to incorporate a fun, unique theme into your celebration. Dark and moody gothic-themed weddings can be just as stunning and romantic as traditional wedding decor. We especially love the dark color palettes and dim lighting!
For more fall wedding inspiration, visit:
Beautiful Wedding Traditions With Evil Roots
Reasons to Love Autumn Weddings
A Beautiful Real Wedding in Fall
***
When you're ready to start planning your ghoulishly gothic wedding ceremony and reception, we'll be here! Our experts at Wedgewood Weddings can help with everything from venue selection to day-of coordination! Contact our team today to get started.