4 min read
Wedding Food: Everything You Need To Know
Wedgewood Weddings & Events Nov 27, 2022 9:14:00 AM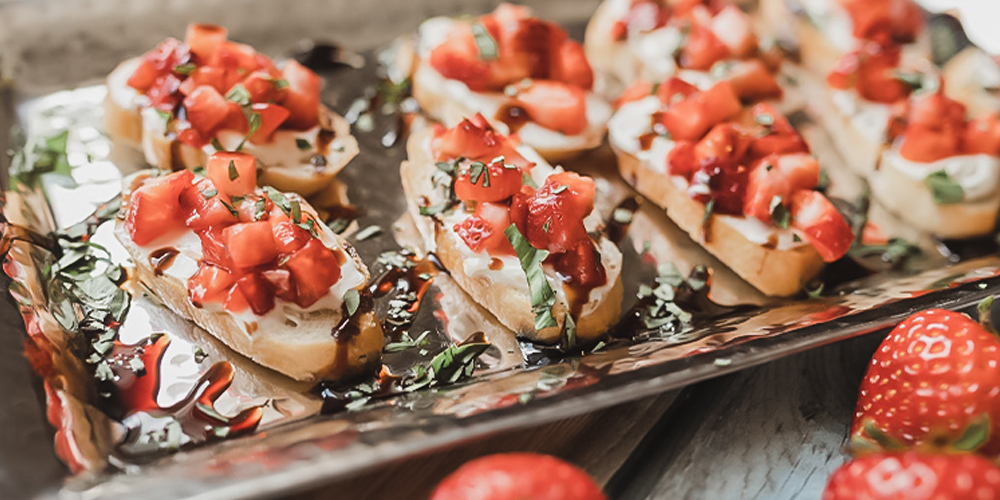 Our wedding food secrets: how to make sure your guests are well-fed - and you enjoy a delicious meal selection too! The Wedgewood Weddings menu has been carefully curated and crafted based on the feedback of our couples and hundreds of thousands of guests. Consider this: we host about 10,000 wedding a year with well over a million guests. That's a lot of people to feed and we take this food thing very seriously.
Our artisanal chef team works hard to create varied and delicious menus that scale for a big event. It's not easy feeding more than 100 people all at once! When you choose a Wedgewood Weddings package, you can create a menu to suit your tastes. Whether you're a meat lover, vegetarian, gluten-free, or vegan, we have delicious wedding food options for you and your guests.
"Seriously, people still talk about how good the food was."
Anissa, Bride, The Retreat by Wedgewood Weddings


Pulled Pork Canapés with Pineapple Salsa
Hor D'Oeuvres
You can go simple with a variety of cheeses with specialty crackers and fresh vegetable crudités with buttermilk chilled ranch dip or, if you prefer, you can mix and match hot and cold options:
Chilled
Variety of Domestic & Imported Cheese with Wafers

Rainbow Vegetable Platter with Pesto Hummus

Hummus Duo - Red Pepper & Cilantro Lime with Pita Chips

Array of Fresh Sliced Fruit with Honey Yogurt Dip

Ahi Tuna Sashimi Wontons with Wasabi Cream

Fresh Mozzarella & Grape Tomato Caprese Skewer

Mini Shrimp Tostada

Smoked Salmon Canapés

Roma Tomato & Fresh Basil Bruschetta

Balsamic & Strawberry Crostini
Hot
Crisp Dumplings with Pineapple Teriyaki Dipping Sauce

Crispy Mini Vegetable Egg Rolls with Sweet Chili Dipping Sauce

Mac & Cheese Panko Croquettes

Spicy Jamaican Jerk Chicken Skewers

Bacon-Wrapped Wild Scallops

Brie & Apple Phyllo Kisses

Pulled Pork Canapés with Pineapple Salsa

Mini Crab Cakes with Spicy Remoulade

Sweet & Tangy BBQ Meatballs

Pork Belly BLT Crostini

Chicken & Waffles with Bourbon Syrup

Pork Belly BLT Crostini
Plated Food Options
Our Premier and Elite wedding packages both have plated food options. The first course is served with fresh-baked bread and butter and includes several fresh salad options:
Signature Vinaigrette

Classic Caesar

Raspberry Walnut
For entrées, choose your favorite delicious dishes served with Garlic Mashed Potatoes, Long Grain & Wild Rice Pilaf, Herb Roasted Red Potatoes, Three-Cheese Scalloped Potatoes, or Seasonal Vegetables.
Roasted Petite Filet Mignon with Savory Demi-Glace

Braised Beef Short Rib

Cremini Mushroom Chicken Marsala

Panko Parmesan Crusted Chicken with Sherry Cream

Rosemary Garlic Herb Chicken

Charred Lemon Chicken Piccata

Chicken Cordon Bleu with Chardonnay Sauce

Alaskan Cod with Grape Tomato Vinaigrette

Oven Roasted Salmon with Tarragon Butter Sauce

Portobello Polenta Stack

Marinara Five Cheese Tortellini Pesto Parmesan
"I've been working here for years, and now I'm coming clean: I have an obsession with the Alaskan Cod with grape tomato vinaigrette! I suggest it to everyone!"
Shelley, Wedding Director, Palm Valley by Wedgewood Weddings
Buffet Food Options
Wedgewood Weddings traditional buffet includes eight assorted salads, seasonal vegetables, potatoes or rice, and freshly baked bread and butter, plus your choice of entrées

Alaskan Cod with Grape Tomato Vinaigrette
Carving Station
We also offer a delicious carving station:
Roast Beef Au Jus with Creamed Horseradish

Herb Crusted Beef Tenderloin Au Jus

Pit Ham with Pineapple Glaze

Roast Prime Rib of Beef Au Jus with Creamed Horseradish

Roast Turkey with Gravy
Extra Wedding Food Advice
Plated or Buffet?
This is up to you two as a couple and really depends on what you think will make the most sense for your guests. Will they prefer to get up and serve themselves? Do you know a lot of your guests will want to serve themselves seconds and thirds?
"There's a common misperception that having a cocktail and hors d'oeuvres-only reception instead of a regular meal is a huge money-saver. Instead. You can save by choosing a buffet over plated service, and hearty comfort food over haute cuisine (with the added benefit that no one will go hungry).

Jolene Rae Harrington, Venue Specialist, Here Comes The Guide
Wedding Food Tasting
We often host wedding fairs to allow couples to mingle, talk with their planning team, taste the food, meet potential suppliers and discover Bliss Benefits.
At each wedding fair, we serve a variety of samples so you taste your way through our menu and make sure your choices will suit your guests.
What's a Duet Plate?
Good question: a duet plate is your choice of two entrées served together on the same plate. It's a great way to cater to guests of all tastes if you're having a formal plated dinner.


example duet plated meal with rice pilaf and seasonal vegetables

When to Serve?
Every wedding is different when it comes to timing but one thing, we all know – no one wants hungry guests.
A lot of couples keep their guest entertained with a cocktail hour and music for between 60 and 90 minutes. This is when appetizers (or Hors D'oeuvres) are served, usually on passed plates. A cocktail hour after the ceremony also works great as it lets the photographer get all the family portraits without making other guests feel like they're waiting around.

Once a group has entered the banquet room, they'll probably expect food within about 30 minutes – depending on if the first dance is before or after the first course. Allow around 45 minutes for the first course, and this is traditionally when the Champagne toast is made.

The second course takes around 45 minutes too. Once you factor in everyone getting their food – whether via a buffet line or plated service.

After the food: cake cutting and dancing!
What to Drink?
There are a million options from a signature cocktail created just for you two, to an open or paid bar. In our experience, people expect a few bottles of wine on the tables, Champagne or cider for the toast, and then the opportunity to order their own drinks.
At Wedgewood Weddings, we offer several bar options, and your wedding planning team can help you find the right choice for your guests.
"You really have to love the fact that there are options for everyone. We're very conscious of food requirements and specialties. It's important for all of our couples and guests to feel included!"
Ericka, Wedding Enthusiast
Menu choices are subject to change.
We cater to anyone with an allergy – please let your planning team know as soon as possible.
More Advice
With decades in the business and an amazing team of incredible wedding planners, get tried and tested help to create an event experience that suits you!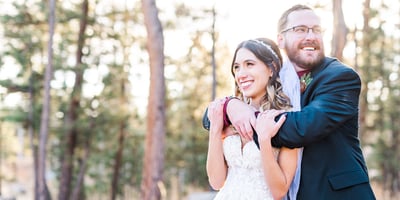 Our Secret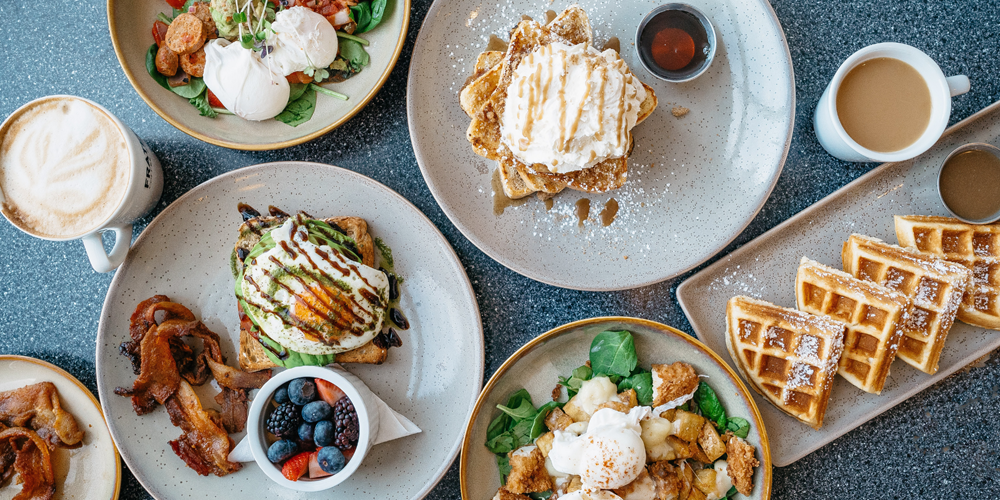 3 min read
Our chef team cook, test, taste and perfect! Read through our menu headlines below:
Read More