Julia and Jesse's winter wedding in Hampstead, NH, was filled with laughter and joy from start to finish. This stylish, fun-loving couple chose Granite Rose by Wedgewood Weddings as their venue for it's breathtaking grounds as well as the all-star team of wedding experts that helped make their day extra-special. Julia and Jesse were all smiles as they exchanged vows against a backdrop of glistening New England snow. This winter wonderland wedding was truly a memorable day - both for the happy couple and the Wedgewood Weddings team.
***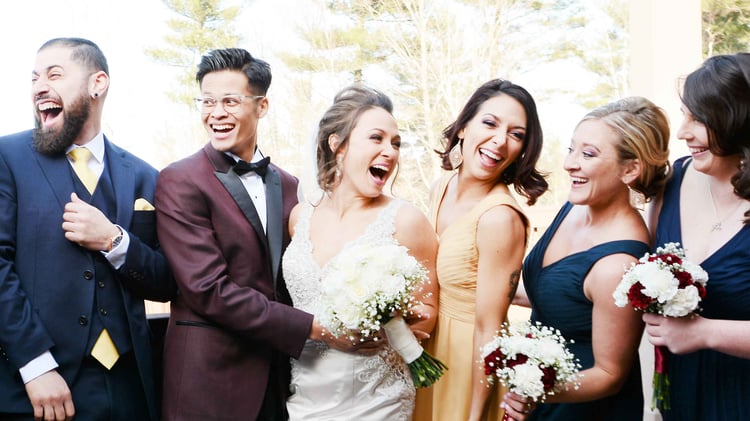 Julia and Jesse are all smiles with their bridal party at Granite Rose
For Julia and Jesse, selecting the right team to help plan their wedding is what made all the difference. See what this sweet couple had to say about their experience working with the industry veterans at Wedgewood Weddings:


"When we first began looking at venues there was one thing that stuck out the most about Granite Rose: the people. We had the pleasure of meeting Danielle and she made us feel like our wedding day was truly special. The grounds and reception areas were simply gorgeous, so after meeting with the team there, it was a no-brainer. Throughout the entire planning process of the wedding, the Granite Rose Sales Team was with us every step of the way.

Communication with each member was seamless and they were very conscientious of our work life, so we never felt rushed to give an immediate answer unless it was urgent. We never thought that planning a wedding would be this smooth! Since most things were included, all we had to do was choose exactly what we wanted."
- Julia and Jesse, Bride & Groom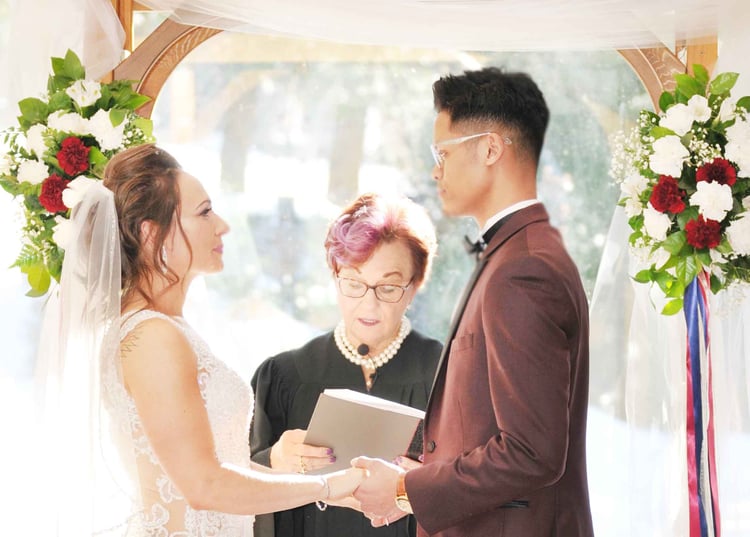 jesse and julia share heart-felt vows with a snowy backdrop at Granite Rose

Julia and Jesse made it a priority to ensure everyone at their wedding had a blast. From the groomsmen playing air hockey in the get ready room to the photo booth and photo frame party favors, their guests enjoyed every moment of the wedding:


"Besides being one of the most stylish couples I've worked with, Julia and Jesse were truly hilarious to work with! I know their marriage will be filled with fun times and lots of laughter. They were so organized and thoughtful with all the small details that went into their wedding. I loved the practical favors they gifted their guests with – a frame to hold their photo from the Granite Studios photo booth! I'm sure guests appreciated these and will treasure their pictures for a long time. It was an absolute pleasure to work with Julia and Jesse to plan their gorgeous winter wedding. I'm beyond happy to hear this was the wedding of their dreams!"
- Danielle, Granite Rose by Wedgewood Weddings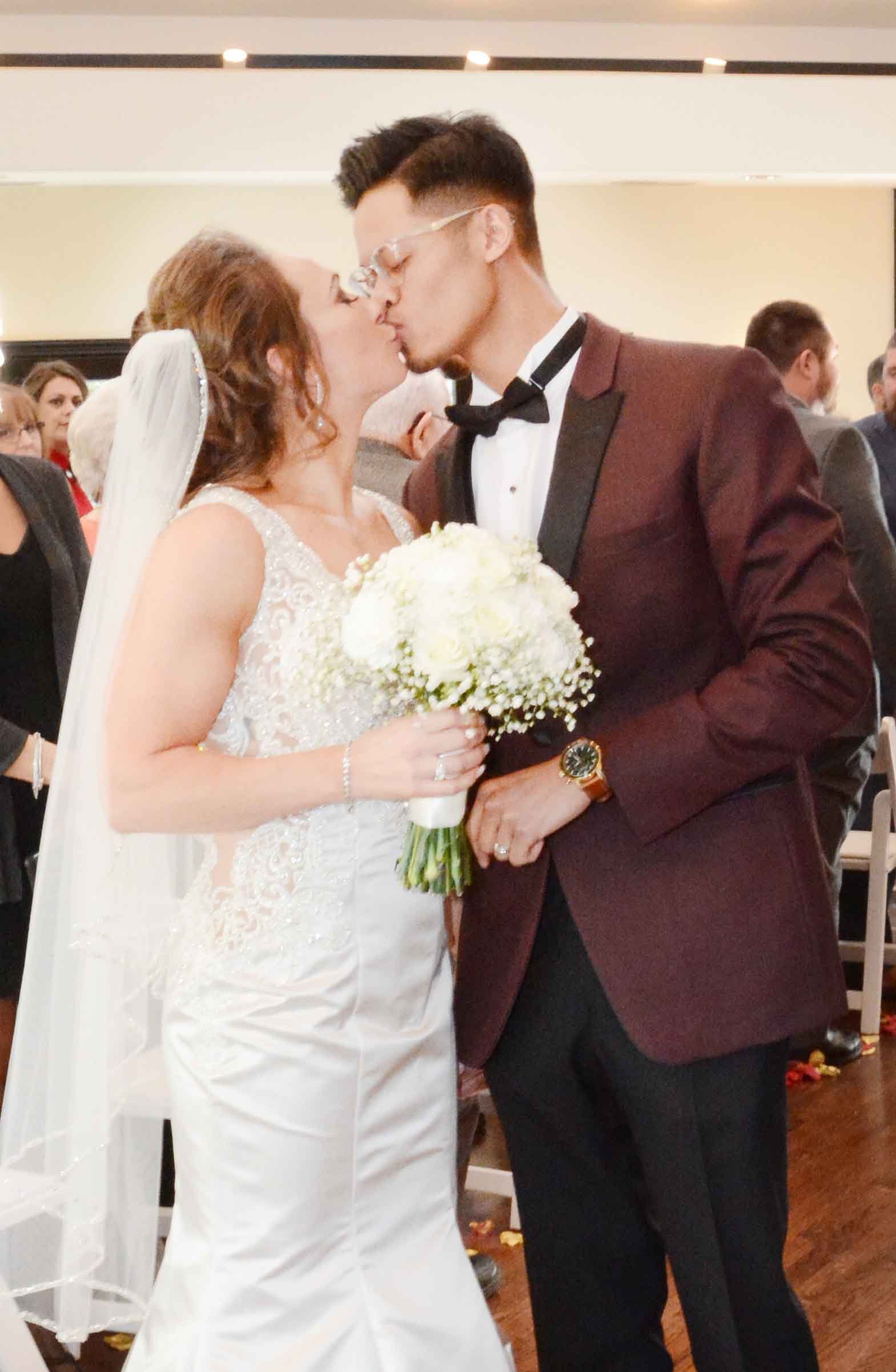 sealing the deal with a kiss - these newlyweds are ready to party! | Granite Rose
The Wedgewood Weddings team made it a priority to ensure that every detail of Julia and Jesse's wedding was picture perfect:


"In the days leading up to the wedding, each team member was keenly aware of all the details needed to execute a flawless event. Everyone we spoke with was on the same page; it's actually very impressive! The night before the wedding, at our rehearsal, Danielle took inventory of all our items to be set up and kept careful note of, yet again, exactly what we wanted!

We trusted Danielle so much, that we told her if she thought the aisle runner would potentially be a tripping hazard to just leave it out. Well guess who made an amazing executive decision? She did! I don't think we can say enough great things about the planning and execution for the night before our wedding and our beautiful wedding day."
- Julia and Jesse, Bride & Groom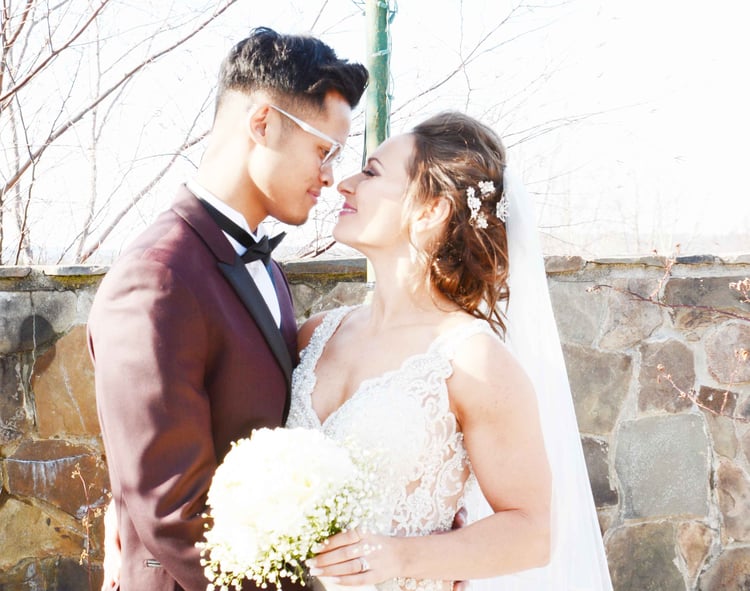 Julia and Jesse pose for bridal portraits in the snow-covered gardens at Granite Rose

Julia and Jesse chose red, gold, white, and navy for their winter wedding. Julia's bouquet was adorned with white roses and baby's breath, while red flowers accented the arrangements on the couple's wedding arbor.
"It was very easy and lovely to work with Julia and Jesse for their beautiful wedding. I wish them all the very best!"
- Susanne, Susanne's Weddings Floral Design Studio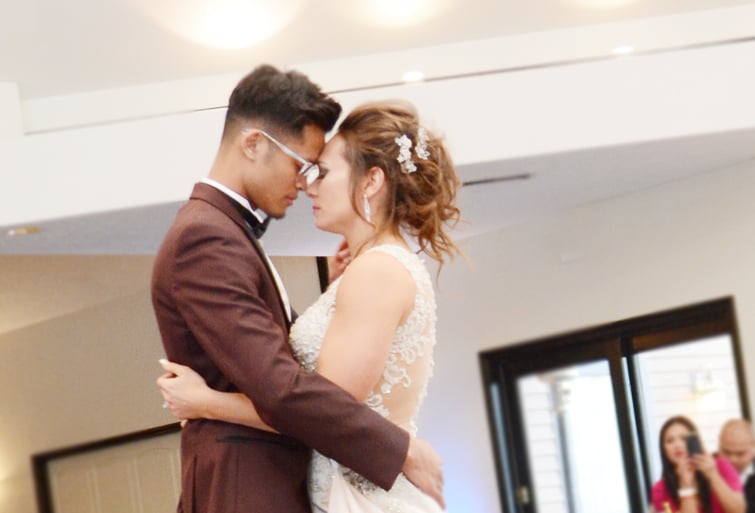 Jesse and Julia share a beautiful first dance in the newly renovated ballroom
At Wedgewood Weddings, we partner with the best local vendor partners to create an exception experience for the couples we work with. See what Jesse and Julia had to say about working with DJ Tom Darling of Main Event Entertainment:


"On the wedding day the Granite Rose Team was simply amazing. They kept us on time, ensured each of us had what we wanted throughout the entire night and most importantly, ensured the wedding went as we had planned. Not to mention, our DJ Tom Darling, followed through on everything we had discussed prior to the Big Day. He did not miss a beat and we could not have been more pleased to be paired up with him! He truly made our night special, as did the Granite Rose Team. These ladies were professional, detailed and a sheer joy to work with. We believe that we had the actual 'Wedding of our Dreams'. This venue made it happen and we are so grateful for choosing this location and these people for the most important day of our lives."
- Julia and Jesse, Bride & Groom

we love this snowflake-covered wedding cake that fit perfectly with the season
Jesse and Julia were truly a delight to work with, both for the Wedgewood Weddings team as well as our vendor partners:


"The Nyitray couple has been more than a pleasure to work with! They both have the same great taste in music which tell me they're a great match for each other! We had an absolute blast working this event!"
- Tom, Main Event Entertainment

Julia and Jesse end the night with one last portrait against the glistening snow
***
Wow - talk about a beautiful winter wedding! It was such an honor to host this special day between Julia and Jesse, and will remember it for years to come. Thank you to all who helped make it a success!
We believe that having a stellar team of vendor partners is what makes the Wedgewood Weddings unique. Thank you to all of the vendors who helped make Julia and Jesse's wedding so memorable: