Summer weddings in the Rocky Mountains can be truly magical with love in the air, brilliant blue skies, and hundreds of occasions to smile. Today, we're shining the spotlight on Annie and Jake, who were married last August at Boulder Creek.
***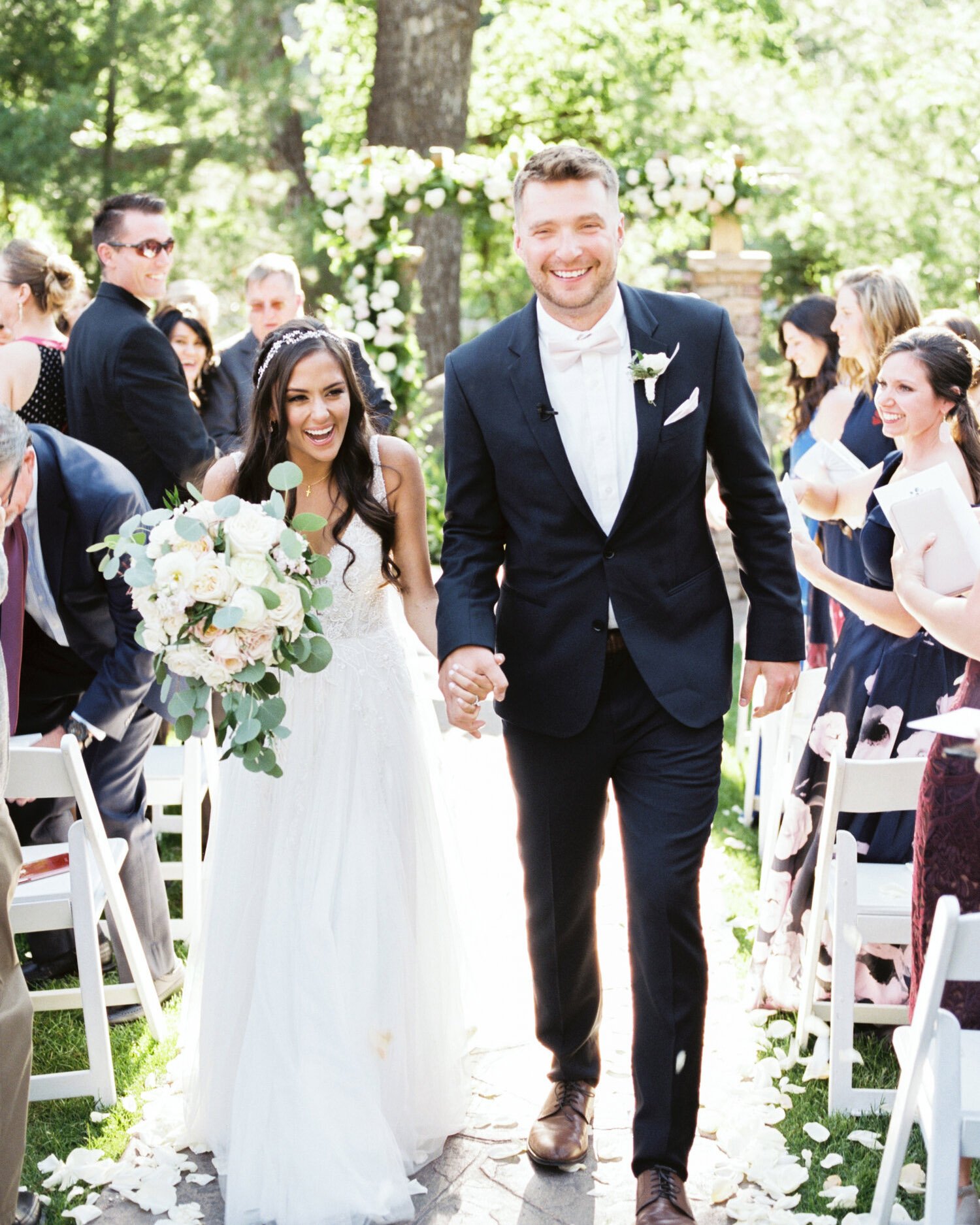 How sweet are these newlyweds? Just married ftw!


Our Boulder team loved working with this couple because they're wholly and utterly in love. It shone through during the event planning and, of course, on the day itself when they were surrounded by family and friends!
This special event was captained and coordinated by Kieu and Taylor, respectively. Together, they made sure every element was spectacular for this wonderful couple. In our opinion, the entire event team went above and beyond to create a stunning and unforgettable experience for everyone involved.
"They're so in love! Planning with Jake and Annie was fun and productive. We quickly developed a rapport where we could all joke around while still making sure everything was decided and noted in good time. It was clear for everyone to see that this couple is a team. Annie went over and above considering all the little details, but Jake's opinion was just as important."
- Kieu & Taylor, Boulder Creek

The bride, Annie, shared these thoughts via The Knot:
"I had my wedding at Boulder Creek by Wedgewood Weddings, and it was absolutely perfect! I was a very detailed-oriented bride, and the service was phenomenal! The coordinators responded to me quickly, and my in-person meetings made sure that none of the details were missed."
- Annie, The Glowing Bride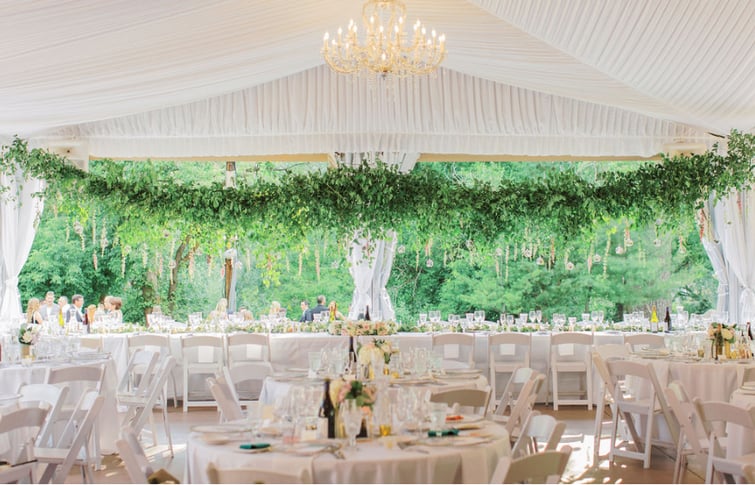 At Boulder Creek, we conduct hundreds of unique events each year. Our team always works directly with each couple to make sure each wedding is personalized and individual just for them. We're so proud to receive glowing comments like this from the happy couple:


"Taylor was my day-of-coordinator and she was absolutely amazing in helping me plan both before the wedding and during the event. I wouldn't have changed a thing! Thank you!"
- Annie, The Glowing Bride


People choose our Boulder Creek venue for the tranquil atmosphere, amazing views, and the cool, clear creek which gives this venue its name. Being surrounded by a forest of mature trees makes every event feel secluded and embraced by nature.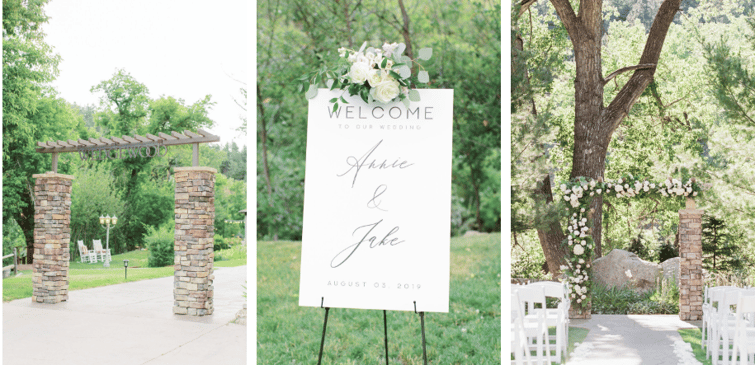 For Annie and Jake's event, we were mesmerized by the florals. They enriched the outdoor pavilion and united the entire indoor/outdoor theme. The oversized hanging florals were absolutely magical and demonstrate florist Painted Primrose's skill. We love the baby pink accents and the on-trend emphasis on white and greens, which create a timeless and natural look.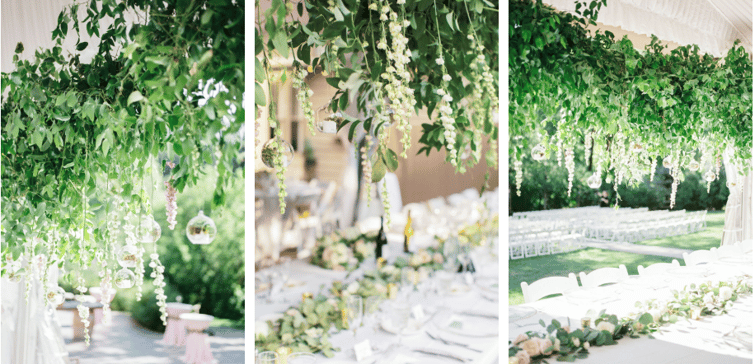 "Their vendors at Boulder Creek by Wedgewood Weddings were unbeatable in their service and quality. I couldn't have been happier! Thank you to everyone who helped make my day perfect!"
- Annie, The Glowing Bride

the bridal party threw petals creating a picture-perfect moment


A Special Shoutout to Our Boulder Creek Partners

Jake, and the male members of the wedding party, looked confident in dark attire from The Black Tux. They rounded off the overall wedding look by bringing in a bold statement that perfectly complemented the ethereal lightness of the bridal look.
Kelly Leigh Cakes is always one of our favorite vendors. For this occasion, they created a decadent trio of cakes, and we hear they all tasted absolutely amazing.
One of the highlights of this event was the jammed dance floor throughout the reception. These guests can really party and they were ably assisted by DJ Maestro, who blended Annie and Jake's favorite tunes into a seamless evening of music. The couple and their guests created a tremendously fun party atmosphere.
We also have to give a special shout out to McKenzie Coyle for her exquisite photography! The light and fresh images capture the day perfectly, and show off all the rich detail and care Annie and Jake put into all their wedding decisions.
***
Take a look at the event itself via this joyful video from Shutter And Sound Films:

***
"We all loved that Annie and Jake were both so appreciative and kind throughout their wedding planning process. Annie truly felt like a friend when her wedding day came around."
- Kieu & Taylor, Boulder Creek


This Colorado wedding was a delight for everyone involved. Thanks also to Rocky Mountain Bride for featuring this wedding and sharing Annie and Jake's happiness.
Every wedding is a celebration of love, and we see lots of happy tears. We especially love that you can tell from the photos that Annie and Jake are a joy at all times. From their first visit to the venue until their last dance, their enthusiasm was infectious. Creating a seamless event with a strong theme that adds to the day and allows the love to shine isn't always easy, but it should always be fun. With Annie and Jake it really was.