how to plan Your company holiday party


With the holiday season coming soon, it's time to think about fun holiday festivities. That's especially true if you're the one planning your company holiday party - there's a lot of pressure to put on an event that the whole company will rave about. And, you want to enjoy the event too!
Not sure where to start? We've got you covered. Our complete holiday party guide contains everything you need to host a rocking or elegant holiday party, and everything in between!
***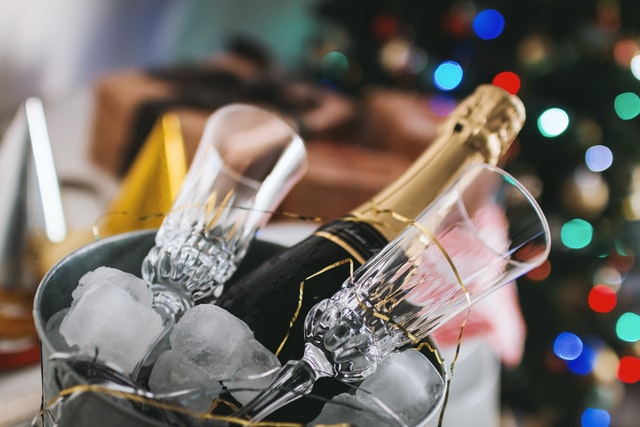 Holiday Party 101
Choosing what sort of holiday event you want to plan is vital. It'll guide your biggest decisions from budget to venue and more. You can kick-start the planning process by asking yourself these 3 easy questions:
Formal or casual?

Theme or no-theme?

Sit down meal or buffet?
If you're feeling stuck on your holiday party plans, try answering these questions:
Are you inviting friends, family, colleagues or clients?

Are you looking to impress, raise funds, or simply celebrate?

How would you describe the personality of your guests?

How many guests (at minimum) do you plan to invite?

The answers to these questions almost-always will guide you to the perfect party details for your holiday event. For instance, if your budget is tight and you have a rather large guest list, a casual theme party with buffet-style catering may be best. If you're planning a holiday shindig for a small group of clients and colleagues, a formal party with family-style plated dinner is lovely and intimate. If you have a moderate budget, large guest list (100+) and love a fun-filled theme party, try a holiday themed casual event with buffet catering and food trucks for dessert.
Whatever you decide, we'll be happy to help bring it to life! The key is that your key event details match your guests and budget. The rest will fall together easily. So, let's keep walking through the essential steps of planning a memorable holiday party.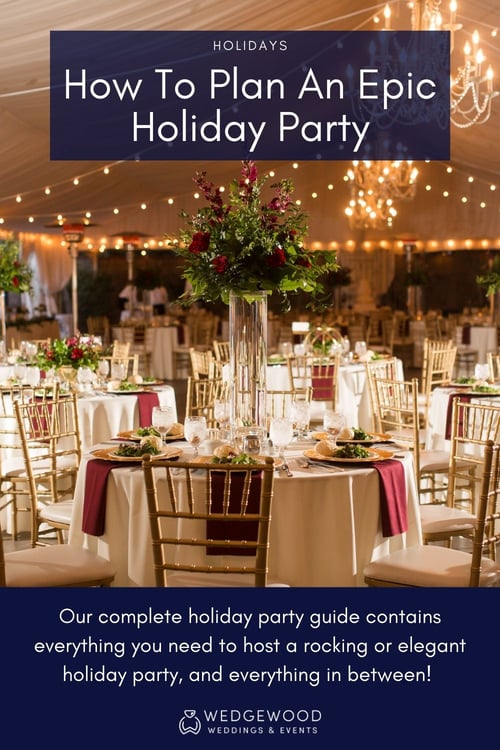 decide on a budget for your party
Assuming that you don't already have a firm budget, coming up with a budget will be an essential step! To decide on a reasonable amount to spend, you can try a couple of things:
Look at what was spent in previous years as a total and per guest.

Ask venues for a per person and total cost for similar events.
Decide on a set figure and work back to make your event fit the available funds.
All three of these options will help you see if a pub trivia night or a black-tie gala is more achievable for your budget.


It's always tempting to hold your Christmas or holiday party at your office or location, but we find the best parties are hosted at off-site locations. Office parties are certainly budget-friendly, but you risk champagne flowing into the photocopier or having some employees glued to their desks.
Having your party outside the office allows employees to connect on a more personal level by encouraging them to talk about things other than deadlines and invoices. If you do decide to rent a venue for your company holiday party, set up a time to tour the space in person. Even if you find a seemingly perfect venue online or through a reference, you should still check it out and talk to the team who'll be coordinating your event. The team behind the scenes at your holiday party is just as important as the event itself!
When choosing your venue, think about the flow of your event. For instance, if you need a cocktail space, plus room for a sit-down dinner and AV equipment for a presentation, then talk to the venue staff about how to make it seamless for your guests. All spaces have a standard layout for special events, but that can always be customized to fit your needs and shake things up.
Remember: venues are in high demand during the holiday season; you'll want to reserve your space and date as early as possible. When you have your vision and a rough budget in mind, that's when you'll know it's time to work with your venue to find a suitable date.

lock in the details
Lock in your date, guest count, start and end times, and finalize all the details like where guests can park, or whether you'll provide a shuttle from work or taxi/Lyft vouchers. Write everything down clearly as this will be the base info for your invitations.


create your guest list
Create a final guest list, knowing that around 25% of people you invite will not be able to attend. For holiday parties, your guest list will usually include all employees or a team of employees and, sometimes, major vendors, clients and partners.
Be clear about extra guests and plus-ones. It's great if you can organize for people to bring their spouses, partners or families but, if that's not the case, then say so upfront so people can arrange baby sitters, etc.
About a month before your event, send a trackable electronic invite to everyone that should attend detailing all the information you confirmed in the step above.

choose an event speaker
A great host can add life to your company holiday party and a riveting speech can make a party memorable and motivating for the New Year. A host will guide the night to help guests know what is happening and keep things on schedule.
Choosing a well-respected manager is a great option and you may want to ask two or three people if they'd be interested in the role. Having a team of hosts means everyone can have fun. Should they accept, give general guidelines for the speech, such as length, topics and ask for them to give you an outline prior to the event.


pick a theme (optional)
The default theme during the holiday season is usually 'holidays' but it can be fun to take a standard theme a step further with ugly holiday sweaters, a winter wonderland, or (surprise!) a tropical paradise. A strong holiday party theme can provide a great element of decor, a whole lot of fun, and will help the guests all feel like they were part of the party planning. If your corporate holiday party involves multiple teams or groups, you might consider asking each group to choose their own team-themed outfit. This a great way to sneak in some extra cheer and team-building!


plan entertainment
To make a holiday party worth remembering, you want to provide your guests with entertainment and activities that keep them engaged and feeling relaxed. Activities like music, games, artists and photo-booth make excellent holiday party entertainment.
Music is a must-have for any quality party. A live band or DJ performing can get people dancing and in the holiday spirit. You can also plan smaller interactive activities, like a gift swap, photo booth or other games. The team at your venue will usually have a range of entertainment suggestions to suit any budget.


set the dress code
Have you ever been invited to a party only to be left completely in the dark about whether formal or casual attire is best? Us too! A simple dress code will set expectations and make everyone feel more comfortable.
For formal occasions, you might have requirements such as a jacket and tie or no denim. For casual occasions, you may give guidance such as business casual, or garden-party style to help offer more direction on what to wear. Make sure your employees are aware of the dress code well in advance of the party so they have time to prepare.


say thank you
A company holiday party is the perfect opportunity to celebrate the accomplishments of your employees in the past year. This can be individuals, teams, and the company as a whole. Your employees will appreciate you recognizing them for specific actions that they undertook, and it is likely to encourage them to do great work in the New Year as well.

offer prizes
The holidays are a time of giving. So why not give your employees a chance to win great prizes? Look into setting up a raffle that your employees can enter. The prizes should be fun and enticing, so you should make some room in your budget for them! You might also look to asking other organizations and businesses in your community to donate goods for raffling and auctioning.


promote your party
When it comes to promoting your company holiday party, you need to do all you can to encourage the stoke and tell people about it. To ensure the party is a success, it needs to be on everyone's radar. Send regular email updates, set a countdown your company chat platform and post flyers where they'll be seen in places like the break room and various other corridors of your office. There's no such thing as raising too much awareness. After all, you want this party to be a success.
***
Want more help? We know how to plan parties!
If you think we host knockout weddings, just imagine what we can do with your holiday party! We run the event gamut, helping you celebrate birthdays, holidays, anniversaries, and of course, weddings at all our venues throughout the United States.

Planning your spectacular holiday party is often a task that gets passed around until someone pulls the shortest straw, as planning can involve a lot of time-consuming steps. Meeting vendors, signing contracts, and planning the fine details doesn't ned to be onerous or stressful. Let Wedgewood Weddings & Events make the entire process fun and easy for you.
We'd love to help you ring in the holidays in the cheery, stress-free, and affordable way that we're known for. Give us a shout and we'll connect you with one of our expert event planning consultants right away. Call or text 866-966-3009 or send us a message online.