In the heart of Temecula Valley Wine Country sits the newest venue addition to the Wedgewood Weddings & Events family - Bel Vino Winery. As a new venue, we've selected the best team possible to start planning weddings at this gorgeous venue and we're so pleased to introduce them to you. Meet General Manager, Gina Castillo and Event Expert, Katie Wyatt!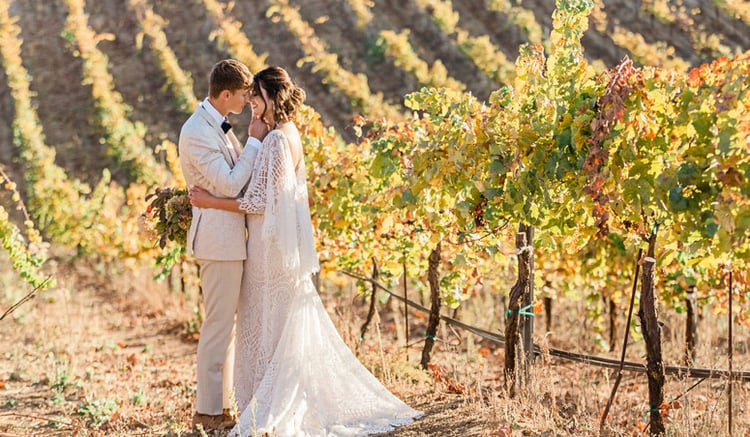 Gina, why should couples choose your new venue?
You get the sense of a destination without having to go too far. Wineries tend to get pretty pricy, but at Bel Vino by Wedgewood Weddings & Events you get an all-inclusive winery wedding. Also, with the hilltop views. You get views of the vineyards and the surrounding Temecula Hills that can't be beat!

What is your favorite onsite photo location?
Definitely the vineyards! I mean we are in a winery. It's such a beautiful spot for photos. The vineyards fill in with lush green leaves in the spring and summer and then in the fall the leaves turn a beautiful golden color. Combine this with my favorite time of day - golden hour at sunset - and you'll have breathtaking photos. Temecula gives off such a glow as the setting sun hits the hills and vineyards.

How do you like to start your day?
I like to start my day by going to my team and asking about their day, if they need anything, what the day ahead looks like, or how their days off were if I have not seen them in a few days. I think connecting with the team before I start my day is important, so they know I am there for them. Whether it's just lending an ear or helping navigate certain situations as they come up, I'm there for them no matter what.

How does your team support you?
Honestly, taking care of the day-to-day with the clients is a big help and support for me. That way I can make sure everything else is taken care of at the venue and on the client's wedding day.
How often should a client expect to hear from the venue manager?
In an ideal scenario, clients should not hear from me except to say hello. If the planning and wedding day goes exactly how the clients dreamed, I want my team to be the ones to celebrate that win with them.
How does your team support your clients?
By being available to them and answering their questions as best we can. I am a firm believer that our clients cannot move forward in their planning if their questions do not get answered and I want them to be able to progress in their planning.


What behavior or personality trait do you most attribute to your success, and why?
I'm adaptable and goal-oriented and that's a huge proponent of my success. In this job and working with so many couples with different personalities, wants, needs, and visions, you must be able to adapt and go with the flow. Things happen and change, so you have to be able to go along with those changes. Being goal-oriented is also a trait, I believe, that has led me to this point. I never wanted to be just good at what I did, I wanted to excel in my roles and master all aspects of the job.

What does being selected as venue manager for a new opening mean to you?
It is an honor since I am a newly promoted General Manager and responsible for opening a brand-new Wedgewood Weddings venue. I'm not going to lie, there were some nerves in taking this position, and, while the nerves are still there, the support I have been receiving in this transition has been phenomenal.
I have been in hospitality all my life, working in my parents' restaurant since I was little till I got my first job as a server at 18. Wedgewood Weddings is technically my second job ever.
Since starting with this company in 2013, I've worked my way up through every level and can still happily step in for our bartender or banquet captain. That's the beauty of this new role: I make room for others to step up too!
What's do you love most about Wedgewood Weddings?
I was surprised by how much I would enjoy helping to plan and work weddings. I was never that person who dreamed of their perfect wedding day but being that person who clients can turn to for ideas or help is something I enjoy.

What great advice would you like to share?
I'm not sure who told me this, but the one piece of advice that stuck with me as I started this job was "Be You." So simple, but profound. It's easy as we meet with clients to slip into a "sales persona," or someone who we think they would want to meet. But clients vibe better when they are dealing with you because you are comfortable in your own skin.


What client traits you love?
I'm going to be really forthright and honest: I love an organized couple.
They may not have everything figured out when we first meet or even at their planning appointment, which is okay, but they have had their consultations with the vendors and have an idea of their details. Then on the day of the wedding, everything is separated into boxes, so the coordinator knows which décor is going where.
I want everything to be how they envisioned. Direction from our couples is always welcome.


Besides weddings, what do you love?
Outside of work, I put on my "mom hat" and take care of my 2 kids and 3 dogs. Yes, I have a full house, but I would not have it any other way. You can also find me on the couch with a good book.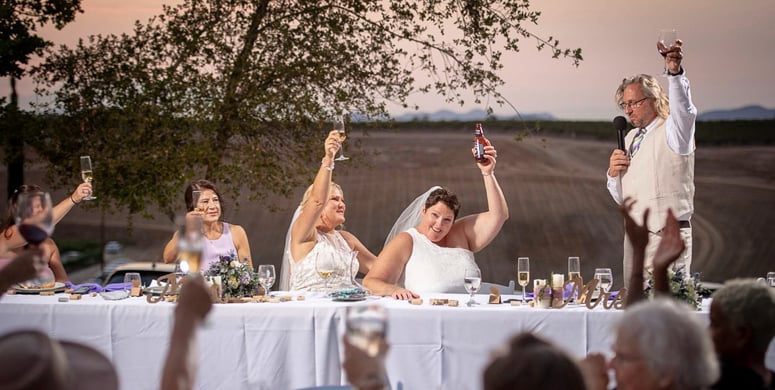 We're so proud to have Gina as a part of the team! Her dedication to clients and their experiences definitely shows and we can't wait to see what she does in her role as general manager of Bel Vino Winery by Wedgewood Weddings. Next up, we spoke with Katie - an avid lover of everything events, she provided some insight into how wedding planning best works for her and her clients.
What's the biggest misconception people have about wedding planners?
Wedding Planners are not quite like J-Lo in the movie 'The Wedding Planner.' We have a lot of fun throughout the planning process, but the job is not as glamourous as it looks in the movie.


What advice do you have for couples on their wedding day?
Your wedding day should be a fun and exciting time! Focus your energy on enjoying the day and celebrating with your closest friends and family. Let your coordinators worry about the small details for you!


What advice do you have for newly engaged couples?
Before you start the wedding planning process and search for venues/vendors, compile a list of your must-have wedding wants versus needs and what items can be flexible to you. We have a collected list of preferred vendors as well to help with recommendations for couples if they're hung up, say, trying to pick out a DJ or florist.


What energizes you outside of work?
I really love spending time with friends and family, but I am also a homebody so spending the evening at home watching a romcom is how I love to relax. Also, I'm a big foodie! The best way to win me over is with some good food or a Dr. Pepper!


What led you to this career?
In high school, I was very involved in planning the school events & functions, so I have always known that I wanted to pursue a career in planning events. I found a college (SDSU) that offered a bachelor's degree in Hospitality Management with an Emphasis on Meetings and Events. After working at a couple of venues, I finally found my way to Wedgewood Weddings!


What wedding trends do you love?
There is not a specific trend that I love, but instead, I love when couples have more personalized touches on items and décor based on who they are and things that the couple really loves. I really enjoy seeing something new and unique. Every wedding and every couple is so different from one another, so it's fun to work with each couple and bring their personalized wedding vision to life.


What makes you love the Inland Empire?
Temecula has some great iconic locations to visit and enjoy including the Wine Country, Old Town Temecula, and Pechanga Casino. With so many amazing restaurants and wineries to visit, it's a great destination location with activities for all!
***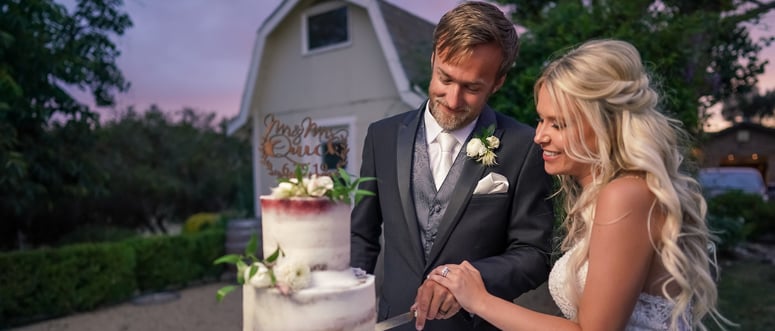 Thank you for taking the time to share your thoughts with us Gina and Katie! We can't wait to witness the many amazing events created at Bel Vino Winery by Wedgewood Weddings with you two running the show.
Work with this amazing team for yourself, plan a visit to Bel Vino Winery today when you call or text 866.966.3009. We can't wait for you to see the beauty of this amazing property and the hilltop views for yourself.