When you plan a wedding, many people start by picking a wedding theme - Romantic, Modern, Boho, and more! Obviously, COVID-19 was never a planned theme, and Allie & Allistar were still overjoyed to create their long-awaited Harry Potter wedding theme! They were happy to share their vows at Ken Caryl Vista by Wedgewood Weddings.


"We had a Harry Potter themed wedding! My fondest memory
of wedding planning is building a recreation of
Diagon Alley with my mom over the course of 6 months.
We spent hours upon hours making & painting walls,
windows, & decorations for 10 shops."


Although Allie and Allistar had to reschedule their wedding due to the pandemic, they remained extremely positive throughout the entire process. Allie's advice would be to simply go with the flow. Even with their emotions running high, it was crucial for them to remain optimistic that everything would work itself out.
***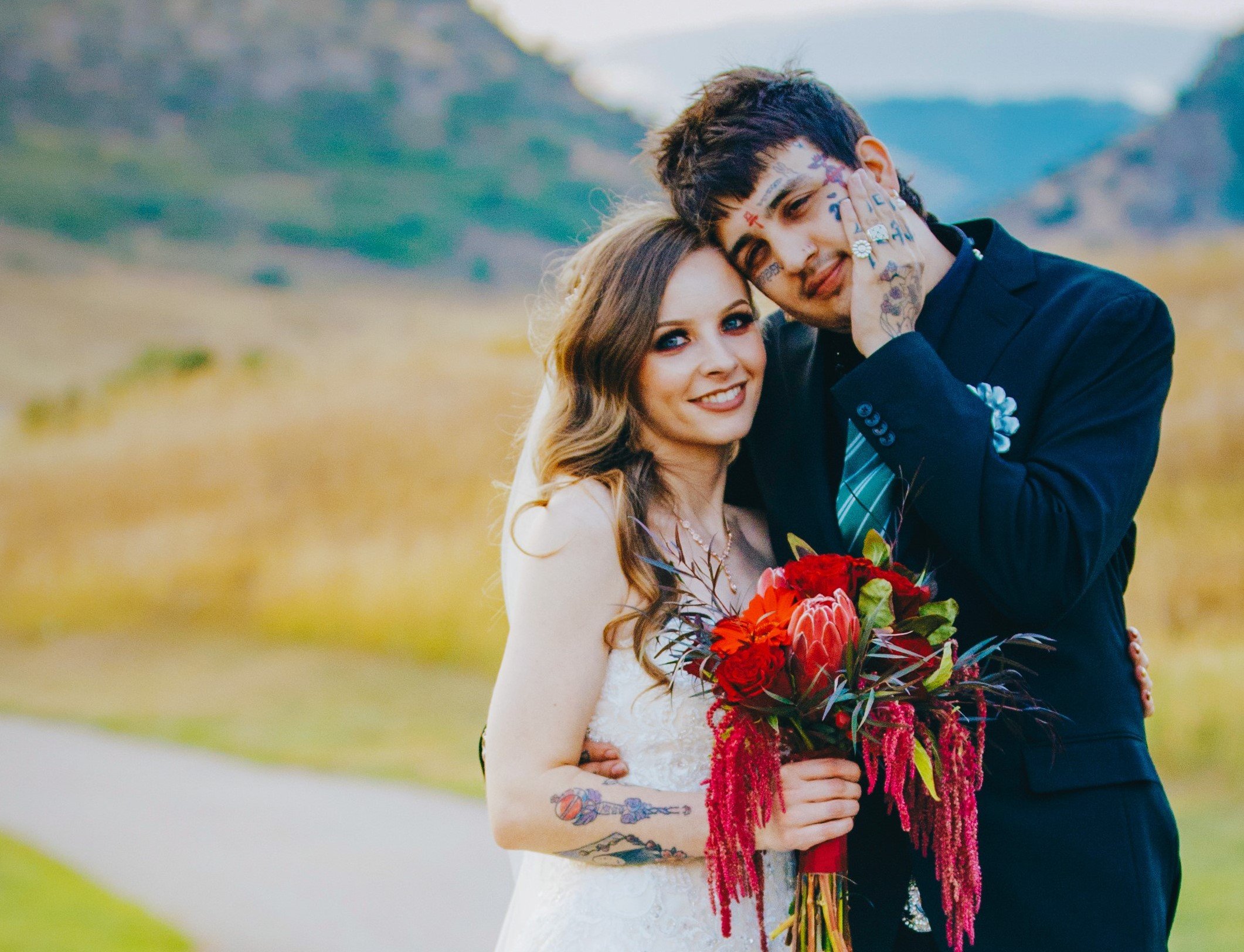 Allie & Allistar Share a Passion for Each Other and Harry Potter
"The best part about my wedding was how little I had to
think about on the day. Everyone working at the venue was
so amazing about taking care of everything. It was
a relief & made me feel like there wasn't anything
that could ruin the day. And there wasn't!"


The crazy hurdles of 2020 aside, weddings aren't without their normal stressors. For Allie, she had a moment of panic as she realized her father forgot his one job of purchasing dry ice for the Harry Potter Polyjuice Potion. Fortunately, to the rescue, a father of a bridesmaid was able to purchase a batch in a hurry. This small detail meant so much to the married couple as their themed beverages were a huge hit! The Polyjuice Potion ended up being the most popular drink of the night!
With so many amazing details achieved during the wedding, it was difficult for Allie and Allistar to pick their favorite vendor. However, based on the circumstances alone, they were grateful to have DJ Maestro entertaining their friends and family. They had originally coordinated with a different DJ and had to switch a week before their wedding unexpectedly.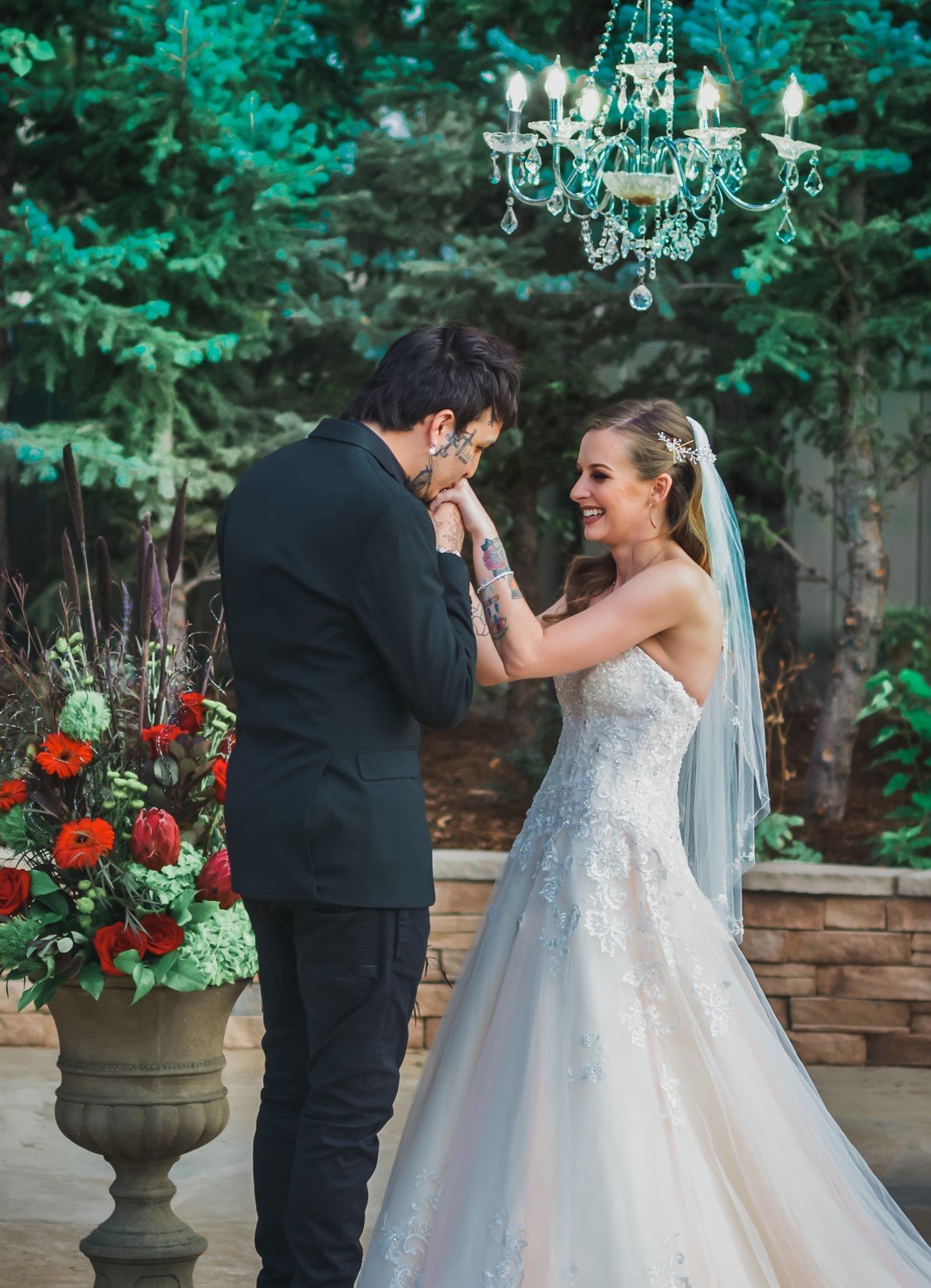 An Intimate Kiss on the Hand Under the Sparkling Chandelier
"Tyler executed everything with great precision, from scheduled
songs to the specific playlist we gave him. He did a perfect
job guiding all of our guests, & us, through all the unique
Harry Potter sorting hat/seating chart experience, which is
odd enough to have to learn on its own, not to mention a week
before the wedding. He impressed us a lot & we appreciate
everything he did make the night flow seamlessly."

In addition to the Polyjuice Potion Signature Cocktail, guests were offered Butter Beer, which was a butterscotch cream soda. For dinner, everyone enjoyed Panko Parmesan Crusted Chicken with Chardonnay Cream Sauce, Five Cheese Tortellini Pesto Parmesan, and Oven Roasted Salmon with Tarragon Butter Sauce.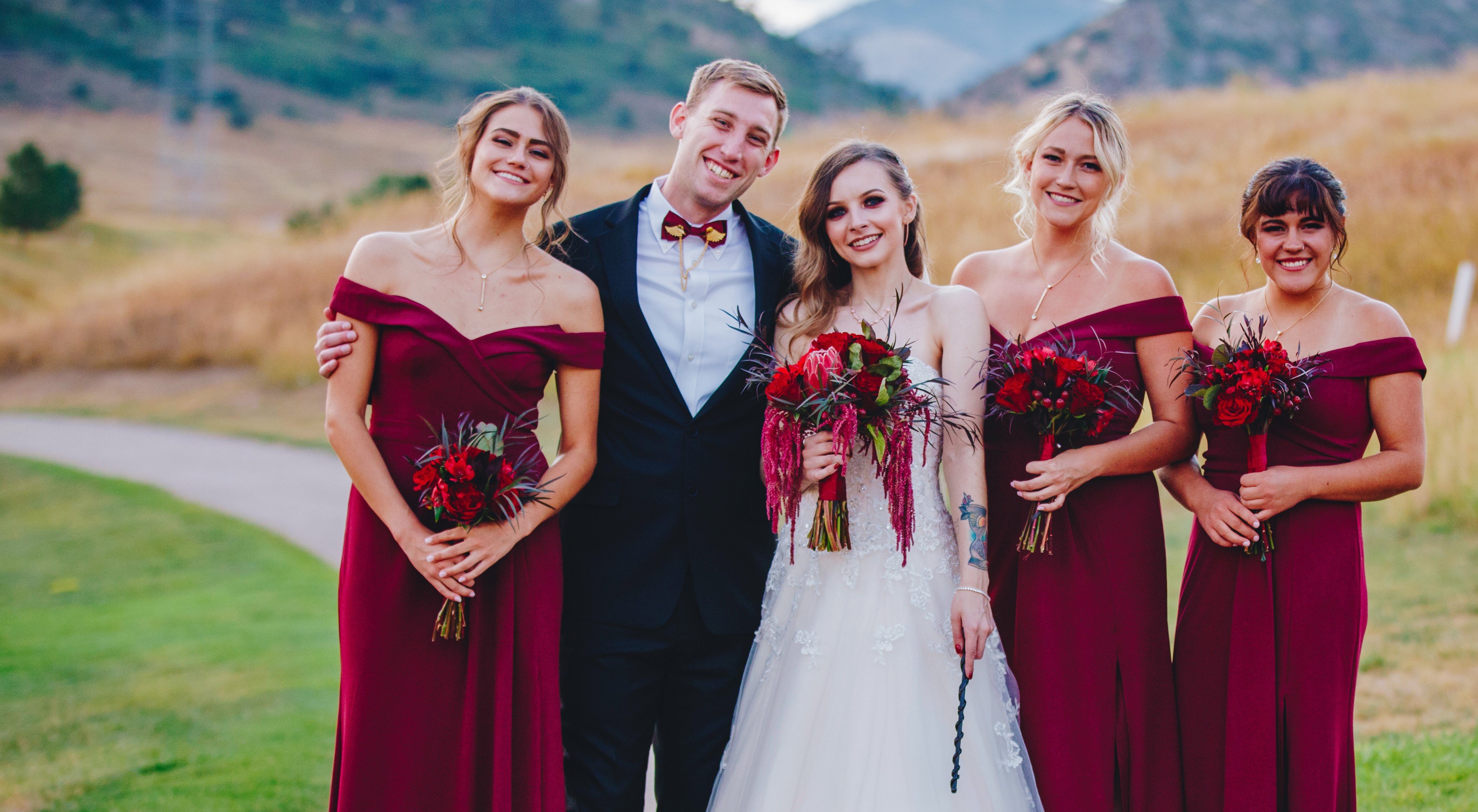 Allie, the Bride, Showing Off Her Wizard Wand Alongside Her Best Friends.
Like other pandemic weddings, unexpected changes can be discouraging. For Allie and Allistar, they remained motivated to create the wedding theme they had dedicated so much time to creating and took advantage of a memorable year.
"We wanted to get married this year, & we figured the year
was already too memorable for the wrong reasons, we needed
2020 to be memorable for a happy, great reason."

As many couples do, Allie and Allistar selected Wedgewood Weddings based on the all-inclusive packages. However, what sealed the deal with Ken Caryl Vista was the substantial attention of the team.
"The combination of the hard-working team & the effortless
organization of each & every detail of our special day was
made possible because of Wedgewood Weddings."





Wand in One Hand & His Love In the Other - Celebrating Their

Commitment to Each Other

***



In addition to being an attentive team, everyone at Ken Caryl Vista ensured safety measures were met for the pandemic regulations. Although, aside from a smaller seating chart per table along with the masks and gloves, Allie and Allistar said the team did a great job of helping them to forget the pandemic. They all glowed with professionalism and positivity which created a joyous atmosphere for the entire wedding. Even though married life was not that different from the dating life for these Harry Potter fans, they are elated with their decision to move forward with their wedding this year.


"Love is love, & when it is real, it is the easiest,
most amazing thing in the world."