Meet Katie and Troy, who tied the knot at our vintage-feel wedding venue, Lindsay Grove in Arizona, on June 6, 2020.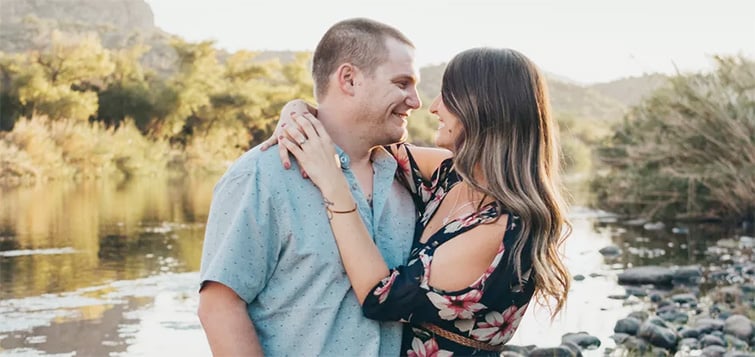 Troy & Katie's Engagement Photo

Katie and Troy are awesome people, their wedding was gorgeous and they were one of the first couples to have a post COVID-19 wedding! We understand that many couples with upcoming 2020 wedding dates are nervous because they don't know what to expect. We want you to show you that a post COVID-19 wedding is a huge cause for celebration and we were delighted to support Troy and Katie on their journey. Join us as we commemorate this beautiful occasion.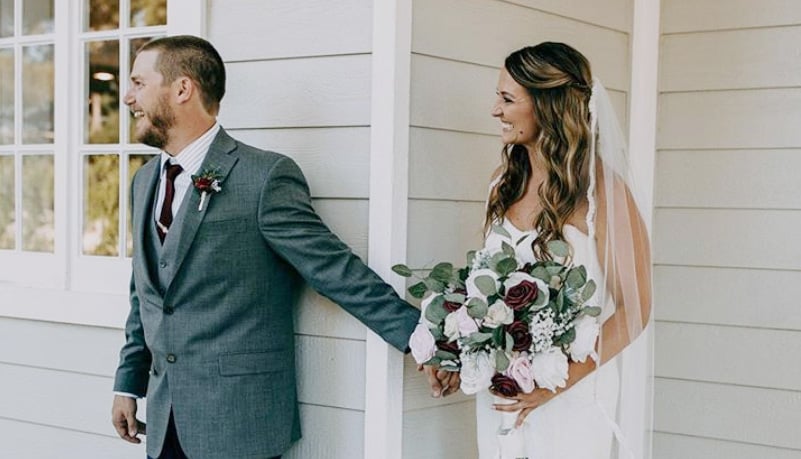 The First Look Moment!

Let's get started with some background: This wedding adventure was not smooth sailing! Katie and Troy had to change their location and then their original wedding date too. Here's Katie to explain why they had a last-minute location change, only a few months before their date:
"Our very first wedding plan changed dramatically. The owner sold the venue and, although we loved Apache Lake Marina, we needed another plan, fast! We were in desperate need of a new venue and it was only 100 days before our original wedding date. My parents were lifesavers: they found Wedgewood Weddings online and told us they would make it happen!"
Our team jumped in and found a local venue – we have five in the area – with availability on Katie and Troy's original wedding date: April 3, 2020. As everyone reading this now knows, that date was not meant to be. With only two weeks notice, the couple postponed and our team hustled to make their highly-anticipated wedding happen for them.
After experiencing so much tension from having to change the venue and the date, this couple was determined to get married. Throughout all the restrictions in Spring 2020, they knew deep in their hearts that their wedding would happen this year. As it turns out, June 6, 2020, was destined to be their wedding date!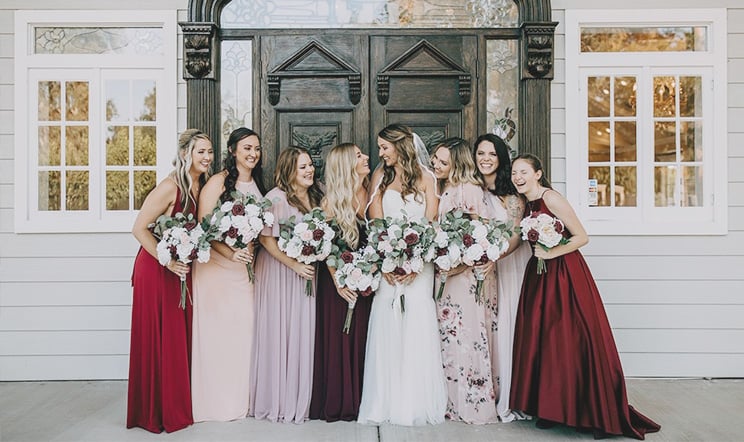 Katie with her glamorous crew IN FRONT of the main doors

As you would expect, as June neared the guest count changed slightly, but they still welcomed 106 of the 120 anticipated guests on their special day. The guests who didn't attend were faced with travel restrictions, which was disappointing but Katie and Troy were incredibly understanding. As a matter of fact, 106 is actually very nearly the typical wedding guest count – which clocks in at 104!
To keep everyone safe, we distanced the tables to allow for greater space. Katie assured us that even though she and her guests knew they were further apart, they didn't notice and couldn't tell. Troy and Katie also made a few extra changes ahead of their big day:
"We adapted our seating chart to seat family groups together rather than have 'mixed tables'. Meaning that we tried to keep core families at each table to eliminate crossing too many different families. We also made sure to tell families that tables would be six feet apart and people could wear their masks at their own discretion."


Katie and Troy complete their marriage vows

Our team wore masks during the entire event and Katie confirmed that 'everyone completely understood.' Despite the heat, our team respected all the guidelines, keeping their masks firmly in place while also keeping a few more steps back than usual. Electing to wear a mask – or not – was up to each guest and they ultimately felt so happy to support Katie and Troy on their post-COVID-19 wedding day.
"We chatted with our guests and they told us they thought everything was absolutely beautiful! It was a perfect day! They were just as excited to be there as we were, as they had all been a part of our journey of planning three weddings!!!
Finally being all together was the best thing about our wedding day. We were SO SO SO done planning and it was amazing to just relax and breathe!"


Family is Everything!



Katie and Troy assured us that they feel they made the right choice:
We're so entirely happy!!!!
We were very glad that we were able to still have our big wedding as planned! We also were very fortunate to have amazing weather, with a high of 91! Unheard of for June!!!!"
There's always time for another kiss!

Our team managed to put this wedding together quickly and tried to keep stress levels to a minimum, despite encountering the biggest interruption of them all. Heartbreakingly, Katie and Troy realized their 'Plan A Wedding' with another venue provider was impossible, and then discovered the 'Plan B Wedding' was unfeasible too. Instead, we all moved to the 'Plan C Wedding' and united these two love birds. Thankfully, everything came together and that's down to hard work by our entire planning team and especially Dana Blasco, the on the day coordinator, and Connor Swanson, their event captain.
This June 6, 2020, wedding was supported by:
Cake maker - Katie's Aunt!
And, their delicious menu selections were:
Hors d'Oeuvres
Crispy Mini Vegetable Egg Rolls with Sweet Chili Dipping Sauce

Sweet & Tangy BBQ Meatballs

Tomato & Mozzarella Caprese Skewers

Traditional Pinwheel Sandwiches

Bacon-Wrapped Wild Scallops

Hummus Duo - Red Pepper & Cilantro Lime with Pita Chips
EntréeS
Panko Parmesan Crusted Chicken with Sherry Cream

Pork Loin with Rosemary Demi-Glace

with Assorted Salads, Seasonal Vegetables and Herb Roasted Red Potatoes
***


Working through the safety concerns surrounding the coronavirus crisis was a challenge for everybody but it's always worth it when a plan comes together. Gathering with friends and family feels so natural, and it's been hard for everyone who has taken a step back from their usual social plans this spring and summer. Health remains our priority, but our whole team grinned as we got back to celebrating love.
For Katie and Troy, the third plan was the charm! Their wedding was absolutely stunning and we know their married life is destined to be a breeze. Thank you to everyone involved, especially Stevy Fletcher Photo for letting us share this adventure. Let's give Katie the final word: what does it feel like to be married?
"Finally!!!!!"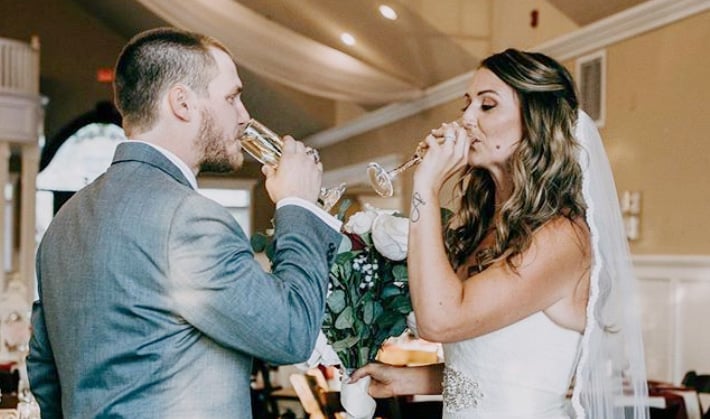 time for A well-Deserved Drink!