Every couple wants their wedding day to be extra special—as you should! We need every ounce of joy that we can wrangle. Lately, couples are going above and beyond to add unique and fun elements to their weddings, to make it the B E S T D A Y E V E R! Here are a couple of ways to make that happen for your special day.

Involve The Ones Closest To You
This seems like a no brainer, right? That's what bridesmaids and groomsmen are for! But what about guests like grandparents, uncles, aunts, or people you may want to honor differently? Social media is blowing up with everything from flower-grandmas to officiant grandpas.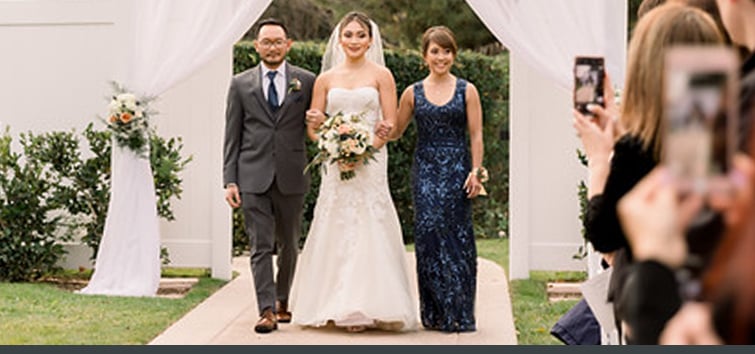 The More The MeRrier as you walk down the aisle at Sierra La Verne, CA
Do you have an uncle who has always been there for you? Ask him to be your officiant or to make a special speech during your ceremony. Is your mom your go-to for planning, but you feel like she doesn't have a big enough role during your wedding day? Have her give the welcome speech, add a special mother-daughter dance, or have her join you on your walk down the aisle. The common theme here is it break the mold! Think of creative ways to involve the ones you love in your event. Not only will they feel will extra-appreciated, but it'll make your day even more unique-to-you.



Choose A Theme To Inspire Your Event
Choosing a theme to inspire or direct your wedding is a wonderful way to personalize your event and celebrate a shared passion. We absolutely love the idea of a Masquerade Ball, but it's okay if you have something a little different in mind. Theme weddings come in all shapes, sizes and colors! Think about shared hobbies, a unique detail that commemorates how you met, or a theme that celebrates your favorite vacation spot.
On one end of the spectrum, you can use a theme to direct the entire look, feel and location of your wedding. Take your theme and let it inspire your wedding attire, color palette, shoes, food, traditions, and maybe even the dancing. Are you both die-hard Dodgers fans? Bring a home plate to get married on, have guests sign a baseball bat, add some Dodger blue to your cake! You might even change into Dodger game-day attire for your reception or engagement photos and include baseball trivia into your reception!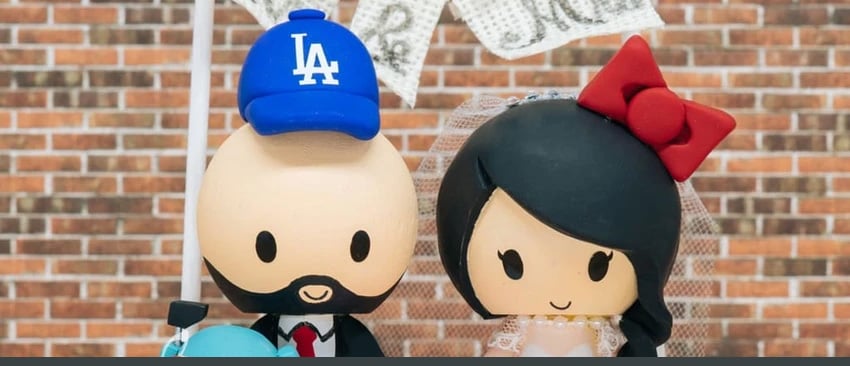 LA DODGERS accented CAKE TOPPER FROM JESSICHU CREATIONS

A baseball-inspired wedding makes for a home run
On the flip side, you can incorporate a theme in certain elements or moments of your event. Did you meet working at the same school? Find creative ways to incorporate "teacher things"—use chalk boards for your wedding signs, incorporate apples into your décor (fruit is a huge floral trend right now), or have your engagement photos taken at the school where you met.

Pets!
(or fur-children, if you prefer)
Pet lovers unite! Having your furry (or scaled or feathered) friends in the wedding day is a great way to incorporate your personality into the wedding. Have your dogs walk down the aisle with you, include your fluffy cat in your wedding photos, craft pet-inspired featured cocktails, or give favors that incorporate your beloved pet (turtle magnets with your wedding date anyone?). The options are endless!


Dog Inspired Cocktails to celebrate your furry friends by Miss Design Berry

Celebrate Your Heritage or Culture
Wedding ceremonies are universal across cultures, countries and religions and many have traditions reaching back hundreds or thousands of years. Talk to family members, research your culture, and customize your ceremony to represent you as a couple! In fact, many popular unity ceremonies are based on cultural practices and often have symbolic significance.
If you two are wine lovers, consider a wine blending ceremony or a more traditional communion which symbolizes the blending of the life you will create together. Many Spanish, Hispanic, and Filipino weddings include a lasso ceremony; the lasso when wrapped in a figure-8 symbolizes the eternal unity of your wedding vows. Celtic couples traditionally tie a literal knot, (also called handfasting) which represents your union to each other. Another favorite is a sand unity ceremony, which symbolizes the joining of two lives. Are you and your future spouse from different cultures? Pick ceremonies from one or all to celebrate!


Carefully Craft Your Playlist To Fit Your Style
These days many brides (or grooms) choose alternative music options for their walk down the aisle instead of "Here Comes the Bride" or "Canon in D". Any song that's meaningful to you is perfect! Choose "your song" if you have one or any song that represents your relationship journey. If you both love to watch "How I Met Your Mother" together, you might opt to play "I'm Gonna Be (500 miles)" as processional, recessional, or first dance! Does your dad cry every time you watch "Father of the Bride?" Choose "My Girl" for your father-daughter dance. You have all the freedom in the world when it comes to choosing your tunes!

Write Your Own Vows
One of the most personal ways to make your wedding extra special is to write your own vows. You can make your vows very serious, a little silly, or made for tears! Use your vows to express not just the love you have for each other, but your personality as a couple and as individuals. Personal vows are your time to really convey to your partner what they mean to you and the promises you are making. You're guaranteed to get a few chuckles if you vow to always take out the trash or forgive your new spouse for eat the last scoop of ice cream. Last but not least, you can't go wrong with a teal-jerker, such as describing the first moment you knew you loved them.

Maybe The Time IS aLway right for ice cream? This wedding cake alternative is from ben & Jerry's catering

Express Your Love Through Cuisine or Cocktails
Fun and creative wedding foods and drinks are trending like crazy! Love all things beer? Honor those hops with a beer burro at cocktail hour. Are donuts your favorite guilty pleasure? Host a donut vendor for your late night snack. Do you love making pizza together for date nights? Have mini pizza bites for appetizers. The opportunities and options are endless: fry bars, taco trucks, nitrogen ice cream, late night pizza, or mac and cheese.

***
Making your wedding 'special' means making it meaningful and personal. Your wedding should be about you two, and what you and your fiancé want it to be. Don't feel constricted by "must-dos" or traditions that don't fit your personality or values as a couple. Your wedding will always be special because it's the day you married the love of your life; make it extra special by making it uniquely yours.

***