For many years couples have lit candles, combined sands, walked in circles, or jumped over brooms to declare their love and devotion to their significant other.
Whether you choose a more minimal or decadent style for your wedding, a unity ceremony is a wonderful way to infuse some personality and tradition into your wedding celebration. It's the moment when a couple, both literally and metaphorically, declares their commitment and love for each other–– the uniting of two individuals, two lives, two families. It's a memorable and engaging moment for couples and guests. Cue waterworks!
***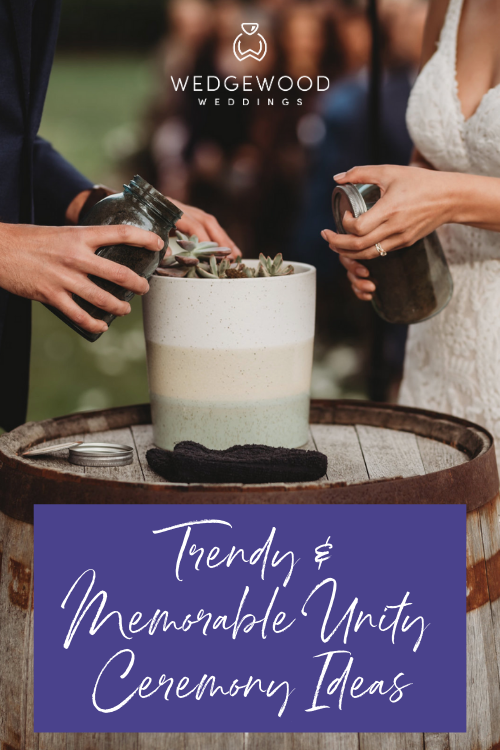 Here are some trendy and unique unity ceremony ideas:
***



UNITY CANDLE
The lighting of the unity candle is one of the most common traditions in both religious and non-religious ceremonies. During the unity candle ceremony, the couple takes small lit candles and together they light the unity candle. The flame symbolizes the light of two people to ignite one life together. Please note: This ceremony is not ideal for outdoor ceremonies as a quick gust could blow out the flame. This classic unity ceremony has evolved into different shapes over the years due to open flame restrictions at some venues. Make sure to check in with your venue before making a final decision for your unity ceremony.
Wedding Style & Inspiration: Traditional, classic, indoor, formal



UNITY sand Pouring
The sand pouring ceremony is an ever-growing trend both because of its ease, simplicity, and abundance of meaning. This tradition evolved from the candle lighting ceremony and became very popular because of the versatility and significance. Many couples opt for colored sands that match their color scheme or specific sands from special places. The sands are then combined into one container that you can take home as a keepsake for the rest of your lives. This option is also really great for ceremonies that include children and/or members of a blended family.
Wedding Style & Inspiration: Beach, summer, classic, indoor/outdoor



Handfasting
Handfasting is a centuries-old tradition that represents the binding of two lives. During the ceremony, the couple's hands are bound together using a special ribbon, rope, or cord. There are many options for the ribbon or cord. You can purchase from a seller on Etsy or Amazon, or, you can make an event of it with a DIY activity with the wedding party or your partner. The couple can exchange vows during the ritual and have their wedding officiant guide the ritual.
Wedding Style & Inspiration: Boho, vintage, formal, garden, Scottish/Celtic inspired



Anniversary Capsule
Looking ahead at a couple's wonderful first year of marriage, the anniversary capsule unity ceremony is a simple idea that is full of meaning. During this unity ceremony, the couple places handwritten love letters to each other in a customized box along with a bottle of wine selected by the couple. You can also use this opportunity to invite your guests to write good wishes and place them in the box as well. Lock your box after the ceremony, and enjoy your very own wedding time capsule on your first wedding anniversary. Cheers!
Wedding Style & Inspiration: ALL OF THEM



Love Knot
A literal tying of the knot! This unity ceremony consists of the couple tying what is known as a fisherman's knot, one of the strongest knots, which will not break and only grows stronger under pressure. Recommendation: practice, practice, practice. It can get a little confusing. "Tying the knot" is a really cute wedding ceremony idea and guests love it!
Wedding Style & Inspiration: Nautical, beach, outdoor, fishing enthusiast



Unity Canvas
A painted canvas is the perfect way to add a splash of color to your ceremony, all while creating a keepsake that is truly unique. In this fun unity ceremony, each person selects a different paint color to pour onto a blank canvas. This option is great for creative couples who cherish art, history, and playfulness. Your final masterpiece will represent the blending of two lives, bringing color and balance to each other.
Wedding Style & Inspiration: creative, modern, classic, outdoor/indoor, summer, spring



Love Locks
New to the wedding scene, love locks are a fun and trendy way to lock in your commitment—no pun intended! In this funky ceremony, the couple locks their individual locks together as one during this unity ceremony. This ceremony symbolizes the union of two hearts that cannot be separated. The locks can be customized with a special message for the couple. The keys are tossed or in some cases tied to helium balloons and released.
Wedding Style & Inspiration: Traditional, rustic, vintage, romantic, indoor, fall, winter



Warming of the Rings
A recent trend in unity ceremonies, ring warming is a sweet ritual designed to fill the couple with good wishes. Before the couple exchanges their wedding rings, the officiant will guide the guests to warm the rings in between their hands. The guests will think of good wishes as they warm the ring and then pass the rings to the following guest. While this ceremony is best suited for intimate weddings, you can always modify the ritual to meet your needs. It's a simple and beautiful way to commemorate the couples union.
Wedding Style & Inspiration: All of Them!



Blending Wine
Everyone loves a good toast at a wedding, so why not toast with wine that the couple has blended? During this unity ceremony, the couple pours their choice of red and white wine into one wine carafe to represent the merging of two souls. The couple will then serve themselves a glass of the new blend to share with each other, and possibly their guests.

Be sure to try out different combinations before you decide on the final blend for your special day. Date night will get a little more interesting during this search! A lot of wines don't blend well, so make sure to try out as many combinations as possible. Some couples will opt for having a batch of pre-blended wine ready for a toast with their friends and family during the ceremony.
Wedding Style & Inspiration: Elegant, timeless, classic


This is a modern twist on the traditional foot-washing ceremony. This ritual represents caring for one another and being of service. It also can be seen as a way of cleansing and preparing for your new life ahead. All you'll need is a table, water basin, pitcher, water, and towels. We love the deep symbolism of this ceremony and the easy clean-up!
Wedding Style & Inspiration: Religious, Modern, traditional, summer & more
***
There are so many unity ceremony options for you to choose from that best represent your personality and style as a couple. Whether you choose to keep it traditional, jump on the latest trend, or create your own unity ceremony, your wedding ceremony is bound to be sentimental and beautiful. Your wedding day will be cherished and remembered for years to come.