You put a lot of effort into selecting the friends and family who join in your wedding party on your special day. These people will be part of your chosen family for the rest of your married life. It's only natural that you'll want to take photos with your crew, so don't forget to talk to your photographer about including time in your timeline for wedding party photos. Here are 16 of our favorite wedding party photo ideas to consider . . .
***
Classic symmetrical
Let's start with the classic wedding party photo! In this pose, the happy couple stands in the middle with their supporting crew on either side. We love this shot posed behind a beautiful background such as your ceremony altar, stunning views, or trees. Make sure to frame the image to highlight the symmetry for the most beautiful photo!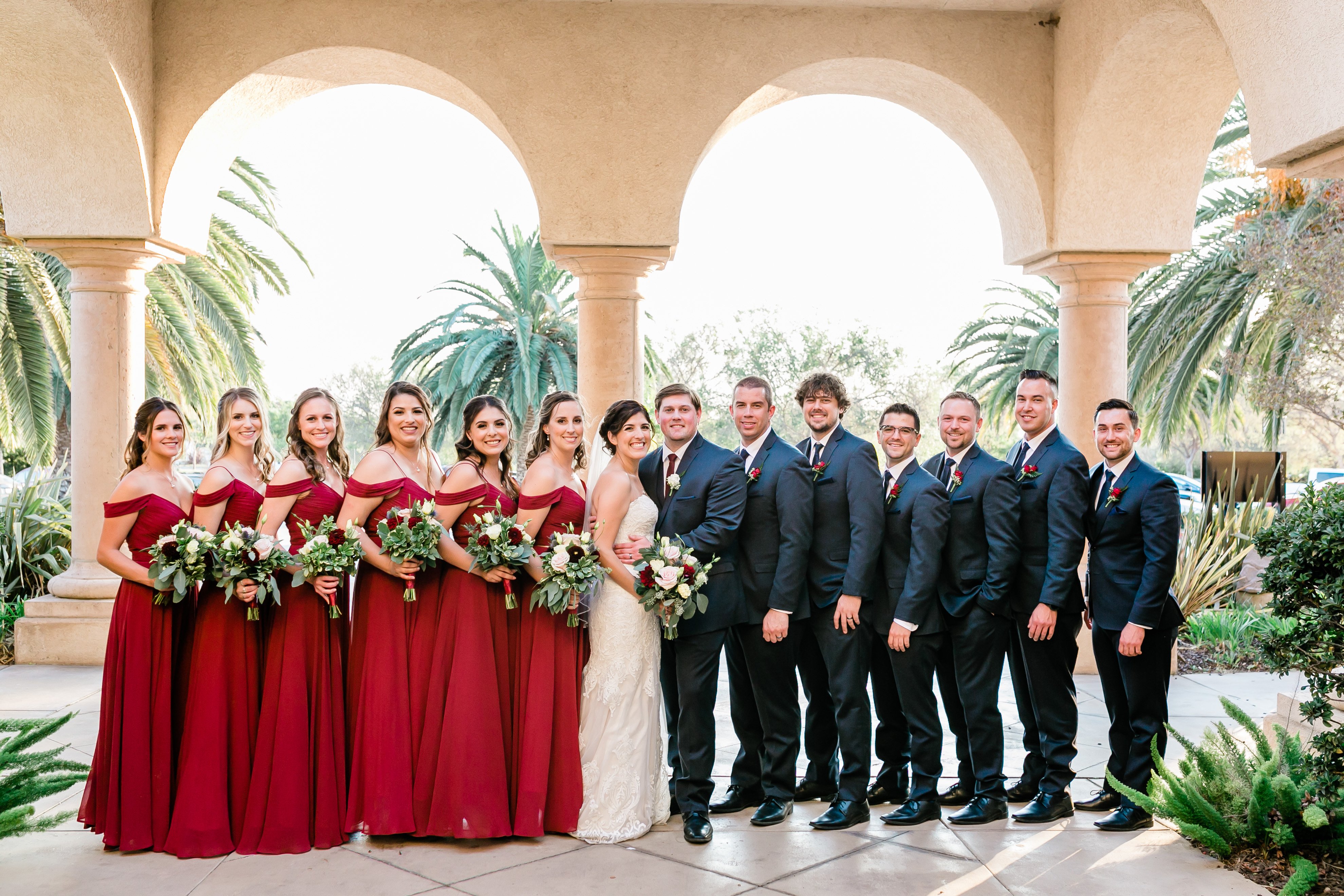 Sterling Hills by Wedgewood Weddings

Sideways Carry
How cute is this photo!? The sideways carry is a modern-day classic with a multitude of variations that you can get creative with. Have all of the groomsmen lift up the bride or vise versa for a cute and playful memory.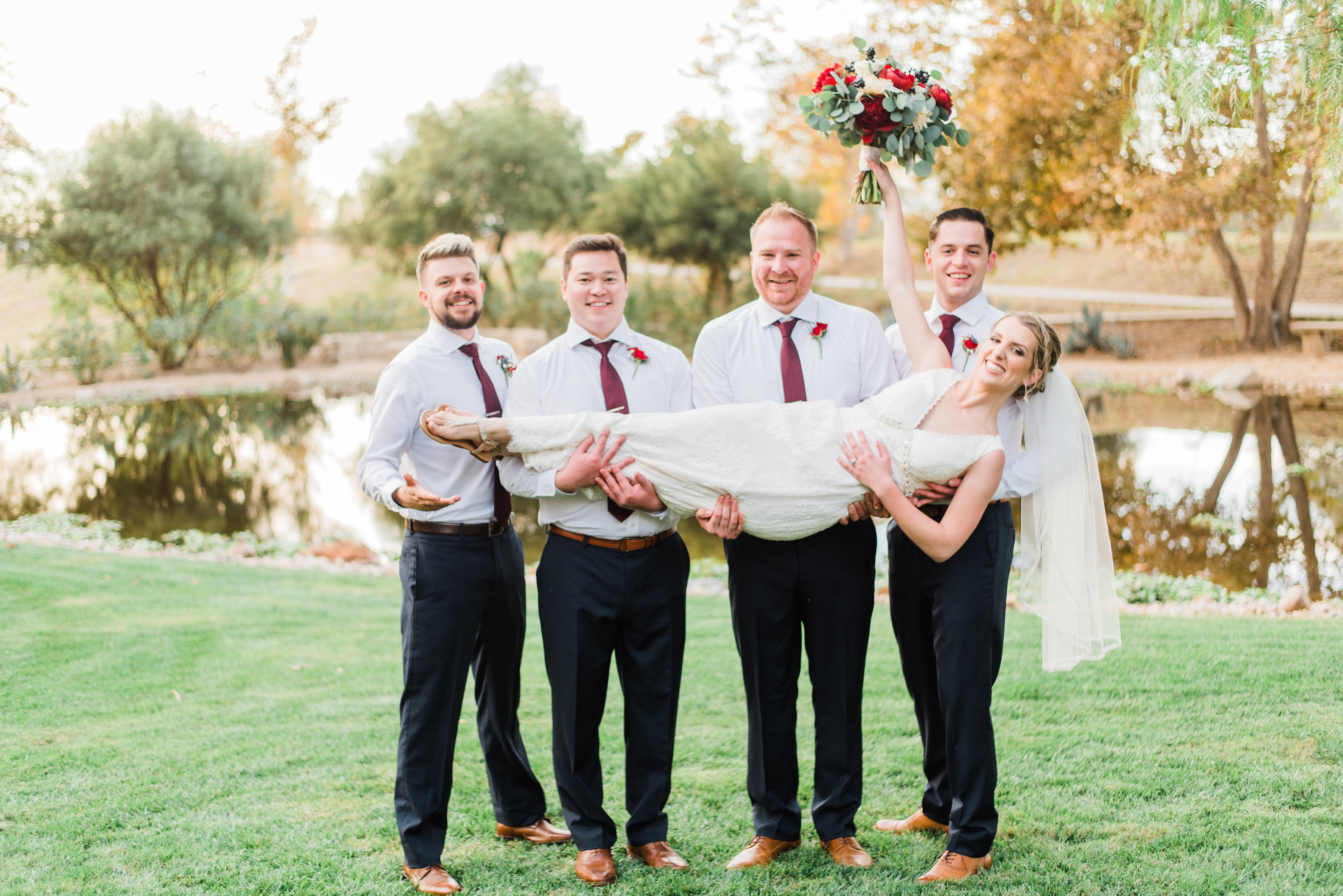 Galway Downs by Wedgewood Weddings

Seated & Cool
Cool and collected: try posing the groomsmen (or bridesmaids) in a creative shape at your venue. We love using chairs or beautiful staircases for this pose. Opt for serious facial expressions for a double-oh-seven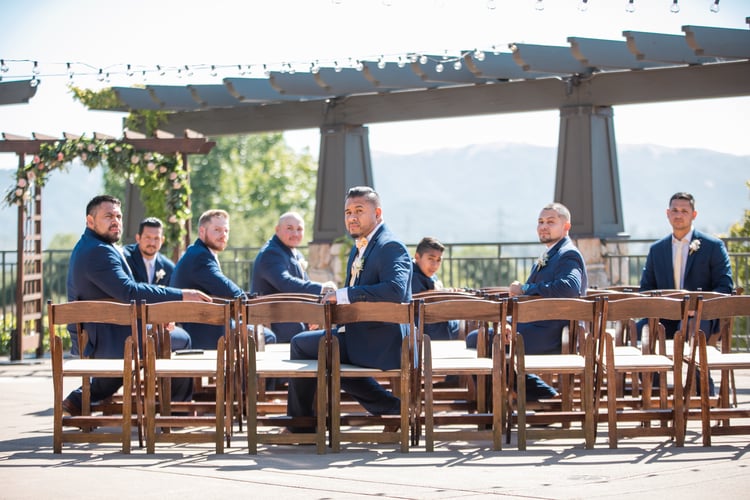 Stonetree Estate by Wedgewood Weddings

Look Behind
Collect your best girlfriends and line them up facing away from the camera. with the bride in the middle. Have each woman hold their bouquet behind their back, and have the bride look over her shoulder towards the camera. What a beautiful way to highlight the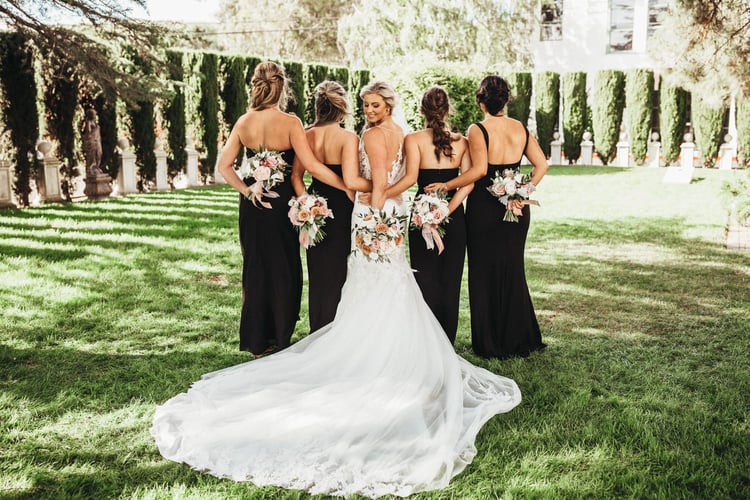 Jefferson Street Mansion by Wedgewood Weddings

Classic Couples
Another classic bridal party pose is the couple's shot. Line up your bridal party in their couples and have them lock arms or stand together in prom pose, positioned around the bride and groom in the middle. This pose works no matter the size of your wedding party and can be taken at numerous angles and shapes.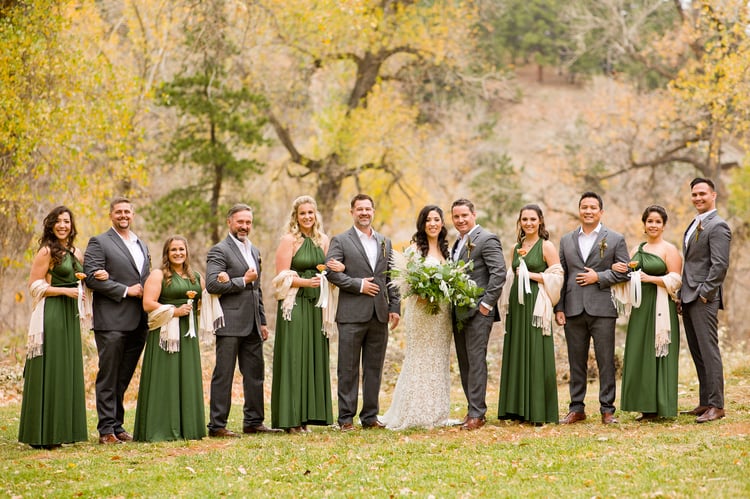 Boulder Creek by Wedgewood Weddings

First Look
Who's to say that first looks are just for the happy couple? One of the hottest wedding trends is to do a first look with all of the key people in your wedding party: your parents, your bridal party, and maybe even your kids. This one is super fun, and a great way to capture a priceless memory.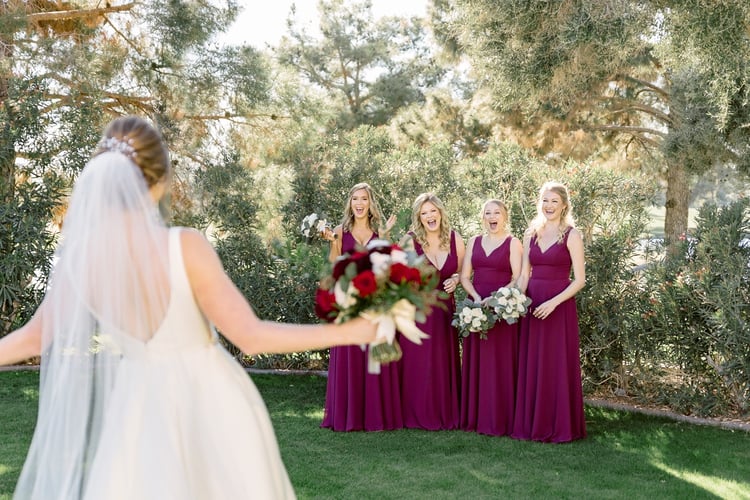 Ocotillo Oasis by Wedgewood Weddings

Tunnel of Cheers
The tunnel photo originated on the dance floor and has evolved from there. Line the bridesmaids and groomsmen up to form a tunnel, and position the couple jumping towards the back, or running through the middle. However you set it up, this shot is such a fun one to take with your mates! Try snapping it during your grand exit or earlier in the night while jumping through your ceremony arbor.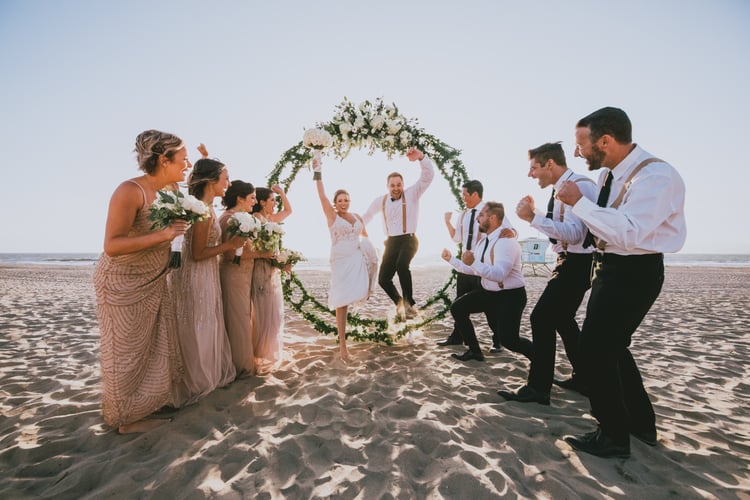 Pacific View Tower by Wedgewood Weddings

Triangle
If your wedding party is an even number (not including the bride or groom), the triangle pose is a great formation for your wedding pictures. While this pose is most popular with the grooms' party, it's totally doable for the ladies as well!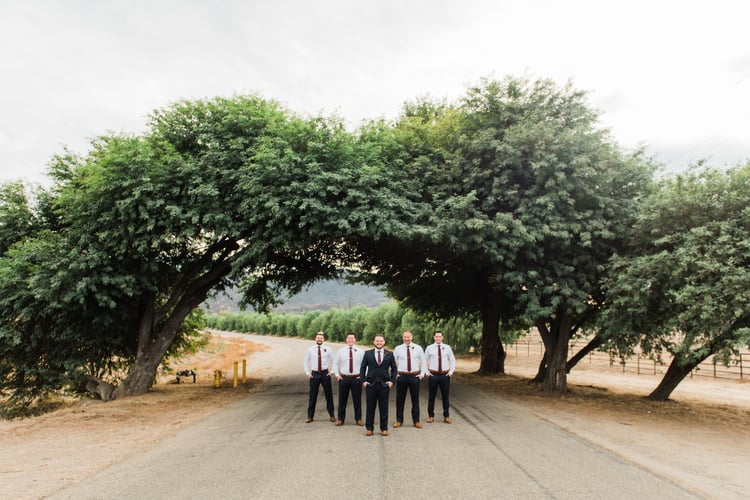 Galway Downs by Wedgewood Weddings

Smoke Bombs
What's more fun and playful than a ton of colorful smoke? Gather your best buds and throw up the sparks! You can also use sparklers, confetti or bubbles to recreate this look.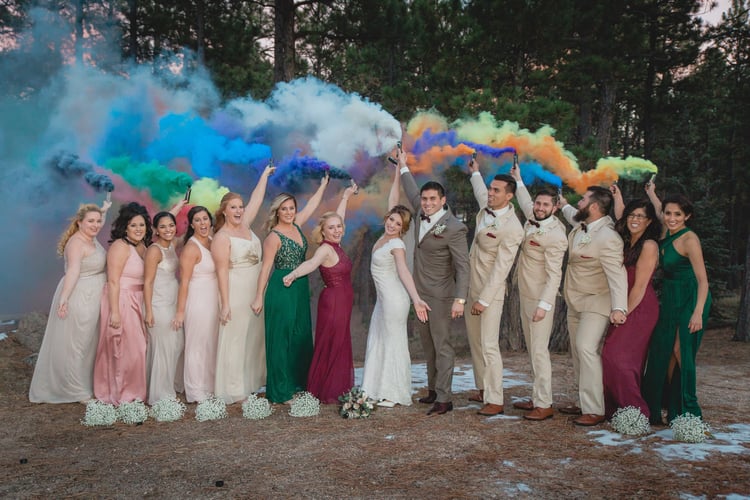 Black Forest by Wedgewood Weddings

The Walk
Let's take a stroll! Somewhere along the way, a candid photo of the bridal party walking across the lawn became one of the most popular posed photos. Adding motion to the photo helps to generate more genuine candid expressions, and results in a stunning photo. We love this one!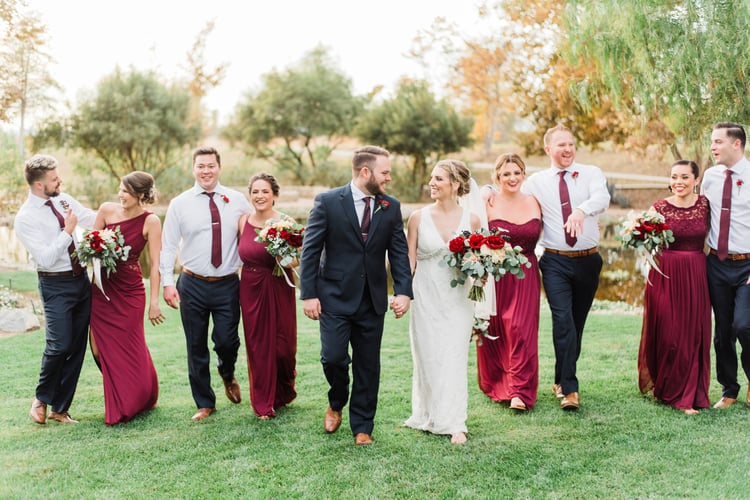 Galway Downs by Wedgewood Weddings

Out Of Focus
A cousin to the "look behind" the out-of-focus pose sets the bride or groom front and center to the camera, with the bridal party out of focus in the background. This shot can go serious and lovely, or silly and fun. We love a good photobomb!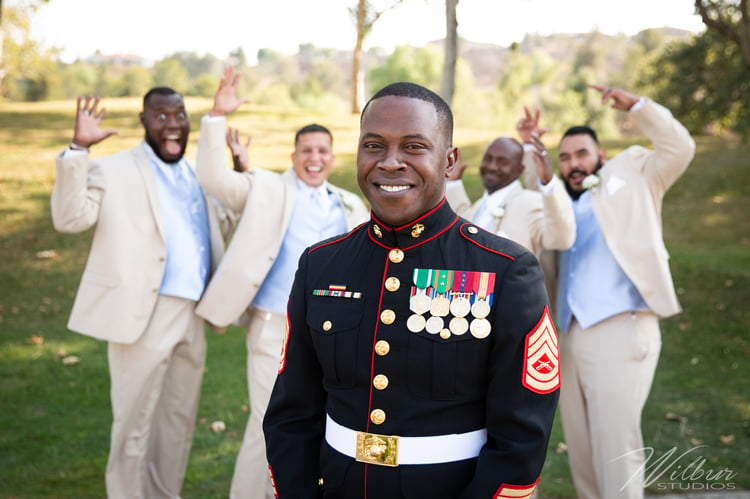 Fallbrook Estate by Wedgewood Weddings

Lean In
Perfect for all your bridesmaids, this photo is simple and sweet. Gather your pals and lean in for a sweet photo that captures your beautiful dresses, faces, and bouquets.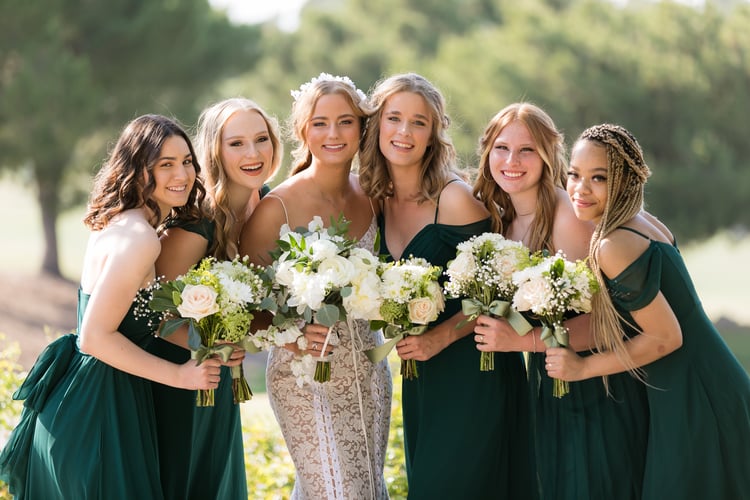 Aliso Viejo by Wedgewood Weddings

Album Cover
In this fun and versatile photo, drama and character take center stage. Imagine that you're posing for an album cover and embody the joy of your special day.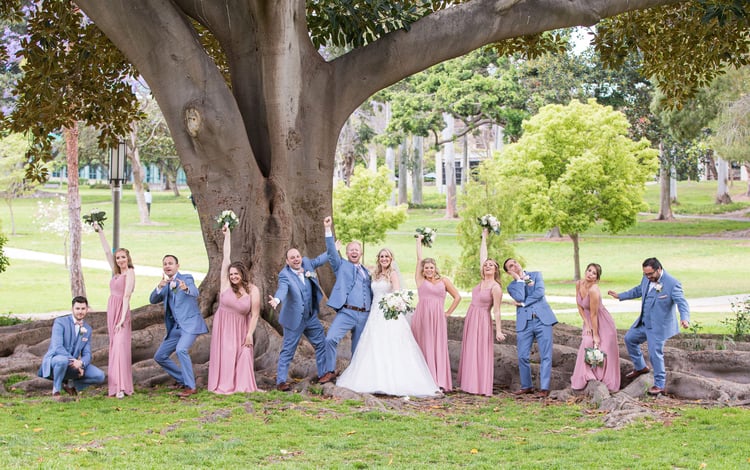 University Club by Wedgewood Weddings

The Big Kiss
A sweet (or passionate) kiss in the foreground with the bridal party cheering them on. Bridesmaids can throw their bouquets up, while groomsmen cheer with their arms in the air. Switch this photo up with different angles, perspectives, and backgrounds.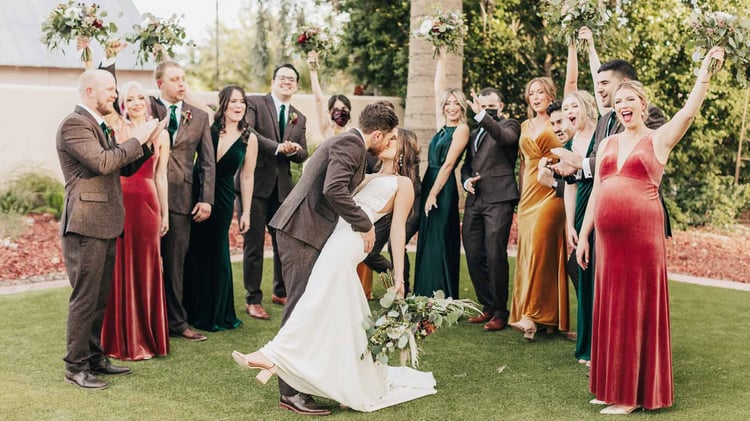 Secret Garden by Wedgewood Weddings

Before The Altar
If your wedding altar has a beautiful background, it's the perfect spot for a few bridal party photos right after the wedding ceremony. It's also a great spot for family photos.
Carlsbad Windmill by Wedgewood Weddings

Getting Ready
Don't forget to stage some spirited getting-ready photos while you and your wedding party get ready for the big event! Start with matching robes or pajamas for early on in the process, and then add in a few at the end of fluffing the dress and putting on jewelry.
Brentwood Rise by Wedgewood Weddings
***
Whether you choose to take 10 or 100 wedding party photos, make sure that you have fun and remember to capture the personality of your wedding party in those photos. For more wedding photography ideas, check our ultimate wedding shot list guide.