Fall and love were clearly in the air for Jocelyn and Gregory, who tied the knot in October of 2020. Surrounded by orange and yellow leaves along with their closest friends and family, the happy couple celebrated their ceremony at Stonetree Estate by Wedgewood Weddings. Although their original plans included the reception, they rescheduled it for the following year - creating a sequel wedding!
***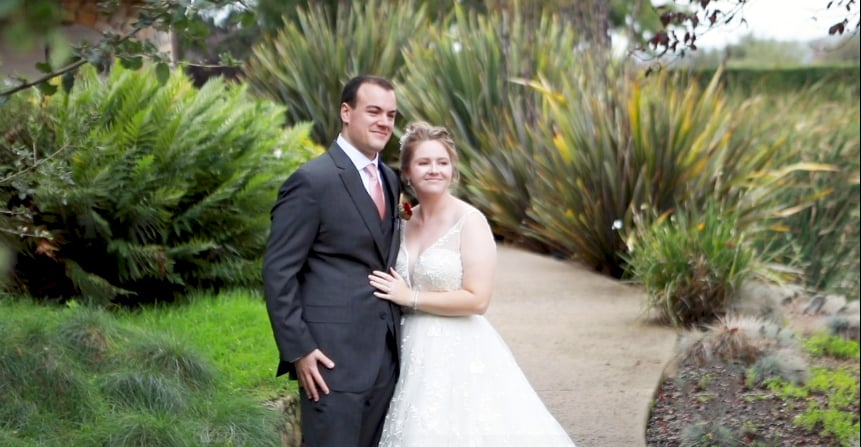 Meet Jocelyn and Gregory who celebrated their love surrounded by their dearest family at Stonetree Estate on October 24, 2020

Their ceremony was on a crisp autumn day. The altar was lined with a stunning array of flowers by Angella Floral Design, creating a romantic and elegant vibe. The sounds of DJ Steve of Wedding Bell Music serenaded guests as they sat in anticipation. While the excitement built before the ceremony, Jocelyn and Gregory snuck off for an intimate "first look."

Surrounded by a stone wall draped in colorful fall leaves, Jocelyn and Gregory's Love is everlasting.
"Jocelyn & Gregory are truly a special couple. They are so kind and understanding of the current situation in our country. Their love was present through every ounce of planning, and we are excited to celebrate again with them next year!"
- Brianna, Stonetree Estate by Wedgewood Weddings
This fantastic day was captured by the team at A Perfect Impression. Take a look at the beautiful wedding video they created of Jocelyn and Gregory's ceremony!



We love the advice to find new reasons to fall in love every day. This couples' vows about being best friends surely bring a tear to every eye.
"I would like you to take a moment to concentrate on the hands each of you are holding. Cherish this touch because these are the hands of your best friend: the hands that will work alongside yours as, together, you build your future... And these are the hands that will cherish you through the years"


Jocelyn's embellished lace dress with train and glamorous hair décor are gorgeous. Gregory created a classic look with charcoal suit accentuated with pale pink and jewel-colored deep red buttonhole. After enchanting vows, the newlyweds chose Stevie Wonder's "Signed Sealed Delivered (I'm Yours)" for their high energy recessional.