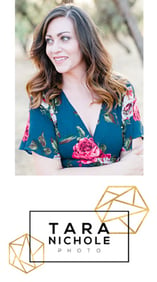 Today, we're excited to introduce Tara Chatterton, founder of 'Tara Nichole Photo' of Phoenix, Arizona. Tara is a talented wedding, portrait and event photographer and videographer, and a frequent partner of ours at several of our Arizonan wedding venues including Ocotillo Oasis and Lindsay Grove. We love the way Tara focuses on the love story that brings a wedding to life: Her work is heartfelt and professional in every way.
***
Hi Tara! Thanks for joining us today.
How did you get into this line of work?
Of course! While I'm originally from California, I've lived in Phoenix for most of my life. An "almost native" I like to say. I have been married since 2006 to my high school sweetheart and we have two little girls together. We love downtown Phoenix, AZ and are happy to raise our family here. I actually have a Master's in Professional Counseling, but decided to stay home and take care of our girls rather than going back to the office. I officially formed my photography business 3 years ago, although I've been passionate about photography and videography since 2012. I love that being a photographer allows me to raise my girls at home and also enjoy an incredibly fulfilling career.


That's wonderful! What do you love most about photography?
I love people and love being able to be a part of the most important and memorable days of their lives. I pride myself on building a lasting relationship with every client and running my business with integrity and love. My favorite aspect of every wedding is getting to know the couple and their friends and family too! My background in counseling is an unusual asset as a photographer, as I'm naturally talented at helping people relax and open up, and that means better photographs! By the end of most weddings, I have become friends with moms and dads, joked with uncles, and figured out who in the group has the biggest anniversary number!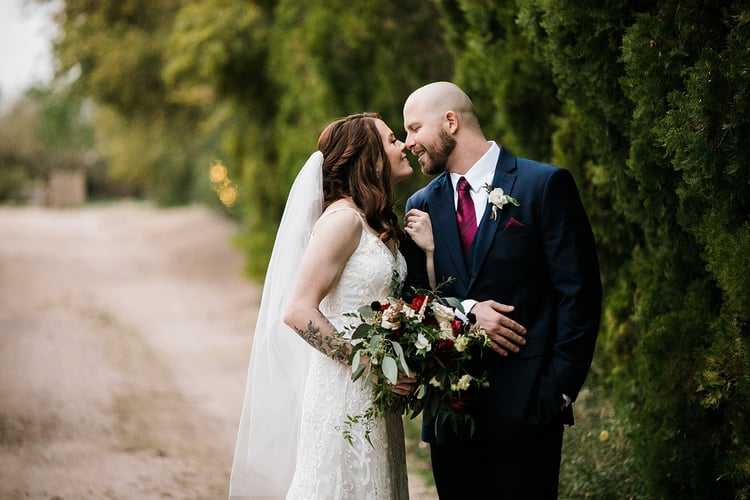 The beautiful wedding of dallon & samantha //tara nichole photo
venue: lindsay grove by wedgewood weddings

Why do couples choose you for their wedding photography in Arizona?
Any couple who works with me should expect a friendly, detail-oriented and confident experience. I thrive on building relationships with my clients; I want to know their story and really understand who they are as people. When you hire me, you hire a detailed, organized, memory capturing machine who loves to make sure your special day is no less than perfect! With over 300 weddings under my belt, I have really seen it all. I am confident that I can offer my clients an amazing experience, no matter what bumps are thrown our way!


Do you have any advice for couples planning a wedding?
Of course!
Make sure to thoroughly vet all vendors before making a final decision. Ask to see full portfolios, read reviews, maybe even talk to former couples who have worked with that vendor. Once you choose a vendor, make sure to clearly articulate your expectations and communicate often. This will be the key to building a trusting relationship with each and every one.


Choose the same photographer for your engagement and wedding photos. The engagement shoot is the perfect chance to test out the photographer and evaluate your decision. Use this opportunity to make sure that photography style and quality meets your expectations, and that you click with the photographer. You will end up spending your entire wedding day with your photographer, so if you get along, it will really improve your experience and memories.


Prioritize your relationship above all else. Make sure you are building that friendship with your future spouse daily through laughter, vulnerability and humility.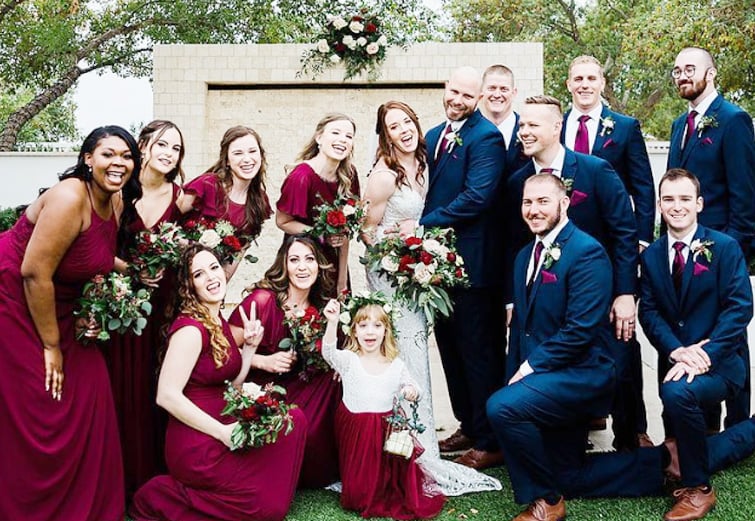 Jewel-tone wedding celebrations at Lindsay Grove by Wedgewood Weddings



What's a major wedding surprise that you've had to take in your stride?
After over 300 weddings, you're bound to have a few mishaps. There's one story that stands out right away – I was photographing a small elopement for the sweetest couple. They booked an Airbnb for the event, but in the smallprint it stated weddings weren't permitted. Less than an hour before the ceremony, we realized! Cue a frenzy as we all packed up the entire wedding, and transported all the guests and food to the couple's two-bedroom home a few miles away. The event looked a little different than planned, but it was still filled with love and absolutely breathtaking. I've learned that weddings are not allowed at most Airbnbs, so be careful!





Talk to us about gear, Tara! What's in your photography bag?
Fun question! I use a variety of photography and videography gear – my favorite brands are Canon, Tamron, and Sigma. I take time to research the best equipment for what I do and the longevity of each item and its durability. My absolute favorite piece of gear is my Canon MKIV because it has a touch screen LCD that makes shooting video so much easier.


How do you approach photographing a wedding?
On any given wedding day, I will take anywhere from 100 to 300 photos per hour. Ultimately ending with thousands of photos that will be edited later. Of course, so many of those are duplicates, eyes closed, small details, etc. The ones that stand out for me are the ones that show my clients and their wedding day at their best. I am looking for the most raw emotion, the shots of the bride that make me say wow, photos of family that my clients are going to treasure forever...

Timeless photos aren't always the first thing couples think about when they hire a photographer, but it's important. As a photographer, I try to balance timelessness with what is popular at the time. Portrait photos of the bride and groom looking at the camera will never grow out of style, for example. The editing style of the photographer is another thing that will affect the timelessness of photos. Heavy editing or using trendy styles can quickly date a photo over time.





What is a common mistake people can make when choosing a wedding photographer?
Over and over I see couples choosing their photographer solely on price. It's tough to balance budgets with wants, but as with every service, you often get what you pay for. Your wedding photographer in some ways runs the day and has control of the timeline.
Make sure you get along and want to spend time together. And that you trust them! You might be together for 12 hours on your wedding day – so you want to make sure you not only like them, but that they can handle the pressure, adapt to change, and of course take amazing images that you connect with.


Tara, it's been such a pleasure chatting with you today! We're so honored to work with you and hope to see you again soon!

***

Joel & Lindsey's Wedding Day at Palm Valley, AZ
Tara is a lifestyle photographer and videographer, too! Her pictures are beautifully fresh and light, they capture joy and create a sense of intimacy that's grounded in authenticity. If you're looking for someone wonderful to photograph your daughter's graduation, or an anniversary celebration, give her a call. Obviously, we love her wedding style – take a look at her beautiful recent work with Joel & Lindsey at our Palm Valley wedding location.
To learn more about Tara and her wonderful wedding services, check out her info-packed website: TaraNicholePhoto.com, and her gorgeous Instagram account: @TaraNPhoto.
***