In the midst of wedding planning, with the many decisions brides and grooms face regarding ceremony décor, table settings, dinner and dessert options, and much, much more, it's often easy to forget one small, but fun, detail: wedding favors! These mementos act as a reminder of your wedding day for your guests and are an easy way to add a personal touch to the celebration.
Whether you'd rather keep it simple and sweet, or step it up a notch with unique customized creations, we have plenty of wedding favor ideas to fit your preference and budget!

Homemade treats are thoughtful and affordable
Homemade treats
Homemade, custom treats are a simple and sweet way to thank your guests for being a part of your special day. Whether you are a baking guru, a culinary klutz or something in between, the options for handcrafted treats are nearly endless and can be easily personalized with DIY labels.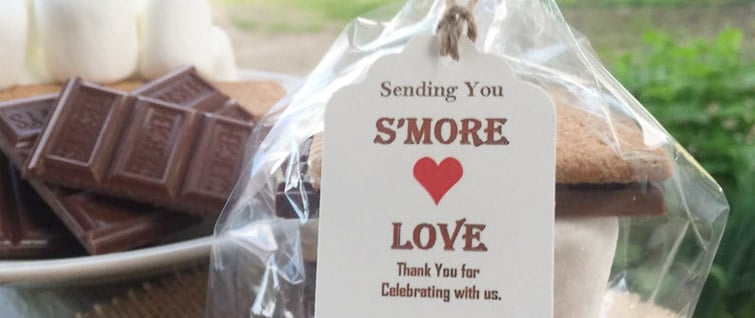 S'More Love Treat Idea - Available From

Etsy
S'mores have fast become a sweet wedding favor treat. Place on tables for guests to take home, or enjoy the evening breeze with an outdoor firepit and melted marshmallow.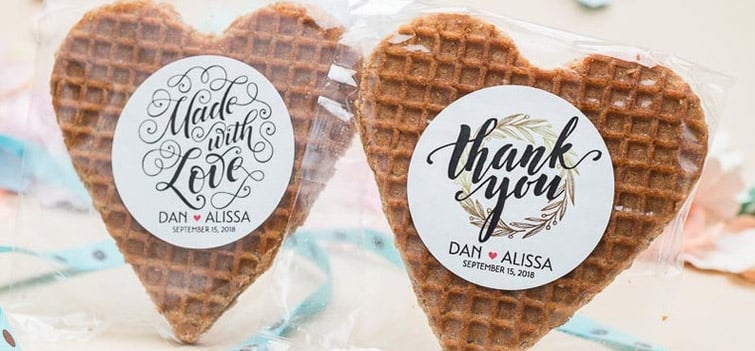 Cookies are a great idea for a wedding favor. Guests can nibble them there and then or save them as a memory. While the ones shown here are via Etsy, it's also possible to DIY cookie wedding favors or ask a friend with baking skills.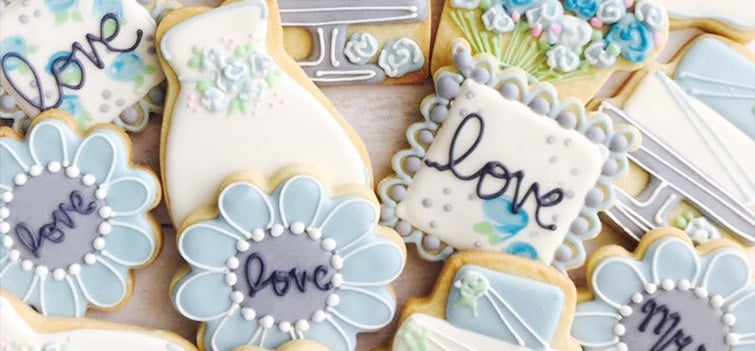 Custom-wrapped treats
These are a sweet and tasty way to send guests home post-reception. After hours of dancing and celebrating, your guests are bound to appreciate the sugar rush! An awesome couple who celebrated at our Indian Hills venue decided to offer guests a choice of three photos from significant moments in their romantic adventure.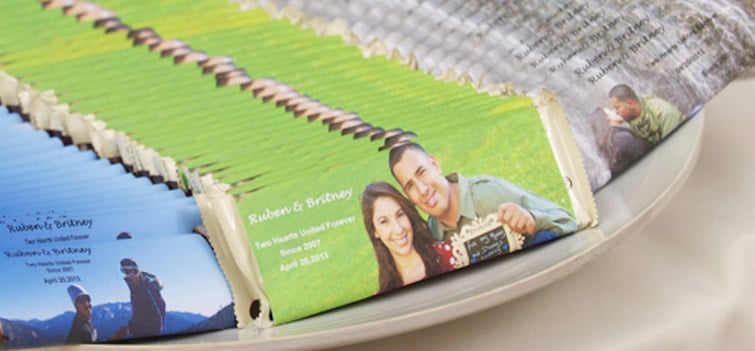 Plants
These are a natural way to encourage guests to continue watching your love grow even after the famous "I do's." Make it unique with distinctive containers that can be treasured in your guests' homes for years to come. For out of town guests who maybe can't travel easily with a live plant, a custom packet of seed for your favorite flowers is a lovely thought.
custom KOOZIE
For those brew-sipping brides or grooms, a custom koozie is a playful gift that your guests can use at future celebrations and holidays. Add a personal touch with a monogram and the date of your special day.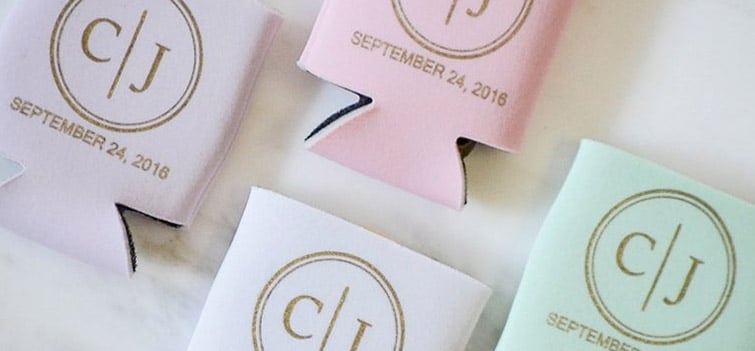 Pastel KOOZIES from Gracious BRIDAL's etsy store
Comfy sandals
Sandals are a practical favor that will ensure your guests' feet are dance-floor ready! Your guests will also appreciate being able to toss off their loafers and heels –– and you will love having your dance floor packed for reception photos.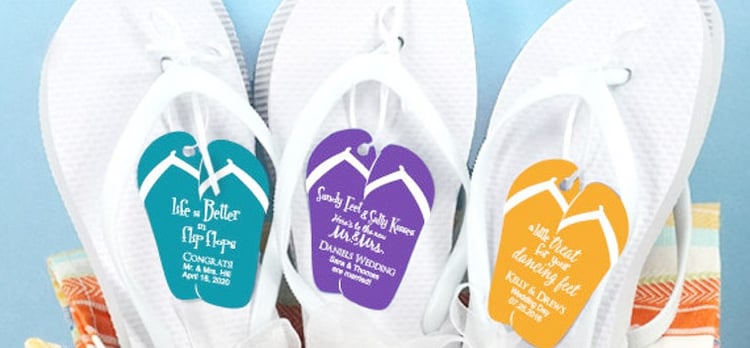 Custom Tattoo!
Creating a temporary tattoo to commemorate your wedding is a fun idea that many guest will embrace there and then! Choose from 24hr to 2-week options for committed friends and family.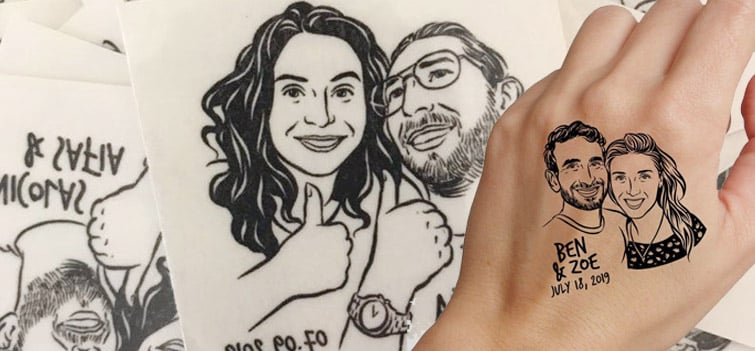 Personalized Totes
We all need more reusable grocery bags nowadays and a tote favor is a great idea! Go all out with woven beach totes for your wedding party or packable cotton totes for all your guests.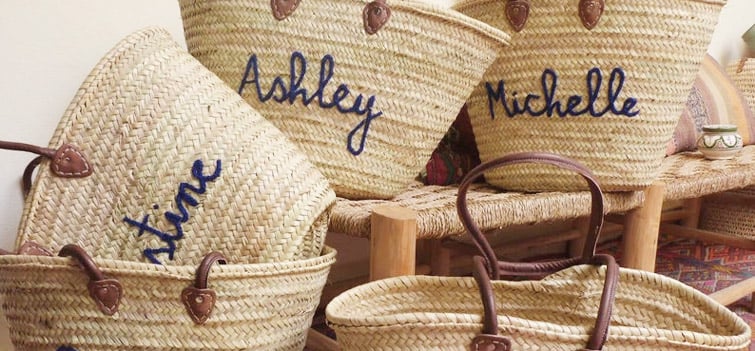 Coffee & Tea
If you're a foodie and really know your Robusta from your Liberica, then blending coffee and providing a small pouch as a wedding favor is an inspired idea. Chances are, your guests will appreciate an outstanding brew the morning after.

For Tea-bellies (we heard this friendly term in England and love it), you can personalize tea sachets with your wedding details. Jasmine, Green, Peppermint and Earl or Lady Grey are solid choices. Or, if you want to push the boat out, go for a floral tea and present it as a gorgeous keepsake.
Personalized, reusable coffee cups are a wonderful idea if you plan to set out a cute coffee station so guests can help themselves as the party winds down. This is also an innovative idea for guests to grab a hot drink to take with them on the journey home.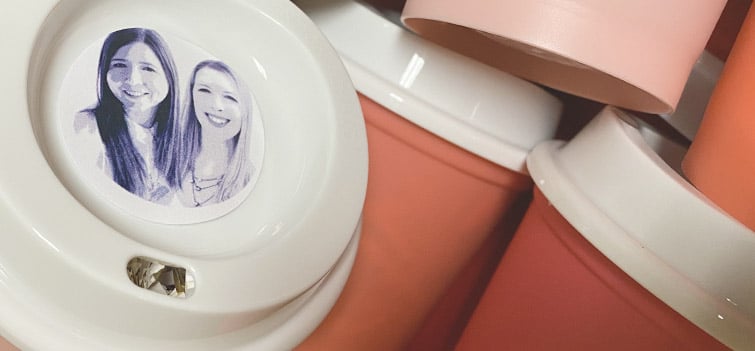 Sweeten up your guests with honey-stick wedding favors. These are lovely on their own or paired with tea of coffee favors.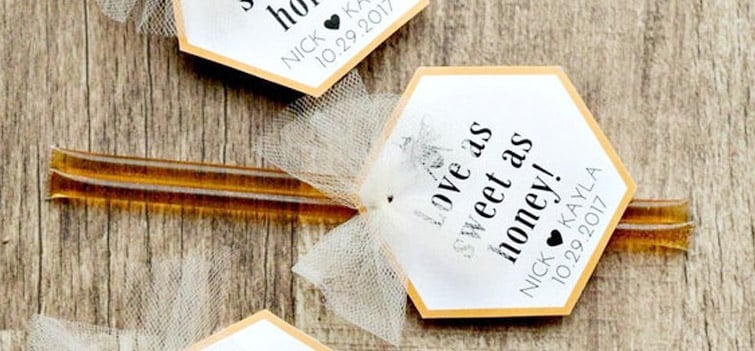 Labeled honey sticks from

PlainJane2424

from Etsy

Keepsake Moments
Share a memory of what brought you together. If you said yes on a gorgeous beach, then giving each guest a pretty keepsake of your favorite moment is delightful and sure to be treasured for years to come.

Keep the love aflame
Personalised candles are a really great idea. Choose a scent that you love or that reminds you of a great memory - birthday cake, spruce or sage are great options.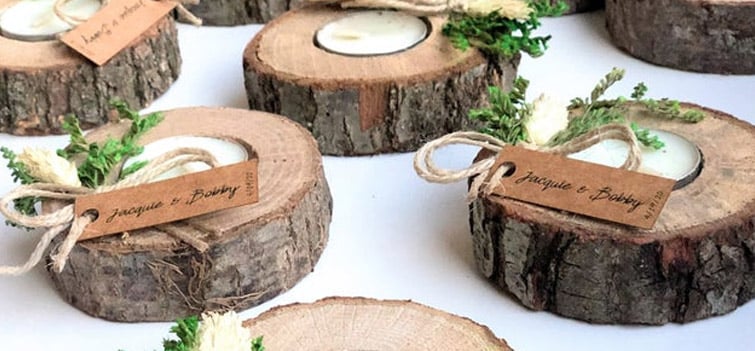 ***