Weddings are a special time for couples to make their dream days come true! What better way to get ideas for your magical day than from our Wedgewood Wedding experts who help put on thousands of dream weddings every year? We asked our team what they recommend couples do to help make their dream day all the more spectacular and they did not disappoint.
***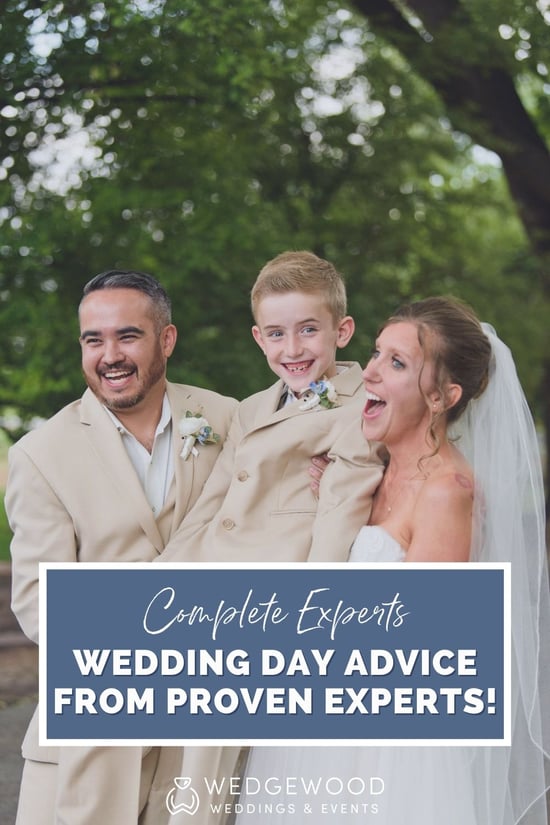 Kelsey Gallagher, General Manager in Sacramento recommends going all out with personalizing the wedding décor. From serving the wedding couples' favorite food to wedding guests playing the couples' favorite game during cocktail hour, it's a fun way to make the wedding more personal and shows guests another side to a couple of the hour!
One example she gave was if a couples' favorite food was mac and cheese, you can serve mac and cheese at the wedding and call it "[Insert Name's] Guilty Pleasure". Your wedding day is all about you and your partner, you want everything from the décor, your vows, the food, and the venue to reflect everything that you and your partner love!"
While Kelsey is all about personal touches to help guests connect with the couple and show a bit more personality, Rosemary, who runs our Ocotillo Oasis venue recommended that couples make it a point to have a private moment before the ceremony for their first looks.


"It is an intimate uninterrupted moment the two of you get to share and it is a moment that is yours, and yours alone. You can let yourself be more vulnerable because you don't have all your guests watching you. The feelings and emotions will be just as raw and real when you walk down the aisle later on in front of your friends and family but in a different way."
- Rosemary, Wedgewood Weddings


Another pro-tip from Rosemary: in addition to having a first look with your partner, do a first look with your parents and wedding party before the ceremony. You will end up with more photos and it makes the day more enjoyable knowing that you got intimate photos with your partner, family, and wedding party before the ceremony has even begun. The day flies by when you're having fun, so you want to make sure you're documenting all the important moments!
Like Kelsey, wedding expert, Marissa from Vellano Estate, is all about capturing the memories of your big day. She knows how important it is to make sure you get photos with all your guests which is why she has a trick up her sleeve for making that happen seamlessly!
Marissa recommends having the DJ send each set of table-mates to the dance floor to say hi to the couple, grab a photo, and then get in line for the buffet. This helps with the flow of dinner, ensures that everyone gets a photo with the wedding couple, and gives the couple a chance to say hello and thank all their guests for coming individually. It also gives the couple a chance to eat at the same time as their guests!
While some form of photography is expected at most weddings, you can always make your wedding memories a little more personal and tailored with videography! Shelley, who leads the team at Palm Valley recommends hiring a videographer for your wedding. She hired a videographer for her own wedding, and said it is definitely worth it! They can film everything from first looks, to wedding vows to the wedding parties getting ready and everyone on the dance floor. Videos give you a mini-movie that you will always have to watch back on and remember your special day.
Do you have a lot of guests with little ones running around? Our wedding expert, Tori from Carmel Fields has you covered. She recommends hiring a couple of trusted babysitters to watch all the children during the wedding. By putting all the children at a hotel close to the wedding ceremony, it's easy pick-up and drop-off for kids, and wedding guests can have fun and enjoy the night knowing their kids are safe and having fun.
Plus, Tori pointed out, it's more cost-effective to pay for a couple of babysitters than adding children to the guest list. The kids get to enjoy a night with friends and the parents get to celebrate with the wedding couple!
***
Want more wedding day tips, dip into our essential guide to weddings!