From an Astrological point of view, seasons, dates, and even hours can be crucial and very important in determining future events and the best possible outcomes. This is why, in today's article inspired by Mary Aragon, we've prepared for you the best wedding seasons for each Zodiac sign, so that you may choose the best and most prosperous wedding date for your "happily ever after".
***
Great Wedding Seasons for Each Star Sign
Considering your astrological sign, looking for auspicious omens, and giving plenty of thought to your wedding date or season are all commonplace. You can cement your fortune in finding your perfect partner by selecting a wedding day that holds meaning for your zodiac sign. Give thought to one another's prominent star sign traits and find out which days are ideal for both partners or if you need to find a happy medium and select a day or month that spans your need.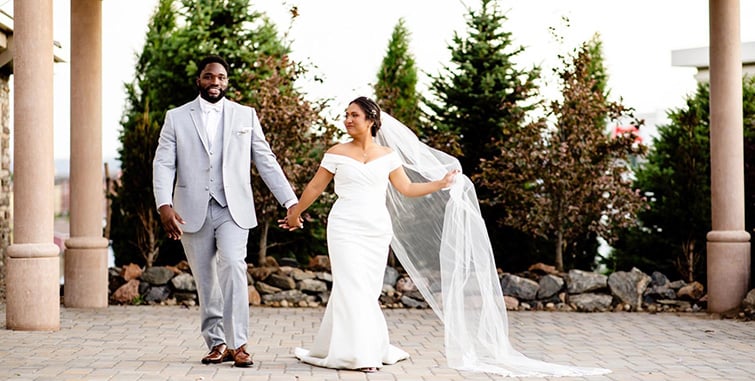 Chris and Hope's December Wedding at ASHLEY RIDGE in Colorado


Aries (March 21 - April 19)
Aries is one of four cardinal signs and uniquely marks the beginning of Spring (hello, Spring Equinox!). Cardinal signs are noteworthy for their representation of new beginnings, a turning point, a new adventure — and a beautiful omen for a wedding. As a sign embodying the element of fire, Aries carries a bold, forceful, and sometimes competitive energy with it.
The best wedding dates to honor Aries would be Spring dates between late-March to mid-April. As for the days of the week, Tuesday and Thursdays are recommended as they complement Aries' active nature and sudden temperament. As for the theme colors of the wedding — red, orange, brown, and copper hues are recommended.
Celebrate your Aries-themed wedding with a Spring Equinox flower ceremony or by potting a plant as a unity ceremony.

Taurus (April 20 - May 20)
Taurus season marks the most fertile part of the year and marks the time for celebrating life through engaging with the senses. Any time from April to June would be the perfect season for a Taurus wedding. Lavishly deck the halls using fruits, flowers, and earthy accents featuring lots of yellows, pink, lavender, and golden hues.
Good fortune comes to any who plans a Taurus wedding as it's a sign of patience, practicality, and reliability. If you love a detailed plan (and all-inclusive packages), this is a great sign and season for you.
We love the idea of incorporating wedding rituals that embrace the earthiness and ample- harvest of this sign. Consider a wine mixing ceremony, offering a family-style plated dinner, or a rustic theme surrounded by nature.

Gemini (May 21 - June 20)
Gemini is a hot and moist sign and its season is the peak of spring and the beginning of summer. Its temperament is sanguine, it's a cheerful and vibrant sign, so planning a Gemini wedding would be most fitting for late June and early July.
The quick wit of Geminis will appreciate hand-written vows and a ceremony sprinkled with laughter. When designing a Gemini-inspired wedding, look to feature light colors with a lot of feminine, airy details. Themes that incorporate books or fairytales, or both, would be immensely appropriate and delightful!
The days of the week that are perfect for a Gemini wedding are Wednesday, the day of knowledge and information, and Saturday, the day of mature minds and harvests. Gemini can work with and around anything, but these seasons and days would be their dream come true in the long run.




Harvey and Sarah's sunny springtime wedding at Lindsay Grove


Cancer (June 21 - July 22)
Cancer is a cold and moist sign, which is why these souls often prefer summer over all other seasons — they need the heat and dry weather in order to express their nature fully. This is why the perfect wedding season for Cancer would be towards the end of July and mid-August, preferably somewhere near the ocean or in beautiful Arizona where they can bask in the sun's rays freely.
Cancer signs are emotional, intuitive souls and often have small, intimate social circles. Circular wedding ceremonies with water-based rituals would be a great honor, especially if surrounded by only close friends and family (aim for a guest count under 150). Cancer is a water sign, making the best accent colors blue, green, and yellow. Incorporating citrus fruits into your decor and menu would be an excellent idea for this sign!
The perfect days of the week for the Cancer wedding are Monday and Sunday — two days of the week that represent our life-giving luminaries — the Sun and the Moon. As the second cardinal sign, Summer Solstice would be a fitting wedding date.

Leo (July 23 - August 22)
Leo is the royalty of Zodiac, loves to be in the limelight and his temperament is passionate and creative. Leos love travel and drama, meaning a destination wedding might be the perfect fit!
Ruled by the Sun, fire-sign Leo worships this bright light in the sky, quite literally as well as metaphorically. With so much fire in the heart, Leos can get married whenever and wherever they want, as long as they are surrounded by friends and family.
As for the best days of the week — Sunday — Sun's day, of course, and Thursday — the day that brings expansion and luck, are the most suitable days for majestic Leo's most important day of their life.




Eggplant and rusty orange hues are perfect for earth-sign weddings


Virgo (Aug 23 - Sept 22)
Earth sign, ruled by Mercury (communication), and endlessly practical are the hallmark qualities of Virgo. The best wedding seasons for Virgo are September and October, when we still enjoy a mixture of Summer warmth and cool Autumn breezes. Although fall is the obvious choice, April or May in a naturally sunny location like Arizona or Southern California would be a great compromise when needed.
Virgo prefers toned-down colors and earthy hues, so beige, orange, and forest green are preferred color schemes for their special date. Instead of elaborate decorations, opt for naturally stunning wedding locations that feature trees, wildlife and quiet.
As for the days, Wednesday and Saturday are very good, solemn days for a measured Virgo. These days will help Virgo prosper in marital life, as well as keep order and ordinance in their happy-ever-after.

Libra (Sept 23 - Oct 22)
Libra is the most romantic sign of the entire zodiac, as they are especially dedicated to finding partnership and love. Its temperament is hot and moist, meaning it would be good to avoid overly rainy seasons such as late August, September, and December in most parts of the country.
As the cardinal air sign, Libra loves pastel colors and balanced hues, so make sure to be mindful of designing a peaceful and cohesive color palette. Libras, above all others, will want a fairytale wedding, with a focus on beautiful touches such as flowers, ornate ceremony arbor and perhaps even live acoustic music.
As for the best days of the week to say 'I do', Friday, the day of love, and Sunday are great days for Libra to sail into its forever-after with lots of happiness and good, sunny luck to follow them around.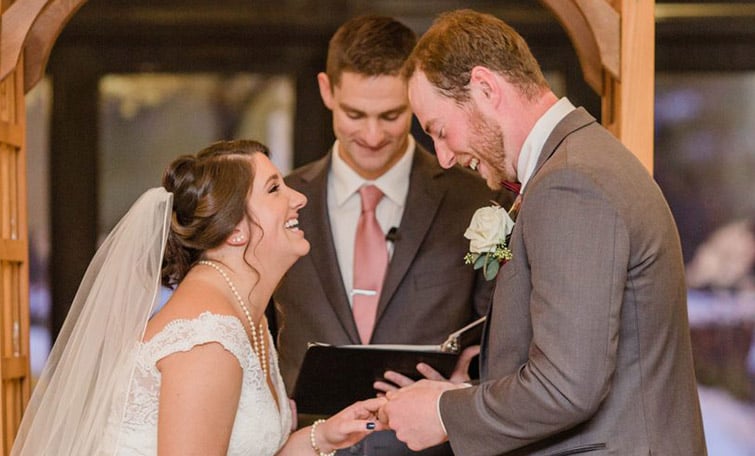 joyful capricorn-theme winter wedding at GRANITE ROSE

Scorpio (Oct 23 - Nov 21)
Scorpio is a special cookie, deserving of its own season. Scorpio personalities are passionate and assertive, with strong emotional undercurrents you've come to expect from a water sign. Scorpio marks the peak of Autumn, and as such, it leans towards the darker part of the year. It needs its privacy and seclusion in order to fully flourish and express its unique self.
This is why the perfect wedding season for Scorpio is Winter — most notably: October, November, and February. Believe it or not, Valentine's Day, or any of the special holidays throughout the year, could be a perfect wedding date for a Scorpio zodiac sign.
As for the theme and days of week, darker hues, with a lot of black, blood-red, and velvet are divine for Scorpios. Ditch the classic idea of what to expect at a wedding and write your own rules, that's what leaders do after all. Monday and Saturday will go hand-in-hand with Scorpio's cold and moist nature. Alternatively, Scorpios may wish to break out with a Tuesday or Wednesday wedding to lighten their natural tendencies.

Sagittarius (Nov 22 - Dec 21)
This fun sign likes to bring merriment — the more the merrier — to create expansion and adventure. Sagittarius' temperament is hot and dry, and they love bright colors, a lively atmosphere, and good company.
The best wedding dates for Sagittarius will be in August, late December, early January, and November. Perfect hues for their wedding are red, sky blue, orange, yellow, and light green. It's very possible they'll choose a destination for their wedding, so great coordination and planning is a must for them.
Planning a Sagittarius wedding? Hands down, Thursday and Tuesday are the best days. Plan for lots of joyous dancing, laughter and philosophical debates on your special day!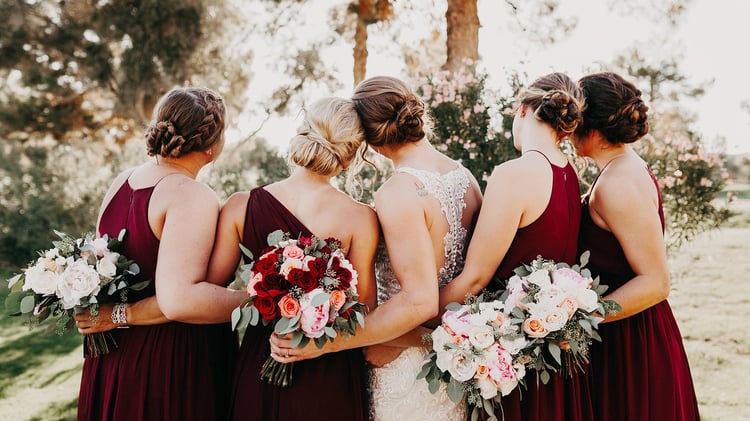 bridesmaids in red (hello, scorpio) at Ocotillo oasis by Wedgewood Weddings

Capricorn (Dec 22 - Jan 19)
Here we have kinfolk who climb the impossible through sheer will and patience. Capricorn's temperament is cold and dry, and they are all business. Their wedding day needs to be perfect and exactly as they instructed.
The perfect wedding seasons for Capricorn are early September, April, and early December. As a the final cardinal sign, Winter Solstice is particularly special for this group and would make an exceptional wedding date. The best day of week for their wedding are Saturday (for law and order), Tuesday and Sunday.
Hues that are most likely to be present at their wedding are monochrome with slight variations of light browns, beige, and cappuccino colors. These people mean business and they intend for it to stay that way. Make sure to incorporate moments of personality and tradition into your Capricorn wedding day to spice things up, on-theme!
Aquarius (Jan 20 - Feb 18)
Aquarius is its own drummer, bass, and lead singer — independent, progressive and eccentric. Its temperament is hot and moist, and wherever they go, sudden changes and planned disruptions follow. This is why it's very important to keep an open mind and open heart when considering Aquarius weddings.
The best seasons for them would be January — the beginning of the year; the symbolic start of something new, May— the bright colors and fresh air; and November — again bright (and warm) colors with a romantic atmosphere.
The best days for an Aquarius wedding would be Monday, Wednesday, and Saturday — days that promote their hues — silver, copper, and blue. Don't be afraid to selectively choose your date based on numerology; 4, 7, 11, 22, 29 are particularly lucky for Aquarius. Aquarius souls will find the symbolism behind these seasons, days and numbers much more valuable than decorations or attire.
Pisces (Feb 19 - Mar 20)
Intuitive and artistic, Pisces have a cold and moist temperament and a very romantic nature. They will appreciate March, February, and June seasons for their special day. They need outside stimuli in the form of fresh weather and pleasant colors, this is why these seasons are perfect for them.
Monday — Moon's day — and Friday — the day of all great love stories are perfect for a Pisces wedding. Pisces will want an idealistic, romantic wedding, so you'll want to focus on romantic styles and colors: silver, azure, lilac, and sea green.
Fresh, uncut flowers, warm air, and delicate, dreamy attire would complete their romantic fantasy for a day of complete joy. An artistic unity ceremony would be the perfect addition to a Pisces wedding, perhaps a unity canvas or love locks!


***
Planning your wedding should be fun while organized enough to leave you feeling confident and relaxed. If you love whimsey and want to tailor your event for your star sign, we hope this guide gives you food for thought. Whatever season and date you choose, your wedding will be memorable and joyous because you're joining your love forever!
Let's make the stars align for you!