Samantha with qalo
Simple Proposal Ideas We Love
Is it just us, or is there a lot of pressure on the proposal? With all the viral flash mobs, hot air balloon rides, and that guy who edited the ending of Sleeping Beauty for his next-level proposal, it often feels like extravagant is the only way to go. In truth, though, the vast majority of people out there do not expect (or want) a lavish proposal. For most people, a heartfelt proclamation from one knee is more than enough. No bells, whistles, or flash mobs needed.

***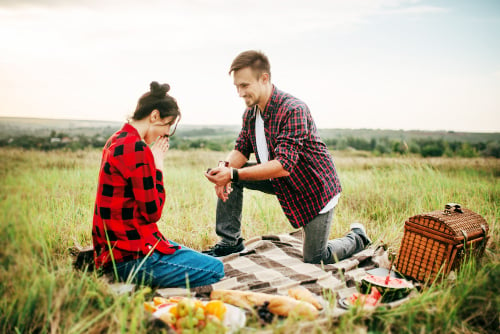 While your proposal doesn't need to be an extravagant production, that doesn't mean you should just phone it in and propose on a whim without any preparation. What it does mean is that you should make it unique, special, and personal to your relationship. Here are some wonderful, heartfelt ways to propose that don't require a ton of planning, logistics, or money. Get ready to fall in love all over again!
***
Over Dessert At Your Favorite Restaurant
This is about as classic as it gets! Take your future fiancé to your favorite restaurant and propose while you enjoy the most delicious dessert. Restaurants are used to sharing in couples' special moments, so be sure to coordinate with the staff. Just make sure to put your special spin on it. In other words, skip the chocolate syrup "Will You Marry Me?" and instead opt for a handwritten card and champagne delivered by the server.

On Your Favorite Trail
If you love to hike and adventure together, you've got yourself an automatic perfect-place-to-propose! If you have a favorite trail full of special memories together, that's the one! Or, if you've had your eye on a gorgeous new trail, you can't go wrong. Sentimentality is great, but there's nothing wrong with making new memories together! Just be sure to check trail reports before you go. While you're hiking, stay open-minded on finding the perfect spot. Look for shade, beautiful views, and privacy for the perfect setup to get down on one knee.

With The Help of Your Beloved Pet
Ah, the old engagement ring on the dog collar trick! Seriously, though, there are few proposals quite as cute as this one, especially for couples with fur babies. And, if your pets are a huge part of your relationship, be sure to involve them in your proposal somehow, even if it's just with a sign proclaiming, "My parents are getting married!" for your engagement announcement pics. Don't have a dog? Cats, horses, bunnies and lizards work too!

At a Concert
Do you and your spouse-to-be love going to concerts together? Perhaps you have a favorite local band that you know personally? For music-loving pairs, there's no better way to work this theme into a proposal than during a break in the show. Work with the band to stage a special setup and then propose on stage. For bigger acts, you could simply propose in the crowd during your favorite song.

In The Pages of a Favorite Book
Voracious readers and book-loving couples will definitely feel like they're in the middle of a storybook with this kind of proposal. You can make a secret compartment in a book relatively easily or get down on one knee in the middle of a whimsical library. These are just a few ideas that can tie in your partner's favorite piece of literature to an event they will cherish for a lifetime.

In Your Takeout Box
If surprises are your thing, you can't go wrong with a covert, unexpected proposal. We love using a typical, everyday act such as ordering takeout as your proposal setup. Whether in the fortune cookie, typed onto the bottom of the receipt, or written in a pizza box, you know this one proposal will steal your future spouse's heart. Afterward, be ready to celebrate your engagement with your favorite beer, wine, or cocktail!

Under Water
Bodies of water — lake, pool, river, or hot tub — all make fun places to propose. Just make sure you do it with care and with a solid step-by-step plan. This is an instance where a silicone engagement ring is probably necessary (definitely DO NOT take anything too expensive underwater). If possible, have a friend or family member use their underwater camera to capture the moment so you have it for a lifetime.

During a Picnic
Ugh, is there anything sweeter than a romantic picnic? Pack the basket with all your favorite foods and a nice bottle of champagne and head out somewhere scenic. Whether it be a pretty, open field of wildflowers or the top of a mountain, a picnic proposal makes for some awesome photos and even better memories. This is another situation where it would be good to have a photographer hiding out waiting!

During a Photoshoot
Do you have a friend who does photography? Plan to be models for the day with your significant other while posing for your photographer friend. You can do as much or as little as you want. Have your friend come over and take some shots in your backyard or find some unique spots around your town and incorporate some wardrobe changes. This proposal idea is perfect because you don't have to worry about catching the moment on camera since you're already taking pics!

On a Rooftop
Taking in the gorgeous skyline after a date is the perfect way to end the night. Why not top-off the evening with a special proposal? After a romantic dinner, you can suggest going to a rooftop to watch the sunset. Pro tip: make a plan to set up the rooftop with romantic but simple decor like flowers and string lights to make the space more magical when you pop the question.

Under a Waterfall
If your spouse-to-be is a waterfall fanatic or loves to be outside, why not head to the falls and get on one knee? There are few things quite as romantic as cascading water in the forest, but there are a couple of crucial details to remember when proposing near any kind of current. First: swap out the actual ring for a temporary stand-in (silicone wedding rings are great for this), just in case . . . you know. Second: abide by all signage and never, ever mess around with blocked-off areas near waterfalls. A waterfall engagement is one of those iconic stories you'll be telling friends and coworkers for the rest of your life together.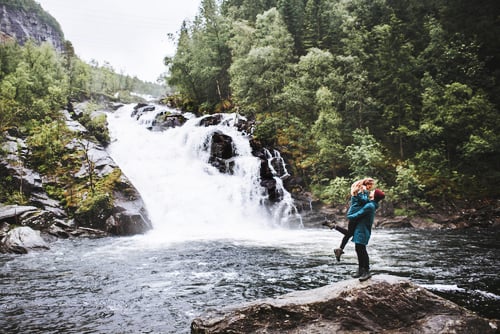 With a Bouquet of Flowers
Who doesn't like getting a beautiful bouquet of roses or daisies? Surprise your significant other with a little, thoughtful gift that shows them how much you care for them. You can hide a ring box in the flowers or drop to one knee as you hand over the bouquet. If your partner has a favorite type of flower, try to incorporate it into your bouquet. This proposal idea is affordable while being very romantic, classic, and thoughtful.

At a Family Gathering
If being with loved ones is important to you and your partner, then planning a proposal with friends and family is a great way to make the night more special. Organize an event with your families like a dinner or barbecue and plan to pop the question then. You can keep your families in the loop so they can help make the proposal a huge surprise.

In The Morning
How romantic would it be to wake up, turn over, and see your partner on one knee at your bedside? Okay, so maybe find a way to have you both brush your teeth and freshen up first, but a morning proposal is a perfect way to start the day. If you know your partner needs time to fully be awake, surprise them with coffee and a fancy breakfast spread complete with a ring box.
Do you and your partner love board games? Or video games? This proposal idea is right up your alley! Plan for a night of healthy competition and break out all the games. You can keep things interesting by offering a prize to the winner (a.k.a the ring!) Just make sure to let your better-half win, otherwise, it'll take all night! If you decide to play Scrabble, you can spell out "will you marry me" with the letters.

With a Video Montage
If you're a couple with lots of travel and adventure footage, create a video incorporating all your special moments caught on film! You can convince your partner to stay in for a casual movie night and surprise them with a home video that ends with a ring. Talk about a happy ending!

During a Scavenger Hunt
Whether you want to do a small-scale scavenger hunt or have your partner running around all over town, scavenger hunts are a great way to make a proposal exciting and fun. If you would like to make it more intimate, have your significant other search for clues around the house, with the final clue leading to a hidden ring box. This is a unique and playful way to make your day more special.
***
If we could give a single piece of advice for those prepping for a proposal, it would be this: make it personal to your relationship. It doesn't matter if you propose at the kitchen table or the top of the Eiffel Tower — if it doesn't feel sincere, authentic, and tailored to your relationship, it won't be special. After all, a proposal is supposed to focus on you and your beloved, so why add all the distracting pomp and circumstance? When it comes to popping the question, it really is the thought that counts, so spend time personalizing and worry about the details later. Good luck!!