March 2020
A 'Netflix and chill' kind of night is great, but doing that every night can get real old, real fast. With all this extra stay-at-home time, why not switch it up? Take advantage of your quarantine and strengthen your relationship. Check out these unique ideas to thrive together on a night at home.

Open a Date Box
The masters of at-home date nights, Happily does all the planning and crafting of a perfect date, bundles it into a box, and delivers it straight to your door. These date boxes come by subscription only but are personalized to you and your partner. Take an online quiz and enjoy a uniquely-curated date just for the two of you.
Make a Meal Kit Together
Whether you're a pro in the kitchen or a total novice, preparing a meal kit with your partner will force you two to work together - and maybe even develop a new hobby in the process! Meal kit services like HelloFresh, Blue Apron, or Home Chef will send all the ingredients you need for your selected meals straight to your door. Then, follow the easy step-by-step instructions that lead you to a tasty homemade meal. While your friends are eating frozen pizza, delight yourselves with a gourmet dinner that was surprisingly easy to make!
Nerf Gun Battle
You read that right. Get some Nerf guns, turn off all the lights, and go to war inside the house. Creep around corners, hide under the bed, and army crawl down the hallway in an effort to score the most shots. Winner gets a prize of their choice.
Game Night
Games like Yahtzee, Munchkin, and Mad Libs are all suitable for two people. And many card games are great too. Turn any one of them into a drinking game, and it'll really feel like a party.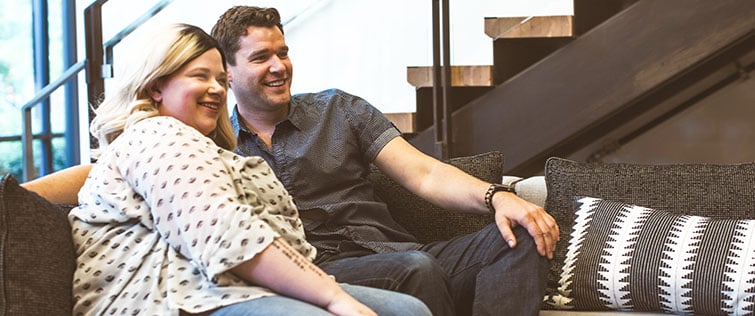 Register for your Wedding at Zola
Engaged? Spending a night stuck inside together can be fun and productive! Browse through all the registry gift options you could ever think of using Zola's easy online process.
Have a picnic
If you have a backyard, use it! Otherwise, you can set up in your living or dining room, anywhere that you have space to layout a blanket. Prepare a basket with cheese, crackers, salami, olives, chocolate, and other things you two love to snack on. Add in a bottle of wine and enjoy the quiet together.
Do a puzzle
Puzzles are seriously underrated, and we happen to think they go great with pizza! Pick up a puzzle mat so that you can move your puzzle around the house as needed. We love this night sky puzzle, book club puzzle, and bird migration map.

There are plenty of video games that feature strategy, sports, puzzle, and adventure that are perfect to play with your partner. Working together for a common goal - practicing effective communication and delegation - as well as having a blast while overcoming obstacles together are great tools to implement in both a relationship and video games. And, you know, Mario Kart is always a classic too.
Read together
There's never been a better time to work through that never-ending list of books on your nightstand. This one requires a bit of planning. Choose a book to read together, for say 30 minutes every night, and then schedule a date for your book club night! Prepare 5 questions each to discuss over a delicious meal.

organize something
This may not sound like your typical date night, but it's an excellent way to reduce stress and it's more helpful with two people! Choose a room, pantry, or closet that's in desperate need of clearing out and/or organization. Then channel your inner Marie Kondo and have at it! If you're really unsure, turn it into a competition of who can purge the most clutter. The winner gets a prize of your choosing.
Play truth or dare
It's time to bring back this childhood classic. While you can make your own questions, we think it's more fun with a pre-made deck. Check out this one by school of life and this intimacy deck to turn things up a notch.
Build a Fort
No matter what age you are, building a fort can be a ton of fun. Use all the pillows, blankets, and couch cushions you can find to make the ultimate living room castle. Once built, cuddle up inside and watch a movie, do a puzzle, ask questions you've never asked each other before, or whatever comes to mind!
Start a side hustle
Let's be real, this is a great time to build up your emergency fund. Building a project, business, or side hustle together is an excellent way of bonding and future-proofing at the same time. You can break this one into multiple date nights: brainstorming, brand-building, business plan writing, and website building.

DIY spa day
Just because your favorite local spa has closed up shop temporarily doesn't mean you can't bring the spa home. Begin with facial masks. Take turns painting them onto each other's face. While they set, you can listen to your favorite meditation. After you wash off, turn on a spa playlist and practice your massage skills on each other. Not quite sure how? Watch this to help get you started.
Try a new hobby
We're willing to bet you've been itching to start a new hobby for a while - and this is the perfect time to do it. Choose something you can do together. Some of our favorite ideas for couples are woodworking, candle making, and photography.
Paint night
While it may not qualify as hobby status for everyone, paint nights have taken off in popularity because of how relaxing it can be. Pick up some basic supplies and host your own paint night at home.

Go for a run or walk
If you're able to get outside together, do it! Go for a run or walk, and use that time to talk about what you're going through in life or work. Or better yet? Don't talk at all. This is one bonding activity that doesn't require chit chat.
Listen to a podcast
Podcasts can be great interactive activities, especially is reading is not your thing. Try a great relationship podcast, a funny book-lovers club, your favorite true crime show, and fan-favorite Tim Ferriss podcast.
Ultimate Movie Night
To really make it feel special, set the scene. Turn off all the lights. Then, make some buttery, delicious popcorn and other snacks. Load the floor or couch with cozy pillows and throw blankets, and try a movie you both have never seen before!
Bake cookies
It's fun, it'll utilize ingredients you don't use in normal day-to-day cooking, and it'll leave you with a fun treat at the end of every day for up to 2 weeks. Choose your favorite recipe and get baking!
***
Since restaurants, bars, movie theaters, and other popular date-night places are currently closed, get creative and take advantage of the comfort of your own home. The beauty of this situation is that at-home date nights are affordable (if not free!) and typically take little time to execute. And, they can even make a big impact on the strength of your bond, helping you feel like you're back to the days when you first started dating!
***