Michelle and Russell were absolutely glowing during their garden wedding at Ocotillo Oasis by Wedgewood Weddings. This gleeful couple said 'I do' to a waterfront wedding ceremony among the lush gardens at Ocotillo Oasis, surrounded by breathtaking floral arrangements and flowing waterfalls. We loved helping Michelle and Russell plan their Phoenix-area wedding, complete with a cameo from their fur child. Take a stroll through these charming botanical nuptials and enjoy Chandler, Arizona's hidden desert oasis.
***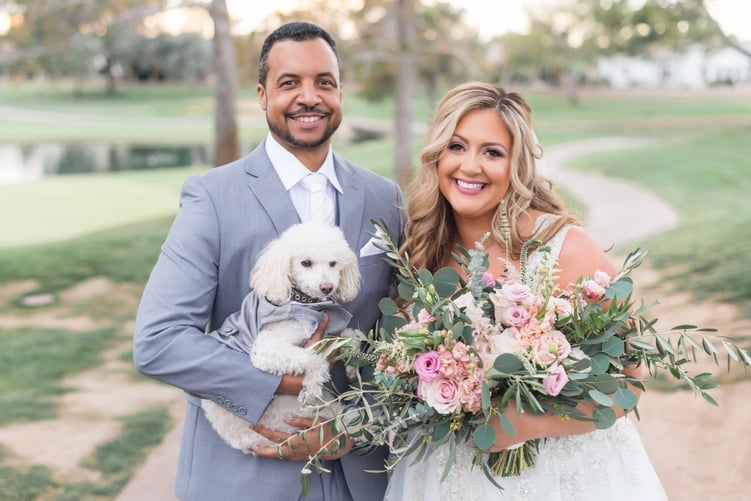 Michelle and Russell were all smiles during their garden wedding at Ocotillo Oasis
Michelle and Russell's garden nuptials were truly unforgettable - from the breathtaking views overlooking the water to the blush flower arrangements that adorned their ceremony site:


"We loved Michelle & Russell's ceremony set-up on our lower lawn! Being close to water was super important to them and utilizing our lower lawn allowed them to have our beautiful lake in the background. They even brought in their fur baby to be by her side as they walked down the aisle!"
- Natalia, Ocotillo Oasis by Wedgewood Weddings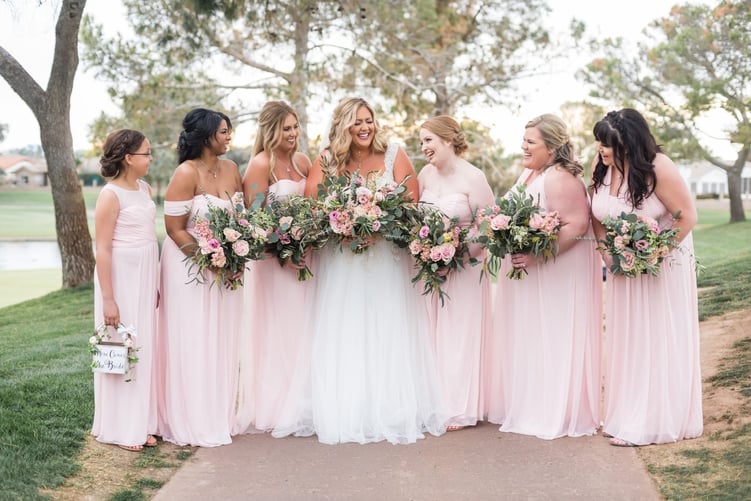 Michelle's bridesmaids donned soft blush dresses to complement the beautiful bride

It was Michelle and Russell's dream to get married by the water, which can be a bit of a challenge for a Phoenix-area wedding venue. Fortunately for the bride- and groom-to-be found the hidden sanctuary at Ocotillo Oasis which is filled with babbling waterfalls, lush English gardens, and beautiful greenery covering every inch of the venue grounds.
Here's what the happy couple had to say:
"Our wedding day was perfect. Everyone always says that, and I often wondered if they really meant it. It's so true. It was truly the best day of our lives. I didn't have to worry about a thing, except getting ready. Natalia and Blayne took care of everything, I wouldn't have changed a thing. Our wedding was so beautiful! I've also heard from many guests how it was the best wedding food they've ever had, we've also had multiple people tell us it was the best wedding they've been to. I give so much of that credit to Wedgewood, Blayne and Natalia. Having water around our ceremony and reception was so important to me and being able to get married right by water was a dream. Everything about our special day was just incredible. I couldn't be more grateful!"
- Michelle & Russell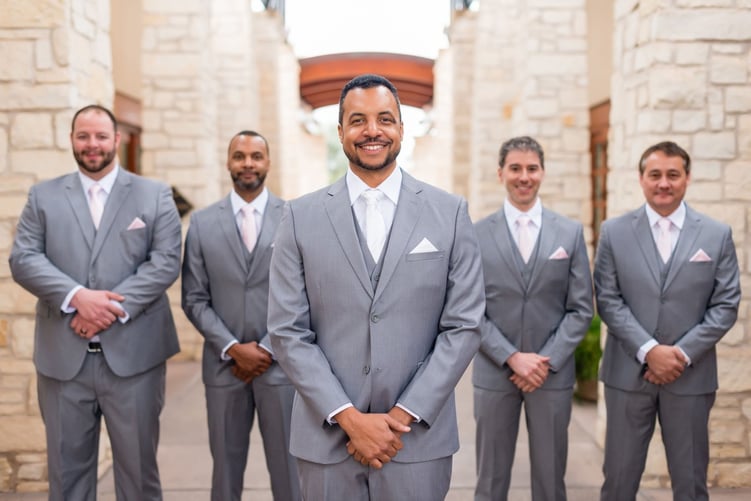 Russell and his groomsmen looked dapper in grey tuxedos with white pocket squares
The team at Wedgewood Weddings went the extra mile to make sure that wedding planning was a breeze for Michelle and Russell. See what the happy couple had to say about their experience:


"Wedgewood made everything seamless. The thoughtfulness, care and love they put into other people's weddings is remarkable. I genuinely felt right at home. I wish I could do it over and over again. Wedgewood Ocotillo is gorgeous as well, we felt like it was a mini destination wedding. We are so impressed with Wedgewood and all they have to offer."
- Michelle & Russell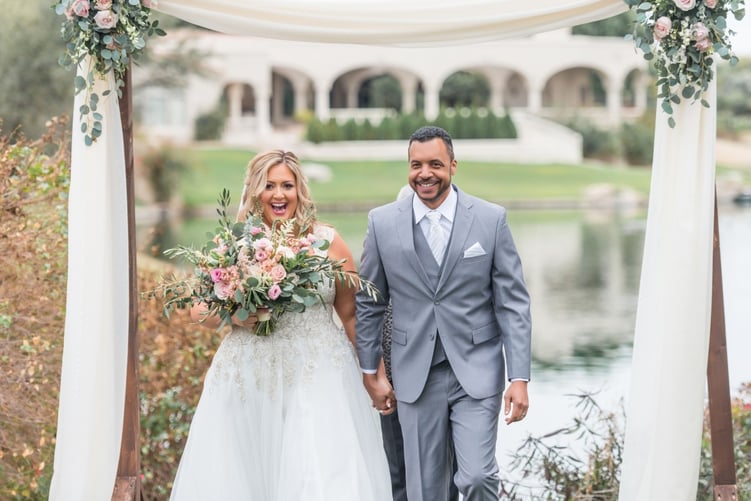 Michelle and Russell enjoying their waterfront wedding ceremony at Ocotillo Oasis
At Wedgewood Weddings, we take the stress out of wedding planning so that our couples can focus on what really matters: celebrating their love for one another. See what Michelle and Russell had to say about working with our venue and vendor teams:


"I thought planning a wedding was going to be so stressful. With Wedgewood Weddings, it was a dream! It was honestly one of the easiest processes I've done. They are there to help and guide you throughout, and they answer all questions so promptly. I absolutely loved how easy and convenient everything was, and fun! Every meeting with vendors, and Natalia and Blayne were incredible. I wish I could do it all again! Choosing Ocotillo Oasis by Wedgewood Weddings was the best choice for our wedding." - Michelle & Russell
we love this circular arrangement of the lower garden ceremony site at Ocotillo Oasis
Our vendor partners had nothing but wonderful things to say about working with Michelle and Russell. From creating a beautiful cake design to selecting music and entertainment options, this couple was a delight to work with:
"This couple was such a pleasure to work with, they knew exactly what they wanted for the cake and were so kind throughout the entire process, we really enjoyed being a part of their wedding day!"
- Lindsay, Piece of Cake
And here's what their awesome wedding DJ had to say:
"Michelle & Russell are an incredible couple to work with. They were such kind clients and we had such an easy time coordinating activities throughout the evening, while also keeping their guests engaged. They also had a few extra activities for the guests to participate in, which helped to make my job that much more exciting and entertaining than it already is. It was a pleasure working with them, and I'm certainly wishing them a happy marriage!"
- Chase, Beluvid Entertainment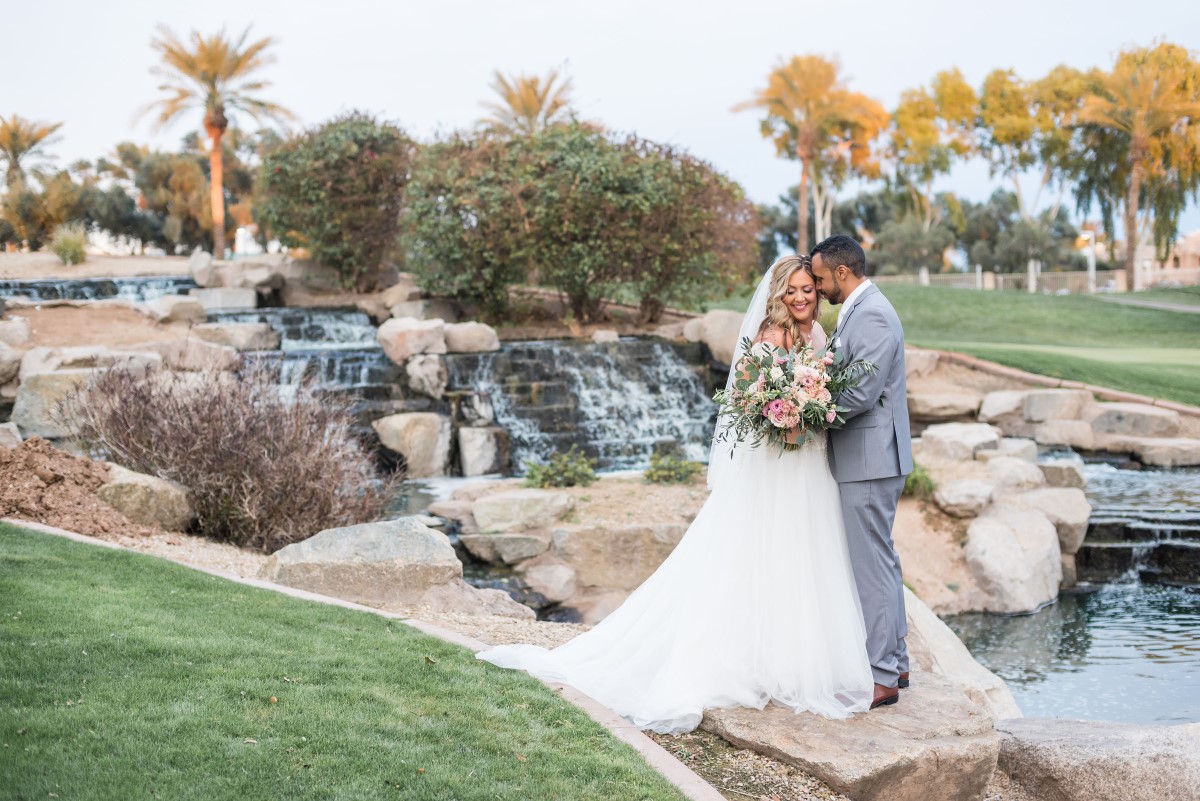 The joyous newlyweds pose for a portrait against the babbling waterfalls

Russell and Michelle trusted the team at Wedgewood Weddings to provide expert guidance to make sure everything would go off without a hitch. We make it our priority to ensure that each wedding is well-executed and as free of stress as possible:


"Russell and Michelle were extremely receptive to any, and every suggestion we threw their way. Not only did they trust the process, but most importantly they trusted us in ensuring them that the most important day of their lives would go off without a hitch!"
- Rosemary, Ocotillo Oasis by Wedgewood Weddings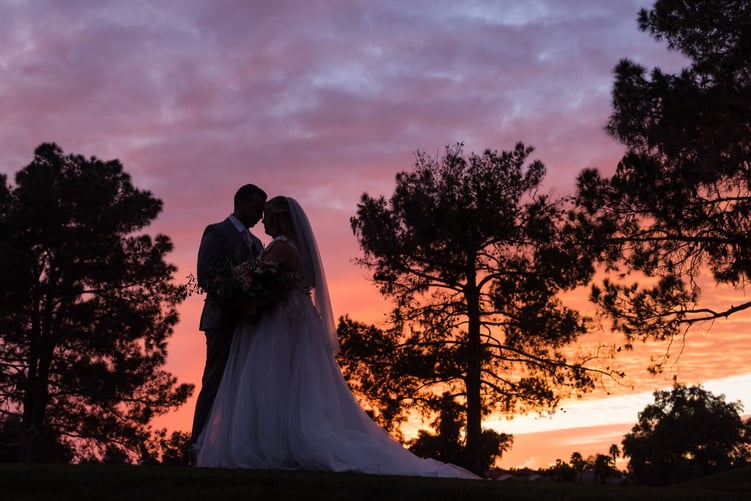 Russell and Michelle enjoyed a breathtaking sunset over the gardens at Ocotillo Oasis
Russell and Michelle dreamed of waterfront wedding among the Arizona desert and Ocotillo Oasis delivered. A big 'thank you' to our vendor partners for elevating this beautiful garden wedding and making the day extra-special for the happy couple: