Planning a wedding with both of you wearing wedding dresses? Superb! Here are the latest double-dress wedding trends for you to consider as you put together your dazzling bridal outfits.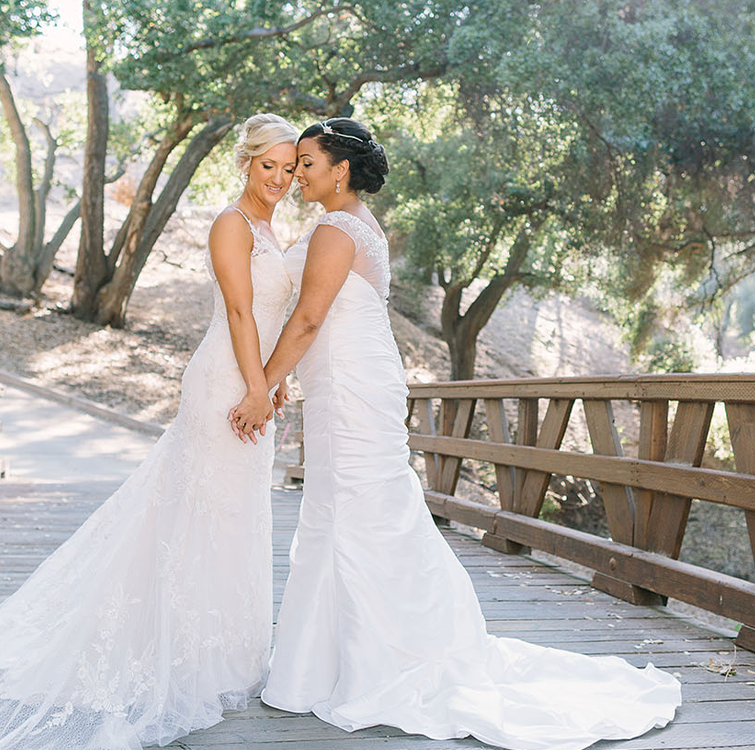 Bright whites in diamond satin vs Tulle work perfectly for this happy same-sex couple at Vellano Estate, CA
Pick a shade
Amazingly there seem to be a million shades of white and, unless you're choosing from the same dressmaker, matching them is incredibly difficult as you head in and out of bridal shops or look at online images. If you're committed to a romantic white wedding, here are your options:
Go for radically different shades of white like vintage ivory for one bride and champagne for the other

Select similar tones and vibrancies like a

bright

white for both of you or a super flattering candlelight white

Work with an expert dressmaker who can color match on your behalf
Add Color
Whites aren't your only color option either. A gorgeous jewel color can wow your guests and pastels can be stunning, especially in spring. We love to see a splash of color like pastel pumps or bright jewelry if one or both of you are excited to wear white.
We're recently seen plenty of couples wearing shades of super delicate pinks and whites teamed with a deep maroon for their decor and table linens. Absolutely gorgeous!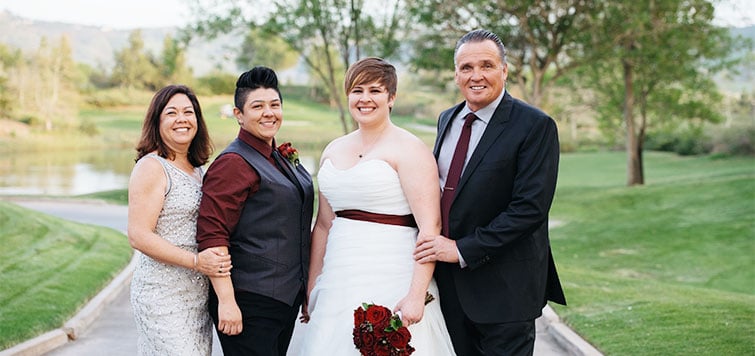 A splash of color with this belted ballgown and coordinating bouquet, shirt, and buttonhole creates a gorgeous theme that you can continue throughout your wedding decor
Get fresh
Maybe this isn't your first declaration of love and you've already had a commitment ceremony or religious service. My sister wore white at her first wedding then, when the law welcomed LGBTQ weddings, she decided to do it again - with the same wife but a wildly different outfit. This time she chose a beautiful chartreuse gown spun with strands of gold. She made the entire event extra glamorous and fun, got completely fresh photos, and she's been known to alternate her dresses on her anniversary as a vibrant reminder!
You can change it up with multiple outfits for the day of your wedding. We also see an increasing number of couples book a second photoshoot for one week after their wedding date - this gives them a chance to get dolled up again or show off alternative outfits at a private photoshoot. Another bonus: you can enjoy celebrating with your friends on your wedding day without them having to wait through all the portraits you're bound to want.
Matchy-Matchy is your choice
While we've seen plenty of brides wearing similar beautiful gowns, they aren't always in the same wedding. In fact, completely matching outfits is more common at gay than lesbian celebrations. Maybe choose to match your shoes or veils if you like this idea. Let your personalities shine through - and dress to your figure. If that means you're in the same outfit so be it.
If matching is your thing embrace it! My spouse and I started talking just because we were both wearing the exact same retro hoodie. To this day, we find ourselves wearing the same outfits at the same time by coincidence.
If you want to match, but stay distinct, picking the same outfit but in different colors is a wonderful option. For visual harmony, choose shades with the same tone. Or, for contrast, choose the same hue with a lighter and a darker tone.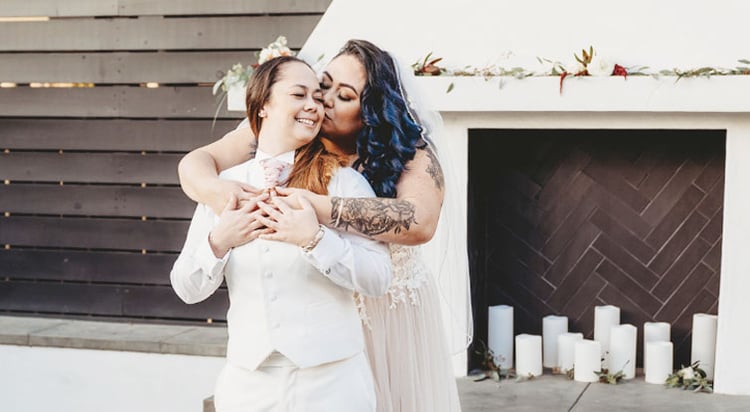 Anastasia and Julie chose a vintage ballgown and coordinating white trousers, shirt, and waistcoat for their Carlsbad Windmill Wedding in California
Traditional Styles
While the floor-length ballgown is de rigour, it isn't your only option. A gorgeous cocktail gown, sundress, crop top ensemble, or tuxedo can be just as show-stopping! If you're looking for a suit specifically cut for a feminine figure, check out Kipper Clothiers in San Francisco and Bindle & Keep in New York who create custom-tailored suits.
Many same-sex couples discuss their favorite silhouette before they begin searching for their wedding dresses. This way you'll know if one of you is thinking of relaxed 70's boho while the other is planning 1920's elegance. You can decide that's going to look perfect and rejoice in your differences, or select a silhouette that combines what you love best from both styles.
Textures are fun
Love brocade, lace, or velvet? You could embellish your outfit to add a hint of dramatic flair or you could both center your wedding look around a particular fabric texture. Velvet blazers in complementary or matching tones can add richness and depth especially for a winter or late fall event. Similarly, tie your look together with chunky or dainty jewelry, cozy pashminas, or anything with a tangible texture to add extra visual interest.
We've seen plenty of lace embellished wedding dresses from a full-back, to cuffs, neckline, veil, or train. A modern take is a lace overlay as seen below on the left.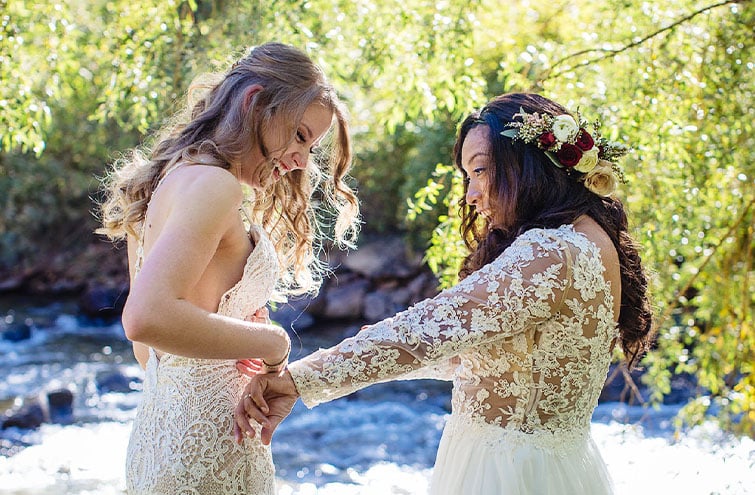 Allyson & Aurora's first look at their embellished lace wedding dresses. Boulder Creek, CO
Haute Couture
Consider shopping in the same boutique or with the same tailor, that way they can create coordinating outfits with both of your individual looks and styles in mind. In tailoring, standout blazers, waistcoats, and accessories can change up the same suit.
If you're choosing off the rack or online shopping, consider setting a few ground rules if you have a particular wedding photo moment in mind. It can be hard to truly capture two wildly different styles within the same photo and make it all looked planned. This can be especially important so that neither of you feels under or overdressed at your own party - you both deserve to feel like a million dollars!
Hair and Makeup
Another way to tie in or separate your looks is via your makeup. By choosing a makeup artist renowned for a certain look, you can pair your styles and hair to make sure that you're both on the same page ... if that's what you want.
In all likelihood, you already know if you want cascading waves, a sophisticated updo, regimented part, super shine, a slick back, or the myriad other special wedding hair looks. By chatting about how you plan to showcase your locks with your dressmaker, wedding party, and makeup artist, you'll know that your entire outfit looks awesome from your toes up to your crowning glory.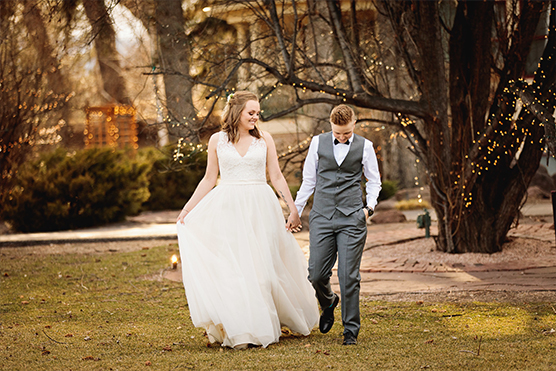 Making a traditional look work for your personalities is a fun choice for your same-sex wedding
Hats and Veils
Love hats? Want a statement piece? Now could be your moment!
The one incredibly important piece of advice here? Make sure you'll be able to kiss to conclude your ceremony. If both of you choose a large brim then you may have to carefully consider your kissing angle. 😉
Wedding Party
If you plan a heap of attendants and want them to coordinate via their outfits then picking a specific shade can be helpful. Send a swatch to each of them so they can find something that matches or complements (rather than clashes). This tip really helps if some of your nearest and dearest are further afield. One person's understanding of 'burgundy' might be closer to fire engine red while another may envision deep plum.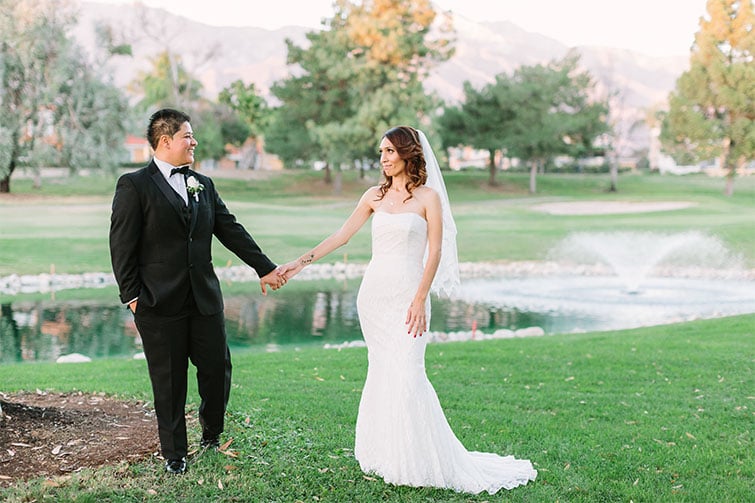 Coordinating black and white outfits look elegant and timeless
Flowergirls and Ringbearers
While you see plenty of younger children 'twinning' - wearing the same outfit at the same event - it's less common as age rises. If you and your spouse-to-be are in distinctive outfits you can offer the same choice to your younger celebrants ... or a mini-me outfit is simply adorable!
Comfort and Longevity
Are you planning to wear your wedding outfits all day or switch to a lower-key version after the speeches? As always, the choice is yours, but many brides opt for a comfier shoe for dancing. A secondary outfit can be especially important if your dress is heavy. You do not want your dress, suit, or ensemble to feel tiring or restrictive on the dance floor.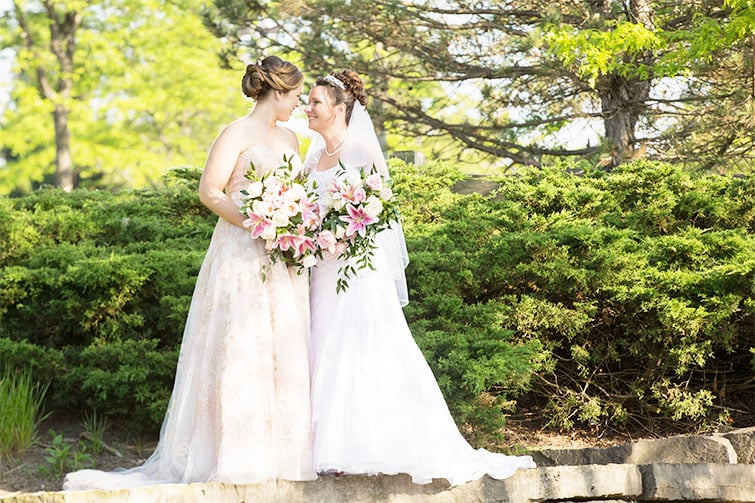 Holli and April paired a candlelight white with a bright white dress accessorized by colorful bursts of stargazer oriental lilies
Same-Sex Discount
Ask your vendors if they offer a same-sex discount. Yes, sometimes it's totally a thing and definitely worth asking your dressmaker, florist, or cake maker.
***
Whatever you choose to wear, your wedding will be beautiful and sure to make your other half feel all the emotions. Double-dress lesbian weddings are increasingly popular so have fun with your personal styles. After all, you two fell in love for a reason!
While some couples plan a big reveal on their wedding day, others decide to dress shop together. Planning your wedding collectively - outfits and all - is part of the big wedding adventure. You can shop together, tease each other with mini-peeks, or stage a grand reveal at your first look moment. Many couples recruit a trusted friend to be part of the attire process so you can have her intervene if you get off course from a harmonized look, accidentally choose the same pair of shoes, or your high-contrast plan becomes too matchy.
We know this for sure: You'll look wonderful as newlyweds!


Bre & Rae celebrate in complementary wedding dresses at Boulder Creek, CO