Online shopping is exhilarating - so fast and so easy! With everything you could imagine at your fingertips, it's easy to see why people opt for online spending rather than visiting stores in-person. However, when it comes to shopping for your wedding dress, is it too risky to buy online? We took a deep dive into Azazie, an online retailer committed to reinventing the bridal shopping experience.



Gorgeous bride who chose azazie, with her Groom on their wedding day
With a gorgeous selection of wedding gowns and bridesmaid dresses available, Azazie offers more than just a platform to shop. Boldly stated on their websites, their team lives by the words,
"At Azazie, we believe that all women deserve to have the dress of their dreams, regardless of their size or budget."
-Azazie Team
dress styles to flatter every body type




True to their words, Azazie offers bridal gowns and bridesmaid dresses in sizes 0-30, and they offer free custom sizing. Also, their prominent feature is their at-home try-on as well as virtual showrooms. With an emphasis on body inclusivity, their designs are adorable and flattering for all body styles. If you're still unsure of which type of dress is right for you, they offer guides to help!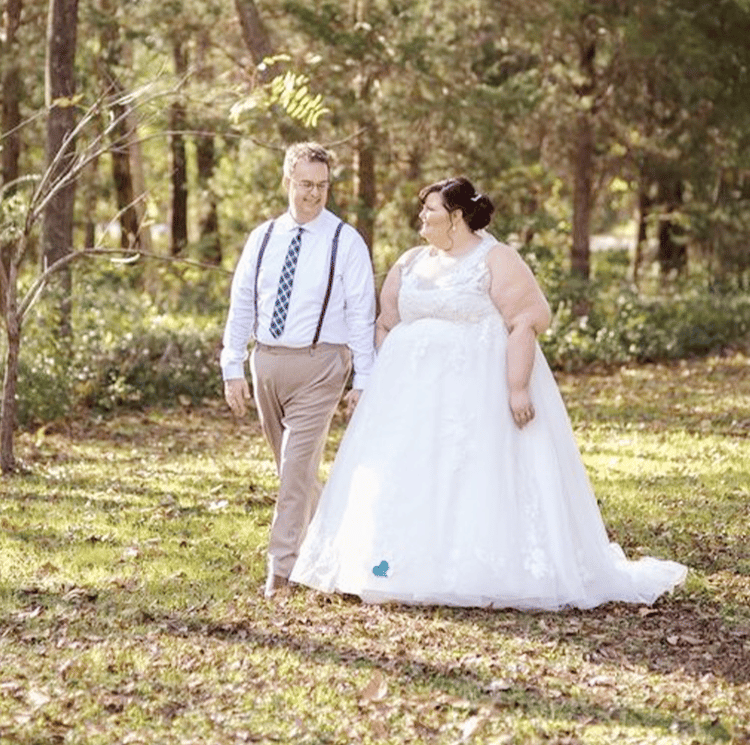 Bride Amber in her Azazie Dress looking stunning - complete with a sewn on heart
"Other than getting the front lined and some alterations, this was the perfect dress. Thank you for carrying sizes for everyone!"
Amber, Bride with an Azazie Dress


BRIDAL GOWNS
Azazie offers bridal gowns in every body style and a wide array of fabrics. When you find the dress or dresses that catch your eye, you can add them to your favorites or do an at-home try-on! With the try-on, you select which dress and size you want, pay $15-$20 for shipping, and the dress will arrive shortly! Take a few days to see if this dress is the one, and then you can send it back - either with your custom measurements or with your eye on a different dress to try. The process is easy and allows brides to search for their ideal dress from the comfort of their own home.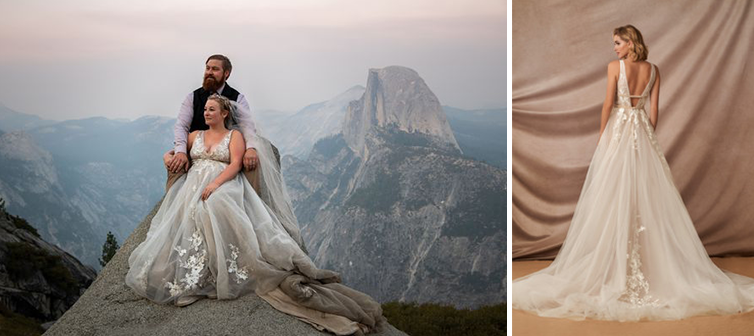 Shop the look of real Azazie weddings - check out their 'be inspired' section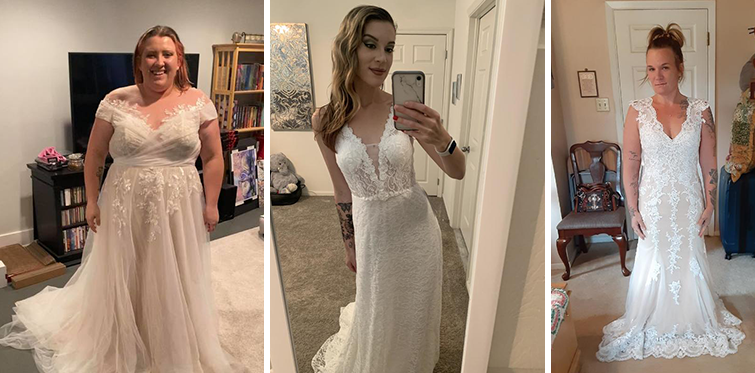 at-home try-on makes wedding dress shopping easy and comfortable
SWATCHES
When it comes to searching for your wedding party colors, Azazie has tons of color swatches made from various fabrics available to order. The swatches come in handy when selecting the right color for your wedding and matching it to your wedding's different décor elements.

Swatches are excellent for matching the colors in your wedding attire
BRIDESMAID DRESSES
Bridesmaids' dresses are where shopping gets extra exciting and interactive. Similar to the wedding gown try-on, your wedding party can do the same - through Azazie's Virtual Showroom! Before inviting your party into the showroom, go through the bridesmaid dresses and explore your favorite styles! What is so fantastic about the dress selection is that your entire party can be in the same color and material yet have a unique look that flatters their body. Once you have selected your favorite dresses, add them to your virtual showroom. After your showroom is set, you can invite your wedding party to explore and try-on for themselves!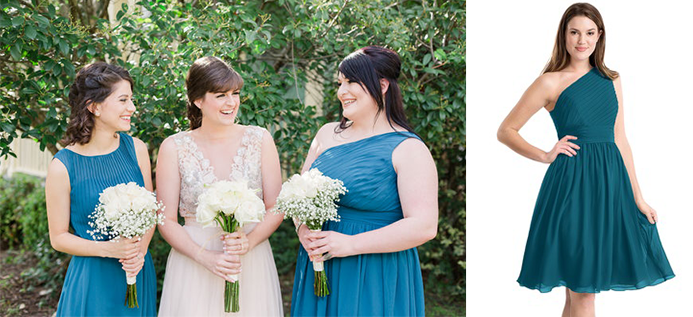 bridesmaids in the same shade of blue with different style tops
MOTHER OF THE BRIDE
Similar to the bridesmaid's dresses, you can explore the mother-of-the-bride dresses too! With the color swatches, it's easy to find a matching shade for mom that complements the wedding party.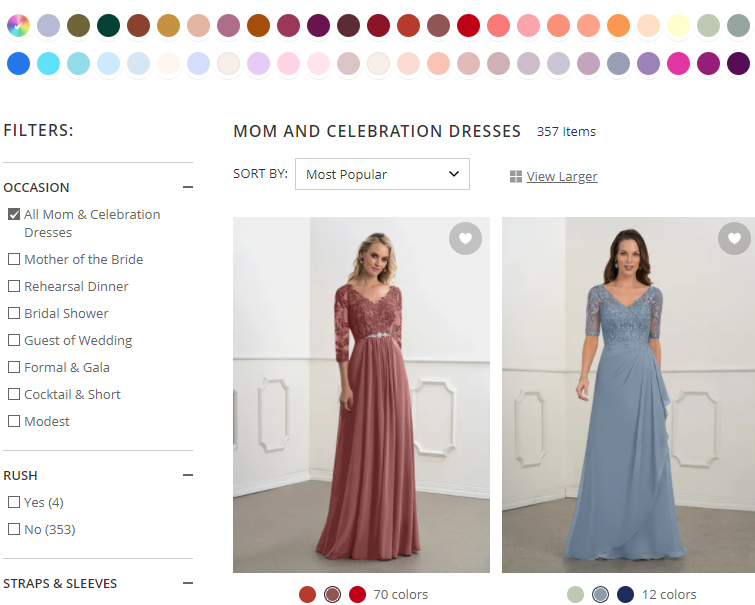 Dress shopping made easy - tons of complementary styles for the mother of the bride
All in all, Azazie is an excellent option for those looking to explore their wedding attire from home. Or ideal for a wedding party separated by distance and looking to share in the bonding opportunity! Either way, when it comes to dress shopping for your wedding, Azazie is a simple and fun option!

For more online dress shopping, there are many retailers to explore. Some offer the option to try-on, while others offer free returns. Be sure to see if they carry the swatch of your desired color so you can match the rest of the wedding attire. For other online dress shopping options, both wedding gowns and bridesmaid dresses, check out the following sites: